Snow Season Outlook 2016 – July Update – Australia – From Zero to Hero
June 30th, 2016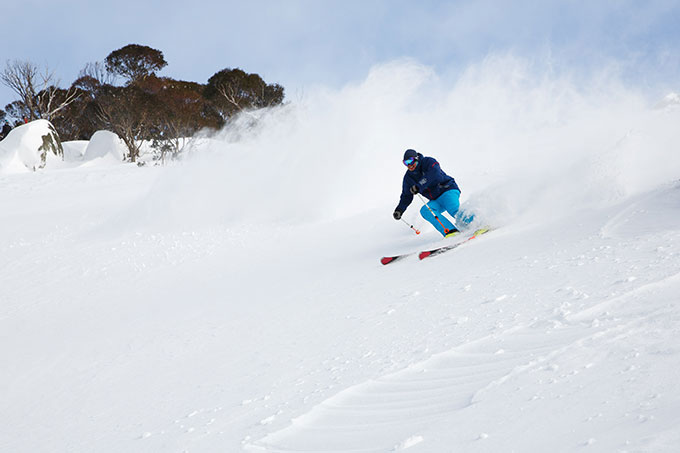 Last week's storm brought on a few calls of "best day ever" and the season has only just started! Image:: Thredbo Resort
Australian Seasonal Snow Outlook | The Grasshopper
Brought to you by ESS Boardstores
With stores in, Erina, Jindabyne and Parramatta
The World is going topsy-turvy. The UK voted to leave the EU, Trump will possibly be the next president of the USA and most importantly, Australia currently has more snow than New Zealand. We may lose the rugby but we can gloat for now.
One thing's for sure, last month was not short of drama. The first few weeks of June were marked by two East Coast Lows, which deluged the Aussie Alps with copious amounts of rain… but we were saved by the bell. A potent season-starter storm left between 50-70cm of snow across the Aussie Alps last week transforming our winter playground from what looked like the backdrop to a scene in Resident Evil, into a frozen wonderland. If you missed the storm and are still in need of an extra push to get you out there this year then check them out here. It's been consistently cold over the last week, with plenty of opportunities for snowmaking. Although we are doing OK and new snow is forecast it is important to remember that storms come and go as they please, what matters are the large-scale climatic drivers over the whole winter period. Will the good times last?
Enter the neutral zone
Not much has changed in terms of broader climatic drivers over the last month, but there are some subtle differences which gives me a reason to be optimistic. My last seasonal update detailed how the first half of the winter would be neutral in terms of El Nino Southern Oscillation (ENSO) while during the second half we were likely to slide into weak La Nina conditions. This has changed slightly. As expected, we currently find ourselves in a short-lived state of ENSO neutral "normality". Eastern Pacific sea surface temperatures have dropped back down to what we'd expect during a neutral stage. The most recent climate model updates suggest that the incoming La Nina will be a weaker than previously thought. The Australian model has us barely crossing into what would be considered the threshold for a La Nina event while the consensus of international climate models is that we will just about hold on to neutral conditions through the entire winter.
In any case, if a La Nina event does develop, it will be weak and almost certainly will be a lot weaker than the last La Nina event from 2010-12. In my previous outlook, I explained that La Nina years usually register more precipitation than neutral years but that does not always automatically transfer into extra snowfall. Neutral years on the other hand, normally register above average snowfall, with a peak average snow depth 20cm higher than the long-term average statistically speaking. In previous forecasts, the impending La Nina combined with the higher than average SSTs in the Tasman made me jittery about issuing a forecast for a better than average season. So, to summarise, we are left with a bit of a crossbreed winter. The first half of this winter is forecast to be neutral and we now have slightly less than 50% chance of dropping into weak La Nina conditions during the second half of the winter. This is good news.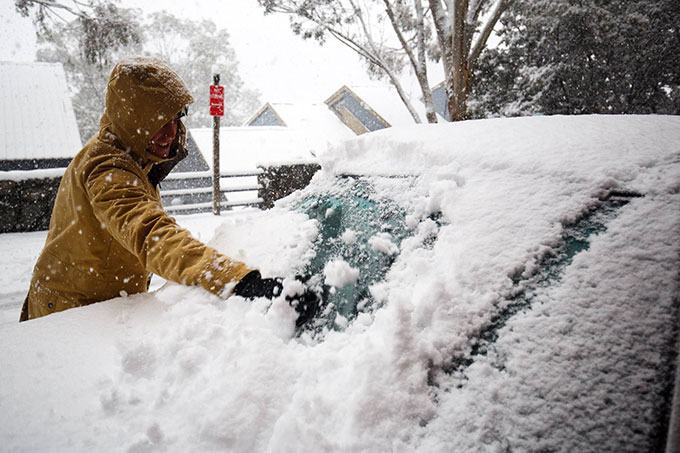 With snow currently falling across the mountains we can look forward to more days like these Image:: Thredbo
IOD Looking Good.
Two other big players I've talked about in the long range outlooks are the Indian Dipole (IOD) and the Southern Annualar Mode (SAM) index. During the last few weeks, we have been sliding into a negative IOD which is favourable for higher than average rainfall in South Australia. And that is certainly what we've seen. SSTs are warmer than average across the Indian Ocean, which will likely give more moisture to weather systems crossing Australia. The IOD is forecast to remain negative for the whole winter period. This suggests that we're likely to see an active storm-filled winter with plenty to keep us on the edge of our seats.
The SAM index has been positive for much of June and it's forecast to turn negative for the first week of July. This works in our favour as low activity is more likely to reach the Aussie Alps and a positive SAM index would keep the lows spinning closer to Antarctica making high pressure more likely.

The SAM has been riding high over the last few weeks but the short term forecast is for it to drop into negative territory which is good news for snow during the first couple of weeks of July Source:: NOAA
The Fly in the Ointment.
The sea surface temperatures (SSTs) nearer to home are still much warmer than average in the Tasman but they have started to cool down nicely in The Bight. In fact, we have generally neutral SSTs in the eastern half of The Bight and slightly cooler than average SSTs south of Western Australia. This does not come as a surprise as it was predicted by the climate models and follows long-term trends. The models are forecasting cooler than average SSTs to intensify and expand in The Bight during July and August with the much warmer than average SSTs prevailing through the entire winter in the Tasman! The theory is that warmer than average SSTs have a detrimental effect on snow accumulation. They give more juice to incoming weather systems but they can also raise temperatures and make mixing a bit more likely. So fronts coming in from the south-west will likely stay nice and cold but we will have to watch out for mixing from any East Coast Lows pushing in south-easterly winds.
Where are we at now compared with last year?
Last week's snow storm has given us a kick up the proverbial. Let's compare the snow depth from this year to last year to get an idea of where we have come in such a short space of time. Cast your mind back to a couple of weeks ago to when the Aussie Alps were virtually un-skiable were it not for artificial snowmaking.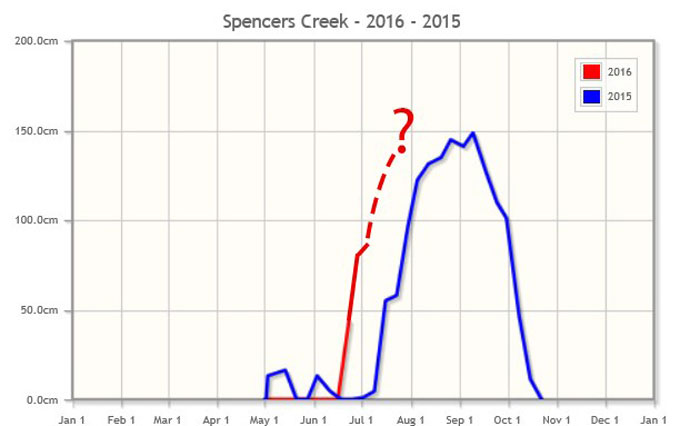 Last week's snowstorm has a big impact. The official figures have not come out yet but I've added them in. The solid line is what we already have and the dotted line is where we will be if the good stuff keeps comin' Source:: Snowy Hydro
The final verdict
The predominantly neutral ENSO conditions combined with a negative IOD event mean there will be plenty of moisture in the atmosphere. This should contribute towards us picking up many dramatic weather situations for the rest of the winter. La Nina is looking less likely than in previous updates and statistics will be on our side if we manage to hold onto the neutral conditions. SSTs are also cooling off in The Bight – we just have those pesky Tasman SSTs to watch out for. We have a number of cards in our favour and let's not forget that we already have some decent snow on the ground. Taking all of this into consideration I am going to bump up the seasonal forecast and predict a peak snow depth at Spencer's Creek of 170cm. This would give us a fairly average season overall and a better season than last year when the peak snow depth was 148.8cm.
So, let's see how things play out over the coming weeks. If you haven't been up there then what are you waiting for? Follow my daily forecasts to get the heads up on any new incoming storms. I for one am pretty stoked about this year so far.
That's all from the Grasshopper. We'll update this outlook in early July. If you've got a different theory on what's going to happen this winter, or just want to provide feedback, then please hit me up on the discussion below. Or you can follow me on facebook.
Perisher forecasts,
snow reports and
live snow cams.
Falls Creek forecasts,
snow reports and
live snow cams.
Mount Buller forecasts,
snow reports and
live snow cams.
Charlotte Pass forecasts,
snow reports and
live snow cams.
Hotham forecasts,
snow reports and
live snow cams.
Thredbo forecasts,
snow reports and
live snow cams.
Mount Baw Baw forecasts,
snow reports and
live snow cams.