SNOW SEASON OUTLOOK – August Update
August 2nd, 2013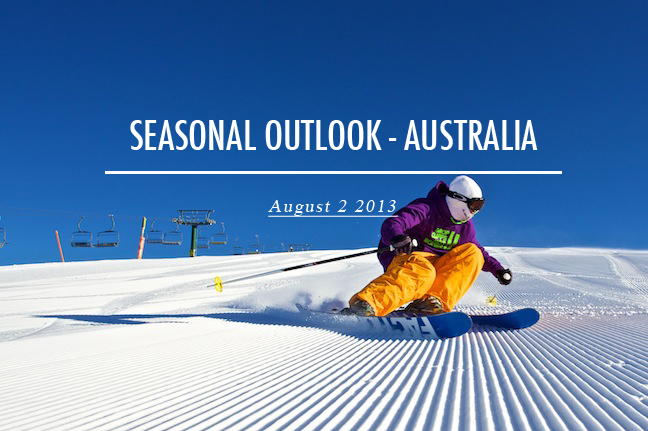 Sunny days and corduroy has been the pick in the low tide first half Image:: Mark Tsukasov
Australian Seasonal Snow Outlook | The Grasshopper
Brought to you by ESS Boardstores
It's a simple equation, but sometimes it's a hard ask. There are really only three things you need for a good snow season. The first is average precipitation. The second is plenty of cold air. The third thing is for the first two to overlap as often as possible.
With that simple equation in mind, today I'm going to look at:
What has gone wrong so far this winter
Where we are now
What we can expect from here on in
Something that will mess with your head
What's gone wrong so far
Back in mid-May when I made a big song and dance about the potential for this season it was on the back of a growing signal for a negative Indian Ocean Dipole event coinciding with a neutral ENSO year. Historically these sorts of winters have delivered the goods with regards to both rainfall and temperature, and consequently the seven years I identified had averaged a maximum peak snow depth of 232cm. That was a strong enough sign to get me excited.
Since that fateful day we've had:
a horrible rain event in late-May that washed away our early season base
an east coast low that looked very promising but really didn't deliver
a second east coast low that managed to squeak 40cm into Perisher and Thredbo, but meant bugger all for Victoria.
A cold front in early July that brought about half a metre of snow.
Two rain events in mid-July that washed everything away again and took us back almost to square one
Another 40 to 70cm of snow from the same low that brought one of those mid-July rain events.
Another rain event last weekend.
To put it another way, we've had plenty of precipitation. Perisher has recorded 622mm in the last three month's against a median of 452mm. May, June and July all recorded rainfall well above average. The total over at Falls has also blown away its average totals (although there's a bit of uncertainty because the rain gauge there is now better at recording snowfall than it was in the past.) The image below presents the Bureau's analysis of the rainfall anomaly over the last 3 months, with a couple of bulls-eyes near the major resorts.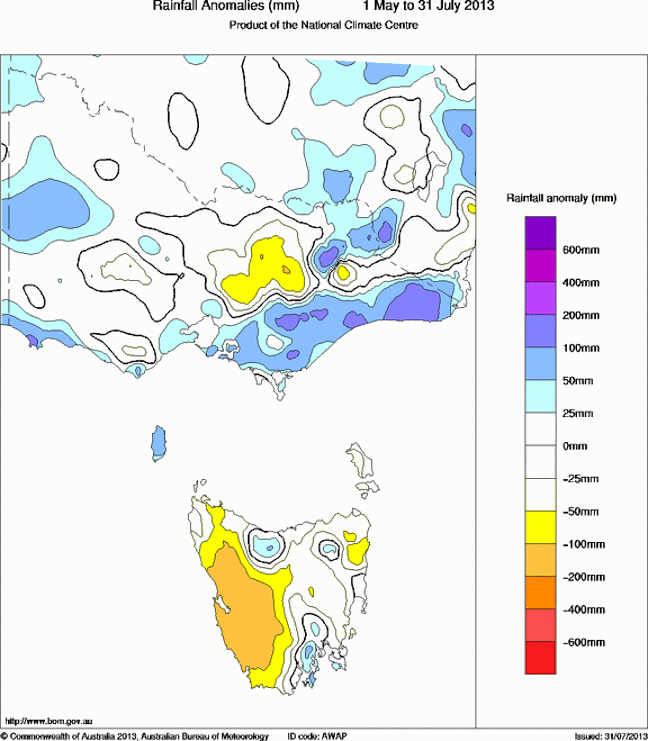 It's quite clear without looking any further what has gone wrong: It's been too bloody warm. Observations support this. At Perisher it's been about 1.5 degrees warmer on average during June/July, while over at Falls it's been more like 1.2 degrees. That might not sound like much, but 1.5 degrees is a difference of 150 to 250m in freezing level. That's the difference between it sleeting at an 1850m summit or dumping all the way down to 1600m. It's also the difference between whether snowpack can refreeze overnight and lock in moisture, or bleed it away to feed a hydro scheme.
More than anything it's been the temperature during two key events that has truly diddled us. The late-May event and the first batch of rain in early July washed away about 60cm of snow-base between them, without contributing anything in the way of snow. These rain events are like a tax on a tax: we lose out not only because they don't bring any snow, but also because they steal the base we have got.
Where are we now
The median snow depth on 1 August over the last 58 years at Spencer's Creek is 125cm. The last reading from Spencer's Creek was 68cm, but it is probably a little less than that now due to last weekend's rain; let's estimate 55cm. If just one of those crappy rain events mentioned above had been mostly snow rather than all rain then we'd be sitting close to average right now. But we're not.
Incidentally, the 40 to 70cm of snow we got in mid-July stopped us from being in "worst ever territory" for this time of year. There are three years in particular where things were looking worse at Spencers Creek on 1 August:
Back in 1959 they were hurting with only 38cm (and no snow-making remember). The year peaked at 147cm.
In 1989 we had 40cm and finished with 141cm.
In 2010 we had only had 50cm as the mother of all La Nina's was forming. We finished with 190cm after a huge August.
History tells us the following:
The median increase in snow depth after 1 August over the last 58 years is 64cm. But when we filter for years when the snow depth started out between below 1 metre on 1 August then the median increase in snow depth was 101cm. Filtering just for our 7 Negative IOD/ENSO neutral years, then the median increase was also 101cm.
And weather models tell me this:
There's something brewing out there. We're going to see a lot of north-westerlies over the next two weeks. We can be fairly confident of 15 to 30cm from a pair of fronts this weekend, then I'm picking up signals for two further significant cold fronts to steamroll through before the middle of the month. I'm not saying there won't be some rain preceding these features, but I would be surprised if they didn't also supply snow as they move through.
If the weather models are vaguely right we should put on another 50 to 70cm of base by the middle of August and a couple more fronts in the back end of the month could easily add another 30 to 50cm, before we hit September and things start to melt.
By the numbers
You can see where I'm heading with both the historical numbers and the signal from the models. I reckon we can put on another metre by the end of August, to take us up to a peak around 150cm. But there's still about a 1 in 5 chance that we could get up above 2 metres. There's also a 1 in 5 that we could fail to break 1 metre, which has been done twice before, in 1982 and 2006.
Something to mess with your head
Back in mid-May I said I was going to party like it was 1992. In those heady, grunge filled days, we also copped a negative IOD/ENSO neutral year. Check out the comparison of 1992 and 2013 below, courtesy of Snowy Hydro. It's not over till we say it's over. If we can channel the spirit of 1992 and break the two metre mark I promise I will wear a flannel shirt and give up shaving for a month straight.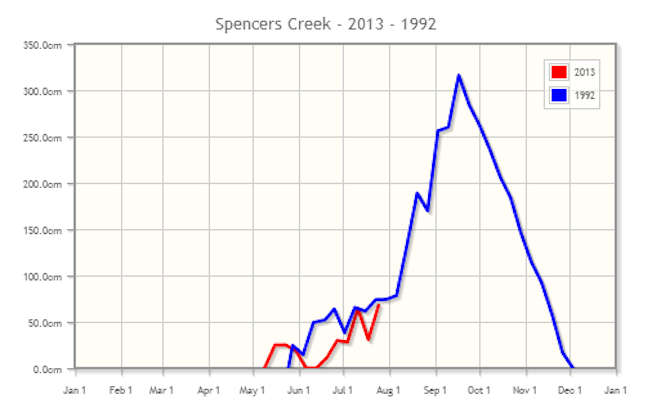 That's my take. This seasonal forecasting is hard at the best of times and I welcome all input. If you want to let us know what you reckon please join in the discussion below or hit me up on Facebook.
Perisher forecasts,
snow reports and
live snow cams.
Falls Creek forecasts,
snow reports and
live snow cams.
Mount Buller forecasts,
snow reports and
live snow cams.
Charlotte Pass forecasts,
snow reports and
live snow cams.
Hotham forecasts,
snow reports and
live snow cams.
Thredbo forecasts,
snow reports and
live snow cams.
Mount Baw Baw forecasts,
snow reports and
live snow cams.