SPRING BACKCOUNTRY – The Kosciuszko Climb
October 19th, 2010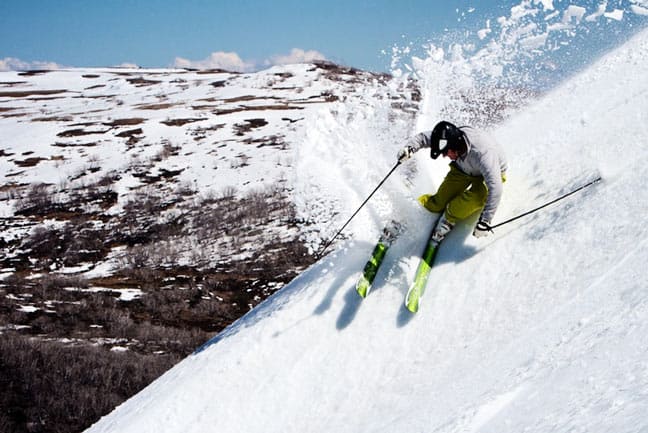 Steve Lee slashing some spring corn. Image:: Chris Hocking
Backcountry Skiing | Steve Lee
Spring time in the Aussie mountains is certainly a favourite. More often than not we have good backcountry snow cover and great weather to enjoy it with – and this year it will hold strong well into October thanks to snowfalls over the 16 – 17 October weekend.
Season 2010 produced an epic combo, a fantastic snow pack thanks an amazing August and really clean snow – snow can get pretty dirty by late season as every dump always has just a little dirt or dust in it, add the sap and foliage from the trees and you can get some pretty sticky sliding. Remember the major dust storm in 2009 that delivered an equal mix of snow and red earth to the mountains? By mid September the snow was as dirty as I've seen, not so good. This year it was just pristine.
I wound up my season at Falls Creek with several great days out around Mt McKay with friends and family, testing my Backcountry Tours setup for next year. Through the final week of the season and the week following we enjoyed some great days and epic spring corn snow.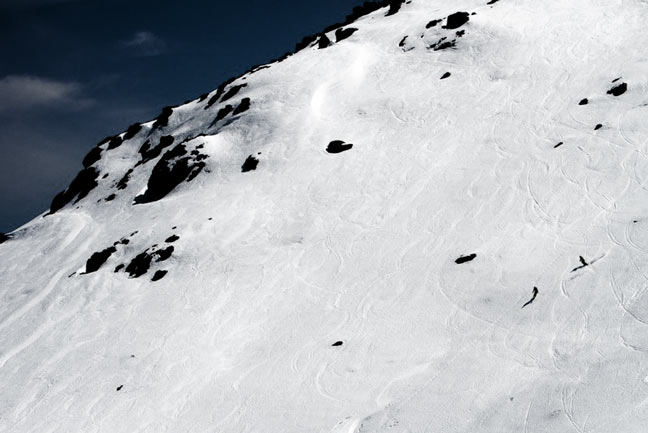 Falls' locals Steve Lee and Laif Moegel enjoying the October corn on Mt McKay. Image:: Chris Hocking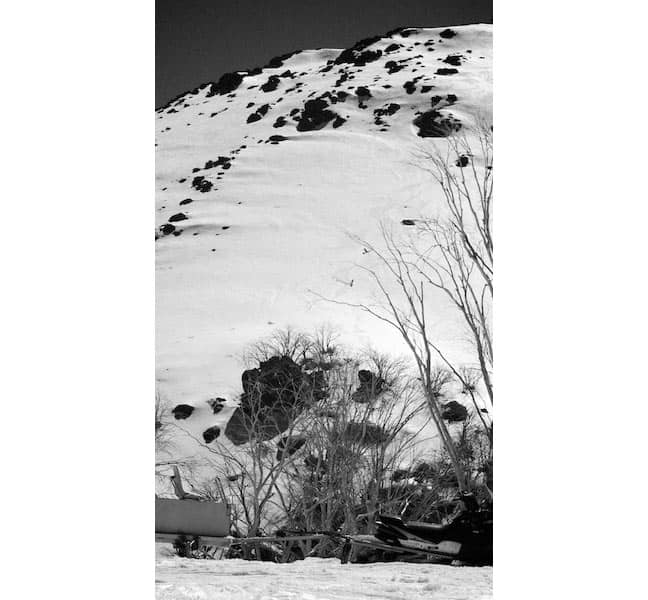 The back country sled awaits for another loop. Image:: Chris Hocking
With the industry making its yearly pilgrimage to Canberra for the SIA (Snow sports Industries of Australia) Trade Show I threw out the idea of backcountry weekend in Thredbo on the way – to tour the Main Range. As Thredbo had extended lift operations through to 10 October, with the offer of a free one day lift pass for anyone with a season pass to another resort, it was too good an opportunity to miss. So we got a little gang together and headed across the Alpine Way.
We were nine all up, Lisa and Damien Allport from the Snowrider shop in the Falls Hotel, Shane Lawther of Halleys Skihire, his girlfriend Casey Brasher and resort management co worker Kate Price along with my mate and former Aussie ski teamer Ant "MAD" Mandlik, with kids Jasper and Holly who came down from Sydney.
Did I mention how good the snow pack was? The Main Range, being the highest peaks in Australia, was still amazing.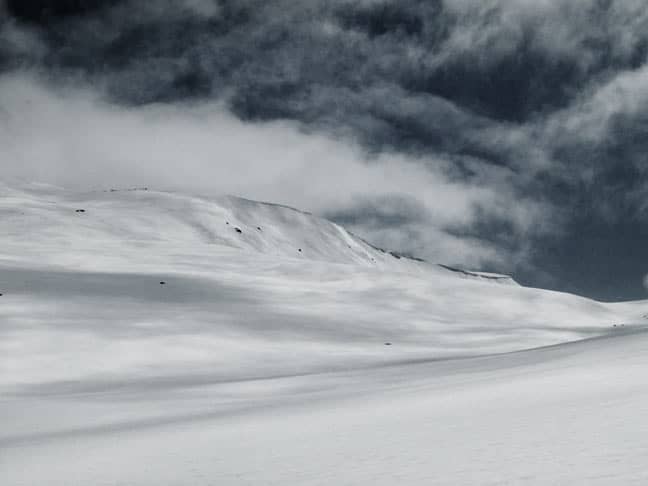 Kosciuszko Cornice in all its glory. Image:: Steve Lee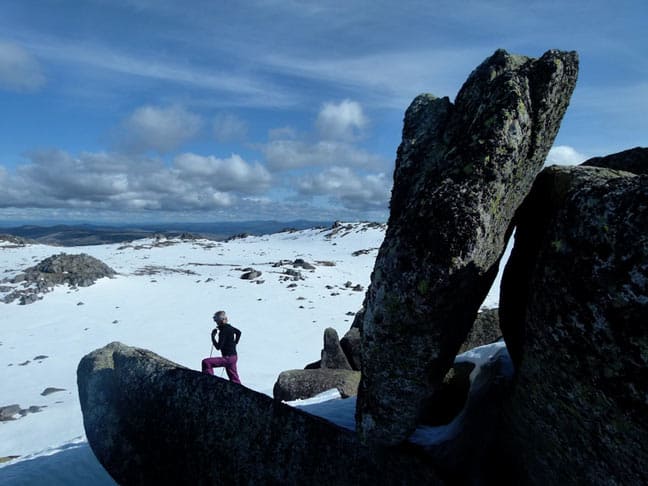 Ramshead's amazing rocks. Image:: Steve Lee
Our group headed off from the Basin t-bar on a stunning October day. We'd been checking the all important weather forecast for days and with a perfect day ahead we gave ourselves the all clear to take on Mt Kosciuszko. It's not an overly tough tour in general, being just 6.5km from the top of Thredbo, however we took a less direct route and made some really nice runs, both going out and coming back, including a drop off the monster Kosi Cornice.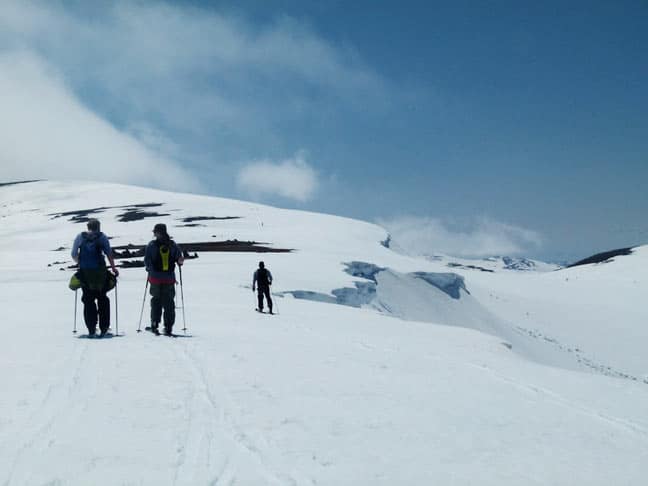 Kosi Cornice on the left and summit to the right. Image:: Steve Lee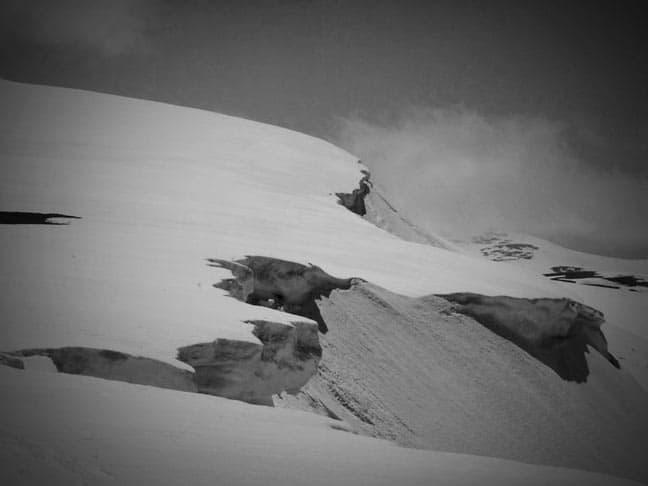 A small sample of the Kosi cornice. Image:: Steve Lee
All of the group made the summit with out issue. There we kicked off our boots to enjoy the soft grass on the bare northern slope for a nice lunch before cruising home and doing the majority of the skiing aspect of the tour. All in all we had six really nice runs and toured about 20km, which took us around six hours.
It's certainly a great way to further appreciate the alpine environment, you do not need to be super fit or even a really strong skier as most hills have an easy way up and down, especially in Australia. Spring is a fantastic time to go with the longer days and mild temps, even now both the Main range and Victorian high country are still offering great conditions that should remain for weeks to come.
So dream no longer about hitting those virgin lines and take on the adventure of touring. I almost guarantee you will enjoy the whole experience.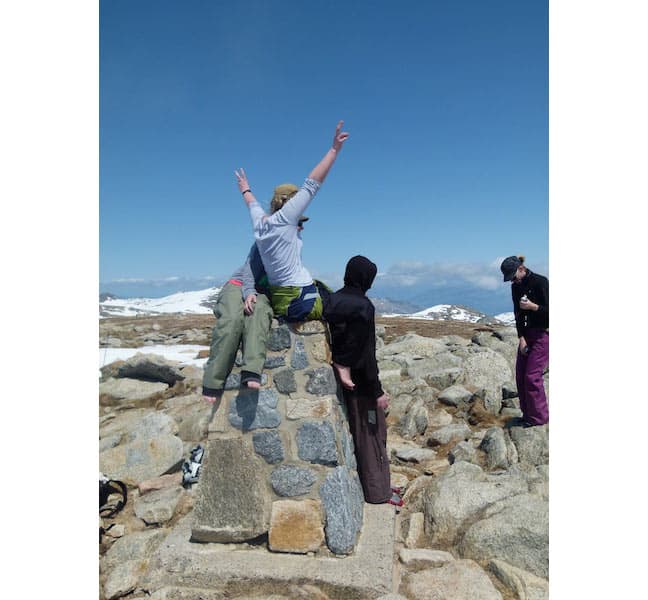 Kate and Casey as high as you can be in Australia. Image:: Steve Lee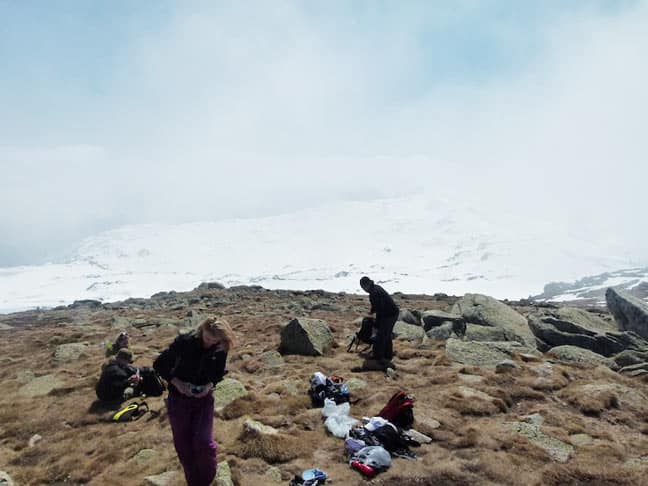 Boots off for a picnic lunch on the northern slopes of the summit. Image:: Steve Lee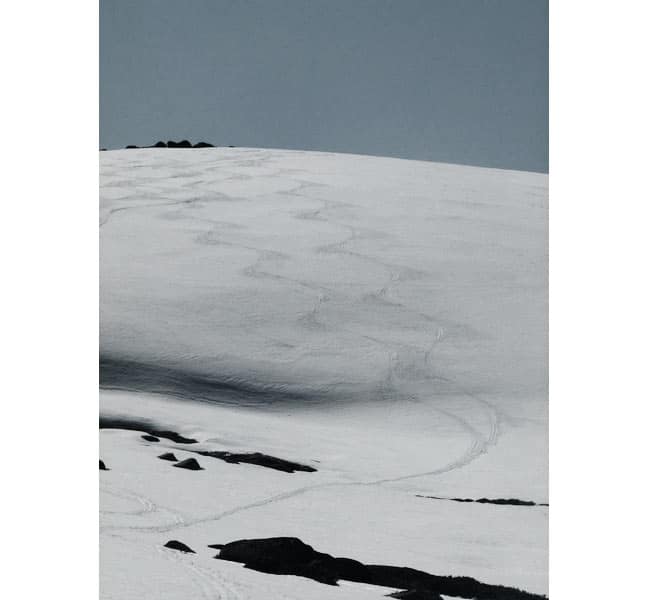 Virgin tracks off Ramshead. Image:: Steve Lee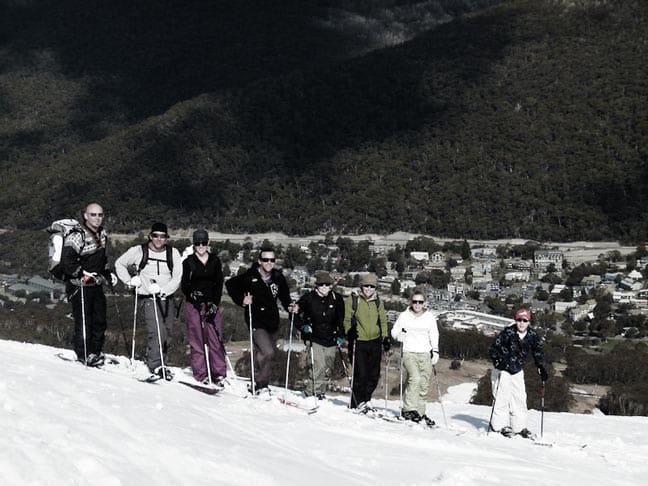 The gang, Mad, Damien, Lisa, Shane, Casey, Kate, Holly and Jasper with Thredbo in the background. Image:: Steve Lee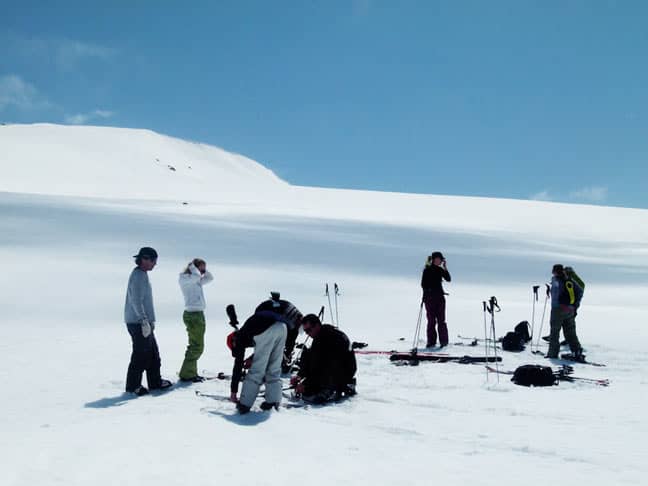 The group getting sorted to summit.
Want to give Backcountry a go?
To give backcountry touring a go you can rent some basic gear and try some sidecountry touring – just outside of resorts. Perhaps find a gully just out of bounds and make a few laps. If you get the bug then look into replacing your standard binding with a hybrid alpine/touring one such as the Marker or Fritschi Diamir, add a set of skins and a light day pack and you are away. I have and would recommend the new Gecko skins, which are a glue free system and super easy to use. Next step up are touring boots, if you are in it for the skiing go for a Dalbello Viper or Dynafit TITAN, both will offer close to your standard alpine boot in skiing performance. To go the whole hog the best integrated system is the Dynafit one. Skis, skins, bindings and boots all made to work together as one.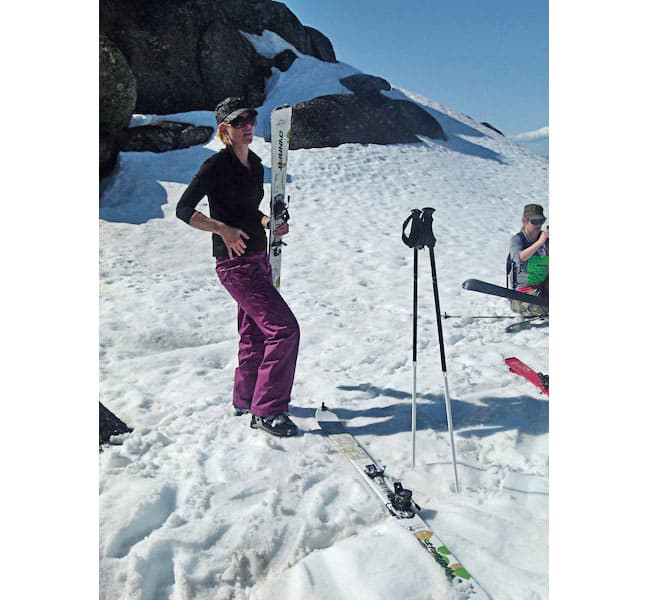 Lisa Allport with her Dynafit kit. Image:: Steve Lee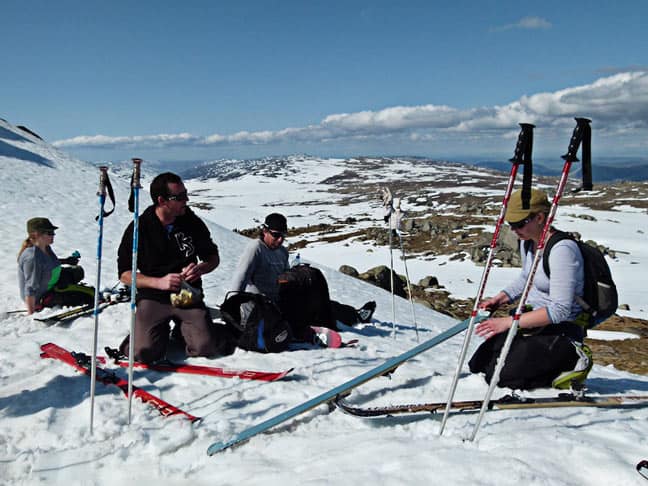 Casey, Shane, Damien and Kate fueling up and de-skinning. Image:; Steve Lee
I also organised was some new-age alpine touring equipment from Dynafit for the group, none of whom where experienced tourers. for the group. Prior to the last few years you really only had only two options for touring, Telemark gear, or very specific alpine touring gear, made more for the walk up, not the ski down. Things have now changed with side and backcountry becoming super popular with the 'big mountain' crew. Now there is some amazing kit out there.
Marker has a great range of alpine touring bindings, however old Austrian brand Dynafit has forged strongly down that path and come out with a whole new set up. Super lightweight and super functional, some amazingly engineered gear with skis and bindings weighing just 3kg.
Boots are also important and quite different for touring, vibram soles and full walk mode, along with a lighter weight all make for a good touring ski boot. Dynafit also make a full range of touring boots. I demoed the Dalbelo Viper which is Glen Plake's boot of choice these days. A top end ski/touring boot that offers pretty much the best of both worlds.
More about the equipment:
Thanks to
Sportstrade for kitting us out with the Dynafit touring gear, also the Dalbelo boots and Gecko skins, Kara's apartments at Thredbo, Gabi and Tim for their hospitality and great deal on accomodation, Thredbo for allowing all to use their own resort season passes to ride the lifts and the Turkish/Chinese restaurant for some great tucker and my sportsmans cocktails Saturday night.
Falls Creek forecasts,
snow reports and
live snow cams.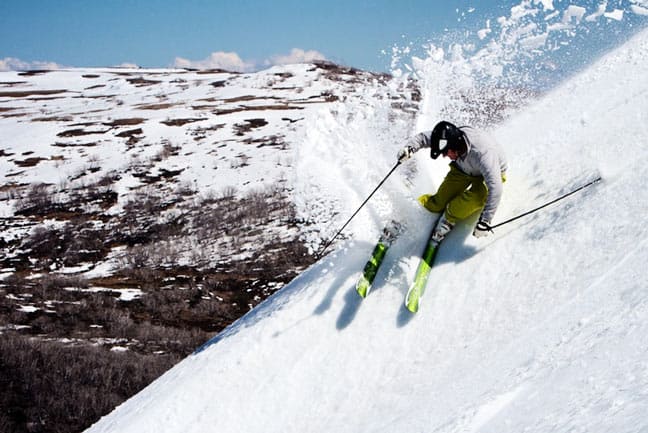 Thredbo forecasts,
snow reports and
live snow cams.