Stopping At Canberra On Your Way To The Snow – Add These Places To Your List
August 10th, 2018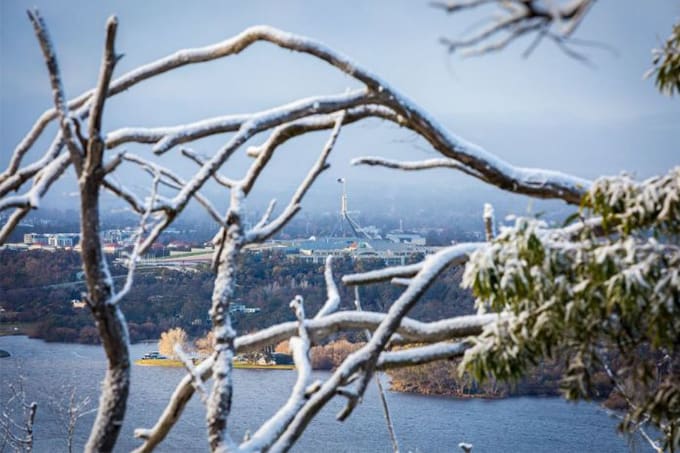 Mountainwatch | Matt Wiseman
Australia's Capital has a lot more to offer than Question Time and Questacon – although you wouldn't know it if you went on my year 6 primary school excursion there.
In fact, Canberra is ideally located as a perfect place to stop by, on your way to and from the slopes – just a comfortable 2 hour drive to Jindabyne.
We recently wrote of the few joys had making the 7 odd hour commute from our Sydney office to the slopes, as frequently as we do and we also sought to find Australia's longest snow commute – and were rewarded with tales far and wide of avid aussie skiers and boarders spending sometimes upwards of 15-17 hours in a car just to make some turns and then head home.
To break up some of the monotony that can be the Australian snow commute, here's a few places to consider stopping at instead of McDonalds or a highway rest stop, Canberran locals might find some inspiration as well.
VISIT A WINERY
We've talked about Lerida Estate before, as being one of the best wineries to stop by – not least because of the food and wine on offer, but especially because of its convenient location, perched on the shores of Lake George, somewhat removed from the hustle of inner city Canberra.
If spending the night in Canberra before forging on to the snow the following day – a well advised strategy for those coming from the likes of Sydney and beyond – it's worth looking out for such events as the wine and truffle night, occurring at Lerida on the 11th of August.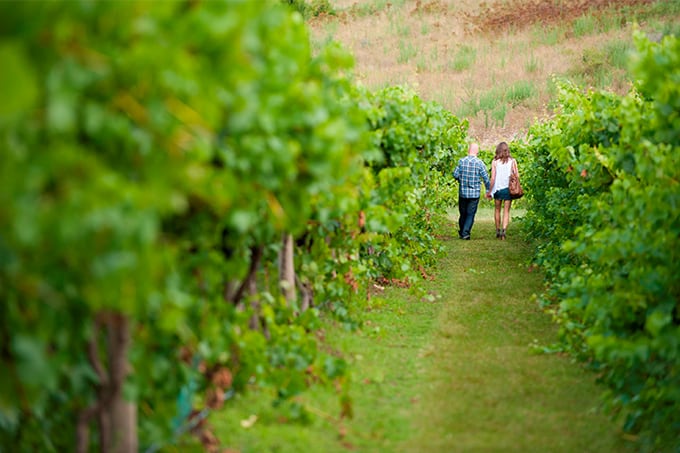 VISIT A GALLERY
Art lovers will delight in The National Gallery of Australia, on the shores of Lake Burley Griffin. Stretch the legs with a walk through the gallery and admire the collection, which includes the likes of Jackson Pollock's 'Blue poles' and the famous Ned Kelly series by Sidney Nolan.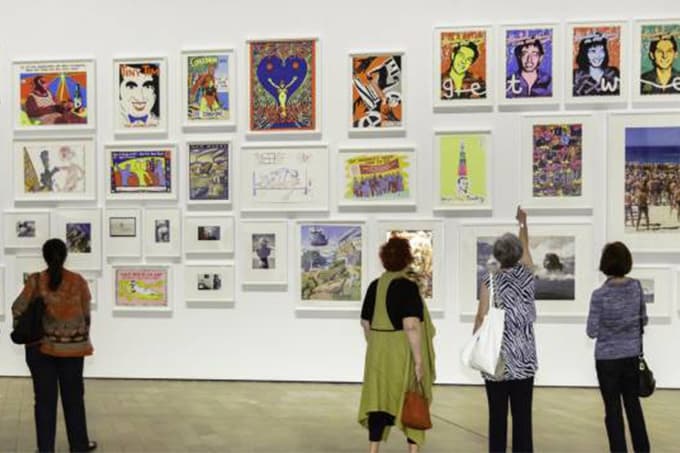 Upcoming Exhibition: American Masters (1940-1980)
Exhibition Dates: 24 August – 11 November 2018
From Abstract Expressionism, Colour Field, Pop, Neo-Dada and Photo-Realism, to Conceptual, Land and Performance Art, American Masters examines how a generation of young Americans challenged local traditions and reinvented modern art.
Upcoming Exhibition: Connections – Part One
Exhibition Dates: 4 August – 25 August 2018
This exhibition of work is an exploration of Art and Science. It brings together 5 artists: Ursula Frederick; Ingeborg Hansen; Nicci Haynes; Anna Madeleine; and Erica Seccombe, who are at the beginning of new relationships and collaborations with scientific researchers. The work created for this exhibition is the experimental result of new conversations and observations, as artists and scientists consider how each searches for new understandings of the world around us.
Upcoming Exhibition: From Small Things Big Things grow
Exhibition Dates: 1 September – 22 September 2018
'From small things, big things grow' is a group exhibition which will be held across two locations: Megalo, Kingston ACT and Gallery Of Small Things, Watson ACT. Each artist will exhibit works – big and small – at each venue concurrently. The selected artists are SA Adair, Elaine Camlin, Ellen Gunner, Michelle Hallinan, Megan Hinton, Nina Juniper, Pia Larsen, Peter McLean, Deborah Metz, Barbara Nell, Jemima Parker and Kate Vassallo.
GO BOULDERING
After three years in development, Canberra now has a premier bouldering facility. What is bouldering you ask? Think rock climbing, sans ropes or harness and on short walls overhanging padded mattresses.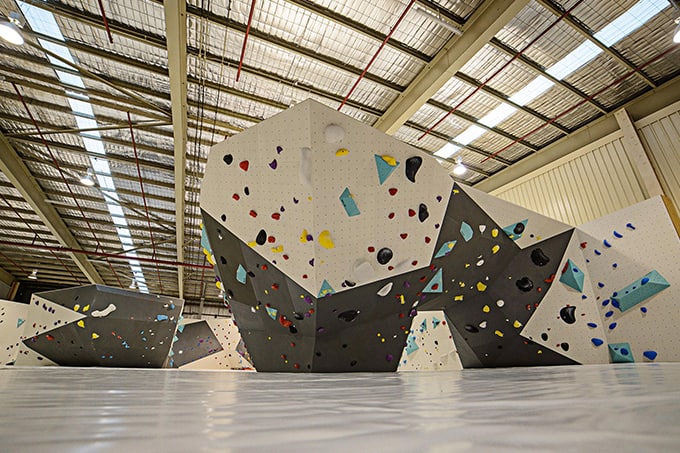 BlockHaus have routes that will cater for everyone, giving you the ability to feel both challenged and accomplished.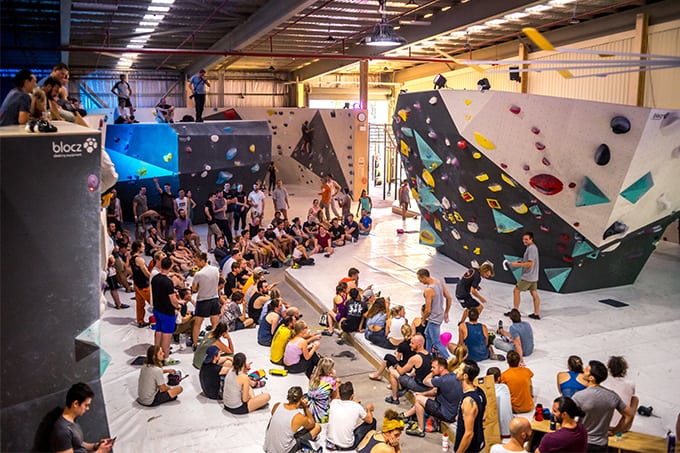 ATTEND A CONCERT
Music is a perfect way to escape the Winter-blues, or if you are the Winter-loving type then a concert is a great addition to a snow-bound trip! Either way the Canberra Symphony Orchestra have a concert that's right for you, from an intimate recital to the large orchestral concert. The next few months are packed with a variety of musical experiences for all tastes.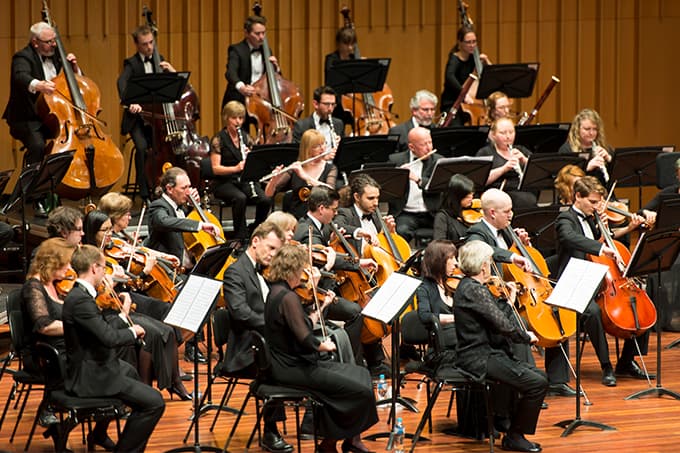 Upcoming Events:
Australian Series, Reimaginings – 30 August 6.30pm. National Portrait Gallery.
"This concert for piano and cello is a musical response to the exhibition Finesse, which explores responses by contemporary artists to historic images."
Recital Four, Nick Russoniello – 2 September 3.00pm. Wesley Music Centre.
"Enjoy an intimate and personal concert with renowned saxophonist Nick Russoniello."
ActewAGL Llewellyn Four – 5 & 6 September 7.30pm. Llewellyn Hall.
"A feast of music including some of the most extraordinary and influential French works in the orchestral repertoire."
GO SKIING
Go skiing in Canberra. Yes. Canberra.
Canberra's brand new indoor sports/ski centre, Vertikal, opened to the public on the last weekend of June – just in time for the school holidays. Whilst it's admittedly no substitute for the real thing, it's technically a ski slope – or rather a kind of giant white treadmill – that's open 364 days of the year.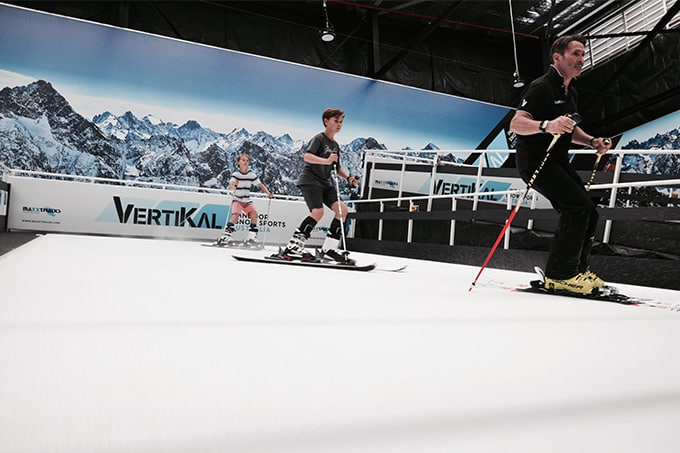 The slopes change speed and angulation at the touch of a button and are particularly useful if you want to see yourself skiing in real time, thanks to giant mirrors, meaning you can make adjustments to your technique on the spot.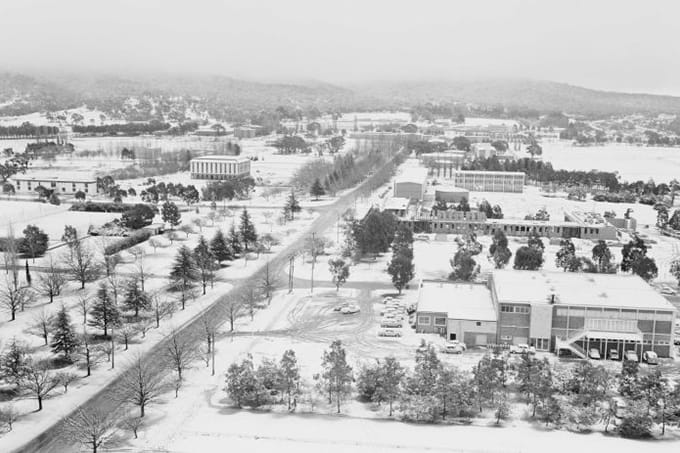 Although Canberra has been known to receive heavy snowfall at times, as per the above image, we know there's only so much sightseeing you can do before pushing on to the real deal!
Check out our somewhat serious, somewhat satirical article on how to get to the snow – something of an ode to the Australian snow commute.