Tested – Oakley Prizm Inferno Line Miner Goggle – The Gear Locker
July 17th, 2017
The culprit in question – a side mounted defogging module known as Oakley's Inferno tech. This is serious stuff. Image:: Provided
Mountainwatch | Louis Macindoe
It's no secret that Oakley is hell-bent on innovation, just look at their headquarters. Here's a company whose been responsible for introducing all kinds of technology to our wintry world. Some more gimmicky than others. But credit, where credit is due, Oakley isn't afraid to step up and address some of the challenges we face as skiers and snowboarders, namely one that has tormented us since the inception of goggles. For as long as goggles have existed, so have fogged lenses. Every manufacturer says that they've got some anti-fog tech, but when the going gets tough, they all fall short. In our darkest hour, we reach for the soggy micro-fibre cloth, look to the sky and wonder why something better hasn't come along yet.
Enter the Prizm Inferno Line Miner Snow Goggle. These goggles don't just have the longest name in the world, they've got a technology that Oakley has just introduced called Inferno. Inferno is a system that uses a battery-powered heating module which then plugs into a lens that utilises their Prizm lens technology. The Prizm technology in itself is damn impressive, check the review I did last year on it.
It sounds all well and good in point form but how does this new frame – Line Miner, with this new tech – Inferno, really stack up against a day of snow showers, high winds and hard riding? Let's start our journey down in Thredbo's Gunbarrel lift line …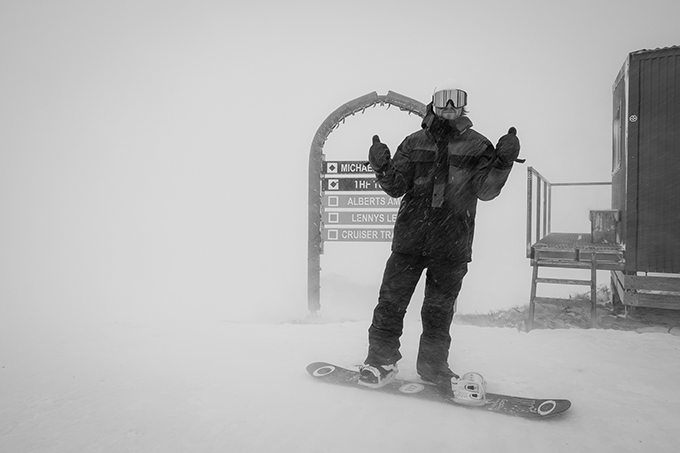 The Line Miner might be the best looking Oakley goggle since the original O-frame, but the technology is in a league of its own. That's two thumbs up from Sage himself. Image:: Mary Walsh
How do they look?
Does anyone remember the Contour Cam? It was a little cylindrical POV camera that contended with GoPro for a few years before becoming obsolete. Well, the Inferno looks exactly like that. It's a little tubular attachment constructed from hard plastic, which doesn't scream out for attention until you really have a good look at it. On the underbelly of the Inferno is a little micro-usb type cable, don't get your hopes up thinking you can charge your Samsung off this thing because it uses a rectangular port. This cable plugs into the lens. On closer inspection, it's all quite technical, but the components look robust and I'd see no issue with premature wear unless moisture was to find its way in there. Which is quite likely if the goggle was submerged in a pile of melting slush or in a river somewhere. Their owners would need to be mindful of this.
In the lift line, I had quite a few people ask me what the thing on the side of my head was. It was a little ego-boost, knowing that people were paying attention. Each time I'd make up something and told one kid I was live broadcasting straight from my lens. I'm not sure if he believed me but it was interesting to know that the Inferno device was noticeable even though I felt like it was quite stealthy, being all-black, on an already blacked-out goggle.
As far as the actual goggle frame goes, I think the Line Miner is the best-looking goggle since the original O-frame. I dig the boxy look and the black rubberised finish of the frame with the Snow Torch Iridium lens. They reminded me of the Oakley Frogskins , which are some of the greatest sunglasses of all time.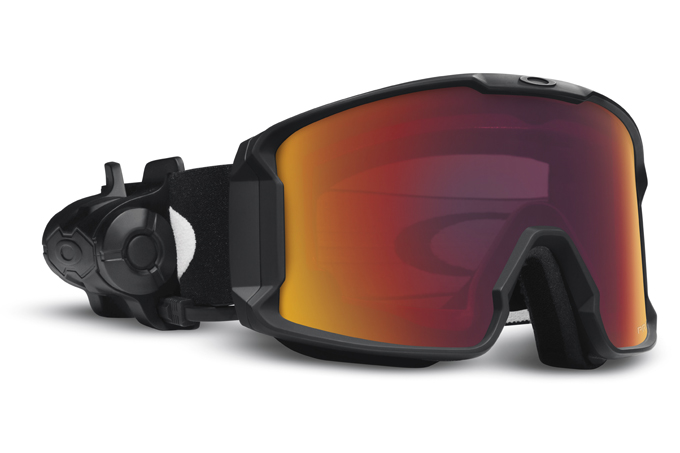 There's no doubt about it, the black rubberised finish on the Line Miner's frame along with that Torch Iridium lens is a deadly combination and an Oakley hallmark. Image:: Provided
How do they feel?
The nose bridge on the Line Miner did creep into view, forcing me to lower my goggles on my face. Depending on how you wear your goggles, those who deliberately goggle-sag (Freeskiers?) won't really consider this as a downside. Beyond that, the actual goggle felt amazing. The triple face foam layer was low in profile, so the lens sat in that sweet spot when worn on your face. There was no disconnect between my eyes and seeing out that lens. The top layer of foam has some tooth to it, and dragging it across your face can be a little abrasive but you'd be pulling teeth to really point this out.
Now the question that remains is, are they helmet friendly? While I didn't comprehensively test them out with a brain bucket, I did give it a whirl. You have to run the strap on the outside of the helmet since the Inferno module does stick out quite a lot. If you had a helmet without ear pads, it's possible to run the strap on the inside of the helmet but comfort isn't guaranteed. The power module unit hooks up and over the strap, and the strap is free to stretch without interfering. This enables the goggle to stretch over any helmet size and shape.
When worn, the Inferno module isn't really noticeable. Although I didn't try ramming my head again the snow deliberately. This little device could actually press into your right temple and that could amplify a direct impact. It raises some concerns about the piece as it's not uncommon to smack your head on its side when taking a tumble. We've all heard about how detrimental helmet attachments can be, especially in the case of Michael Schumacher and the role of the GoPro mount in his brain injury. However, the power module is completely removable, and it's best to detach it unless fog is prevalent.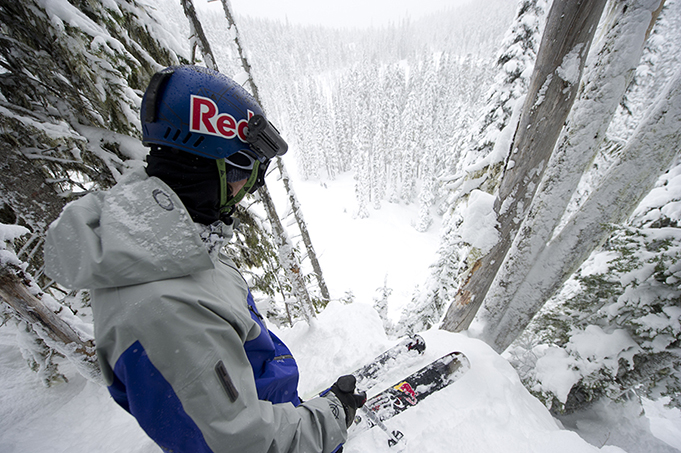 Make no mistake, pictured here in the aforementioned Contour cam – which shares cylindrical similarities to the Inferno, though the Inferno sits on your goggle strap, which might make wearing your goggle strap underneath your helmet damn near impossible. Image:: Camera Dojo
How do they work?
Oakley describes the Inferno tech as a turbo charged window defroster. That holds true, as the Inferno is mighty efficient. One press of the pronounced button on the underside of the device deleted any fog on my lens within minutes. The Inferno Power module is completely removable and it pipes heat straight into the lens in 3-minute cycles (each time you press the button). Although they say, 'turbo charged', it doesn't mean your face melts off when it's activated. Only on a few occasions did I notice a slight warmth from the system. If you're worried about someone in the dark web hacking this power module, so that your face does melt off, rest easy because I don't think it's possible (yet). There is zero-connectivity.
The power module runs on a rechargeable lithium ion battery that's built to perform in frigid conditions and will work stably down to -20°C. A USB power plug connects to this, which makes charging all too easy. A totally fogged goggle will take 2-3 minutes to defrost, compared to 10 minutes and a scratched lens. It's quite an improvement on the old soggy goggle cloth. The module vibrates at the beginning and end of its 3 minute cycle, letting you know it has done its thing. Again, more interesting looks from onlookers as it vibrates – but its efficiency is undeniable.
I'm going to spare you the spiel on the whole Prizm lens tech as I've already done a comprehensive review of it already. Click here to read it . If you can't be stuffed sifting through all that copy, according to my experience, I'm saying that this technology undeniably surpasses anything else in the market. Contrast in low light, fog-inducing conditions is its strength. Which means partnering it with the Inferno-tech makes a whole lotta sense. You've really got both problems covered.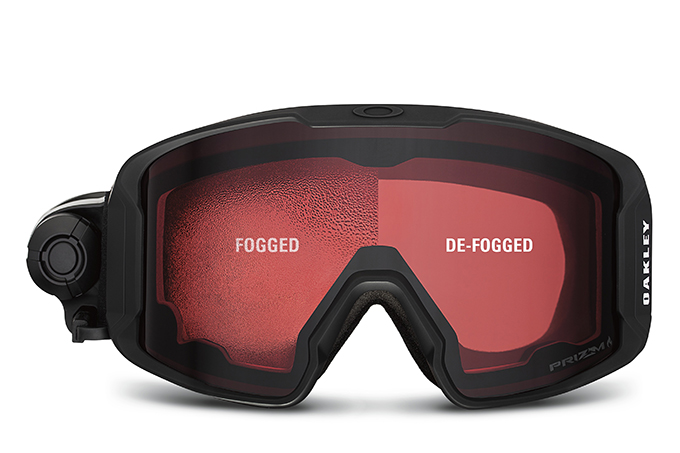 The frosted glass look is best left for the kitchen splashback, The Inferno makes sure of this. Image:: Provided
In Summary
This predicament took me back to the great USSR vs USA space race in the 1960s. In which the USA spent millions of dollars developing a pen which could write in zero gravity, meanwhile the Russians used a pencil. It's the age old saying that less is more, but if that was universally applicable then we'd all be happy with our Swatch watches and the Iwatch would cease to exist. Rather I arrived at the conclusion that this goggle is a case of different strokes for different folks.
A fogged goggle is a liability and would present more of a hazard than the protruding Inferno unit would. I didn't need to remind you of that, however it is worth mentioning that there is some concern to both skiers and snowboarders who wear this on the sides of their head. I'm hinting that this isn't the system for the park skier or snowboarder as the likelihood of whacking this part of your head is much greater. In saying that you're really playing with fire if you're going out and riding the park in conditions when this power module would be utilised. If you're too lazy to detach it, or you have a habit of losing things then I'd say keep your cash and get the standard Line Miner .
The Inferno system suits those more concerned with their on-hill comfort and the thought of a fogged goggle sends shivers down their spine. There's no question, this is quite an effective solution but from a design sense, its clunkiness reminds me of Oakley's Switchlock lens-swap system. Which was innovative but unnecessarily complicated, in my opinion.
If you're a tech head, this system will appeal to you. If you're working on the mountain, this system will appeal to you. If you want an uncompromised on-hill experience, this system will appeal to you. If you're like me and are quite content with a great pair of goggles and outstanding lens tech then I'd opt for the standard Line Miner and put up with the occasional fog and keep the cash. The ball is in your court, now go ride.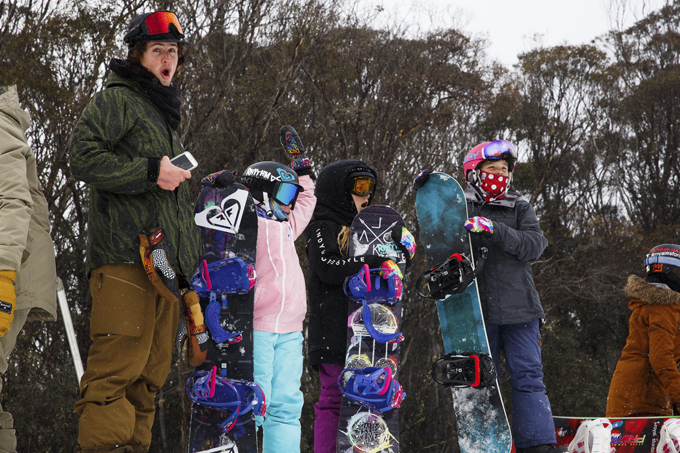 The act of wearing your goggles on your head is a gateway to a fogged lens, but the Inferno completely countered this and a celebratory howl was performed by the author. Image:: Aedan O'Donnell
Buy the Oakley Prizm Inferno Line Miner Goggle here
Buy the Oakley Prizm Line Miner Goggle here