The Grasshopper's Australian Forecast, Friday 28 June – Happy Hour Before a Stormy Weekend
June 28th, 2019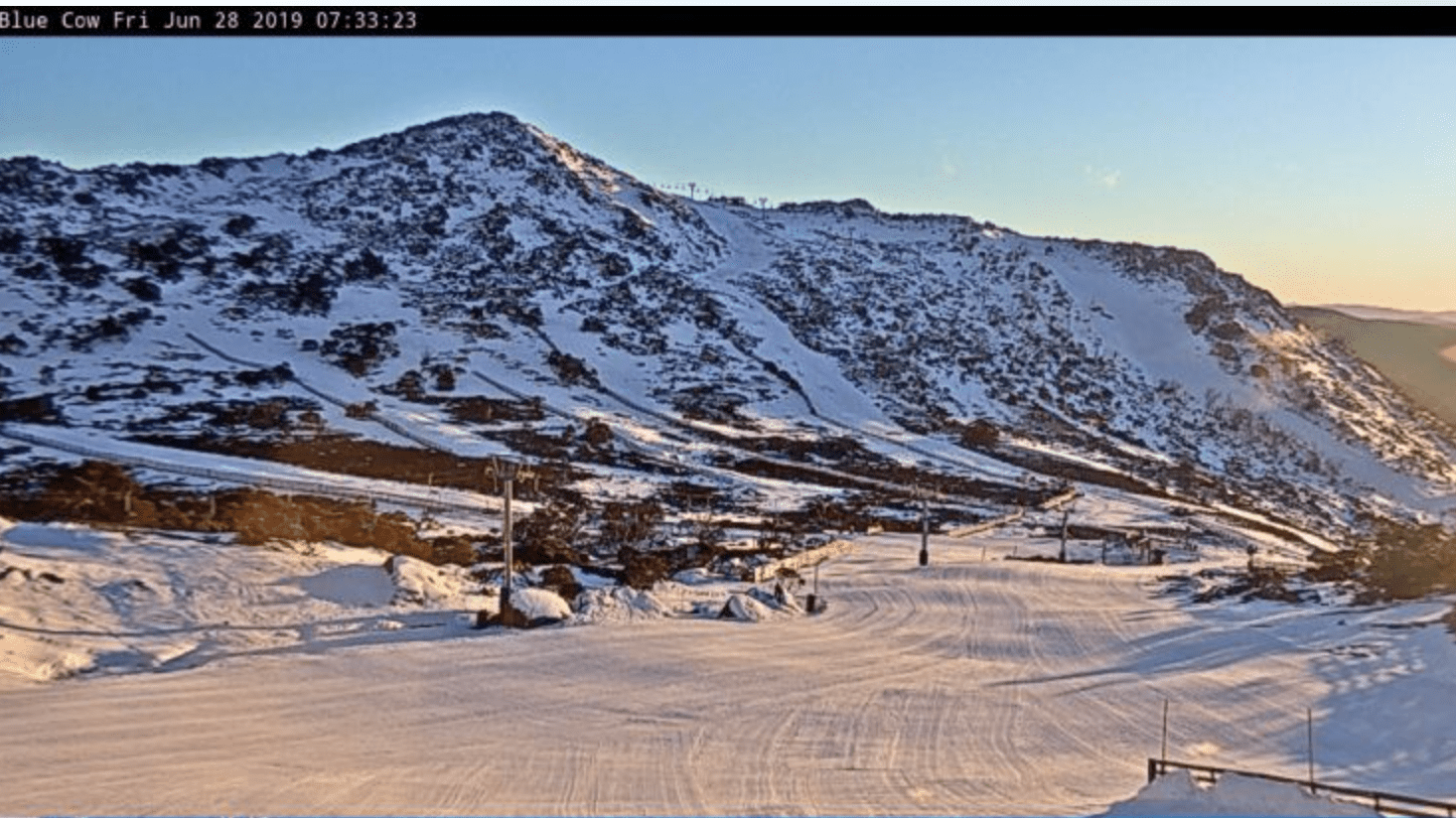 Mountainwatch | The Grasshopper
Synoptic Outlook
After a week of amazing sunshine and snow making, change is in the air. A low will dip past Tasmania this weekend, while its front, extending north, will cross the Aussie Alps during the latter half of Saturday. Warm N-NW winds will work themselves into frenzy ahead of the front and rain will come pouring down. However, temps will plummet behind the front Saturday night, turning that rain into snow. Accumulations for this snow event, which will peter out on Sunday, should lie within 10-20cm, but there could be slightly more or less at high or low elevations. High pressure will build to the north on Monday, but NW winds will pick up again as a weakening front approaches from the west.
Image of The Day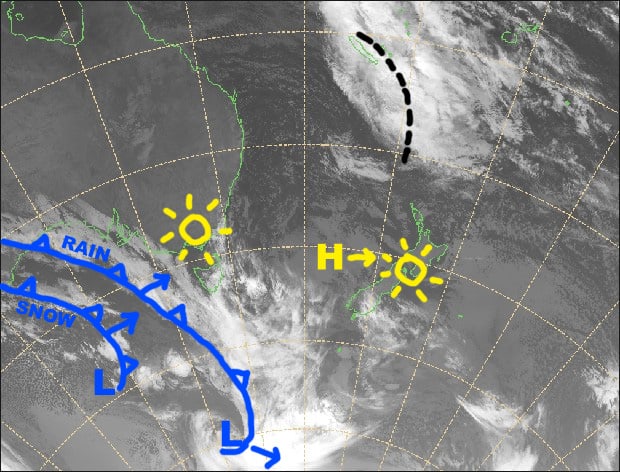 Last sun-rays today, as happy hour leads into a grungier, stormy weekend. Source:: NZ Metservice (vandalised by the Grasshopper)
 Friday 28 June
A windy ol day, with stong to gale northwesterlies. Skies will be clear, apart from a bit of cloud flying in during the afternoon.
Saturday 29 June
Drizzly rainy stuff setting in on Vic resorts during the morning, with only patchy drizzle on NSW resorts in the afternoon. Rain becomes widespread and heavy throughout the Aussie Alps during the evening as the front hits. However, rain will turn to snow at night, as temperatures plummet behind the front and gale to severe gale N-NW winds swing around to the west. A good day to read a book!
Sunday 30 June
Snow flurries will gradually peter out during the afternoon and cloud will start breaking up. Cold westerlies will be blowing a gale.
Monday 1 July
A lot of cloud still hanging around and there might be lingering snow flurries until dawn. W-NW winds rising to gale again.
Extended Outlook
The weak front should brush the Aussie Alps during Tuesday with only a centimetre or two of snow on the cards at best. After that, another bout of high pressure will bring mostly settled conditions until at least next weekend.
That's all from the Grasshopper. Wanna keep your finger on the pulse of all things snow? Join my weekly email list by filling in the box on my forecast page. If you have a question or feedback for me, hit me up on facebook.