TRAVEL USA – Epic Snow, Dollar Parity, It'd be Rude Not to Ride North America this Season
January 11th, 2011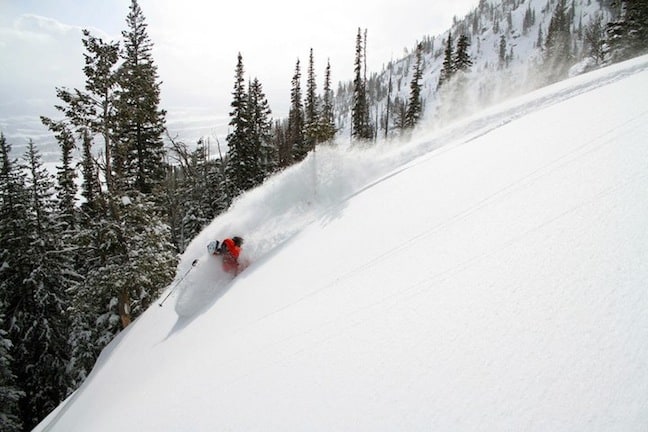 They called it DeepCember – Andrew Whiteford in Jackson Hole, Wyoming, early December 2010. Image:: Jackson Hole Mountain Resort
Travel North America | Tess Cook
If ever there was a time to drop everything and go riding, now is that time. The Australian dollar is at a 30 year high and the North American snow season is at an all-time best…
Snow pundits expected Season 2010-2011 to be good but, when back in November, they made noises about the 'La Nina effect' and the promising long-range forecasts we had no idea, really, of the impact a helpful little weather pattern in the Pacific would have on North American snowfalls.
"All six of our world-class resorts across Colorado and California enjoyed a record-breaking start to the season," says Vail Resorts' International PR Coordinator May Lilley. The early season statistics for the West Coast resorts were nothing short of phenomenal, with Mammoth Mountain's headline-making five metres in five days snow storm just before Christmas capping off a history-making 2010.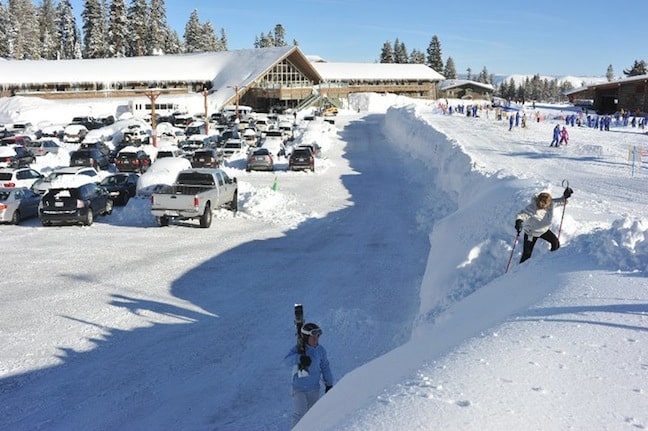 As if walking in ski boots isn't hard enough. Mammoth Mountain December 24, following THAT five metre snow storm. Image:: Mammoth Mountain
As 2010 gives way to 2011 La Nina is by no means giving up. Snow clouds are hovering above much of the American West Coast again this week, January 10 – 16, with anywhere up to 80cm of snow expected in a cold front that will keep temperatures mostly below minus 10 degrees Celsius. Such cold air will preserve the existing snow bases and see the new snow fall as that light, dry powder we like to call 'champagne'.

As snowfalls hit a high note, so too does our dollar. At time of writing our little gold coin was buying US$1.01 and is expected to remain strong. To round out the golden trio, with the introduction of V Australia and the arrival of Delta Airlines on our shores flights to the USA have never been so competitively priced and for those heading further north, the Air Canada's Vancouver-direct service makes getting to British Columbia an almost pain-free experience.
With such a powerful combination it seems almost rude not to pay North America a snow-visit before the season is out.
"Our dollar has not been as strong for 30 years, and a slow economy in the US, means there are some sensational deals in the great resorts," says Toby Withers, Director of Travelplan, Australia's leading snow travel specialists.
"With the parity of the Australian dollar, powder snow, sunshine and new amenities and lodging, Vail, Beaver Creek, Breckenridge, Keystone, Heavenly and Northstar-at Tahoe are all very attractive holiday destinations for Australians," agrees Vail Resorts' Lilley.

It is by no means too late to fit in a 2011 snow trip either. "We are getting last minute bookings every day at present, as clients realise what a great snow year it is – and the deals that are around," says Withers. While we think of overseas travel as a big production, really all you need is a passport, enough time to pack your bags and some annual leave days. Pick a destination on Tuesday and you can be on the slopes by Saturday if you're really keen.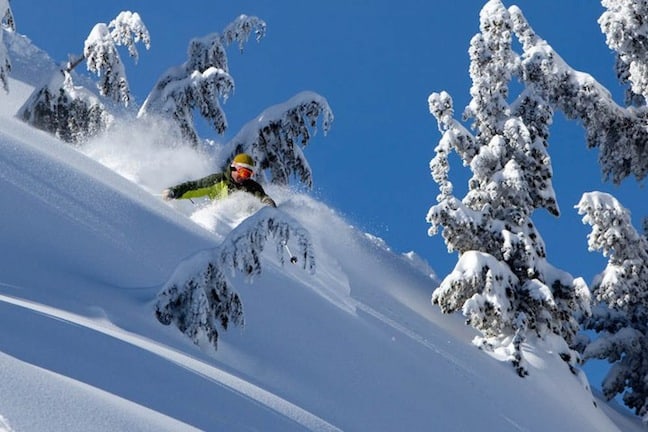 Christmas Eve in Mammoth and no one's wanting anything else from Santa. Image:: Mammoth Mountain
For those not beholden to a school holiday schedule February is the ideal time to visit North America, not in the least because mostly those with kids are back home settling into term time. Prices often move from high season to mid season and the slopes are quieter.
For families, "Australia's two week Easter break lines up perfectly to enjoy some fabulous spring skiing at Vail Resorts," says Lilley. With most West Coast resorts already scheduled to stay open well into April and the promise of even more snow on already epic snow bases, the North American season will likely still be excellent in spring.
Choosing a destination is the final hurdle.
"It's hard to go past Canada for families," says Withers. "Bargain packages, plus kids ski free at major resorts like Whistler, Sun Peaks, Big White and Silver Star." Resorts with well-priced on snow accommodation are ideal, Silver Star and Big White are both almost completely on-snow, with quaint, easy to manage villages perfect for letting kids roam free.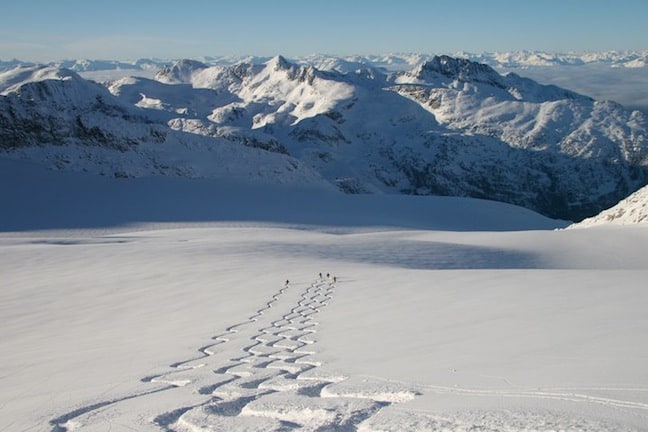 This was December 4, Whistler's had at least four metres of snow since. Image:: Yusaku Tanaka/Whistler
If you're after something lively the big Colorado and Californian resorts can't be beat. Freeski Mecca Mammoth Mountain must be equally famous for its nightlife and everyone knows the allure of the Aspen après scene.
For the serious "Jackson Hole, Wyoming – hard to beat if you enjoy a challenge," says Withers. Telluride and Steamboat in Colorado and British Columbia's Revelstoke also offer hard-core riders more than they can handle before breakfast.
North America's added bonus is its convenience. Japan may be closer and Europe may be more of a cultural experience but for all round accessibility Canada and the United States are number one. Both getting there and getting around are relatively easy, every resort is well serviced by regional airlines and/or shuttle services, there's no language barrier and excellent snow sports schools, lift operations and general services are pretty much a given. The unexpected delight of a North American visit is just how culturally rich it can be. Spend ten days in Jackson, Wyoming and you'll encounter a world of over sized Stetson wearing, country-western crooning, genuine cowboys with, interestingly, equal enthusiasm for organic farming and deer hunting. Deposit yourself at the Little Nell in Aspen for lunch and you'll be privy to the real life version of the Real Housewives of New York – culturally salubrious, maybe not, but entertaining nonetheless.
Whether you're drawn more to organic deer hunters in Jackson Hole – tip: the country western radio stations are incredible – or the ladies who lunch in Aspen there's undoubtedly a North American destination to entice you and, as we said, with such epic snow and dollar parity, it'd be rude not to pay it a visit this year.
February packages from Travelplan
Aspen 7 night package in Feb from $2089 pp based on twin share. Package includes 7 nights at The Gant in a Standard 1 bedroom apartment, a 6 day 4 Mountain Aspen lift pass, return airport transfers and resort hosting.
Snowmass 7 night package in Feb from $1464 pp based on twin share. Package includes 7 nights at the Crestwood Lodge in a Deluxe Studio apartment, a 6 day 4 Mountain Aspen lift pass, return airport transfers and resort hosting.
Beaver Creek 7 night package in Feb from $2210 pp based on twin share. Package includes 7 nights at Highlands Lodge in a 1 bedroom apartment, a 6 day Colorado Lift Pass, return Eagle airport transfers.
visit www.travelplan.com.au for more.
April Deals at Vail Resorts
Australians can ski for up to 14 days for only US$199, from April 10 until season close. That's less than $15 a day!
At Breckenridge, Australians can enjoy a room at ski-in/ski-out hotel The Great Divide Lodge, including a full hot breakfast, for only US$125/night. Valid for stays from April 1 to April 24, 2011. Book by March 1, minimum stay 5 nights.
You can also find up to 30% off at other popular Breckenridge properties.
Visit www.snowusa.com.au for further information.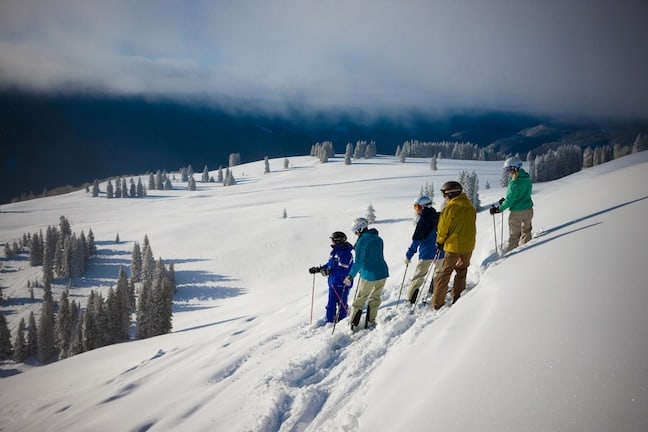 January in Vail. Image:: Vail Resorts
Heavenly forecasts,
snow reports and
live snow cams.
Big White forecasts,
snow reports and
live snow cams.
Whistler forecasts,
snow reports and
live snow cams.
Vail forecasts,
snow reports and
live snow cams.
Aspen Mountain forecasts,
snow reports and
live snow cams.
Breckenridge forecasts,
snow reports and
live snow cams.
Silver Star forecasts,
snow reports and
live snow cams.
Mammoth forecasts,
snow reports and
live snow cams.