TRAVEL USA – Park City Powder Cats
September 27th, 2010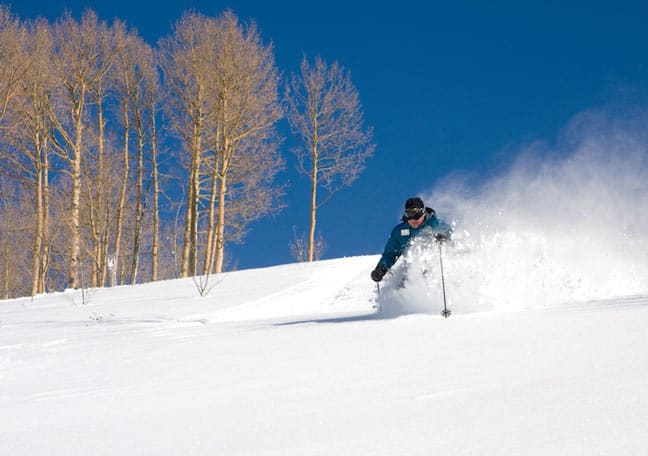 Utah is famous for its champagne powder.
Skiing Utah | Rachael Oakes-Ash
Images | Rebekah Stevens – rebekahstevensphotography.com
I blame the powder. Dry, Utah powder under an intense blue sky will do it to you every time. The conditions were sublime and clearly messed with my head. Why else would I be standing in an off road car park in Wolf Creek Pass not far from the satellite town of Heber with a nine millimetre gun in my hand?
The day started well enough. A morning drive with a girlfriend from the resort town lights of Deer Valley heading in the direction of a Thousand Peaks ranch for some cat skiing with Park City Powder Cats in the Uinta Mountains.
Thousand Peaks Ranch has been owned by the Moench family since 1921 when the grandfather combined four different sheep stations to create the one ranch. It still operates as a working sheep station today but also offers snow mobiling and eight miles of fly fishing streams plus guided hunting of elk and moose.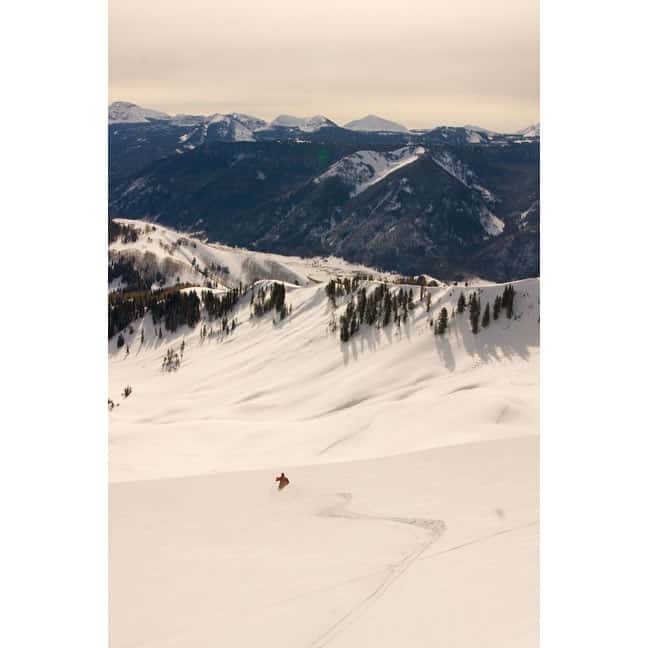 Cat skiing gives you acres of private powder playing fields.
The forty two thousand acres of private cat skiing terrain receives over four hundred inches of snow each season and we were hoping to rip it up with the eight other guests in our own private cat. Three Germans had made the trek from Europe to join us alongside five American blokes on a property development conference in The Canyons at Park City. With a four to one ratio of men to women, a lead and tail guide and a cat driver with a full case of chocolate, water and a gourmet lunch it was bound to be a good day.
Avalanche conditions were high, as they were most of the season, so we had to salivate at the steeper pitches while turning our skis on the more mellow terrain. We scored a good mix of dry powder and spring corn with an occasional variable crust to keep us alert and were all beaming come lunch time. The afternoon brought more of the same with some glade runs, open bowls and some more settled steeper pitches.
Cat skiing is social, the twenty minute drive back up to the peaks and ridges leaves plenty of time for the group to swap travel tales and regain their breathe from the thigh burning run moments before. With everyone in a holiday spirit, the cat compartment can get pretty rowdy and when it's filled with Americans that's a given.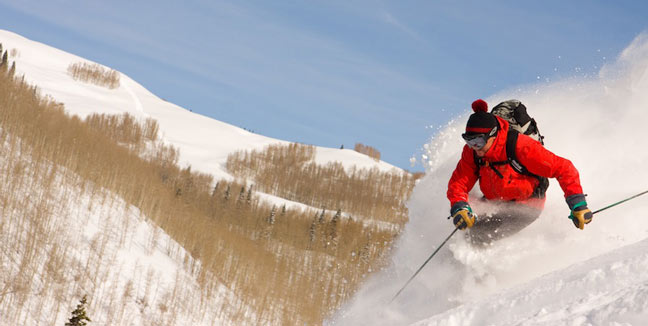 Steep and deep.
It was late afternoon by the time we had skied the cat track back down to the stream below, jumped in the cat and made it back to the ranch headquarters and it was dusk by the time we were on the road. A diversion to the town of Heber to find some cheap Carhart gear saw us make a wrong turn and end up in the remote Wolf Creek pass as the sun bobbed down.
Miles and miles of snow laden mountains created an amphitheatre around the solitary winding road without a convenience store in sight. There was nothing for it but to stop on the road side car park and ask the three slednecks packing their trucks with snowmobiles for directions. Only they weren't just snowmobiling, a second look as we unwound the window to ask for their advice revealed one massive rifle slung over the shoulder and on the hip of a man dressed in balaclava black.
Let's just say hysteria followed. A high pitch scream escaped my trembling lips as my girlfriend urged me to wind up the window as if we were in a bullet proof secret service hummer rather than a production line low end rental car. All the while the slednecks stood there until we regained some composure. Which took a while.
I explained we were from Australia and the closest I had come to a gun in my life was a water pistol on Year 12 muck up day. Sledneck number two asked us if we knew his cousin who lived in Western Australia and then asked if we wanted to shoot a gun. I had read it's considered rude to refuse an offer from the natives and heard tails of lesser folk tied to trees for gun shooting practice as a result so I graciously accepted the offer.
That's when the concealed weapon revealed itself – a nine millimetre hand gun worthy of a gangster rapper in an Eminem film clip. Loading it up he shot it once into the woods before handing it to me to let it rip. There's something about having your hand wrapped around a deadly weapon that leaves me both cold and hyper excited simultaneously. It is de rigeur when handling such a gun to pepper one's language with cuss words, to speak of gloks, packing and capping.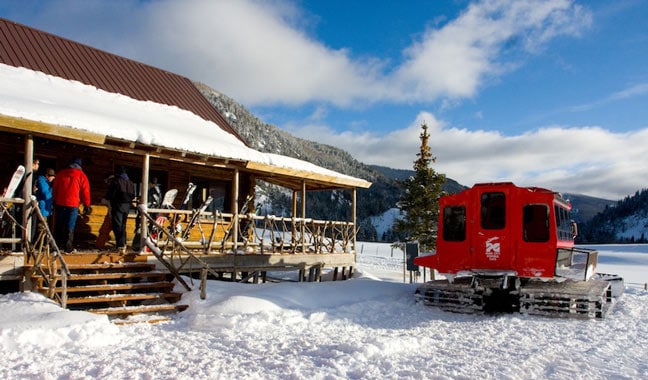 The Park City Powder Cats lodge.
Only in America would a total stranger hand another total stranger a fully loaded weapon and say 'take a shot'. We were just taking a leisurely drive to find some Carhart not looking for some bad ass gun toting action, officer.
Bang! One shot into the woods. Bang, bang, bang, bang, bang as I unloaded the gun of it's ammo with vigour. Meanwhile Balaclava Bob was shooting his rifle into the same abyss. Where I come from this would be an ambush, where they come from it's a normal after work activity.
Sledneck number three started singing the banjo theme song to the movie Deliverance. That was our cue to get out of there. Thanking them for the use of their weapons, we jumped into our getaway vehicle and high tailed it. Hysteria followed as we realised the gravity of our situation.
A drink in Park City's No Names bar was much needed as we regaled our story to Americans who just didn't get what the fuss was about. Pouncing on the first Australian voice I heard in the next door Oh Shucks bar we told our tale again. So shocked and impressed by our antics were our new found friends that they promptly stole our story and regaled others with it replacing the two chicks with two blokes, them. Trouble is there was a weapon out there with my fingerprints, not their names, on it.
The powder made me do it.


Park City forecasts,
snow reports and
live snow cams.