UPDATED – The Groundhog Storm, 30-50cm Inbound – Snow Alert Australia
July 28th, 2015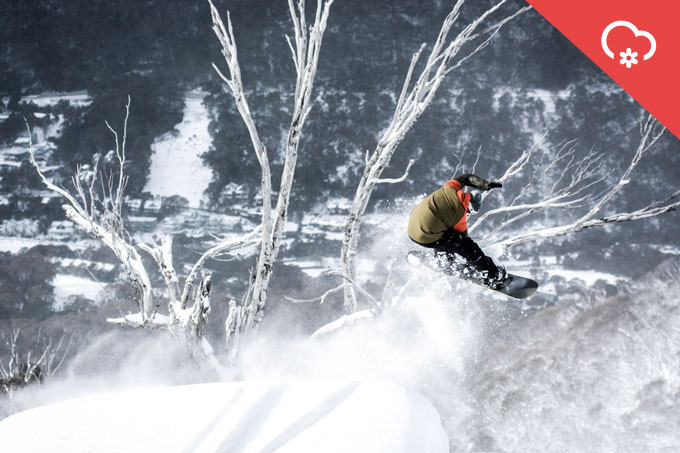 Last weekend will be long remembered as one of the best days of 2015. Will this weekend be better? Ryan Tiene sends it off a Golf Course bowl pillow on Sunday Image:: Thredbo
SNOW ALERT
Snow Likelihood rating: It's already started.
UPDATED: July 31, 11:00am
There has been a slight downgrade on this system over the past 24 hours, although all is not lost. In today's forecast, The Grasshopper explained: "The forecast for the next couple of days has changed. I'll give you the bad news first then the good. It is likely that Saturdays' front will be stronger than previously thought. That extra strength will pull in much milder air from the north-west raising the freezing levels before the colder air gets a chance to work its magic. This makes rain seem the most plausible outcome during the day at all levels on the mountain. Snow should get down to the higher terrain by late afternoon.
"The good news (for some) is that there is now moderate confidence that the remnants of Saturdays' cold front will stall over NSW as it links with a weak low over the centre of Australia on Sunday. This could potentially give another 5-25 cm of wet snow in the resorts furthest to the north-east on Sunday morning. It's one to watch out for and difficult to call at this point – a small movement in the front could result in a snow bonanza or sad faces all around.
After the weekend, the snow is expected to continue for a few more days, he goes on: "The snow express will continue on Tuesday and Wednesday as showers get pushed in on moderate westerlies as we sit in-between a high to our north and a potent low to the south. The snow showers intensify on Wednesday as another cold front passes through."
All in all, we're still on track to see 30 to 50cm fall between now, and next Wednesday evening. Then, there's looking like a tasty follow up by next weekend. Keep your eyes on the daily forecasts for more information.
————————————————————————
The Breakdown:
30-50cm across Friday (July 31) to Wednesday (August 5)