Vail Resorts Acquires Perisher – Here's 5 things Mike Baird can do with his $4 million in Stamp Duty
July 6th, 2015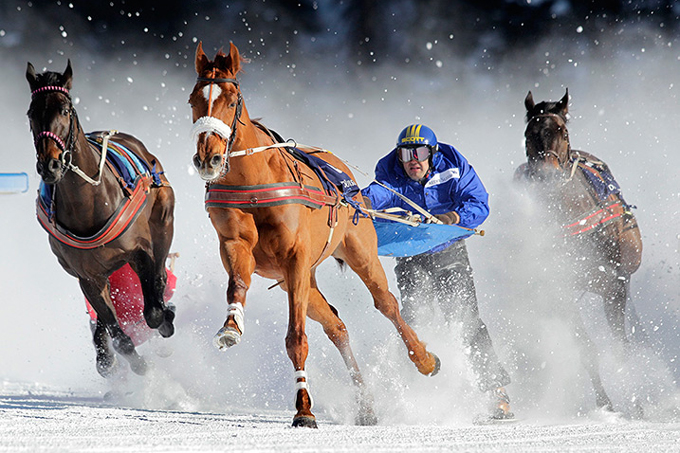 Idea #5: Skijoring, it's a sure thing. Come on! As if that doesn't look like fun. We'd have Red Bull & Monster Energy knocking on our doors with offers of corporate sponsorship in no time at all Image:: Supplied
Mountainwatch | Chris Booth & Alex Horvath
One of the hidden winners in last week's acquisition of Perisher by Vail Resorts is the NSW State Government, who'll pick up a cool $4 million in Stamp Duty from the deal. Given that's pretty much a donation from the ski industry to the Government, we feel it's only fair that they inject it back into the industry. Here's five things the Baird Government can do with it:
NB: All views and opinions herein are solely those of the writers. And all are meant in jest, of course!
1. The NSW Government enters a Public Private Partnership with the Ski Industry Brotherhood of Uber Mountain Shredders Pty Ltd (SKIBUMS) to buy Charlotte Pass. Charlotte Pass Village (CPV) currently holds the head lease Charlotte Pass, but that lease was up for renewal in June this year and was open to tender. The decision lay in Rob Stokes' hands and so far we haven't heard any news. Now, it's not clear how much Charlotte Pass is worth because CPV is a private company, so they don't report anything like their earnings, operating costs, and so on. It's a bit of a shot in the dark, but I'd say the Baird Government's $4 million dollars would be enough to at least get SKIBUMS a seat at the negotiating table. From there the Charlotte Pass Masterplan would be within our sights, because once Vail resorts see the potential to create the biggest ski resort on earth they will want in for sure. After all, that's what they did with Park City. And if Vail resorts don't do it, Clive will.
2. License and fund an expansion of the pokies at the Banjo. Pokies are great. They create heaps of revenue for clubs and pubs and that in turn creates jobs and supports communities. At the moment the pokies in the Banjo are tucked away in a dark corner, let's get those things out into the open so everyone can have a go! This would be money well spent for the government because assisting the Banjo to expand its pokies would no doubt lead to an increase in Machine revenue which is subject to Poker Machine tax. So the State government would be supporting the community and getting its money back at the same time. Meanwhile, Banjo's could become the new Rooty Hill RSL!
3. Upgrade the Station Resort into a detention centre. Everybody knows that our detention centres are at capacity, but with a bit of spit and polish, The Station Resort could be brought up to a standard fit for refugees awaiting visa determinations. Technically, detention centres are the Federal government's responsibility under the Migration Act 1958, but we're sure the state government has a say in there somewhere. We've got everything in place to run it already – Transfield Group (who part-owned Perisher before Vail Resorts bought it) currently operates Manus Island, so that's not going to be a problem. Now we know what you're thinking, could the detainees petition Peter Dutton to allow a once a year ski trip to raise morale? They could, but unfortunately they aren't allowed out, so they might have to settle for one of those indoor ski carpets. Those things are apparently great for your technique. Given several hundred detainees would be children, and that it often takes more than a year before being given a hearing, this could become a new youth development pathway for Australian Winter Sports. An Olympic medal prospect would surely increase their chances of citizenship – it worked for Dale Begg Smith!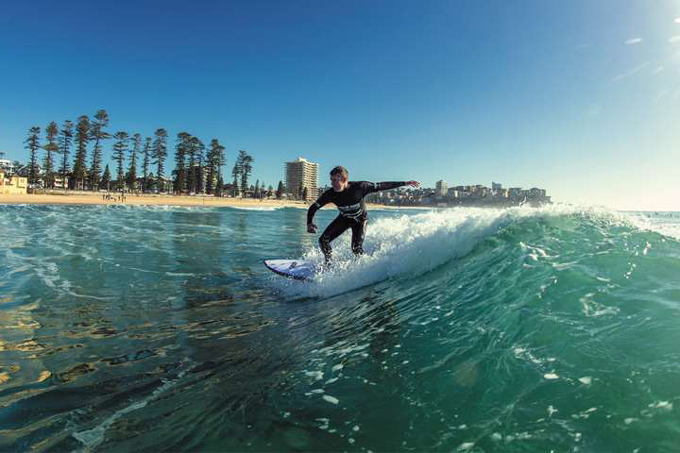 Ol' Mate Bairdy doesn't mind a wave every now and again, surely he likes to chase the white-room, too? Image:: Coastalwatch
4. Fund a high profile cycling event from Canberra to Thredbo to raise awareness of climate change and have Tony Abbott attend. Money well spent, wouldn't you agree? At least it might favour the NSW government when it comes time to dish out the 2016 Federal Budget – cycling is the new golf course, right?
5. Grant the funds to the National Parks and Wildlife Services (NPWS), who can use it to fund the Wild Brumbies relocation program. We'll install a stable next to The Man, and host the 2015 Skijoring World Cup. With some proper investment we could become a force in skijoring as early as 2019. Then, we'll lobby to have it included as an Olympic sport as part of our 2024 Smiggin Holes Olympic bid.
Perisher forecasts,
snow reports and
live snow cams.