Weekly Japan Forecast, January 26th – Another Epic Week with Back-To-Back Storms
January 27th, 2023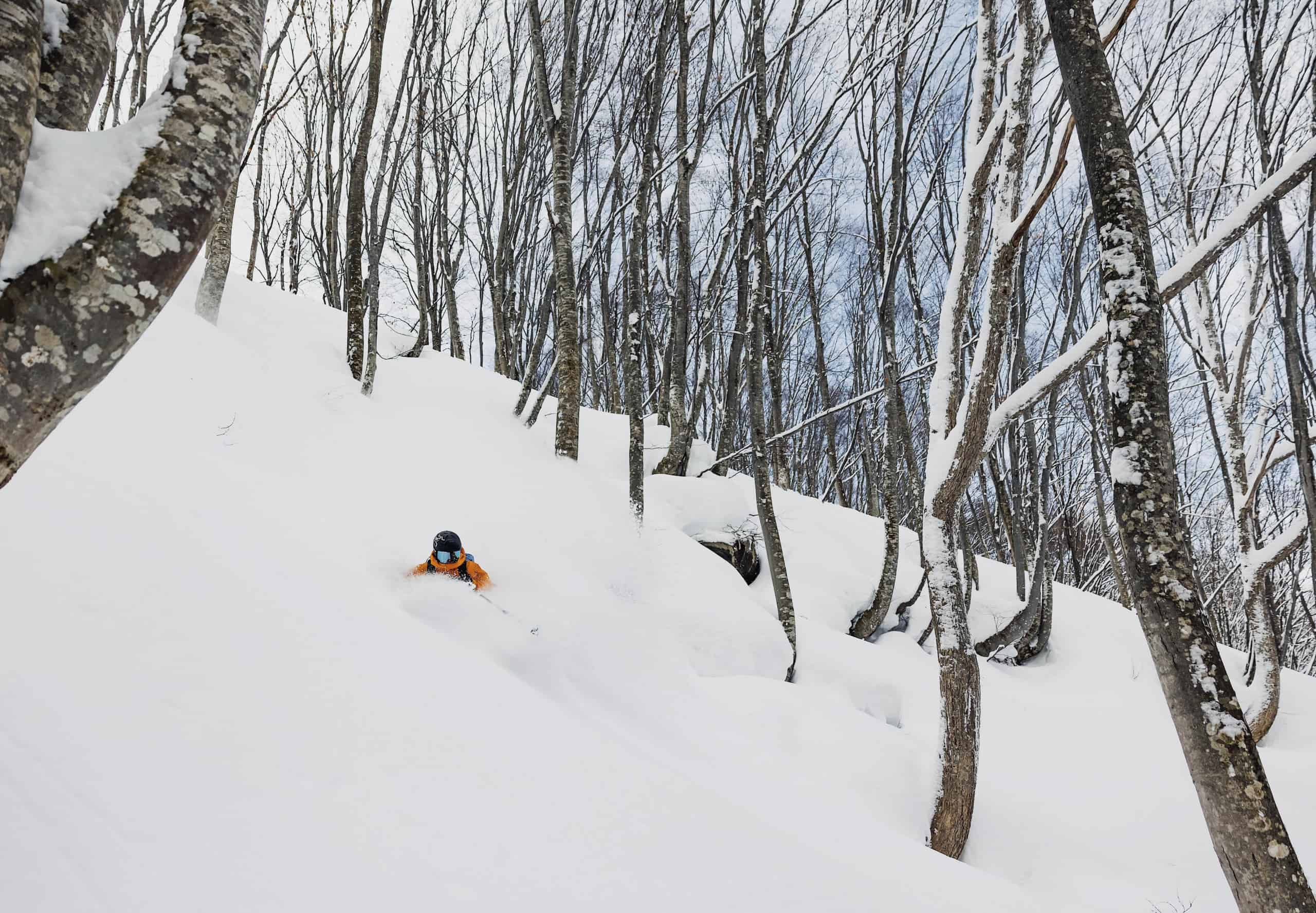 Mountainwatch | The Grasshopper
Written Thursday 26thJanuary (Japan Standard Time)
It's been a big couple of days in Japan after an intense snowstorm hit at the start of the week. Numbers from our own reporters around central Honshu were up and over 0.6-1m after heavy snowfall there Tuesday afternoon into the early hours of Wednesday.
Resorts in northern Honshu and Hokkaido have also seen the powder piling up, while icy temperatures and strong winds have made for extremely adverse conditions and some operational and safety headaches.
The storm cycle will remain active over the coming seven-day period, as numerous back-to-back low-pressure systems should dump another 0.5-1m+ of powder on Honshu, and about half as much onto Hokkaido. We'll only see brief pauses in snowfall and glimpses of the sun between these storm systems, but it's going to be another epic week here in Japan.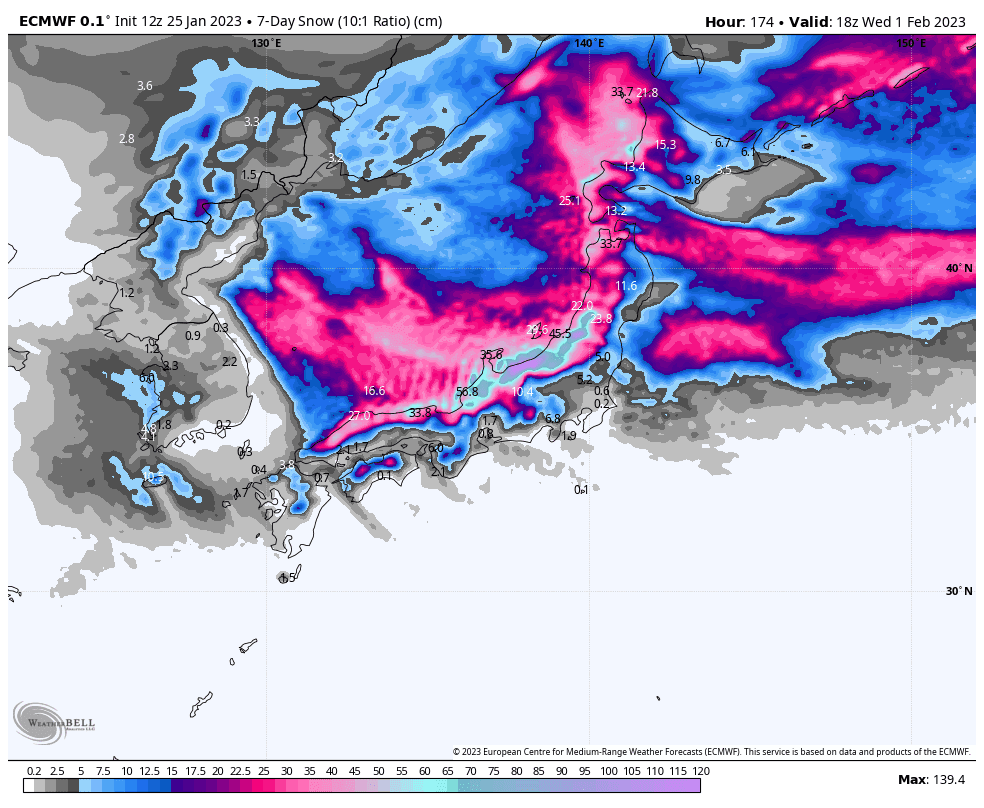 Thursday Jan 26th & Jan Friday 27th
Thick, fluffy snowflakes will continue to fly in along the Sea of Japan side of the archipelago today, Thursday. To start with, the heaviest falls will be along the Echigo Range, with predominantly light falls elsewhere. The Hida Range of central Honshu will also see heavy falls this afternoon as W-SW winds there tilt a fraction more the NW.
Conditions, including the icy winds and snowfall, will abate during Friday morning as a low-pressure system straddling Honshu develops. It'll only be a temporary lull, however, as moderate-heavy snowfall will get underway again over central Honshu and the southern half of northern Honshu from afternoon as the low deepens and spins off into Pacific.
 Saturday Jan 28th & Sunday 29th
With the low mentioned above continuing to deepen as it heads NE in the Pacific, where it eventually joins forces with another in the Sea of Okhotsk, icy W-NW will once again blow over Japan throughout the weekend with good consistent snowfall. The heaviest falls will start out around the Hida range before gradually shifting eastwards to the Echigo range during Saturday into early Sunday.
Conditions should ease late Sunday as a weak, narrow ridge builds over the country.
Monday Jan 30th to Wednesday Feb 1st
Monday will bring another brief interlude as we transition from one snowstorm to another. Sunshine should break out over Honshu for a time, while light snow showers are likely to persist on Hokkaido. But later in the day, snow will start falling over Honshu again, lightly at first as the next low begins to make landfall, then becoming heavier during the overnight/early Tuesday period as the low crosses over into the Pacific.
Snowfall and conditions will start to abate during the second half of Tuesday, before clearing up early Wednesday with another sunny spell. The next snow storm is likely to hit Hokkaido late Wednesday and then Honshu early next Thursday.
Thursday Feb 2nd
The last snow storm mentioned above will likely be at its zenith next Thursday before gradually backing off over the following couple of days. Ensemble models then indicate conditions across Japan will quieten down somewhat to more average-looking conditions after what would have been an intense wintry week.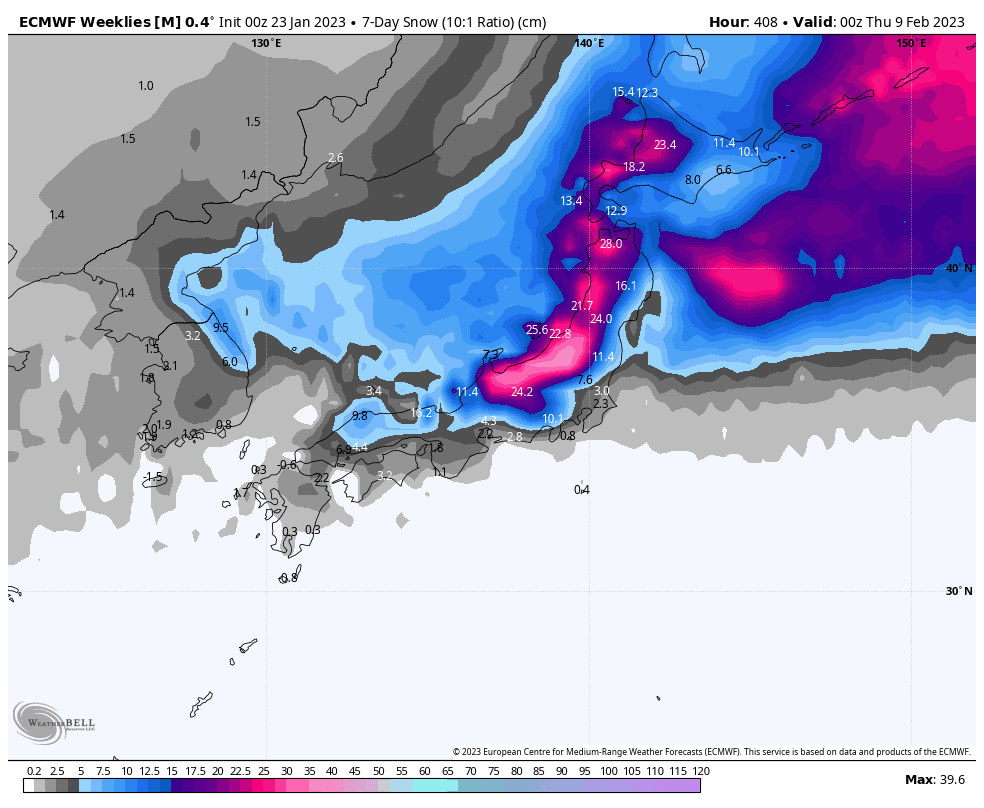 Remember, average in Japan is still good, whereas a heavy snow week can often cause a lot of headaches with operations and safety.
That's all from me this week guys, see you next week!
Grasshopper