Winter Storm Hits New Zealand
April 11th, 2018
50cms and road closures in April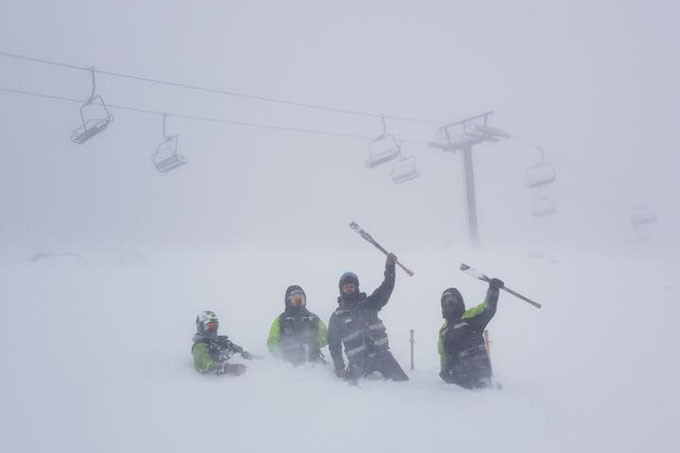 The snow hit the North Island overnight, with snow showers continuing today. The maintenance crew, loving it on the upper slopes of Turoa this morning.
Mountainwatch | Reggae Elliss
A full-on winter storm hit New Zealand yesterday with freezing levels down to 600 metres in the far south and 1000 metres over the central North Island.
"The bulk of the storm passed over the South Island yesterday and it worked its way across the North Island overnight," said the Grasshopper, Mountainwatch's snow forecaster. "The forecast was for 40-50cm in the Canterbury ski fields with about 15 cm on the Southern Lakes ski fields. Looking at webcams and observations, this looks to be the case."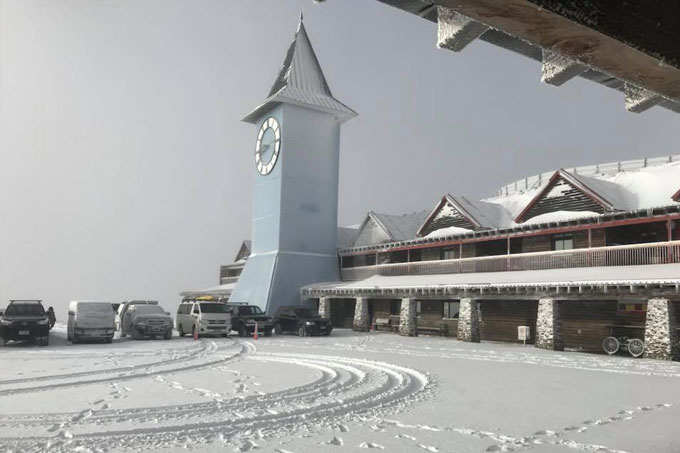 Cardrona carpark, April 11.
The South Island did indeed see a lot of snow, Mt Hutt reporting 50cms in 24hours this morning while Coronet Peak had 13cms overnight. While it is not unusual to see snowfalls in April, this storm wasn't just a quick passing cold front that left a dusting on the mountains. A complex low brought severe weather warnings across the country with gales force winds, thunderstorms and widespread heavy rain.
The associated blast of cold air resulted in the low freezing levels with snow settling as low as 350 metres on the east of the South Island. It was the type of storm you expect in mid-winter and it even resulted in the closure of the road to Mount Hutt – "due to deep snow drifts and avalanche danger".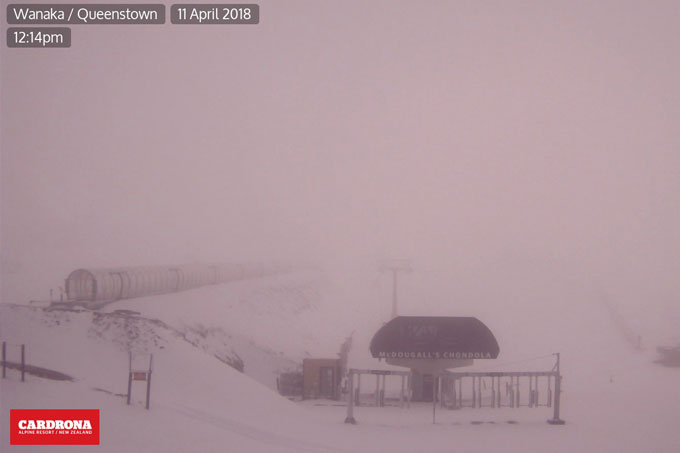 One of Cardrona's webcams this morning. Doesn't look like mid-autumn.
The storm moved across the North Island overnight with Ruapehu reporting 15-20cms on the upper slopes at Turoa, "with drifts up to one metre".
Things will lease over the next 24 hours, the Grasshopper calling snow showers today with another dusting for the South Island tomorrow.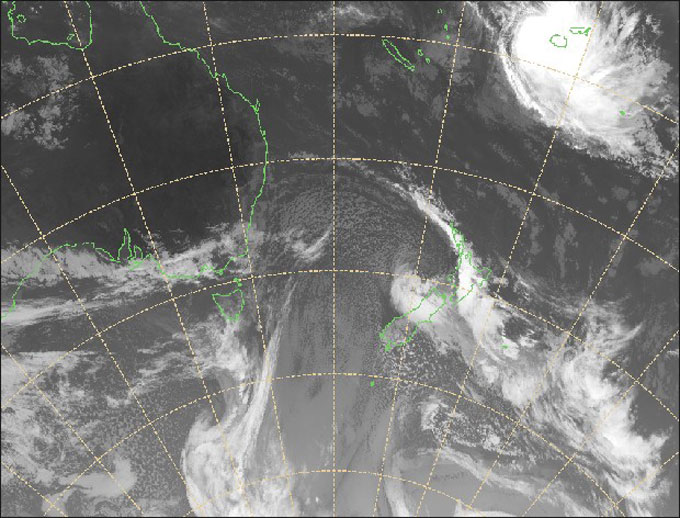 A satellite image from April 10, showing a strong snow-bearing cloud mass followed by a lot of cold air in the Tasman Sea
Of course, early snowfalls are no indication of what may be in store for the upcoming winter. However, it does remind people that winter is just around the corner and does get snow lovers pretty excited.
It also makes good headlines, the Grasshopper adding that, "Maybe we can call this Armageddon April or something silly like that."