WINTER X 15 Highlights – VIDEO Horgmo Tiple Cork, Henshaw Silver, Clark 1080
January 30th, 2011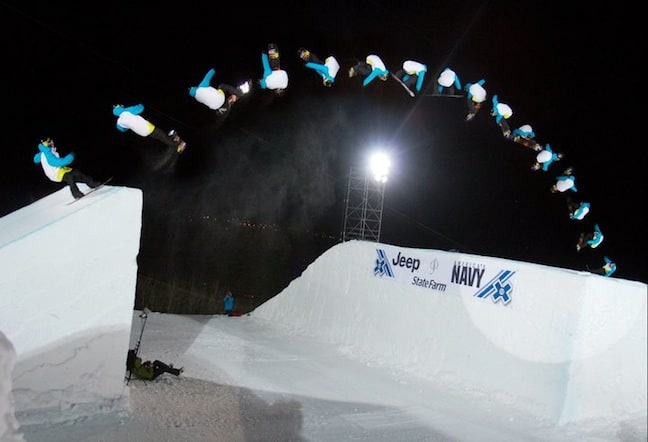 Snowboard big air winner Torstein Horgmo. Image:: X Games
Winter X Games
UPDATE: Sunday's Competition
Men's Snowboard Slopestyle
1st Sebastien Toutant
2nd Mark McMorris
3rd Tyler Flanagan
Women's Snowboard Slopestyle
1st Enni Rukajavl
2nd Jenny Jones
3rd Jamie Anderson
Men's Ski Cross
1st John Teller
2nd Chris Del Bosco
3rd Casey Puckett
Women's Ski Cross
1st Kelsey Serwa
2nd Ophelie David
3rd Fanny Smith
Australia's very own Russ Henshaw has claimed himself an X Games souvenir in the shape of a ski slopestyle silver medal, just one momentous moment in 48 hours of winter extreme sports overload at Aspen Colorado.
Winter X Highlights
Torstein Horgmo peforming the first triple cork in X Games competition history to secure the snowboard big air gold medal
Kelly Clark snatching the snowboard superpipe title from Gretchen Bleiler and landing the first 1080 in women's snowboarding competition
X Games first timer, 18 year old Alex Schlopy crushing veterans Bobby Brown and Sammy Carlson with a 1620 to win the ski big air
Sammy Carlson winning his first X Games gold medal in the ski slopestyle, backing it up with a bronze in the big air just hours later
Winter X 15's youngest competitor – Torin Yater-Wallace, winning silver in the ski superpipe, just two months after his 15th birthday
Shaun White failing to advance to the finals in the snowboard slopestyle, only the second time in 20 X Games starts he's failed to make a final
Some Results
Men's Ski Big Air
1st Alex Schlopy
2nd Bobby Brown
3rd Sammy Carlson
Having aggravated an injury he's been carrying since the Dew Tour, defending gold medalist Bobby said he was more than pleased to finish in second. Australia's Russ Henshaw withdrew from the big air after injuring himself in practice.
Men's Snowboard Big Air
1st Torstein Horgmo
2nd Sebastien Toutant
3rd Sage Kotsenburg
To make Torstein's triple more impressive, he nailed it with broken ribs, the result of a crash in an earlier attempt.
Men's Ski Superpipe
1st Kevin Rolland
2nd Torin Yater-Wallace
3rd Simon Dumont
Torin is the youngest male athlete to medal at a Winter X Games, to put things in perspective, Simon Dumont has been competing in X Games since Torin was just five years old. Kevin's winning score of 95.00 is the second highest in Winter X history.
Women's Snowboard Superpipe
1st Kelly Clark
2nd Kaitlyn Farrington
3rd Elena Hight
Kelly had the win in the bag after her first run; gold medal defender Gretchen Bleiler fell hard in the first run and couldn't seem to come back, but she used her third and final run to debut the 1080. Olympic gold medalist Torah Bright chose not to compete in the superpipe and is focusing instead on the slopestyle event
Men's Ski Slopestyle
1st Sammy Carlson
2nd Russ Henshaw
3rd Andreas Hatveit
After six X Games Sammy Carlson finally has an gold medal. Defending Champion Bobby Brown was pushed out of the medals but was not in top form.
Men's Snowboard Cross
1st Nick Baumgartner
2nd Kevin Hill
3rd Nate Holland
Recently crowned FIS World Champion Chumpy Pullin couldn't pull out a repeat performance at X Games. Though he qualified in third, the Aussie finished up in 14th place overall.
Women's Snowboard Cross
1st Lindsey Jacobellis
2nd Callan Chythlook – Sifsof
3rd Deborah Anthonioz
FIS World Champion Lindsay is just unbeatable at the moment.
With men's and women's snowboard slopestyle and the men's snowboard superpipe still to come, Winter X is not even close to finished.
Check out full results, videos, photos and all the rest at ESPN's X Games website
Aspen Mountain forecasts,
snow reports and
live snow cams.