NZ WEEKLY WEATHER BLOG – Closing Time Is Near
September 30th, 2012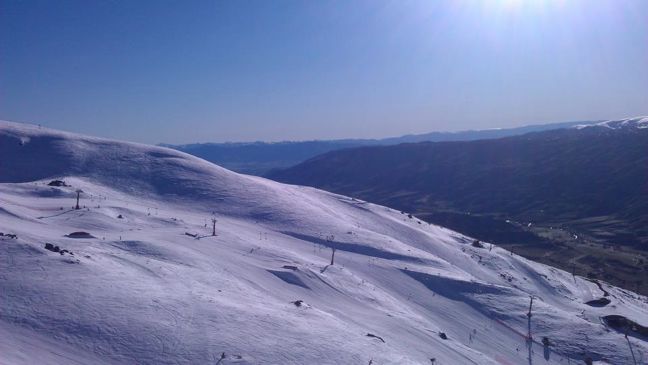 Sunny spring days in Cardrona Image:: Courtesy of Cardrona
Snow Journal | Matt White
Kia Ora Everyone
Its hard to believe that another season is coming to an end, looking out my window there is still so much snow on the mountains, a crying shame! A lot of rain has fallen in the past week, for some ski fields it was enough to end the season early and for others they were lucky enough to receive a little dusting of snow up high to whiten everything up again. Most ski areas are set to close this weekend, a select few will remain open for another week, however if your lucky enough to live in the north island, Mt Ruapehu (Whakapapa & Turoa) have just announced that it will be open until November!
If your heading up the hill before closing day, take plenty of sunscreen and it might pay to give your equipment a good wax beforehand as the snow is starting to get pretty sticky by the afternoon.
Looking ahead for the coming week it looks like a bit of a mixed bag of warm conditions, some rain and even snow to some areas..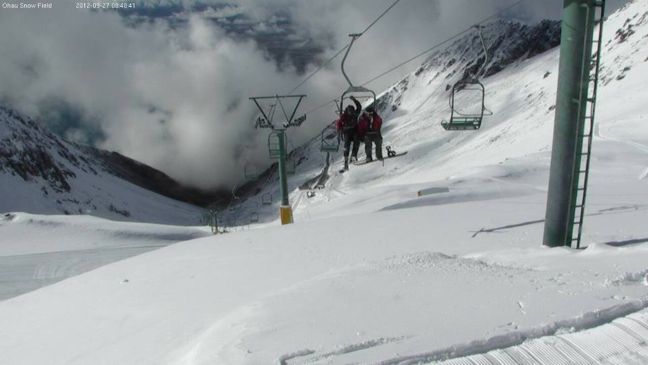 Ohau was treated to some epic days this season, here is one of them Image:: Courtesy of Ohau
North Island
Whakapapa/Turoa/Tukino– Patches of sun for Saturday mixed with a few showers here and there, cloud moving in Sunday with W winds increasing throughout the day. Snow showers forecast to 1300m and gale W winds for Monday-Tuesday. Wednesday should see conditions clearing with scattered cloud continuing into Thursday with the chance of a few showers.
South Island
Rainbow, Mt Lyford– Looking set to being a cracker of a day for Saturday, a light S wind will turn NW on Sunday bringing showers with the chance of snow up high. Monday will see the snow level lower to 1200m and then clearing up by Tuesday with light SW winds. Wednesday looks like it will sock back in with showers and W winds, continuing into Thursday but it should clear up by the afternoon.
Temple Basin, Broken River, Cragieburn, Cheeseman, Mt Hutt, Porter Heights, Mt Olympus– High cloud and NW winds for Saturday which will become snow to 1400m on Sunday and gale force NW winds. Monday may start with some snow showers but clear up by noon and remain clear into Tuesday. Rain will return through a NW flow on Wednesday and continue into Thursday.
Fox Peak, Mt Dobson Round Hill, Ohau– Saturday will be fine with high cloud and NW winds developing later in the day. Sunday is forecast to rain and turn to snow down to 1400m with NW winds gaining in strength but this should subside by Monday for a clear day with the occasional shower. Tuesday is looking clear and sunny right through to Thursday with the odd chance of a shower or two for Wednesday.
Treble Cone, Cardrona, Snow Park/Snow Farm, Remarkables, Coronet Peak– A partially cloudy yet sunny day for Saturday, N winds increasing in the afternoon and bringing rain by noon Sunday falling as snow to 1200m with gale NW winds. Monday will see the showers clear and turn to a strong W wind, continuing the fine weather into Tuesday. Wednesday will see a few showers with NW winds but then return to sunny, calm conditions by Thursday.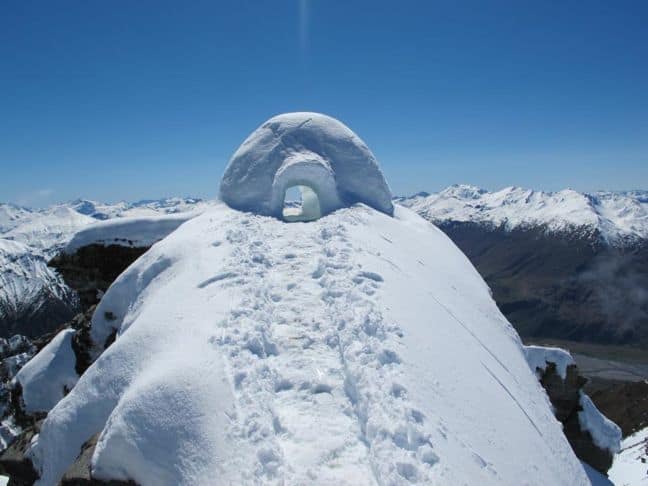 Its spring, lets build an igloo, Why not? Image:: Courtesy of Treble Cone
Here's how the resorts are shaping up snow-wise
Snow Bases across the country (cm)
Whakapapa 205
Turoa 206
Tukino 175
Manganui CLOSED FOR SEASON
Rainbow 62
Hamner Springs CLOSED FOR SEASON
Mt Lyford 70
Mt Hutt 210
Porters 110
Mt Cheeseman CLOSED FOR SEASON
Mt Olympus 145
Cragieburn 115
Temple Basin 120
Broken River 130
Fox Peak 52
Mt Dobson 170
Roundhill CLOSED FOR SEASON
Ohau 132
Treble Cone 175
Cardrona 90
Snow Park 40
Snow Farm 40
Coronet Peak 55
Remarkables 70
Queenstown Snowcats CLOSED FOR SEASON
Local Knowledge
With closing days rapidly approaching there will be plenty of fun to be had, Treble Cone for example has a dress up theme every year and usually a pond skim to go with it. Closing day is always a great time to get that one last fix in before the long summer ahead, a few beers in the sun, carpark BBQ's and usually some form of nudity thrown in there for a few laughs! It is sad to see the season end, but as they say, all good things come to an end and in reflection I can definitely say that this season turned out to be a good one.. Not the best but a good one all the same, we can only hope next year will be even better! Thanks for tuning in this winter, If your lucky enough to get some time in the Northern Hemi winter make sure you put a couple of turns in for me, otherwise have an epic summer and I shall see you back here next winter!!
The Remarkables forecasts,
snow reports and
live snow cams.
Treble Cone forecasts,
snow reports and
live snow cams.
Snow Park forecasts,
snow reports and
live snow cams.
Cardrona forecasts,
snow reports and
live snow cams.
Turoa forecasts,
snow reports and
live snow cams.
Coronet Peak forecasts,
snow reports and
live snow cams.
Whakapapa forecasts,
snow reports and
live snow cams.
Mount Hutt forecasts,
snow reports and
live snow cams.