Opinion – Avalanches, The Darker Side of the Storm
July 25th, 2014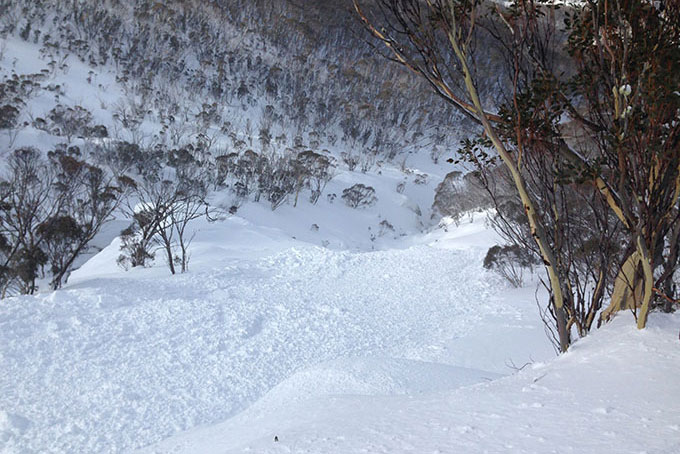 Recent snow conditions have brought avalanche danger to the forefront of backcountry user's minds. As you can see from this shot, it's for very good reason Image:: Le Bent/Blondel
Mountainwatch | Zack Wasson
The thought of avalanches occurring in Australia is a strange concept in the mind of most backcountry users. Sure, our continent is the flattest on earth, but that's not to say we don't have any terrain that is susceptible to slides.
Each year, the New South Wales and Victorian ski resorts see over a million snow goers ascend to their uniquely Australian alpine villages in search of white gold. And gold it is, with Australia now being listed as the most expensive place to ski of anywhere in the world. A day ticket to Perisher, Australia's largest resort, will now set the average weekend punter back a cool $120. Add in accommodation for the weekend at another $600, an $8 meat pie and a $12 beer for your lunch each day. Then, perhaps you fancy a $5.50 hot chocolate to warm up after a few runs in the morning? Oh, don't forgot the $27 to enter the national park each day. Before you know it, two days of skiing can easily set you back over $1000. Oh yeah, that's assuming you've got all your own equipment, too.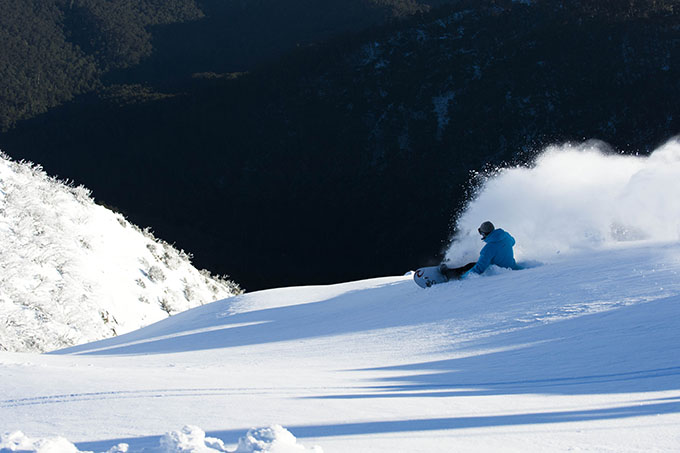 The benefits of riding out of bounds are endless: stunning scenery, untracked powder, endless serenity. Nate Johnstone makes the most of it in Mt Buller Image:: Andrew Railton
When considering the cost of skiing in the resort, and the severely limited terrain options available over the 300m or so of vertical relief, it's easy to see why back country skiing is gaining interest amongst the keener side of the snow fraternity – nothing close to the backcountry boom currently underway in North America, but a steady growth nonetheless.
A Culture of Ignorance
As we've seen in North America, the increase in backcountry travellers over recent years has brought with it an increase in backcountry accidents and fatalities. The huge improvements to equipment is also seeing more and more people duck the ropes in search of untracked bliss. Over in North America, there's a well developed avalanche forecasting system, a well developed culture of avalanche awareness and resort avalanche control. However back home in Australia, for one reason or another, we have no such service, culture, or significant professional control.
The terrain within Australian ski resorts dips steeper than 30º in only a few isolated locations and our weather patterns and climate are less conducive to storm cycles producing avalanche conditions. So perhaps the need for explosive avi control is a bit excessive, but that's not to say that avalanches don't occur – or that they can't occur. Unfortunately, for a country with limited snow fall, generally low avalanche risk, and a relatively limited scope for snow sports, our snow slide death toll is growing at an alarmingly disproportionate rate.
The Moment They Happen…
Snow is one of the weakest naturally occurring materials on the planet. Cover the side of a mountain with it, no matter how limited the vertical relief or expensive the beer, and there is always a chance that it could slide. This season, and just five or so weeks into it I might add, we already have two confirmed avalanche fatalities.
Recently, Martin Buckland and Daniel Kerr, two experienced split boarders, went missing on Mt. Bogong in Victoria's Alps only to be found by searchers, days later, under metres of snow, just 500m from their camp site.
Just before this tragic incident, back on June 29, skiers Mike Grace and Nick Bennet found out just how real the inbounds avalanche risk in Australia can be. Ducking the ropes at Thredbo to ski the popular, but unmarked run: "Hipcheck". Nick looked back up the slope to see it give way and swallow Mike in one swift and silent movement. With no rescue gear to speak of, Nick's frantic attempts to dig his buddy out were in vain, and luckily he made the right decision to leave the site and get help. After an hour of being buried under more than 1.5m of snow, the Thredbo ski patrol rescued Mike, still alive, still breathing but extremely cold. Record keeping for avalanche fatalities across North America indicates that the survival rate for burials at this depth are just 4%. It was a fluke of luck, indeed that Mike is still alive.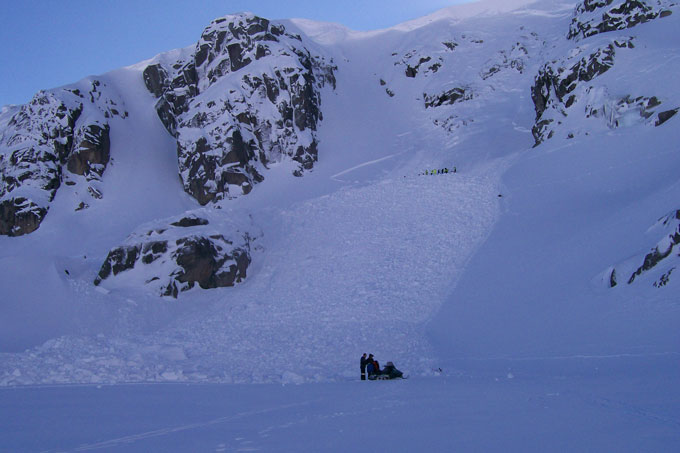 A cornice triggered avalanche in 2008 at Blue Lake, which buried Tom Carr-Boyd some 3m deep and sadly resulted in his death. Image:: Doingstuffoutdoors.com
All-Aussie Avalanches
So what is going wrong? Why are avalanches killing people in a country where they supposedly don't occur? The simple fact of the matter is that they do occur, and they happen with a high degree of regularity at that.
Firstly, let's take a look at this season's snow fall. From a warm and dry start in June, we've now had almost 4 weeks straight of snowfall. New South Wales has recorded the heaviest falls in over a decade. The most significant from the storm that was dubbed "Snowmageddon". Then, we slipped, 3 days later, into the storm dubbed: "Snowzilla". With over 120cm falling in under 72 hours, conditions were supremely un-Australian. Any other region of the world would have had the alpine of their resorts closed and the avalanche forecasting service would have been broadcasting a risk rating of 'extreme'. Not in Australia, though. The resorts were open, the media was onboard, the weekend warriors were flocking to the slopes, and the non-existent avalanche service was still just that … non-existent.
This now brings me onto my next point of discussion: avalanche awareness. Anyone who has been fortunate enough to enjoy the steeps and deeps of any North American ski resort, any Japanese ski resort, any New Zealand ski resort – pretty much any ski resort outside of Australia – has heard the post-dump morning "BOOM". The sound that incites excitement in all powder hounds, both skiers and boarders alike. When the ski patrol carefully make their way through the high alpine, dropping explosives into known start zones to trigger avalanches. In Australia we have no such control, primarily because explosive avalanche control is not really warranted on the small relatively tame faces of our ski resorts. The indirect result of this is that snow-goers begin to assume that because they can't hear the avalanche control, it must not exist and so therefore by extension, must not be needed. The resulting situation is a population of snow lovers that for the most part have no concept of avalanche awareness.
This total lack of awareness isn't helped by the backcountry culture from which this 'new' sport is growing. While living in Canada and being introduced the realm of untracked snow, I was equally introduced to a deep culture of risk assessment, mitigation and control. The primary focus of each ski tour was to manage our exposure to the risk of avalanche, skiing 'rad' and 'gnarly' terrain wasn't even considered until the risk of avalanche had been discussed, and controlled. I was supremely shocked to find myself talking to a prominent and well-known member of the backcountry community: "I've skied out there for more than 20 years and never once carried a transceiver," he said. My only thought was that if the very people who should be leading the way in our skiing community are coming out with lines like that, it's a miracle that the incidence of avalanches fatalities isn't higher.
Further compounding this delicate issue is the fact that we have a situation where in a country, which annually, has more snow-covered ground than the entire land area of Switzerland, we have no avalanche forecasting service. The daily routine of logging onto your local avalanche service is alien to most Australian skiers. The conditions in which Mike Grace found himself buried alive would have most certainly been broadcast as being 'extreme' avalanche risk anywhere else in the world. Perhaps, with a similar service in Australia, the thought of avalanche risk in Australia would be in the back of people's mind as they duck ropes and drop into heavily exposed terrain traps.
The growing popularity of back country snow sports will only act to increase the number of people passing through the back country over the next few years and with that, increase the exposure of these people to the hazards associated with that travel. So far, we have been fortunate in the fact that our 'serious' terrain generally requires a multi-day excursion to reach – keeping away those who don't have a good grasp of what they're doing. As popularity increases though, and as gear technology improves and becomes more affordable, the steep faces of the Western Slopes will see more and more traffic. Heck, the terrain has even recently caught the attention of Jeremy Jones – he was seen posting pictures of Victoria's Mount Feathertop to his Instagram.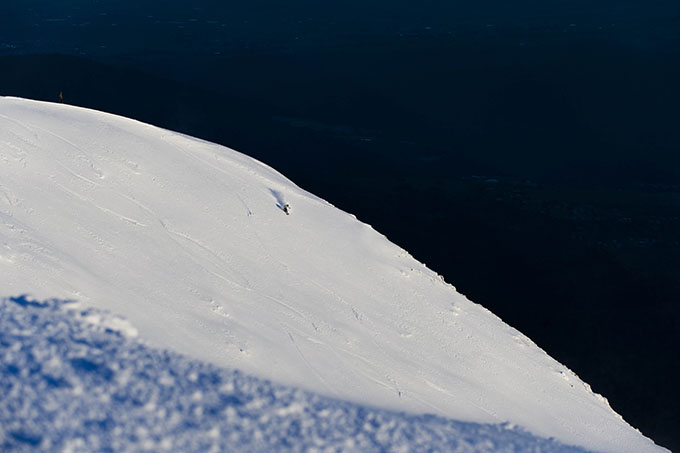 Katya Crema knows how to make the most of the terrain on offer out back. Image:: Andrew Railton
Proof from the field
On a recent touring trip out of Perisher, Jarryd King, Scott Gleeson, James Harrington and I conducted a series of snow stability tests on a low angle slope below the ridge line known as the Paralyzer. On a day where the entire resort was open, the wind was light and the weather generally clear, we observed Q2 shears being initiated at CT8. To some of you, that probably means nothing, to those of you that ski tour, that means – or should mean – alarm bells are ringing and red flags are flying. A clear NO-GO indication.
Check out this video here for a quick education on how the compression test works and just what those test results indicate:
In the same area, we then observed extended columns initiate at similar scores but fail to propagate. In pretty much any other mountain range of the world, the local avalanche authority would have available a forecast detailing current snowpack conditions, avalanche likelihood and consequence, and the aspects that are most likely to be affected. Whether any other backcountry parties in Australia would have thought to dig snow pits that day I cannot say for sure, but based on the comments from our friend in Jindabyne, I'd presume that the base-level of education just doesn't exist.
What can we do?
We need to improve the level of education would-be back country users are receiving. People need to be educated that the slopes beyond the ropes aren't just un-patrolled, they're also uncontrolled. The National Parks and Wildlife Services need to move beyond their 1960s focused 'bushwalkers only' mentality and embrace the steadily growing population of backcountry users looking for snow.
NPWS also needs to start using their equally growing revenue stream to educate park users on avalanche awareness. Senior members of the skiing community need to either get with the times or get out of the scene. Selling tech bindings and lightweight fat skis, enabling their customers to get further and deeper than ever before, should also come with the responsibility not to make ridiculous comments like not needing transceivers. Bust most of all, users of the backcountry need to take responsibility for their own safety.
Hiking beyond the resort and finding a mountain of fresh dry snow all to yourself and your buddies is one of the greatest pleasures available to man. Before you cross the ropes, or leave your car, or buy your split board, or your skins, you should understand the effects of terrain, snow pack, sun, wind and temperature on the risk of avalanche, know how to execute a multiple burial rescue and carry the equipment required to do so. If you don't know how to do all that, then travel with a group people who do. Traveling in snow-covered wilderness is about as serious as it gets in this modern risk controlled world. Don't let yourself get caught off guard by the how severe a seemingly insignificant incident can become when you're beyond the reaches of triple zero.
Remember: the mountains don't make exceptions for anyone, you shouldn't make exceptions for any mountain.