PARALYMPICS 2014 — 13-year-old Ben Tudhope aims for Sochi
November 15th, 2013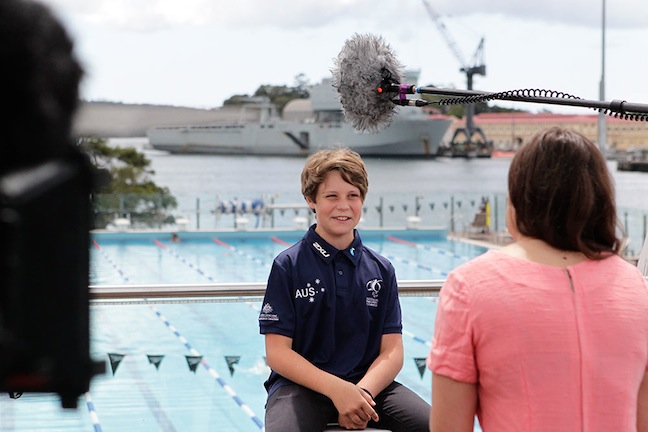 Young Ben Tudhope was the centre of attention at today's farewell to the Paralympic team, for a 13-year-old he was at home in front of the camera! Image:: Alex Horvath
Mountainwatch | Alex Horvath
Few Aussie 13-year-olds can tell their friends they won't be at school for the rest of the term simply because they're heading overseas to embark on 4-month journey to the Winter Paralympics. But for Ben Tudhope that dream will tomorrow become a reality. 
The youngster from Manly had the widest grin in the room at the official farewell of our 2014 Paralympic team at Andrew Boy Charlton Pool today. He certainly has plenty to smile about. Ben, his Mum and Aussie Paralympic Snowboard Team Coach Peter Higgins will fly out tomorrow to the first stop of Ben's qualification journey in the Netherlands. If successful, the next stop will be Colorado, to make the most of the best early season snow in the world. After that, the team will then move on to Utah for further training before the games in Russia.


Ben likes to listen to hip-hop music to psyche himself up before riding Image:: APC
Ben suffers from Cerebral Palsy Hemiplegia – partial paralysis of his left side – acquired due to birth complications, but he doesn't let that slow him down on his snowboard. When I asked Ben about how he's feeling about the trip he said, "I'm so excited, it's so cool. I'm really kind of nervous about it, hopefully I am able to qualify. I've been doing a lot of dryland training at Monster Skatepark in Homebush and I have been training in the gym. It is going to be such a great experience."
The 2014 Paralympics will be the debut event for Para-Snowboard competition, and competitors will vie for two medals only, in a slingshot style time-based Boardercross competition where competitors aim for the fastest time. This format is slightly departed from the traditional Boardercross event seen at the able-bodied Winter Olympic Games. Australia will be sending a team of four hopefuls.
Stay tuned for more coverage and athlete profiles on Mountainwatch as we near closer to the 2014 Paralympic games in Sochi.