Ryan Cooke and Daniel Klein Win First Junior Urban Pro at Buller
July 4th, 2011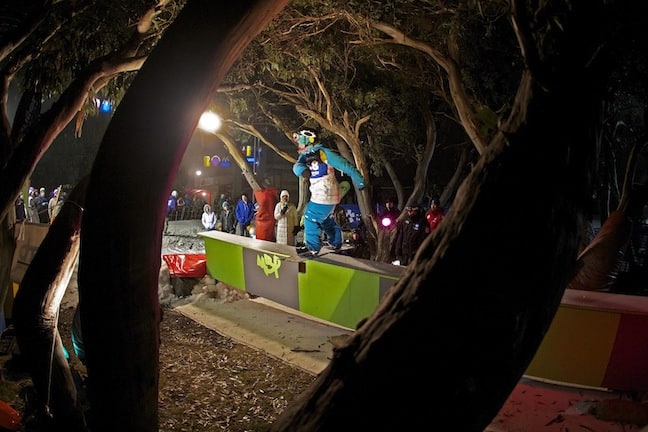 Henry Bessell on the "Flat Box" feature. Image:: Harro
Junior Urban Pro
Forty talented young skiers and snowboarders converged on a specially built slopestyle course at Mt Buller last night in the first Junior Urban Pro with skier Ryan Cooke from Cooma and snowboarder Daniel Klein from Mt Buller taking out the first place and the top money in each category.
The line up of under 16s athletes came to Mt Buller from as far as Sydney, Mt Hotham, Perisher and Melbourne to battle it out in this exciting new addition to the winter calendar. A strong showing of local talent defended their home mountain with Cameron Staveley (snowboard) and Charlie Comben (ski) from Mt Buller placing in the top three. Australia's youngest snowboarding Olympian and regular on the slopes at Mt Buller Scotty James added some star-power to the event mingling with the athletes and presented prizes to the winners.
The three-feature course was custom built for the one-night-only event on Athlete's Walk in the heart of Mt Buller's bustling alpine village. The skiers and boarders showcased their skills on a double picnic-table, a technical long box through the trees and ending with a street-style down rail. The course passed through the midst of a children's playground and grove of snowgums finishing at the front steps of the iconic ABOM Hotel.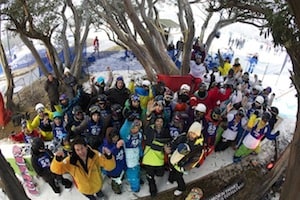 40 of Australia's top junior skiers and boarders converged onto Mt Buller. Image:: Harro
A lively crowd cheered on their favourite athletes and grooved to the tunes and eclectic commentary from alpine legend DJ Eddy during the two hour jam style session that culminated in a final between the top five skiers and top five snowboarders of the night.
Event creator Tony Harrington was thrilled with the new event format, "My vision was to create an urban style event where the competition comes right into the Village and skiers and boarders can put on a show for the crowd in a surprising and fresh location. The athletes pulled out a stylish bag of tricks and it was incredible to have them riding a feature right through the snowgums with the music pumping and the crowd gathered in around the action."
"The Mt Buller Park and mountain operations team did an incredible job to create this unique course and we are all inspired about making it bigger and better next year."
Mt Buller in Victoria is home to many premier winter events including the Burton Cattleman's Rail Jam and MTV Snowjam (16 July), Dew Hut Jam (31 July), the Subaru Victorian Interschools Snowsports Championships (21-26 Aug) and the James Boag's ABOM Mogul Challenge (27 Aug).
Mount Buller forecasts,
snow reports and
live snow cams.