Wednesday 22 August
Synoptic Outlook:
Freezing SW winds ease today as a high moves onto SE Australia. A low goes for a walkabout over South Australia during Friday and ends up over northern NSW, while a light E-NE flow develops over the Aussie Alps, which continues through Saturday.
Image Of The Day: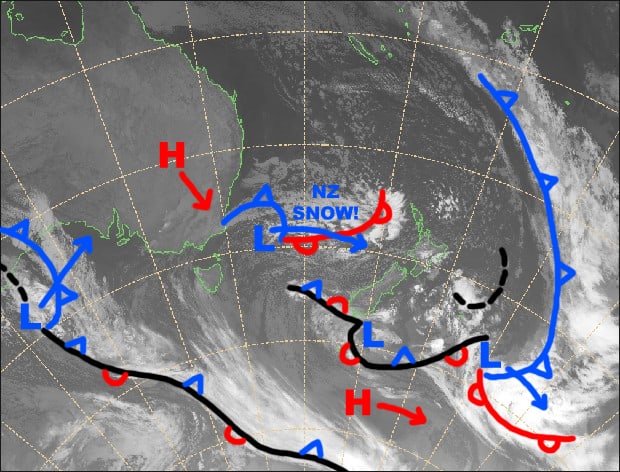 Things are settling down in the Aussie Alps as a high builds, but you might see a snowflake today if you're lucky. Source:: Metservice (vandilised by the Grasshopper)
Wednesday 22 August:
Mostly cloudy with a snow flurry or two. SW winds dying out.
Thursday 23 August:
A mint day up the hill with plenty sunshine and light N-NE breezes.
Friday 24 August:
Another lovely fine day in paradise with calm clear skies.
Saturday 25 August:
A mostly fine day with light winds, but it might cloud up over NSW resorts from afternoon.
Extended Outlook:
There's a chance that the low to the north will push in a wee bit of wet mucky stuff during Sunday and Monday. From then on, things look very uncertain due to the butterfly effect from the movement of this low. We might see a second low take a similar route north of the Aussie Alps next Wednesday, pushing in a bit more wet mucky stuff. Another low should then approach from the west, with rain and warm NW winds likely next Friday. This low scoots eastwards south of Tasmania next weekend, spreading a cold W-SW flow the Aussie Alps and turning rain into snow.
That's all from the Grasshopper. Wanna keep your finger on the pulse of all things snow? Join my weekly email list by filling in the box below. If you have a question or feedback for me, hit me up on facebook.
View More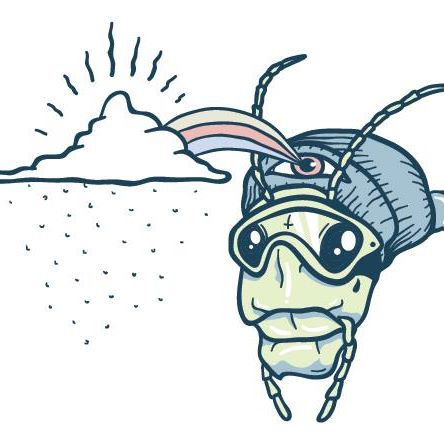 Follow The Grasshopper
Your Weekly Forecast Email