Friday 19 July – Freshies to be found after a tickle up
Synoptic Outlook
The tip of a cold front is giving the Aussie Alps a wee tickle this morning, with 1-5cm expected to fall before we tuck into lunch. Most of that has already fallen on Vic resorts, some of which may be wet and slushy on lower slopes, while NSW resorts will be lucky to reach 1cm.
Northwesterlies pick up on Saturday ahead of another front, which will weaken significantly as it slowly inches it's way over the Aussie Alps during the second half of Sunday, likely bringing around 5cm of snow down to mid slopes, with wet sleety stuff lower down.
Northwesterlies will continue on Monday, but the sun will be out as the next front approaches from the wet.
Image of The Day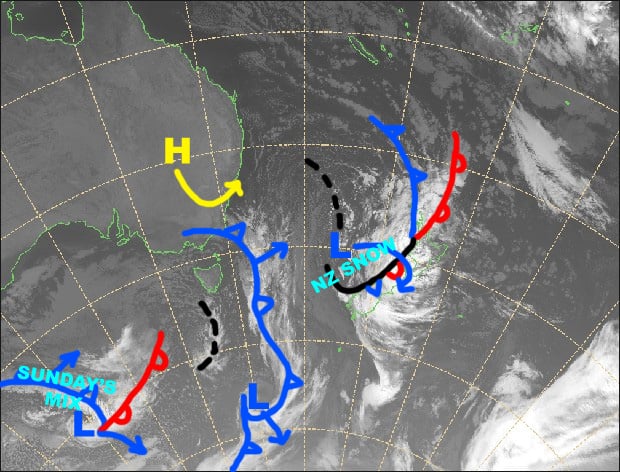 A cold front is giving us a wee tickle up this morning, so there'll be freshies to be found, mainly on Vic resorts though. Source:: NZ Metservice (vandalised by the Grasshopper)
Friday 19 July
Remaining precip (snow, sleet, rain or drizzle) will clear by midday. The sun should pop out between clouds this afternoon, while strong westerlies ease.
Saturday 20 July
A sunny day for NSW resorts, while a bit of cloud lingers around Vic resorts as NW winds strengthen.
Sunday 21 July
A fine start, then the front will spread a mix of snow, sleet and possibly rain over Vic resorts from late morning, then NSW resorts later in the evening. Gale NW winds will abate behind the front.
Monday 22 July
A mostly sunny day as NW winds pick-up again.
Extended Outlook
The next front coming in from the west looks more lively as it hits during Tuesday, bringing a more potent concoction of cold air with 10-15cm of good quality snow likely to fall into the early hours of Wednesday.
We may then have a bout of mild NW winds with drizzle, before another cold front hits next Friday with a dusting of snow on the cards.
That's all from the Grasshopper. Wanna keep your finger on the pulse of all things snow? Join my weekly email list by filling in the box below. If you have a question or feedback for me, hit me up on facebook.