Friday 28 September
Synoptic Outlook:
Well guys and gals, the end is nigh. After this weekend, some resorts will close their doors on what has been an epic season. Other resorts will carry on the good fight until next weekend, the 7thof October. Today is my last forecast of the season… sob… then I will be heading into the backcountry to eke out some last turns before hanging up my six ski boots for good… or at least until the northern hemisphere starts dumping snow.
Warm northwesterlies are currently blowing over the Aussie Alps ahead of a cold front, which will slowly inch its way over us tonight, bringing snow showers and cold southerly winds. Snow accumulations will only be in the order of 2-5cm, which isn't much but will provide nice surface conditions for one last hoorah of the season. The sun will come out later on Saturday as high pressure builds and will see us through Sunday and Monday.
Image Of The Day: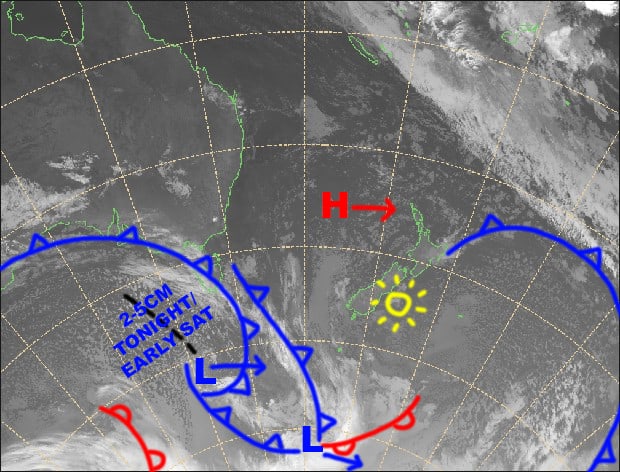 Not too bad a day up the hill today. A wee bit of snow will fall tonight into early Saturday morning, making surface conditions mint for the lucky last weekend at some resorts. Source:: Metservice (vandilised by the Grasshopper)
Friday 28 September:
A fine start, but cloud will build will build from afternoon as strong to gale NW winds ease. Snow showers will come in from the south tonight and overnight.
Saturday 29 September:
Snow showers will clear by midday, then the sun will come out to play. Freezing southerly winds gradually easing.
Sunday 30 September:
Sun and fun for your Sunday, with a chilly start and light winds.
Monday 1 October:
Slip slop slap and shred. Temps will swelter as the sun blazes with hardly a breath of wind.
Extended Outlook:
Northerly winds will kick in on Tuesday, bringing in a little cloud, then it'll swing to the NW and strengthen on Wednesday with a spot of wet stuff falling on us. The wet stuff will really come down on Thursday as a front hits with temps too warm for snow. However, we might get a wee dusting early next Friday as colder air reaches us. We should have settled weather next weekend as a ridge digs in to the south.
That's all from the Grasshopper for this season. I'll see you all again once the northern hemisphere kicks off. If you have a question or feedback for me, hit me up on facebook.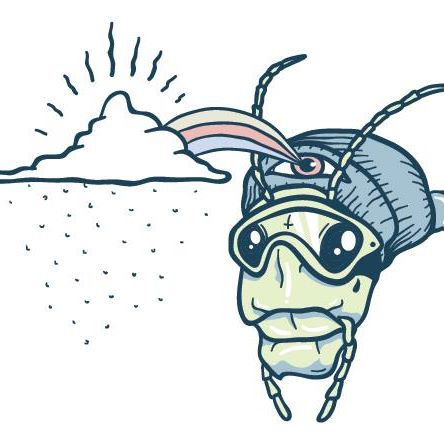 Follow The Grasshopper
Your Weekly Forecast Email