SNOW JOURNAL – Two Weeks of Everything
September 12th, 2012

Finding some fresh way out wide from Thredbo on Saturday Image:: Mandy Lamont
Snow Journal | Reggae Elliss
When I wrote the last snow journal two weeks ago, little did I know that we were in for another 60-70 cm of snow over the next two weeks. August went out with a bang, the final week delivering a couple of days of sunshine before very strong pre-frontal winds hit on Wednesday August 29, causing wind-hold across most resorts, before the forecast cold front crossed the mountains.
The snow hit on the Wednesday night and on Thursday we had 10 cm of fresh snow although it was dust on crust off piste at first, it accumulated quickly as it kept snowing. By mid-afternoon there was another 15cms and it was boot-deep light powder once again. That afternoon the Snowy Hydro measurement at Spencers Creek hit the two-metre mark for the first time this season that afternoon, the official call at 1800 metres being 204.6 cm.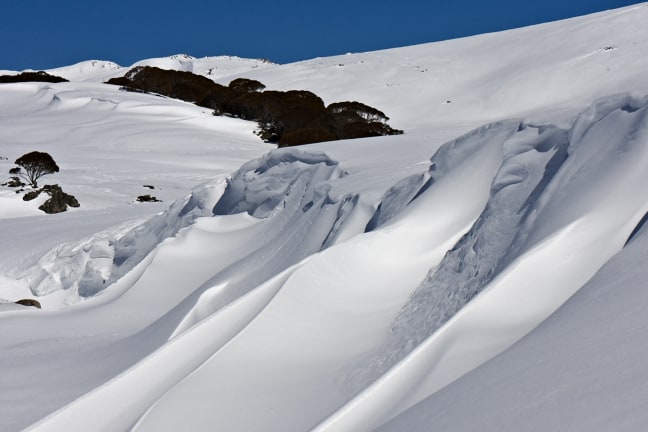 With all this snow out in the Main Range, the backcountry crew will be happy until Christmas! Image:: Andrew Fawcett
But there was more to come overnight with the official call on Friday morning of another 10cm overnight, but as soon as you got above 1800 metres you knew that was an under-call. There was at least double that in flat areas with much deeper drifts on the steeper terrain. On Friday August 31 I had close to the best snow I've ever skied at Perisher and by midday it was turning out to be one of the days of the year. I wrote in my Thredbo snow report on Sept 1:
"Well, this cold front turned out to be something special with 45-50 cm since Wednesday night, most of that falling during the day on Thursday and yesterday morning. If you knew someone who was here yesterday and you weren't here be prepared for plenty of "the best day of the season", "best day ever", "lightest driest powder" etc because that's what everyone was saying yesterday afternoon. Well, you should have been here yesterday as it dumped yesterday morning, 15 cm between 6am and 1pm, and everywhere was pretty well as good as it gets."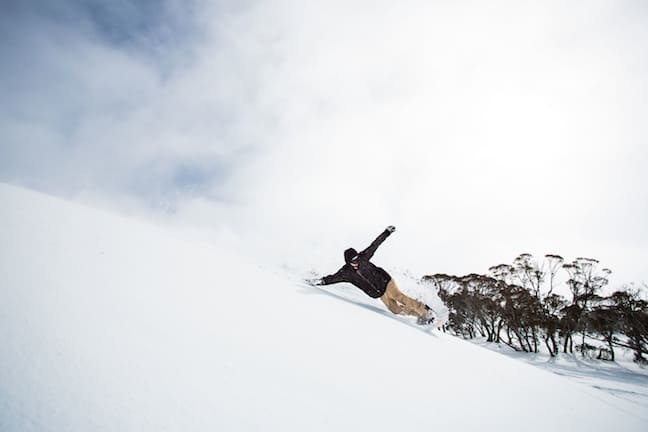 Xander, from Burton Snowboards slashing all day on Saturday Image:: Perisher/Andy Lloyd
Things were just as good in Victoria, Bill Barker's Friday morning report giving us a taste of what the day was to bring: "Yesterday was unreal, with really good quality dry snow blowing in all day and fresh tracks were being scored in all the best places…. even late in the afternoon. Looks like more of the same epic conditions again today. We had about 10 cm overnight and it is still snowing pretty hard right now."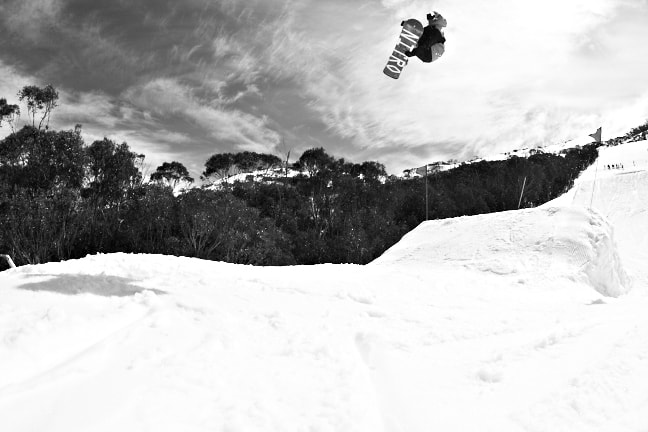 Local Thredbo shred legend Benny Fawcett road testing the jumps in the High Noon Park Image:: Andrew Fawcett
There was an interesting discrepancy in the readings from the gauges and the amount of snow on the ground, in particular Thredbo's which had recorded zero precipitation on the Friday morning even though it didn't stop snowing for six hours. In times like this you ask the man who knows, so I emailed the Grasshopper, and his answer was simple:

Note it down, August 31 was the day of 2012, Luke Kneller from Perisher Media Image:: Perisher/Andy Lloyd
"Thredbo's gauge freezes and never works during snow…. Perisher's gauge is newer and melts the snow so they get a more accurate idea of the depth of precipitation. But how windy it is and the type of snow can affect how much is blown into the gauge, so it is impossible to get an accurate read."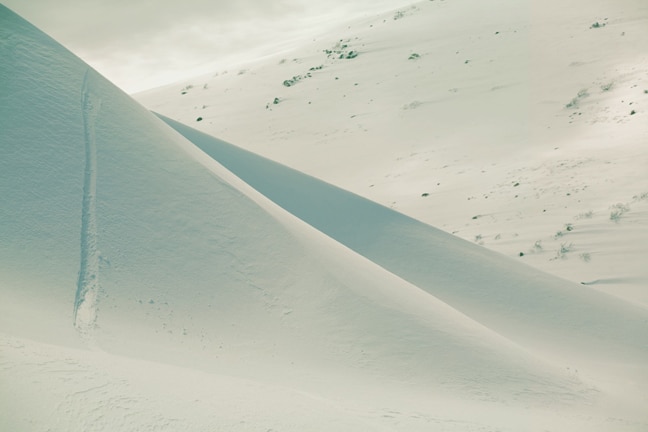 I don't know about you but I have mind-shred this hit soo many times today! Image:: Andrew Fawcett
Not that anyone who skied that day really cared when it was boot deep or deeper, and the weekend turned out to be a cracker – fine with dry packed snow, wind blown drifts and massive crowds enjoying some of the best conditions of the year. The sunshine continued into the week, but the Grasshopper was warning of a snow damaging change with strong warm northwesterly and then a mix of rain and snow before the freezing levels dropped. Those winds hit with a vengeance, on Wednesday morning, again forcing chairlifts onto wind-hold as the NSW mountains copped the brunt, with gusts up to 120 km/h. The SES were called out in Jindabyne as the wind tore off some roofs and blew up a one metre wind swell on the lake. The wind also had a hair dryer affect on the snow and blew in dust from the interior, leaving a brown layer across the upper slopes which eats into the snow pack.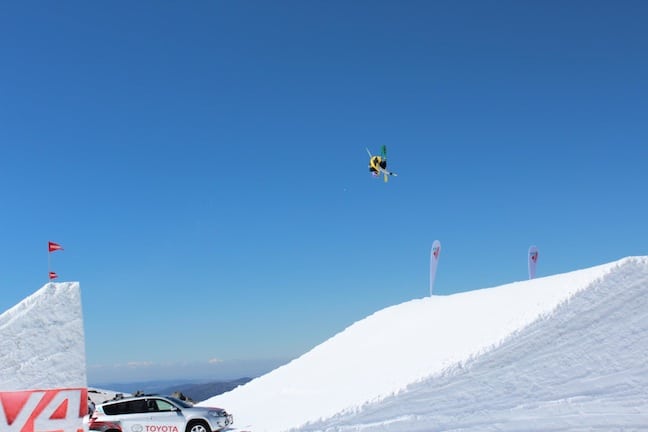 Russ Henshaw, mid way through the first triple cork 1440 to be landed in competition in the southern hemisphere Image:: One Hit Wonder Downunder
This was compounded by rain throughout Thursday and the overall result being the Snowy Hydro snow depth reading had drooped almost 20 cm in a week, the reading on Friday morning at 185.6 cm.
Fortunately, the cold air arrived with another front at 4am on Friday morning and by the time lifts opened there was 10 cm of fresh snow and it snowed throughout the day. The snow depth and quality improved throughout the day and by early afternoon we were enjoying our fourth powder Friday in a row, once again setting things up for a great weekend. Saturday turned out to be another memorable day with Buller, Hotham and Falls reporting 20cms in the past 24 hours while the New South Wales resorts had received 30 cm. While it was a little wind-packed and not as light and dry as the previous week it was still pretty damned good and probably in the top 20 days of the season.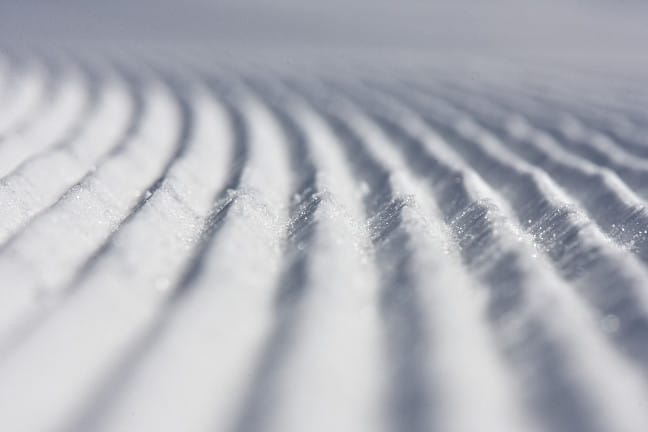 The early morning spring staple, corduroy, Thredbo has more of it at the moment then Bells Beach carpark in the 70's… Image:: Andrew Fawcett
The past few days have seen classic spring conditions, sunshine and an overnight freeze setting up a firm early morning cover before it softens mid-mornings. At this stage last Friday/Saturday's snow seems like it may well be the last taste of winter we get this season, but given the year we've had so far, who knows? There's still three weeks to go before most resorts close lifts on Sept 30 or October 1, and maybe we'll see a couple of more powder Fridays, especially with Thredbo and Perisher extending for another week…
Either way, with the average base still well over 150 cm, there are plenty of turns left in the 2012 season.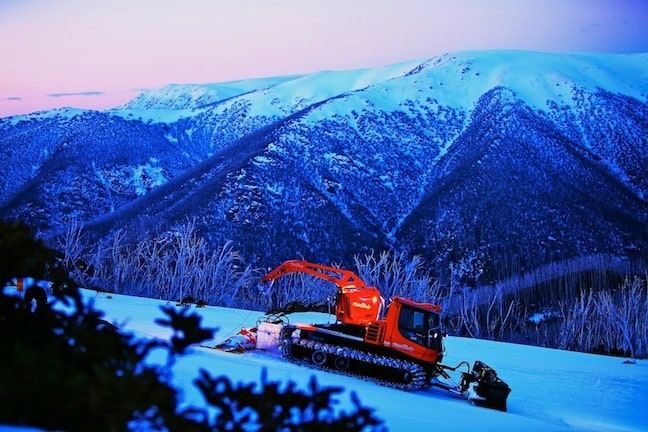 Falls Creek looking sensational in the early evening.. Image:: Falls Creek/Hocking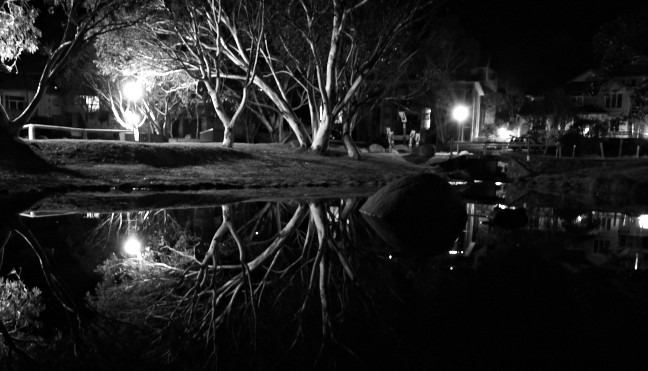 Tranquil, in Thredbo Village… Image:: Andrew Fawcett
Perisher forecasts,
snow reports and
live snow cams.
Falls Creek forecasts,
snow reports and
live snow cams.
Mount Buller forecasts,
snow reports and
live snow cams.
Hotham forecasts,
snow reports and
live snow cams.
Thredbo forecasts,
snow reports and
live snow cams.