Squaw Valley, A Mountain That More Than Lives Up to its Reputation – Travel
February 17th, 2015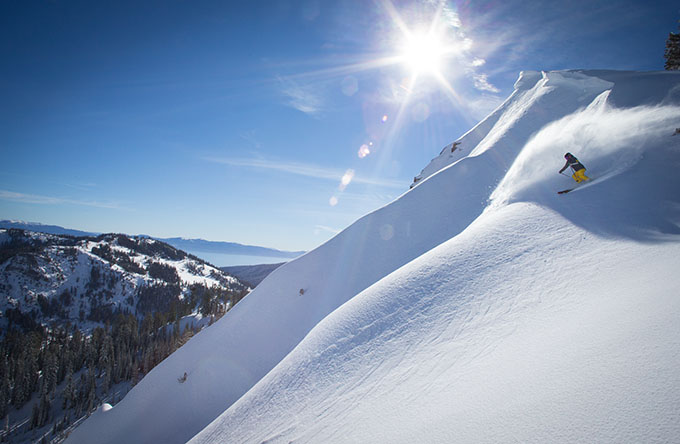 The Californian snow drought broke on Feb 5, which was a few days late for poor Reggae Image:: Jeff Engerbretson
Chillfactor | Reggae Elliss
If there is one destination in California that can truly stack up to other international ski resorts it is Squaw Valley. It was first put on the world map when it hosted the 1960 Winter Olympics, since then, Squaw has churned out a long list of successful World Cup racers and for the past 25 years has been home to some of the biggest names in skiing and snowboarding: Scott Schmidt, Shane McConkey and Jeremy Jones. It is a resort I've had on the must-do list for a long time, and spending ten days there was a great way to round out our Californian road trip.
This resort is big. With six peaks, 3000 acres and 30 lifts it usually receives an average of 400 inches of snow per year. While Squaw's fame may have come via some of its more radical terrain and radical skiers. From its large beginner area with gentle terrain, to long cruisy groomers and a variety of terrain parks it really is a mountain with everything. Spectacular views over Lake Tahoe and the high Sierra wilderness complement the overall experience and within a few hours of arriving you'll know you're in one of North America's most beautiful areas.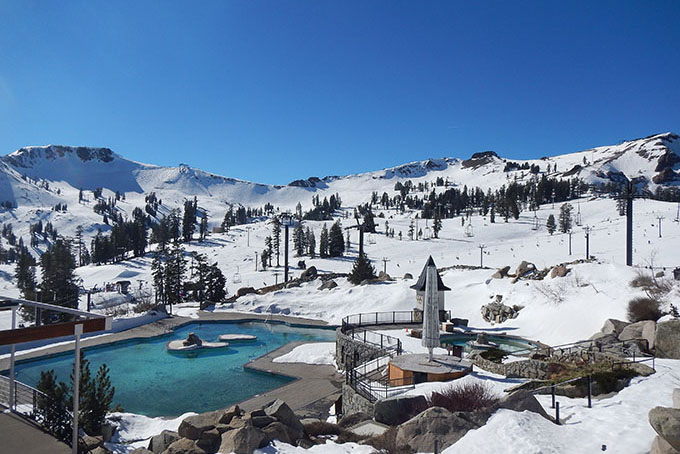 A view you could get used to Image:: Supplied
Squaw Village is the perfect place to stay for quick access to a very efficient lift system out of the base area, including the famous Squaw tram, the Funtinel gondola and a number of chairs. It is a vibrant village with plenty of shops, bars and restaurants and a variety of accommodation.
We spent the first half of our week in the Squaw Village apartments, perfectly positioned in the centre of the village, with a great view of the mountain. The latter half was spent in Squaw Valley lodge, one of Squaw valley's signature apartment complexes with large rooms, common areas and a constantly burning fire. It's also just a stone's throw from one of Squaw's institutions: Le Chamois, a bar and restaurant steeped in ski tradition and the village's signature location for a couple of aprés beers.
Unfortunately our time in Squaw coincided with a very dry January, and the bottom of the mountain had limited terrain open, but the top 60% had good cover and snowmaking maintained top-to-bottom skiing on the main runs like Valley View and Mountain Run for a few early morning leg burners on the corduroy.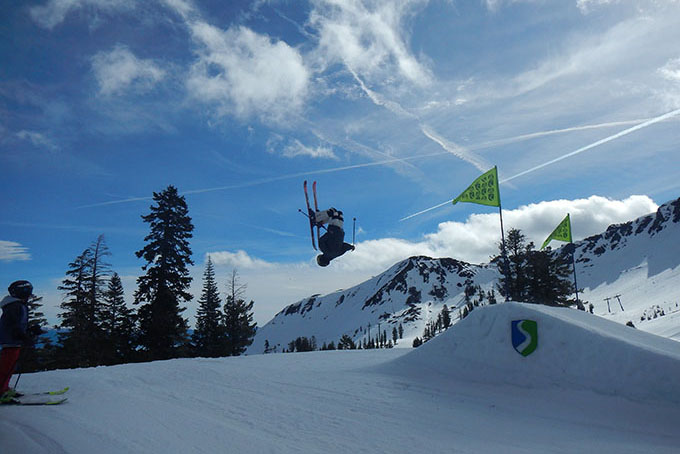 Thredbo grommet Fletcher Dobson-Harper in the Gold Coast terrain park at Squaw Image:: Reggae Elliss
Squaw's big mountain terrain lures people from all over the world; not surprising given the huge variety for all standards of skiers and snowboarders. The snow off-piste was firm, but with spring-like temps during our stay, it'd start to soften around midday with some fun terrain off the Siberian and Shirley Lake express chairs. While the top bowls and chutes accessed from the Headwall and Siberia express chairs are definite black diamond runs, there's also plenty of fun, less challenging, off-piste terrain with areas like Granite Chief, Solitude and the trees below the Red Dog chair having fun rippable rollovers and gullies.
While we may not have had access to all of Squaw's fabled terrain, we could see the potential, and again the mind wandered. We imagined just how good Squaw would be with all its terrain open and 30cms of fresh snow. Fortunately we had a taste of it when we hiked out to the peak of Granite Chief from the top of the Granite peak chair. Our guide was Falls Creek skier Crag Moguel who has been working as a pro patroller in Squaw for the past four seasons and obviously knows the mountain well. The snow up high was creamy spring-like snow and only a few people had skied it that day so there weren't many tracks out there. The bowl below the peak is wide and open with a great pitch leading into some open fall-line tree skiing. It is a long run and there are so many different lines in the bowl and through the trees that you could ski the area all day without doing the same run twice.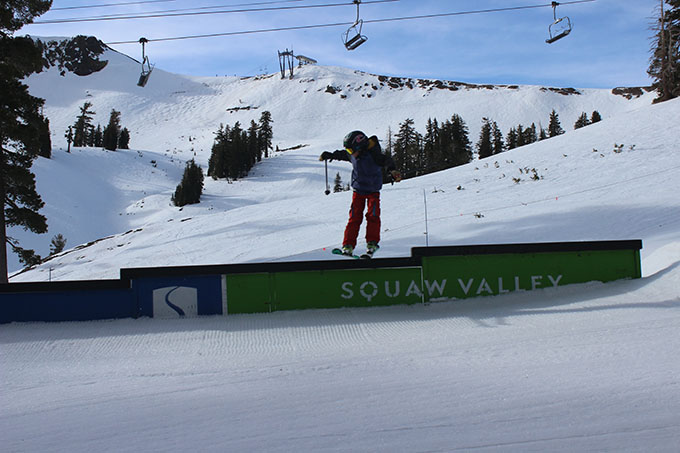 Joey Elliss gettin' sideways Image:: Reggae Elliss
Another advantage of Squaw is that your pass also includes access to Alpine Meadows, which is just a short trip away, made very easy with regular free shuttles linking the two resorts. Alpine is another fun mountain with great off-piste terrain, plenty of long groomed runs and amazing views over Lake Tahoe. Another worthwhile day trip is to head over to Sugar Bowl, about 45 mins drive to the north. The Tahoe Super pass gives you a couple of day passes to Sugar Bowl and Sierra at Tahoe. Sugar Bowl is an old resort, the first in the Tahoe area, it was founded in 1939 and is one of the few snow-bound villages in the US. Again it is a mix of long groomed runs, plenty of graded tree skiing and a variety of snow-gathering bowls. It is a definite must-visit when you're in Squaw.
Squaw has a large ski school with an international reputation and a number of other programs for kids or those wanting to improve, including alpine racing and varied programs for skiers and snowboarders. One I can recommend is Squaw Free, an all-mountain program that includes big mountain, freestyle, park and moguls, designed to develop solid all mountain skills and to have a lot of fun. Our son Joey joined his mate Fletcher Dobson-Harper – another Thredbo kid who first did the program last year – in Squaw Free and he loved it. The mix of park and big mountain is perfect and the coaching staff is well-credentialed. I must admit i was impressed when I met Joey's big mountain coach, Aaron McGovern, one of the many pro skiers from Squaw who featured in ski movies through the 2000s.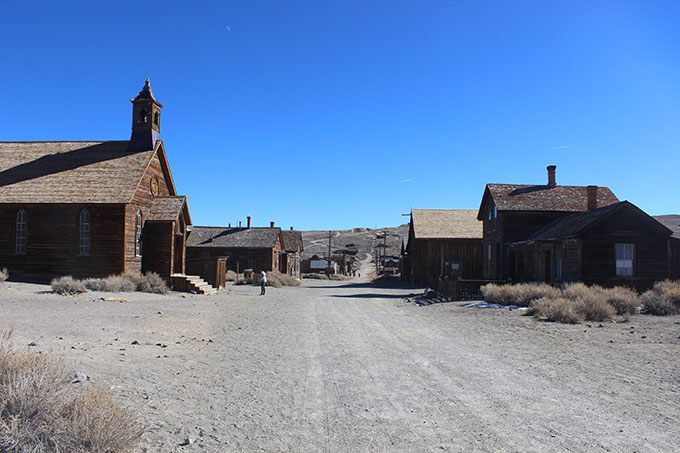 A Ghost town called Bodie, a must stop on the Californian road trip Image:: Reggae Elliss
Squaw has plenty to offer off the mountain and it is a multi-faceted destination with cool towns like Truckee and Tahoe City a short drive away. It is also an easy trip from Australia as it is only an hour away from Reno airport or a three our drive from San Francisco so there's no need for an overnight stay.
The long snow drought in California finally broke on Feb 5, with Squaw receiving over two feet of snow. The result was some long overdue powder turns for the locals and a much needed top up going into the second half of the season. Unfortunately for us it fell the day after we left, and I can only imagine how good the skiing must have been that weekend. Squaw's terrain is mind-blowing and with fresh snow it's a skier's dream and we are already planning a return trip next year.
It really is that good; put it on your bucket list.
Mammoth forecasts,
snow reports and
live snow cams.