Thredbo, Is it Becoming Australia's Mountain Bike Mecca? – Travel
March 18th, 2016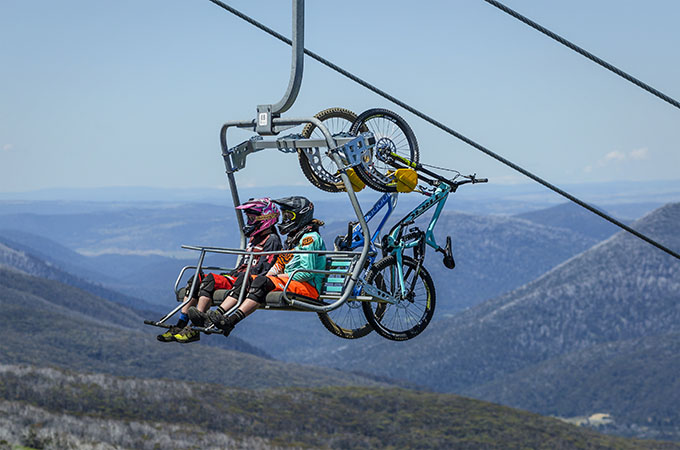 The Kosi chair runs all summer, now with brand new racks for the bikes. Image:: Thredbo
Mountainwatch | Alex Horvath
As a small child – and keen skier – I'd be verging on tears as our car rolled around the last corner and into Thredbo Village in the summer months – feeling dejected at the lack of snow covering the slopes. Fast-forward twenty-something years later and my reaction to rounding that final sweeping bend outside of the winter months has turned into something very different: I can't get enough. Over the last few summers, Thredbo Resort Management have been working hard to cement the resort's reputation as the premiere four-season alpine resort in Australia. Thanks to new trail developments that have been completed since the snow melted at the end of last winter, I'd say they're on track to achieving it sooner rather than later.
Mountain biking isn't new in Thredbo, they've been at the forefront of downhill racing since the '90s, playing host to many significant events in the race calendar every year. Over the last ten or so years however, other resorts began to invest in their own lift-accessed bike parks and a management shift left Thredbo mountain biking looking at an uncertain future. Where the big change happened though, was in the 2012 announcement of a multi-million dollar funding campaign that would lead to a vast network of trail development, more bikes, and ultimately a world-class mountain bike destination.

The Cannonball DH run has long been known as one of Australia's top downhill tracks – still is Image:: Thredbo
Now four years on from this development announcement the evidence that it's working is everywhere. Every weekend that I've spent in Thredbo this summer has been one spent exploring everything from the now complete Thredbo Valley Track (TVT) that runs over 20km from Thredbo Village to the Lake Crackenback Resort, to the newly revamped Kosciuszko Flow trail and the brand new all-mountain track that takes riders all the way to the Merrits Cruiser Chair and down to the High Noon Supertrail ski-out. There's so much riding on offer in the valley that a trip to the area should span a long weekend at the very least.
Press play and move your device around to view the flow track in 360º

Such a well-maintained and well-made trail network came about thanks to Dirt Art, a globally respected trail building organisation led by Director, Simon French. Dirt Art are renowned for their work in other MTB parks such as Hornsby MTB Park in Sydney, Hollybank in Launceston and the newly developed Blue Tier Wilderness Trails in North-east Tasmania. Alongside their work in New Zealand, Dirt Art is a leader in their field and the proof is evident in the trails they build. Of the trails in the Thredbo valley he said, "To me, Thredbo is the ultimate Australian mountain bike destination- massive vertical, stunning scenery, epic terrain, a year round chairlift and a fully-serviced resort with a genuinely cool vibe. I have personally been riding and racing mountain bikes at Thredbo for over 20 years, so it was a true pleasure to be invited back to lead a massive redevelopment of the resort's mountain bike trails and facilities. For two seasons now our team has rolled out a massive trail upgrade and new trail construction program, which has seen a major re-build of the flow trail and upgrades to the Cannonball Downhill Trail."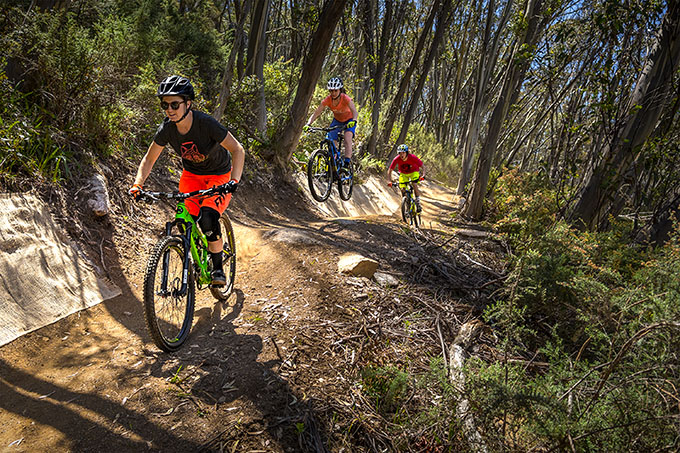 The new all-mountain track adds a whole new dimension to riding in Thredbo. When it's complete it will be insane! Image:: Thredbo
With Resort Operations Manager, Stuart Diver, at the helm, and a great team of year-round staff driving the day-to-day operations and maintenance of the trail network, the energy is building every year. With an incredibly packed series of summer events also taking place, Thredbo are doing more than enough to achieve their goal of becoming Australia's best four-season alpine resort destination.


The last few years have focused mainly on the TVT – it required some serious cooperation with National Parks and a great deal of engineering might to build the series of suspension bridges that span the picturesque Thredbo River. But now that project is complete, attention has shifted to the completion of the top link on the Thredbo All-Mountain trail. Simon continues: "Arguably the centrepiece of Thredbo's renewal is the All Mountain Trail – an epic blend of flow and technical trail styles, dropping over 600m vertical, the 13km trail will genuinely be one of Australia's best. The completed trail will open in coming months, and links directly to the existing Thredbo Valley Track, offering a descent of over 30km. With plenty more exciting plans in the works for coming years, it is a super exciting time for Thredbo."
This seriously fun 6.5km length of singletrack takes riders along the Bunny Walk ski trail to the base of Sponars chairlift before a short hike-a-bike up to the Gunbarrel Traverse. From here, the trail wraps out to Boundary Rider before traversing skier's right toward Dream Run. Here the trail enters a rich, loamy alpine forest that provides fast and loose riding that flows beautifully. When complete, riders will be able to enter the trailhead around the back of the Eagles Nest restaurant, providing a stunning view and an incredible experience to be enjoyed on your bike.
With even more trail development in the pipeline, every summer in Thredbo promises to offer something for everyone, and a great escape from the day-to-day city grind.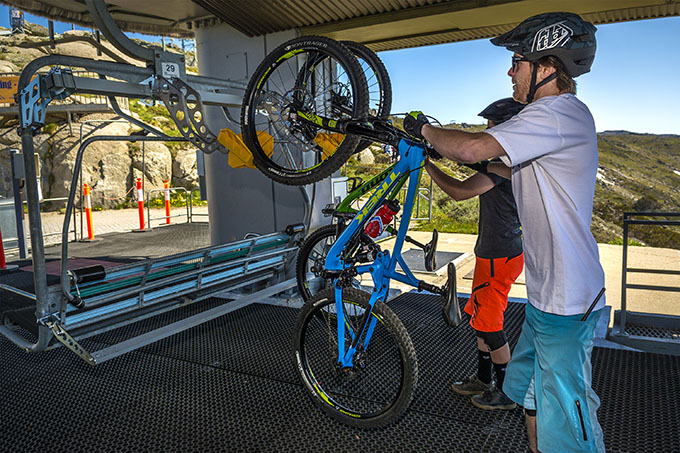 The chairlift takes the pain out of the MTB experience. Image:: Thredbo
Read more about riding in Thredbo here.
Check out what 360fly has to offer:
Thredbo forecasts,
snow reports and
live snow cams.