What Went Down At The First Snowboard Event Of The Season
June 14th, 2017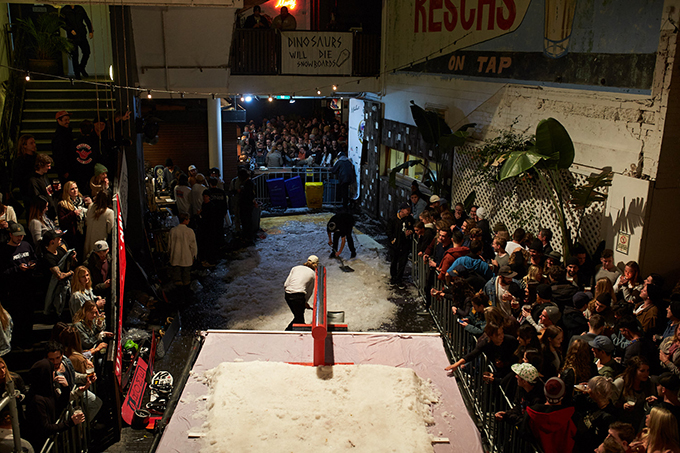 Let the games begin. Image:: Andrew Fawcett
Transfer | Louis Macindoe
Although resorts have only just opened their operations, the union of Australia's top snowboarders have already learned the benchmark of this seasons riding level. And according to the Hotel Steyne rail jam, boy did things get hot and heavy real fast. Like hounds hot on the rabbit's trail, riders got their first whiff of the cash incentive that comes with competitive snowboarding and for those who won, gee, did it taste good …
Taking place just prior to the pre-season opening weekend, riders, event organisers and anyone else deemed fit to help banded together and pulled together a considerably ambitious rail set-up, inside a pub: The Steyne Hotel, in Manly – which is actually one of the most frequented pubs in Sydney. As you can imagine, it's an unlikely place for a snowboarding spectacle to take place – unless you'd been there at the Newport Arms in the early 2000s. Sure, pubs and bars have had plenty of mini-ramps plomped in their beer gardens over time, but a full-scale snowboarding event requires a little more sand to set up. If it wasn't for the undiluted enthusiasm of organiser Eli Seddon and Pete Long, then this event might have never graduated beyond being just a daft idea.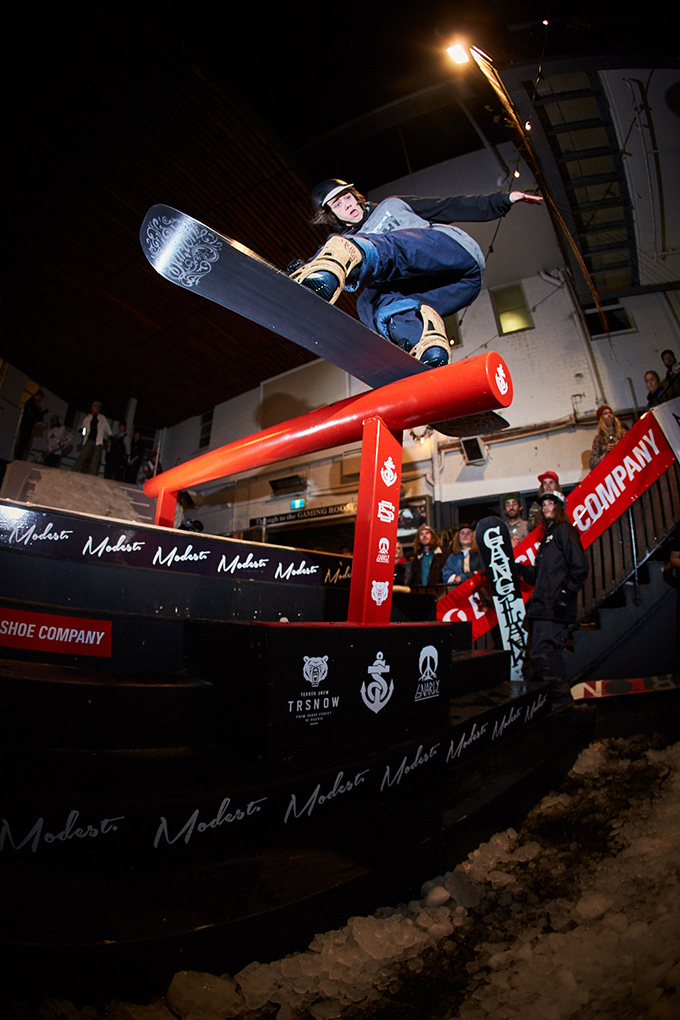 Josh Vagne was amongst the youngest competitors in the field, and one of the best riders in the country right now. Image:: Andrew Fawcett
But it passed, with honours in fact, as the night went off without a hitch. It's always humbling watching those riders who go the extra distance to not only travel from afar and show face but to get their hands dirty and help with the set-up. I get a warm-fuzzy feeling when I see that DIY ethos, passed on from our forefathers, alive and well in snowboarding.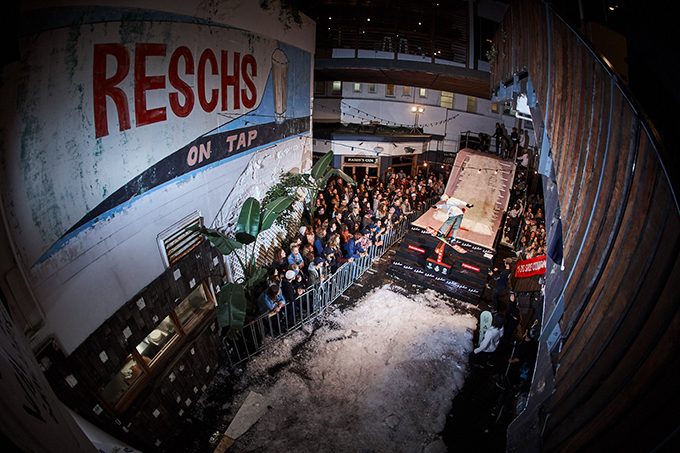 Luke Harvey's riding epitomises the word style and the crowd knew it. Image:: Andrew Fawcett
As the crowd began collecting their schooners from the bar, riders piled on top of the drop-in, conversing over the can's and can't dos of the set-up. there weren't many of the latter, and during the jam's duration that night we literally saw every trick in the book performed, and then again in switch. It was an affirmation that snowboarding has reached a level of tactfulness well beyond some blood sport.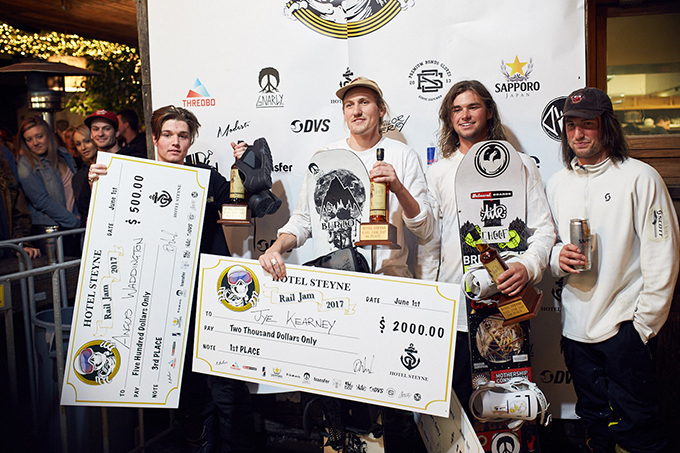 The nights winners (L to R): Angus Waddington (3rd), Jye Kearney (1st), Joel Cantle (2nd), Andy James (Best Trick). Image:: Andrew Fawcett
These riders weren't gladiators packed inside a pub, satisfying some piss-head's thirst for carnage – rather the Steyne Rail Jam marked the beginning of what might be heralded as the next chapter in Australia snowboarding. The names, the tricks, the look and the feel. It was all present, and the crowd knew it. Having spent most of my Friday finding places to sleep around the office, I felt it too. As I nursed myself back to full health, I felt, and still feel very much empowered as a snowboarder. I was proud of the spectacle that took place, I was proud that snowboarding could be tastefully portrayed in such an unlikely instance. I'm sure my fuse will have to be replaced multiple times this season if those riders keep this up.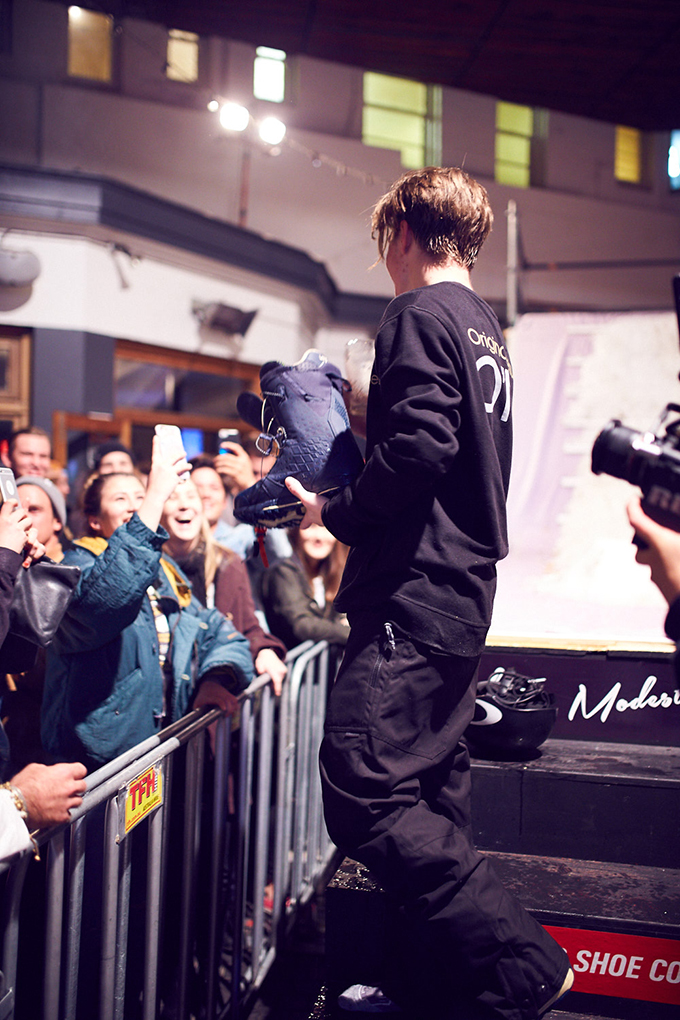 I might have mentioned something about 'tastefully portrayed', some things like Angus's shoey was exempt but well deserved. Image:: Andrew Fawcett
Watch The video Recap Here