Friday 28 September
Synoptic Outlook:
Well guys and gals, the end is nigh. Within a couple of weeks resorts will close their doors on what has been an epic season. Today's forecast will be my last for the season… sob… but as you will see, a tonne of snow is yet to fall on Aotearoa, which will see the season go out with a bang! After that, I will head into the backcountry to eke out some last turns before hanging up my six ski boots for good… well, at least until the northern hemisphere starts dumping snow.
It's a chilly start to a mostly fine day thanks to the ridge that's lounging over us. However, the atmosphere is a little unstable and will kick up some snow showers over Ruapehu this afternoon. The ridge will move off to the north on Saturday, clearing the way for an active cold front to slowly work its way up the South Island. This front will dump a serious amount of powder onto the Southern Lakes during Saturday, then Canterbury during Sunday as it spins up into a low. Accumulations will be in the realm of 20-30cm or more! The low will then drift up the west coast on Monday, while snow falls on Ruapehu and a weak ridge affects the South Island.
Image Of The Day: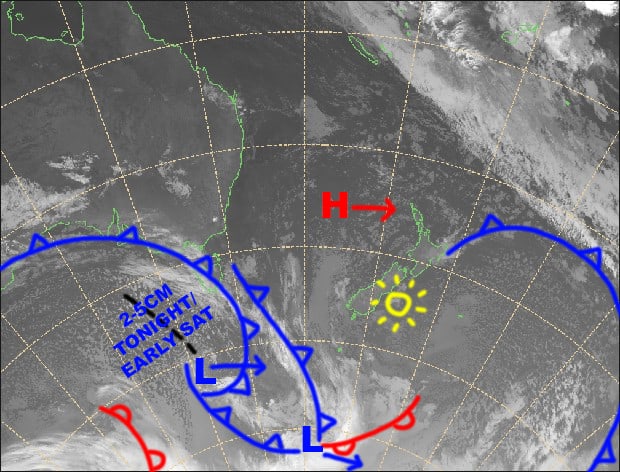 A nice day to be on the slopes today, thanks to the sunny ridge. However, watch out for thunderstorms and snow showers on Ruapehu this afternoon. Epic amounts of snow will fall over the next week or so and will see the season go out with a bang! Source:: Metservice (vandilised by the Grasshopper)
Friday 28 September:
Mostly sunny for the South Island with a NW breeze picking up. A fine start on Ruapehu with a westerly breeze, but there'll be a few afternoon snow showers with possible thunderstorms.
Saturday 29 September:
It'll start snowing over the Southern Lakes from late morning and there'll be heavy falls later in the day. High cloud will build in Canterbury, and we might see a snow flurry or two. NW winds will rise to gale over the South Island. For Ruapehu, there'll be some afternoon cloud and a snow flurry or two as well as a westerly breeze.
Sunday 30 September:
Snow falling across the South Island, but it'll gradually clear later in the day. N-NW winds will be blowing a gale in Canterbury. It'll be rather cloud on Ruapehu with the odd snow shower from afternoon as NW winds strengthen.
Monday 1 October:
Mostly fine for the South Island with light winds. Snow on Ruapehu will ease around midday as gale NW winds ease, then it'll return at night.
Extended Outlook:
The low will be weak as it crosses the North Island during Tuesday, but we'll still have a hefty dump of fresh powder on Ruapehu in the order of 15-20cm. Also on Tuesday, yet another cold front will brush the South Island, giving us a nice wee dusting of freshies. NW winds will kick in on Wednesday and clear any muck away so we can shred all this new pow pow. Another frontal system should trundle up the country from late Thursday or next Friday, with snow possibly falling through next weekend, yikes!
That's all from the Grasshopper. Wanna keep your finger on the pulse of all things snow? Join my weekly email list by filling in the box below. If you have a question or feedback for me, hit me up on facebook.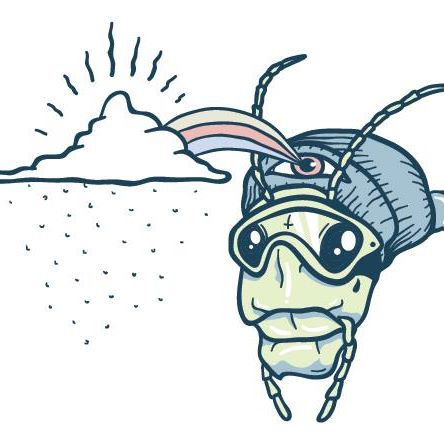 Follow The Grasshopper
Your Weekly Forecast Email