Sunday 21 July – The cream has curdled in Canterbury
Synoptic Outlook
After dishing out 20-30cm of full fat cream for Canterbury ski fields, the broad low sitting on the middle of the country is now serving up something a little more curdled and rancid. Freezing levels are now sitting around 1800m, so snow is falling as rain on lower slopes and we have heavy falls of it this morning (avalanches may be a real risk). It will all peter out this evening in Canterbury as the low dissipates into nothingness.
A ridge will lie over the South Island during Monday and Tuesday, while a light easterly flow over the North Island will give Ruapehu a couple of mint days. Cloud clagging up the South Island will finally clear on Wednesday as northwesterlies kick in ahead of a low approaching from the west.
Image of The Day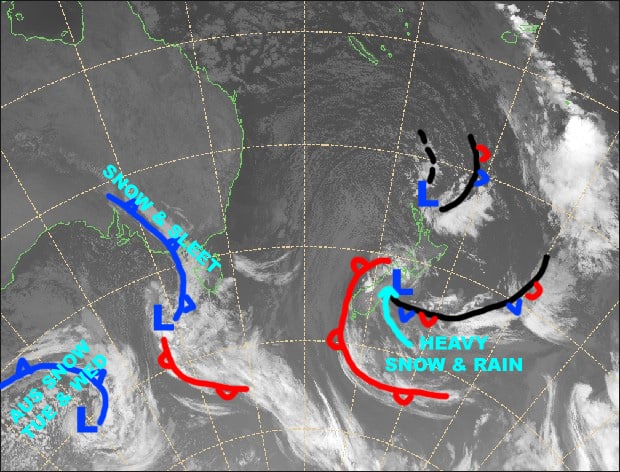 The low sitting on the Middle of NZ will dissipate into nothingness later today. The cream has curdled in Canterbury, where heavy snowfalls have turned wet on lower slopes. Source:: NZ Metservice (vandalised by the Grasshopper)
Sunday 21 July
Any remaining snowfalls will clear the Southern Lakes early this morning, but remain cloudy. Heavy snow and rain in Canterbury will ease this morning and peter out this evening. S-SE winds easing.
Drizzle and flurries on Ruapehu will clear to a beaut afternoon with freshies to be found. Northwesterly gradually easing.
Monday 22 July
The sun should pop out from time to time between clouds over the South Island, but a shower or two may show up in Canterbury in the afternoon. Light winds.
A superb, sunny day up Ruapehu with light winds.
Tuesday 23 July
A calm day for the Southern Lakes where cloud may reach up to lower slopes, but it'll be sunny up higher.
Cloudy with light snow flurries and light winds for Canterbury.
Another mint day up Ruapehu with light winds, although there'll be some afternoon cloud and a possible snow flurry.
Wednesday 24 July
Morning cloud clearing to a fine and sunny day for the South Island, while a NW breeze develops.
Partly cloud on Ruapehu with possible snow showers. Winds will be nice and light again.
Extended Outlook
The low approaching from the west will veer to the northeast on Thursday, and then slowly cross the Far North on Friday where it should aimlessly loiter just offshore through next weekend. While Ruapehu will see a mix of rain and snow for some of the time, a ridge over the South Island will bring mostly calm, settled conditions with good doses of sunshine.
That's all from the Grasshopper. Wanna keep your finger on the pulse of all things snow? Join my weekly email list by filling in the box below. If you have a question or feedback for me, hit me up on facebook.