2018 New Zealand Snow Season Outlook – July Update
July 5th, 2018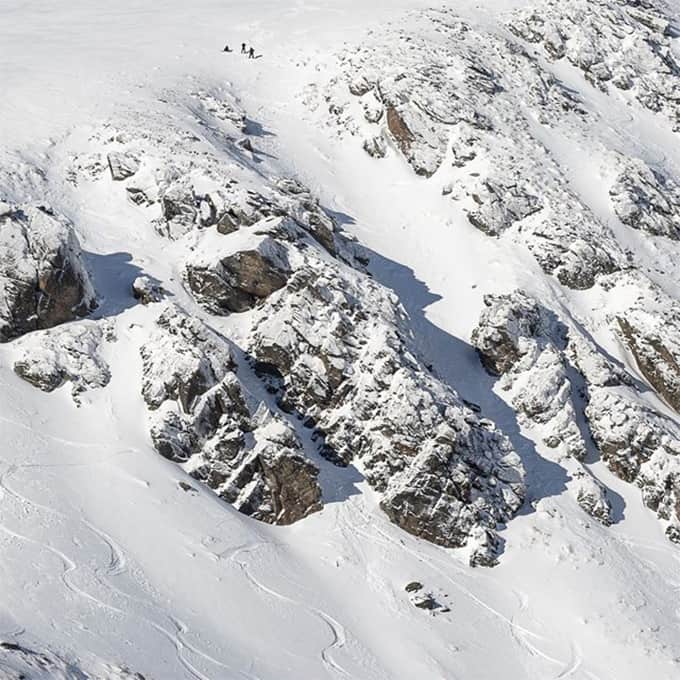 A GREAT START AND NO REASON WHY THE GOOD TIMES WON'T ROLL ON…
Mountainwatch | The Grasshopper
The Kiwi season is humming along nicely. Most ski fields are reporting snow depths of about half a metre at base levels and a metre on upper slopes. The Remarkables takes the cake with snow depths of 85-110cm and all lifts running at full steam.
June roughly went to plan, with an anomalous east-northeast flow pumping in plenty of rain to northern and eastern areas, leaving western areas and the bottom of the South Island a little parched. This masks the fact that we still had a couple of decent cold outbreaks from the south, like the one that hit on Sunday the 24th, providing plenty of snow and leaving temperatures a little chillier than expected, especially over the lower South Island. Despite this, the early season has left us with a bumper crop to keep the hoards satiated for a long time to come, and it would take something dramatic to knock this season off it's perch. Additionally, there is a fair-dinkum cold snap on the cards for the second week of July, with the Southern Lakes District likely to benefit the most from the southwest flow, closely followed by Ruapehu.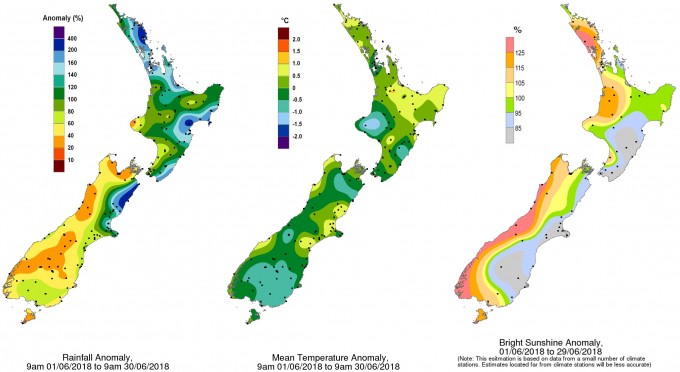 ENSO, IOD & SAM
The El Niño Southern Oscillation (ENSO) is still in a neutral phase. Sea surface temperatures (SST) in eastern-central areas of the equatorial Pacific Ocean have warmed over the last month and are now looking rather tepid. These waters are likely to continue this warming trend, with El Niño thresholds now favoured to be reached sometime in Spring, most likely during October or November.
Neutral years are marked by more varied weather regimes than usual and tend to give us more frequent warm east-northeast winds, which isn't ideal for Kiwi snowfall. ENSO has a stronger influence towards the end of the season, so we'll take any scrap of El Niño that is thrown our way. El Niño's are associated with more frequent and colder winds from the southwest quarter, which generally results in more snow on NZ ski fields. Owing to this, we might see the NZ season party on beyond its usual curfew.
There hasn't been any notable change in SST around New Zealand since the last outlook. Waters are warmer to the north and east of the country, while temperatures are about average in the Tasman Sea. The only influence this may have is that storms approaching from the north may get a little more juice added to the mix.
The Southern Annular Mode (SAM) has been negative since around mid June, but should approach neutral values over the next week. From then on models are all over the show, which unfortunately doesn't provide us with much insight. If we all cross our skis on the chair lift, SAM might bounce back negative and grace us with his snowy goodness.
CLIMATE MODELS

The C3S model shows a similar pressure pattern to previous forecasts, but low-pressure anomalies have shifted slightly eastwards. We're still likely to see plenty of storm action over the Tasman Sea and North Island kicking up warm, moist east-northeast flows. Temperature and precipitation anomalies also back this idea up. There is a slight push towards warmer temps over the South Island and less precipitation in western areas and the Southern Lakes District. More so than usual, there should be flip-flop between mild north-easterly air flows and short sharp cold snaps with snowfall. A changeable regime like this is a product of a neutral ENSO and near average SST.

SUMMARY
Climate drivers are still cruising along in neutral, but El Niño could turn up just in time this spring to eek out the tail end of the season. Models are still looking pretty average, with the exception of the Southern Lakes District where there is a slight push towards warmer and drier conditions. However, these figures belie the expectation that the climate around NZ will be more variable than usual, and we will still see plenty of short sharp cold snaps bringing a bounty of snow. This variability may ease towards the end of the season with colder winds from the southwest quarter becoming more frequent.
In light of all this, I remain optimistic about the remainder of the season. It's hard not to be when expectations have already been exceeded and there is more snow on the near-term forecast. There is nothing jumping out at me to suggest the good times won't roll on, so I foresee overall snow depths remaining average or above for the remainder of the season.
That's it from me guys. I'll update this outlook at the beginning of August as we get into the real business end of the season. If you've got a different theory on what's going to happen this winter, or just want to provide feedback, then please hit me up on the discussion below. Or you can follow me on The Grasshopper's Facebook.
Also check in daily throughout July and August as I'm issuing daily synoptic outlooks,  breaking down the following week and providing a more concise extended outlook – for both Australia and New Zealand. You can follow my daily forecasts here!
---