2020-2021 Japanese Snow Season Outlook
December 9th, 2020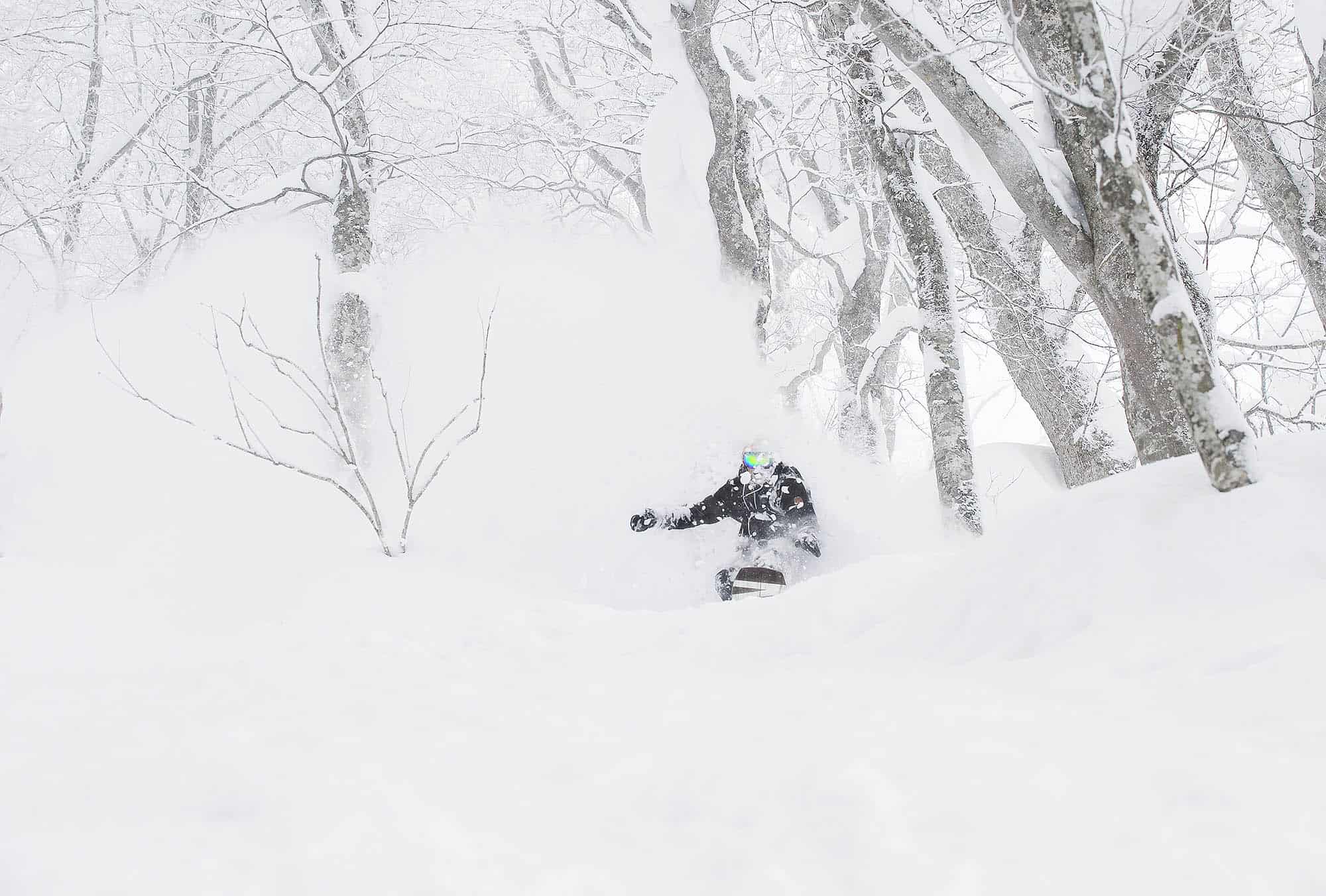 Mountainwatch | The Grasshopper
La Nina is here, bringing good tidings of a promising Japanese snow season.  After disastrously low snowfall last year, the climate has turned up to the 2020-2021 season with a fresh new look and a better attitude. It's not just long-range that looks good; the short-range forecast is already looking better than anything we saw last season.
Whilst international travel this northern hemisphere season may not be possible, we are committed to bringing you up to date forecasts, daily reports and information throughout the season. Furthermore, Mountainwatch Travel have just released our 2021 NZ packages starting from $546 for 8 nights with 5 days lift pass. Click here for more information.
Plenty of powder has already fallen over Hokkaido, where our very own Lucy Morrell scored great conditions during opening week at Furanowith "over the knee powder" on the very first day of winter. More snow has fallen since, and Lucy is currently reporting a base of 45-107cm there.
Cold W-NW winds will bring more snow flurries to Hokkaido this week, accumulating up around the 10cm mark for many resorts. Further south, 5-15cm will fall over central Honshu this Tuesday, providing a thin veneer atop of the lush green of the lower slopes.
Bigger things are looming, however, with models consistently picking a big snowstorm early next week. We could see heavy falls across much of the archipelago Monday through Wednesday, with accumulations easily racking up over the half a metre mark at many resorts, especially in central Honshu. This one is looking like a real doozy and will no doubt get resorts off to a flying start.
Stretching ourselves a little further ahead, another cold surge is on the cards next weekend the 19th-20thDecember, which may bring another decent load of Japow. From then on, it's too early to call how the end of the month may pan out.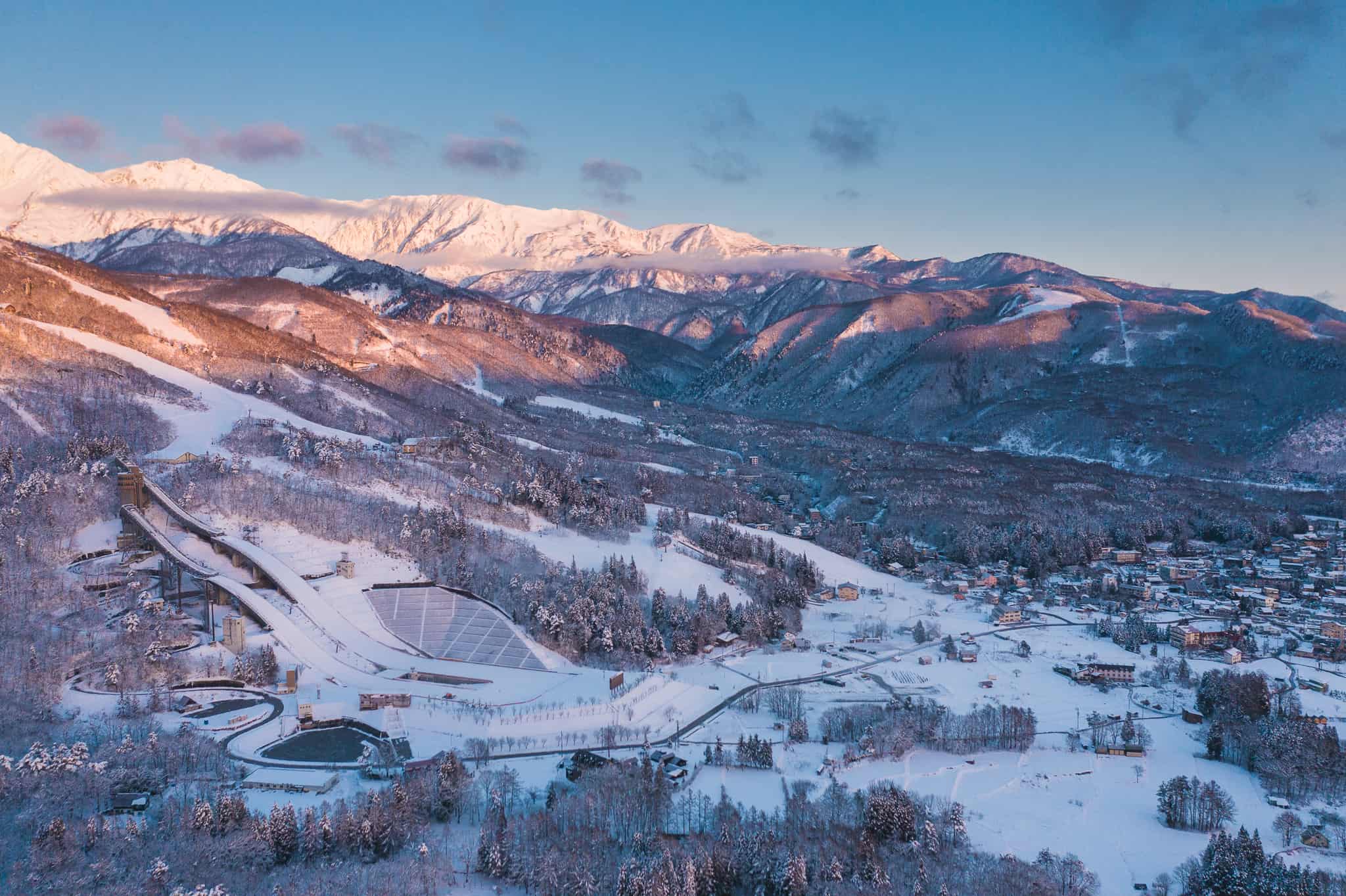 That La Nina Buzz
It's no secret that we've got a La Nina season on our hands; it's been the buzz about town lately. Although exceptions can be found, La Nina's are generally good for Japanese snowfall.
The last time we had a La Nina was during the 2017-2018 season, which resulted in above average snowfalls and a cold snap that saw large parts of Japan experience their coldest temperatures in thirty-something years. The La Nina's of 2005-2006 and 2011-2012 seasons are also remembered for huge snowfalls and cold temperatures.
As usual, climate models each tell a slightly different story for the up coming months, some good and some not so good. What they all agree on is enhanced convection surrounding Indonesia and the Philippines, which we like, but also a weak Aleutian Low in the north Pacific, which we don't like.
It's common to see a weak Aleutian Low during La Nina winters, but during good seasons this is often countered by either a strong Siberian High, high-pressure anomalies over eastern China, or low-pressures anomalies over Japan. A good handful of models are picking one or more of these counter measures, all of which act to strengthen the East Asian Winter Monsoon.
JMA pulling out all the stops
The Japanese Meteorological Agency's very own forecast model is perhaps the most optimistic of all, pulling together all those good bits mentioned above. So it's not surprising then that their outlook for winter snowfall is pretty darn sweet.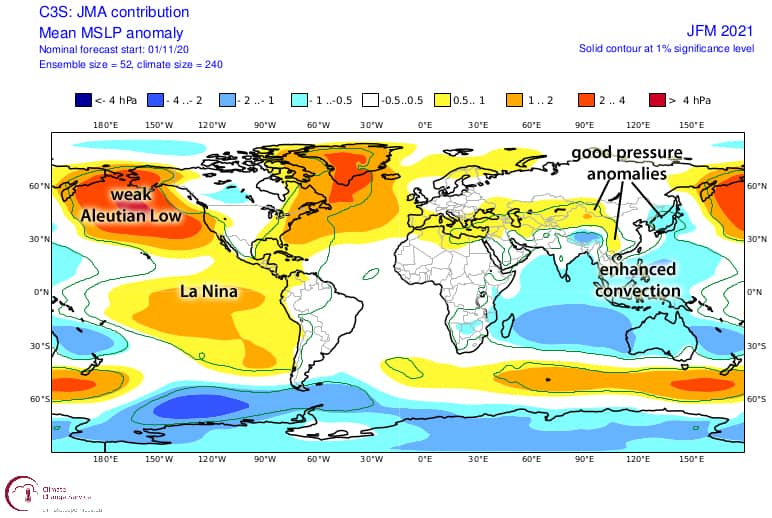 In their outlook, the JMA expect central and western parts of Honshu will be in the firing line of strengthened northwesterlies, giving resorts there a good chance for above average snowfall. Things taper off as we head farther north where average snowfall is most likely over Tohoku (northern Honshu), and we could see below average falls over Hokkaido possibly due to weaker northerlies stemming from a weak Aleutian Low.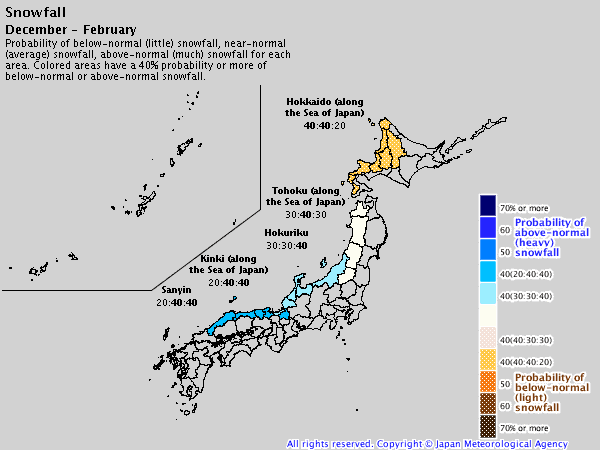 Same conclusion, but with more feeling
After much head scratching, cups of tea and mindlessly gazing out the window, I've come to a similar conclusion to the JMA (independently, of course).
For central and western Honshu we can expect average or above Japowder, and Tohoku (northern Honshu) is most likely to have an averagely awesome season. Hokkaido is most likely to receive average or a little less of the fluffiest powder on the planet.
That's it from me folks. If you've got a different theory on what's going to happen this winter, or just want to provide feedback, then please hit me up on the discussion below. Or you can follow me on Facebook. Remember to check out my weekly forecasts for both Japan and North America starting mid-December, giving you all the highlights and snowlights of the coming weeks.
Are you stinging to get over to Japan? At Mountainwatch we have partnered with resorts and accommodations in Hakuba, Nozawa Onsen, Myoko Kogen, Furano, Niseko and Shiga Kogen to put together the best priced early bird packages for the 2021 season. You can add your name below and once these are released you will have first access.


Mountainwatch Travel have also partnered with Queenstown's best accommodations to offer some amazing early bird deals for next winter. Click here for more info.