Asahikawa – The gateway to Central Hokkaido's Powder Belt – Travel
September 26th, 2017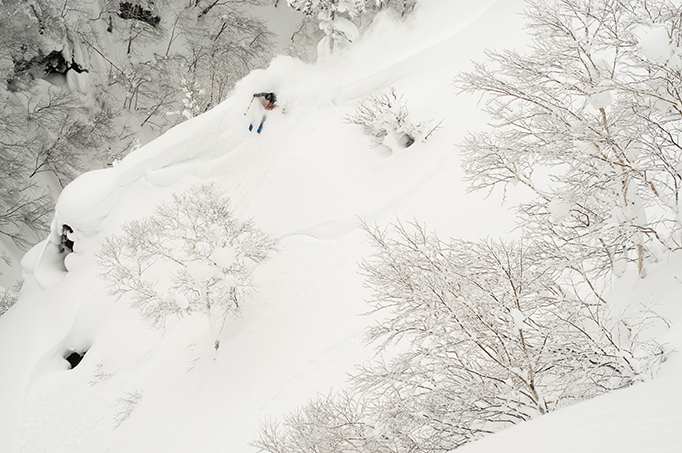 Reggae Ellis goes in search of Hokkaido's endless powder belt. Image:: Provided
Mountainwatch | By Reggae Elliss
If you are looking for a Japanese destination that has the snow without the crowds and is authentically Japanese with minimal western influence, then a road trip around the resorts of rural Central Hokkaido is the answer.
My wife Amanda and I flew into Asahikawa, Hokkaido's second biggest town, in early March and found plenty of powder and minimal crowds. Asahikawa is the perfect base to launch a road trip, with a large variety of ski resorts and the backcountry terrain of Daisetsuzan National Park within an easy drive.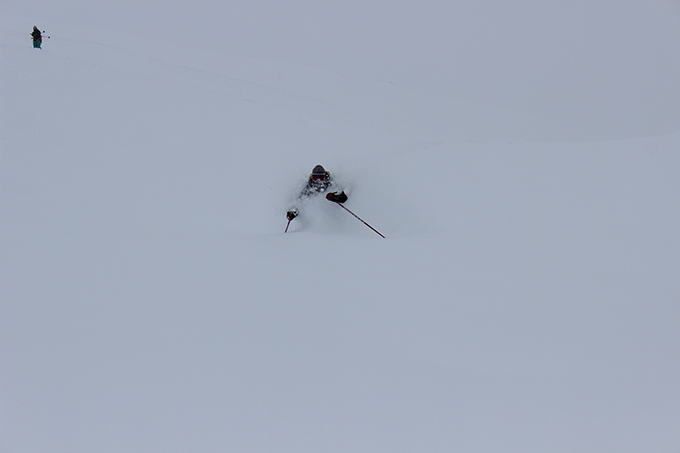 Amanda Elliss experiencing the best powder of her life on a bottomless day at Asahidake.
Asahidake
Our first stop was the small backcountry resort of Asahidake, within the national park an hour drive from Asahikawa. Asahidake is the highest mountain in Hokkaido, and its location in the centre of the island, far from the coast, ensures it has some of the lightest, driest powder on Earth. It also cops a lot of snow, estimated at 14 metres per year. Asahidake isn't a resort as such, more a backcountry area serviced by one cable car, the only groomed runs are a couple of winding cat tracks which provide access back to the bottom station. The base station has a cafeteria and a small shop, and that's about it.
"Asahikawa is the perfect base to launch a road trip, with a large variety of ski resorts and the backcountry terrain of Daisetsuzan National Park within an easy drive."
The cable car accesses 500 metres of vertical, but there is a lot of terrain, you just head out a little wider each run to ski a different line. Hiking above the cable car accesses a big variety of terrain, but it can be avalanche prone, so an experience guide is a must.
With that in mind, we booked a local guide, Michiko Aoki, regarded as one of the best guides in the area, she runs a one-woman backcountry guiding company called Mountain-Flow. Michiko grew up in Sapporo and has been living in Higashikawa for a decade, guiding in the Daisetsuzan range in both winter and summer. Mich spent five years in Canada where she did mountain guiding and avalanche courses and speaks fluent English, an advantage for us as there is little English in this part of Hokkaido. She is also a ripping telemark skier with a fondness for untracked powder.
Asahidake used to be off the beaten track with minimal crowds, but it is getting busier, particularly in Jan/Feb. However, in the second week of March there was hardly anyone there and, with consistent snow falling, the skiing was incredible.
On our second day we woke to find 40-50 centimetres of fresh snow in the hotel car park, and when Mich picked us up she said there should be double that on the mountain. At the top of the cable car it was -16 and the snow was deep and light, above our knees when standing still on the flats.
"When we dropped into the first pitch it was like entering another world. The snow was beyond bottomless, flowing over our heads and one of the few times I have had to focus on not taking snow into my lungs with each turn."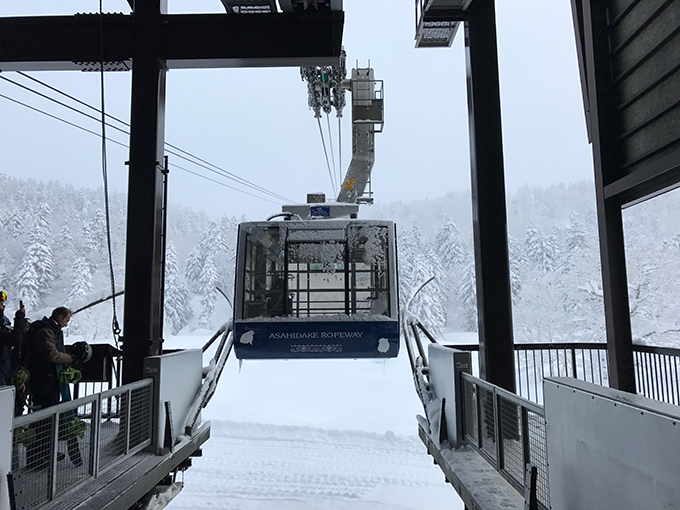 The Asahidake tram accesses some awesome back country terrain.
This went on all day, Michiko looking out the window of the cable car each run and then taking us to another field of untracked powder. The trees are open with a consistent pitch broken by a few roll overs, the beech forest offering a variety of lines on either side of the cable car. Our last run at 2.30 was as good as the first run of the day. Just amazing.
Tomamu
It would have been easy to stay, but the storm passed and we were in Japan to explore the Hokkaido Powder Belt. The next morning we made the three-hour drive south to Tomamu, a purpose built resort that is the antithesis of Asahidake. Built during the "bubble era" of Japanese ski resorts in the 80s, Tomamu seems pretty full-on at first glance, with towering multi-story hotels, an indoor wave pool, an ice village, snow tubing, dog-sledding, and a vast array of restaurants.
The good news is that it also offers some great skiing, with an average snowfall of eight metres, has a relatively high elevation for Hokkaido resorts, with the base at 540 metres and the peak at 1239m, giving a healthy vertical drop of 699 metres.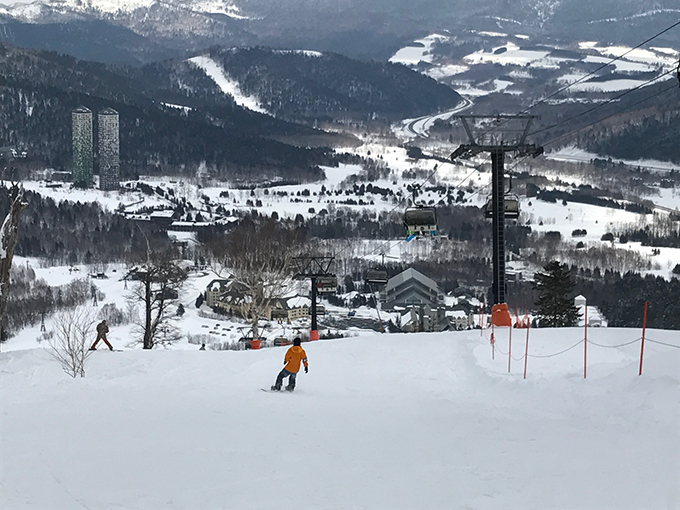 Dropping in towards the tall towers of Tomamu.
The resort offers a variety of terrain with plenty of long, groomed runs and plenty of fun tree skiing. There is also a big beginners area and a couple of terrain parks with some basic features and jumps. If the in-resort powder gets tracked out, the side country is easily accessible. The first day we were there a storm moved in pretty quickly around midday, dropping a good 20 centimetres of light, dry Hokkaido powder in a two-hour period, making for a great afternoon's skiing.
Like a number of Japanese resorts, Tomamu's off piste policy requires you to check in, register, and wear a yellow armband. No band and they may take your pass. Helmets are also mandatory for off piste skiing. You then have to "check out" at the end of the day so patrol can tick you off as returning safely.
Tomamu is a great family resort with plenty of activities and easy ski in and ski out access. First impressions of Tomamu are that it could get crowded on the mountain, but the alternative activities attract a lot of non-skiers who are looking for a family holiday in the snow. That's good news for everyone else, especially advanced skiers, as the off piste areas are pretty uncrowded.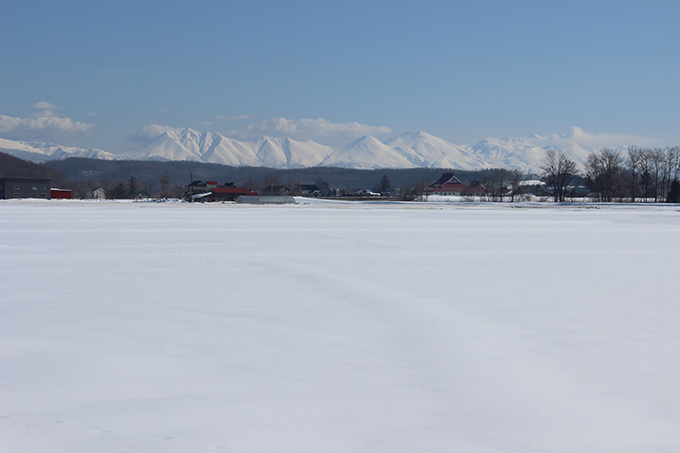 The impressive peaks of the Daisetsuzan National Park.
Furano
Our next stop was Furano, an hour down the road back towards Asahikawa, and an area that is attracting more Australians every year. Located about an hour's drive south of Asahikawa, Furano is one of Hokkaido's bigger mountains, and its terrain caters for all levels with a good beginners area, long and cruisy on-piste runs for intermediates, and easy access to the side country. With a base at 239 metres and the top at 1209 metres, Furano has a solid vertical drop of 964 metres, and the views of the town and valley below are spectacular.
The resort is divided into two areas, the Kitanomine Zone near the main ski village area and the Furano zone next to the New Prince Hotel. Furano receives an average of nine metres of snow a year, less than other Hokkaido resorts, but the snow is quality Central Hokkaido powder. The variety and quality of the groomed runs is superior to what you may find in other Japanese resorts, so even if it hasn't snowed for a few days you'll always have some dry corduroy for some fast turns in the morning.
Of course, for most of us Japan is about powder not piste, and there are now plenty of off piste options in Furano. For a long time Furano had a very strict "no off piste" policy, which was a big turn-off for the international market. However, that has relaxed over the past few years with side country gates opening in the 2015/16 winter, although you have to sign in with ski patrol if you're heading off the groomed runs. The result is access to some great tree skiing in resort, the area between the two zones among the picks, and plenty of fun terrain through the gates for the more adventurous. If you really want to explore the backcountry, you'll need avalanche equipment and a guide – having both will ensure you have a memorable day.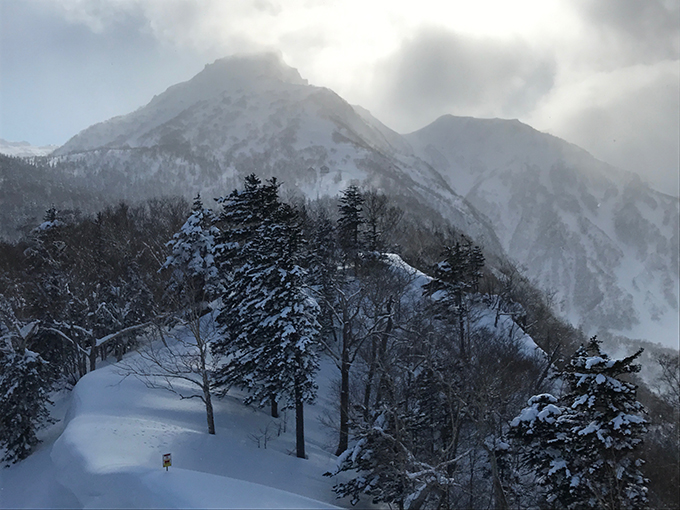 The dramatic peaks of Kurodake on the western end of Daisetsizan National park.
Furano has plenty of accommodation options, either in the village at the base of the lifts or a few minutes away in downtown Furano. This gives you a choice of hotels, pensions, and there are some new luxury self-contained apartments in the village and no doubt more on the way. The good news is Furano town is a regional centre of 26,000 people and is authentically Japanese, definitely worth exploring with plenty of restaurants and bars to check out. Furano is also a big destination for domestic summer tourism, attracting more visitors in summer than winter, so it is unlikely it'll turn into another Niseko.
Furano's proximity to other ski areas like Tomamu, Kamui, and Asahidake make it a great base for a Hokkaido trip. If you are looking to explore the backcountry, the Tokachi and Furano Ranges are nearby, offering some great skiing. You'll need a guide, check out Alpine Backcountry Guides who have an office just down the road from the resort's Kitanomine base area.
Niseko Cat Skiing
If touring isn't your thing then cat skiing is a good way to ensure you're getting fresh tracks days after a snowfall. Niseko Adventure Centre has an operation at Mount Otoe, about 62 kilometres northwest of Furano, we headed there after our time in Furano. They offer a free pick-up service from Furano, but it is only 30 kilometres southwest of Asahikawa, so it is an easy option if you are staying there. It was a spectacular day when we went; cold, calm, and clear. It had been a few days since the last snowfall, but there hadn't been any tours since, and we found 40 centimetres of powder across the zone. Much of the cat operation's terrain was once a ski resort, and the terrain is a mix of open bowls and gladed tree skiing, but nothing too radical. The terrain is fun and suitable for intermediates and above, and when each run is light untracked snow, you are going to have a good time.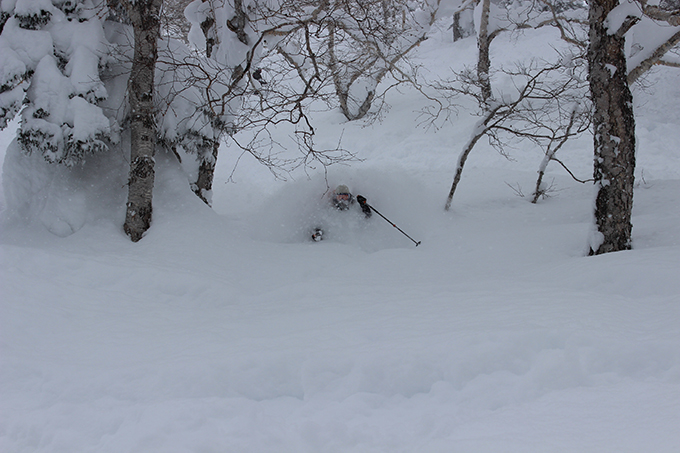 Our guide Michiko Aoki, knows the Central Hokkaido backcountry better than anyone and, man can she ski!
Kamui
The next stop on our Powder Belt roadie was Kamui Ski Links, a cool, no-frills resort which is just a 25 minute drive from Asahikawa and popular with the locals. It is a relatively small resort and despite its quality snow and "family-friendly" vibe, Kamui isn't on many international skier's itinerary and, aside from weekends, has minimal crowds. This and Kamui's proximity to the hotels, restaurants, and nightlife of Asahikawa make it a great alternative to the more popular Hokkaido resorts where crowds and lift lines can be an issue, particularly in January.
Serviced by seven lifts including one gondola, Kamui has some great on piste skiing with some long top to bottom cruisers, perfect for those who aren't super confident off piste. The terrain breakdown is 40% beginner, 40% intermediate, and 20% advanced. Our timing late in the season meant the crowds were thin and we didn't see any other westerners on the hill, so there was plenty of untracked snow off piste. Kamui has some good in-bounds tree skiing and some fun little bowls, with directly under the gondola having plenty of fun terrain.
"Our timing late in the season meant the crowds were thin and we didn't see any other westerners on the hill, so there was plenty of untracked snow off piste."
For more advanced skiers, the side country has some good bowls accessed from the top of the gondola with easy access back to the resort. Once again, the lack of crowds mean you don't have to worry about the snow getting tracked out, we were getting freshies within sight of the resort boundary four days after the last snowfall.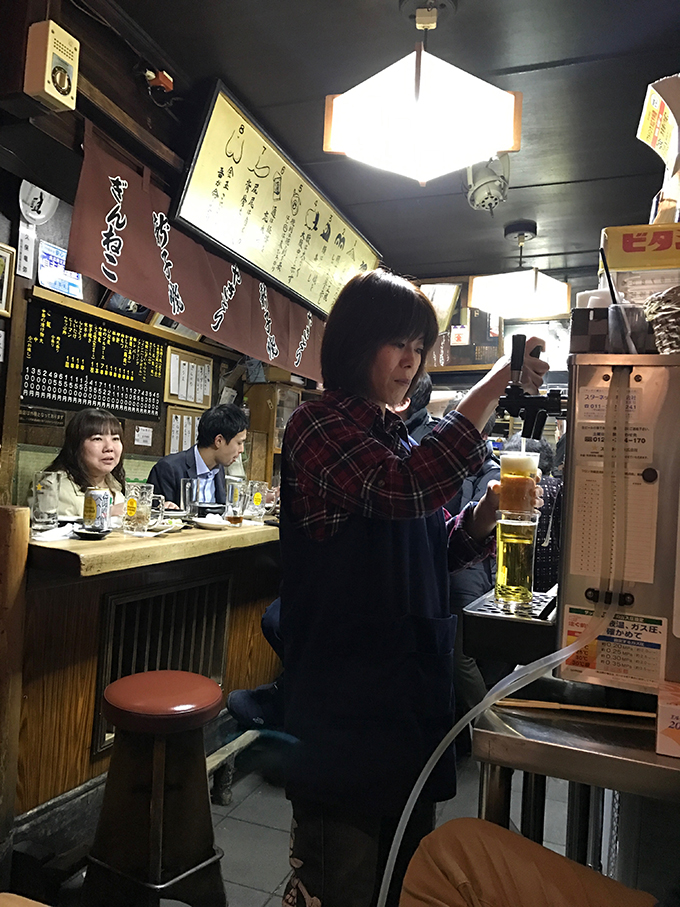 The back streets of Asahikawa are fun of small bars and restaurants.
Asahikawa
After skiing Kamui we made the short drive to Asahikawa and checked into the aptly named Grand Hotel. We spent the following afternoon and night in Asahikawa, checking out the local sake brewery, galleries, and nightlife. It is a fun, vibrant town with incredible food options from plush sushi restaurants to small back-alley yakitori bars, plenty of late night venues, and, apparently, some of the best karaoke bars in Hokkaido. You know you are in Japan, a couple of nights here is a great way to round out a ski trip.
The Final Word
The lure of Japan's quality snow is not showing any signs of slowing down soon, and as the well-known resorts like Niseko and Hakuba become more crowded, many Australians are looking for alternatives. There are over 500 resorts in Japan, so there's a lot of choice, but it'd be hard to beat a road trip through Central Hokkaido.
So many different resorts within an easy drive, back country touring, amazing scenery, food, and, of course, the vital ingredient of consistent powder snow. So, if you want to mix things up, enjoy the warmth and friendliness of the locals, experience a taste of real Japan, and not be surrounded by Australians, then jump on a plane to Asahikawa next winter and do it.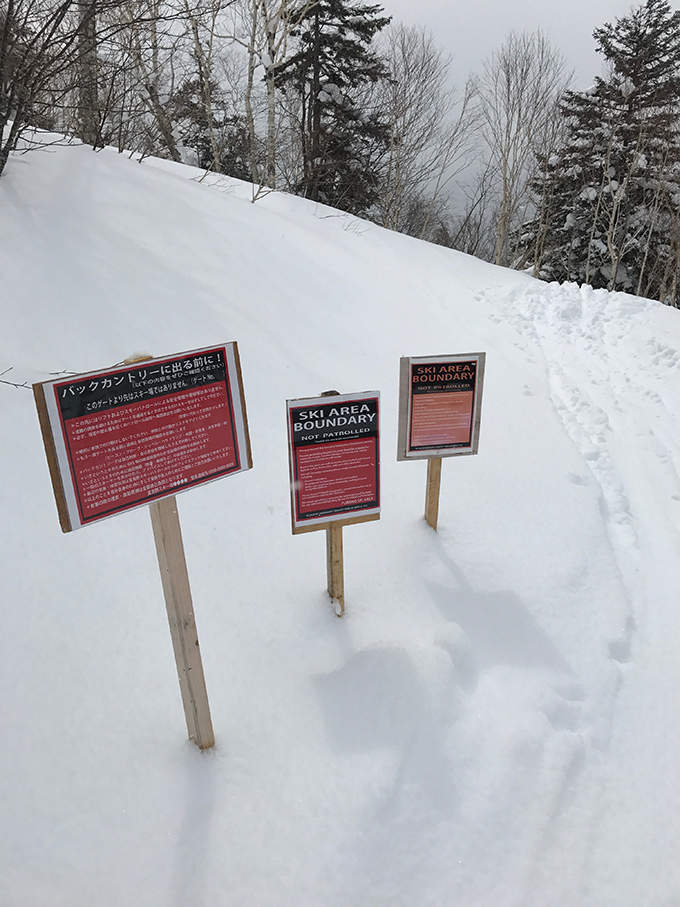 More Information
Getting there
There are regular flights from Tokyo to Asahikawa and it is 1.5 hours by train from Sapporo.
Guides
Michiko Aoki runs the guiding operation [Mountain Flow ] in Asahidak, as well as Alpine Back country guides.
General Asahikawa information
For more info on the entire Asahikawa area, click here.
Niseko forecasts,
snow reports and
live snow cams.