AUSSIE WEEKLY SNOW JOURNAL – Winter's Intermission
August 3rd, 2011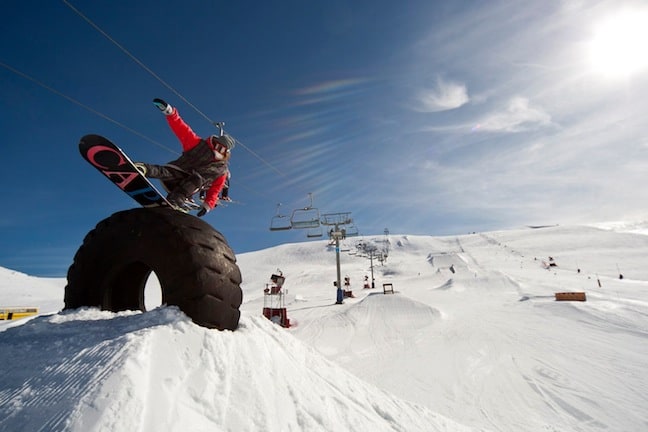 What do you ride when its sunny and warm? Park of course.. Image::Courtesy of Falls Creek
Aussie Weekly Snow Journal | Alex Horvath
Very warm temperatures transpired across the mountains over the last week bringing with them a spring like pattern of sun, snow and light rain that combined to soften up the snowpack considerably. We are now in week one of August and unfortunately things are not shaping up to be the powder packed peak season we have come to expect.
Bluebird conditions leading into the weekend brought some welcomed sunshine to the mountains and warmed things up considerably. Saturday and Sunday saw some light rain with snowfalls about the higher peaks, unfortunately for Victorian resorts they copped the brunt of these systems and did lose snow on north aspects and higher traffic areas.


A FIS ranked skiier carves one out in the I ski for Tommy Memorial Race today Image::Courtesy of Mt Buller
This trend of warm temperatures and sunshine that we are seeing is as a result of a ridge of high pressure that is remaining fairly stationary over the Tasman Sea. This feed is dragging warm air from the centre of the Australian continent straight down in a northwesterly direction over the mountains. As a result of this flow temperatures are very mild, temperature trends since 12am Tuesday through to 10am Wednesday at the Thredbo AWS shows an overnight minimum of only 2.7°C. This trend is bad news for snowmakers who rely on cold temps to do their jobs. On a positive note however everyone is making the most of the spring like conditions, the cover is soft and forgiving and the warmer weather is making for some very enjoyable conditions.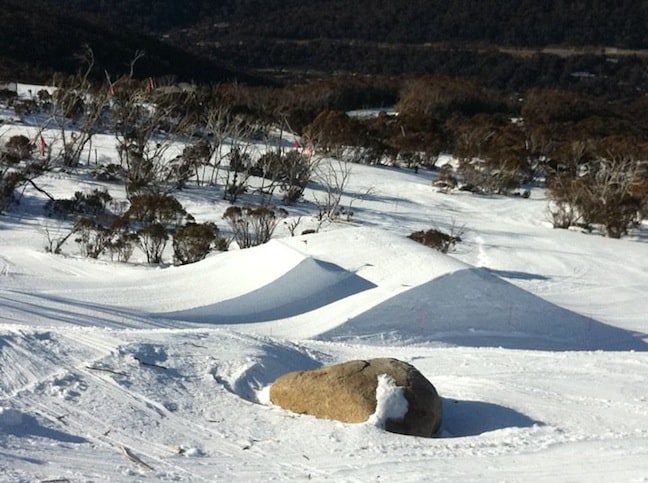 Thredbo's newest park jump, a perfectly sculpted 45ft hit Image::Charles Beckinsale
Weather this week
The synoptic situation moving forward is proving to be very complex, unfortunately over the last few days there has been a lot of deviation across the models with the set ups changing on every update, for a clear explanation of why this is occuring have a read here .
At this point its looking like we will see the precipitation arrive a little before the cold air resulting in some pre-frontal rain on Saturday, fingers crossed the cooler air won't be too late to the party and we should see a change to snow on Saturday evening and into Sunday morning. Be sure to keep an eye on the detailed forecasts over the next few days to track how it will pan out.
At this point it is looking like we should see a return to proper winter temperatures and snowfalls around about Monday/Tuesday next week, this should at least enable snowmakers to replenish anything lost over the weekend.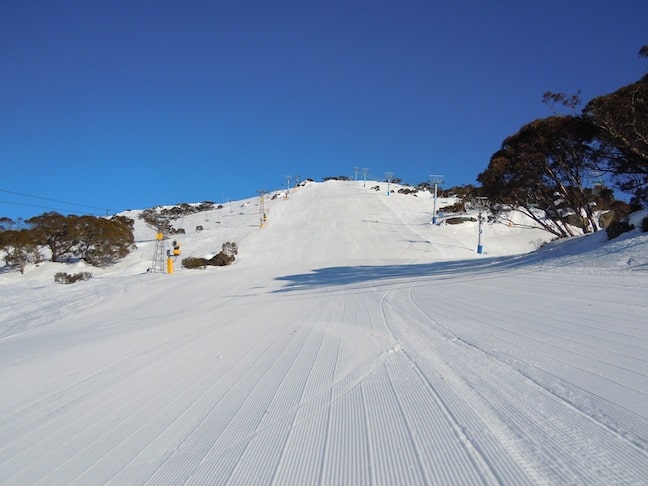 Some very inviting corduroy Image::Courtesy of Perisher
Resort Breakdown
NSW
Perisher Spring like conditions in Perisher today with an expected top temperature of 10°C. It is also looking like it will be windy today with winds reaching around about 60km/h. Luckily with all this warm weather the base appears to be holding steady with a current depth of 165cms. A rain/snow mix is expected on Saturday and Sunday before a return to colder temps and snow on Monday/Tuesday.
Charlotte Pass Very warm conditions in Charlottes this morning with an expected top temperature of 10°C. Strong winds bring the possibility of wind holds, a mix of rain and snow is expected on Saturday before snowfalls on Sunday and Monday.
Thredbo Sunny and warm in Thredbo today making for an awesome day in the mountains, winds are hovering around 40km/h, the pick of the day will be the higher alpine areas. A snow/rain mix is expected on Saturday and Sunday before cooler temperatures and snow early on next week.
VIC
Falls Creek A clear sunny day in Falls today with an expected top temperature of 9°C. The warm temps are creating a slushy and soft snowpack. 14/15 lifts remain open although we may start to see closure of some areas. Snow and rain is expected across the weekend, before colder temperatures and snow early next week.
Hotham Another bluebird day in Hotham today with temperatures hitting 8°C. A spring like mix of snow and rain will hit Hotham on Saturday and Sunday, early next week temperatures will return to a more winter like range and snow should fall on Tuesday.
Mt Buller Very warm again in Buller today, the mercury is tipped to hit 8°C, this warm run will continue through to the weekend when a mixture of snow and rain will arrive. Early on next week things should get colder once again.
Mt Baw Baw This warm weather has proved to be very damaging to Baw Baw's snowpack, temperatures are hitting 9°C today and will remain too warm over the weekend where we are expecting rainfall. Things are not all bad as we are also expecting some snow to fall next Tuesday. 5/7 lifts are expected to run across the week.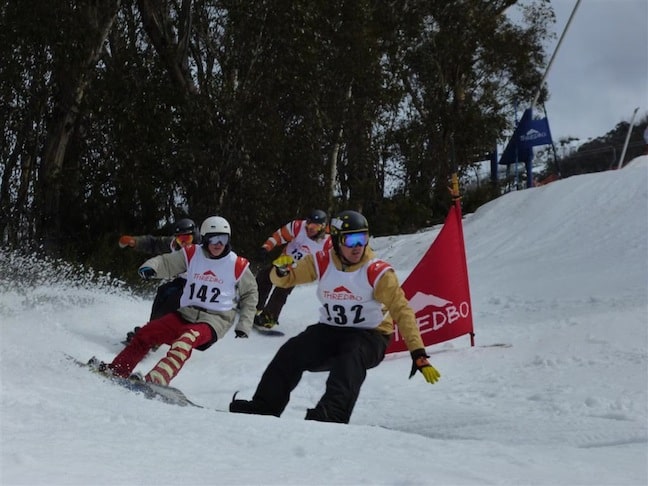 Mens Open Snowboarders battle it out in the Thredbo Freeride Series Ridercross yesterday Image::Courtesy of Thredbo
Upcoming Events:
• Thredbo Top to Bottom race on Saturday 6 August
• FIS Ski and Snowboard Cross Australia and New Zealand Cup in Hotham on Saturday 6 August
• FIS Race week is kicking off in Thredbo on Monday 8 August
• Australian Junior Snowboard Series at Perisher 12-13 August
• Hotham Banked Slalom on Saturday 13 August
• Rip Curl Freeride Series taking place in Thredbo on Tuesday 16 August
Right now we are lucky enough for Ullr to give us a taste of spring right in the middle of winter, think of it as an intermission, just a break to soak up some sun and shred in a t-shirt right before winter kicks back in with a BANG….
Perisher forecasts,
snow reports and
live snow cams.
Falls Creek forecasts,
snow reports and
live snow cams.
Mount Buller forecasts,
snow reports and
live snow cams.
Charlotte Pass forecasts,
snow reports and
live snow cams.
Thredbo forecasts,
snow reports and
live snow cams.
Mount Baw Baw forecasts,
snow reports and
live snow cams.