NZ Weekly Weather Blog – Comp Time!
August 8th, 2011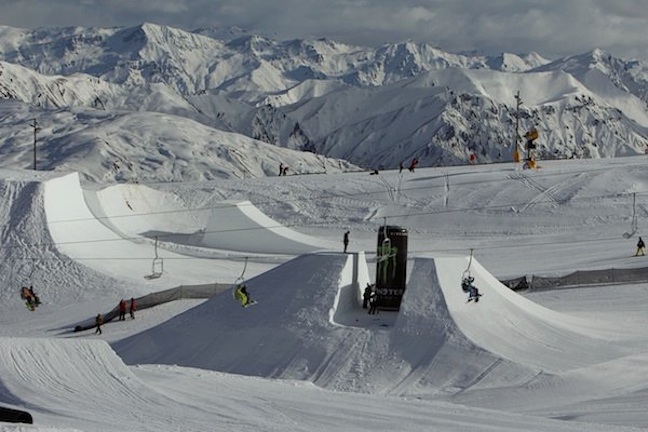 Snow Park's Monster bonk 4 August. Image:: Snow Park
Snow Journal | Matt White
Kia Ora everyone, it feels like we are flying through the weeks at the moment, hopefully everyone is getting a good amount of skiing/boarding in.. we're halfway through the season now believe it or not!
Competition season is well underway, on Friday/Saturday the Billabong Slopestyle went down at Snow Park, on one of the best courses I have seen in New Zealand. Only the best of the best made it through to the finals, still managing to pull off a ton of heavy hitting tricks in the windy/icy conditions… a great show to watch with a few beers and some mates on the Woolshed Restaurant deck! In the women's division the winner was Billabong rider Jamie Anderson, whilst Finland's Roope Tonteri took the title out for the men.
Billabong Slopestyle photos and recap
Tomorrow is the beginning of the 2011 Burton New Zealand Open at Cardrona. The best riders from around the world are about to go head to head for the next five days in a bid to be crowned halfpipe and slopestyle champions. The newly installed Wells Platter (named after skiing superstars the Wells brothers) will be put to good use running athletes up the pipe to their runs… make sure you get up there early to secure a good viewing spot, it's going to be one amazing event!
On Friday night in Queenstown there will be the annual Parklife Invitational rail jam where a hand picked line-up of skiers and boarders will slide and grind their way to a slice of the $5000 prize pool, this also marks the beginning of the 100% Pure Winter Games.
Over the weekend we received a dusting of up to 15cm new snow in some places but i think everyone is ready for another big snow storm to hit us. The snow is still good but after a week or so of it baking in the sun it inevitably gets a little icy, especially in the late afternoon.
Looking at the weather for this week…
It's started off good with a touch up of fresh snow across the country over the weekend, looking ahead we can expect the next few days to be clear and sunny but from thursday onwards it's forecast to pack in with snow showers.. fingers crossed! Here's a little summary of what to expect.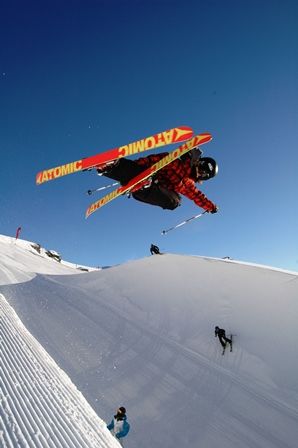 (right)The Wells brothers doing what they do best! Image:: Cardrona
North Island
Whakapapa/Turoa/Tukino – Quite the mixture of weather this week beginning with snow showers and gusty W-SW winds, potential for rain on Wednesday with the freezing level rising above 2200m, cooling back down for more snow on Thursday /Friday and looking to clear up mid Saturday to calm and sunny conditions.
Manganui – Overcast with rain/snow forecast up until the weekend where it may become fine for Saturday/Sunday
South Island

Rainbow – Sunny with broken cloud through to Wednesday night, Southerlies and snow showers developing on Thursday through to Saturday/Sunday where its may break up into fine patches.
Hamner Springs/ Mt Lyford – Fine through until Thursday, changing to snow showers overnight and breaking up over the weekend to fine patches.

Temple Basin, Broken River, Cragieburn, Cheeseman – Fine and calm until Thursday, rain showers forecast through to Sunday.. some fine patches may occur during this.
Mt Hutt, Porter Heights, Mt Olympus – Fine with light W winds, switching to snow showers and cold SE winds Thursday/Friday, clearing up on weekend.

Fox Peak, Mt Dobson Round Hill, Ohau – Clear and sunny for Tuesday/Wednesday with variable light winds, snow showers forecast for Thursday/Friday and then expected to clear up over the weekend.

Treble Cone, Cardrona, Snow Park/Snow Farm, Remarkables, Coronet Peak – Light/variable winds with clear sunny skies, switching to S on Thursday with snow showers, clearing Friday and onwards into the weekend with some scattered cloud.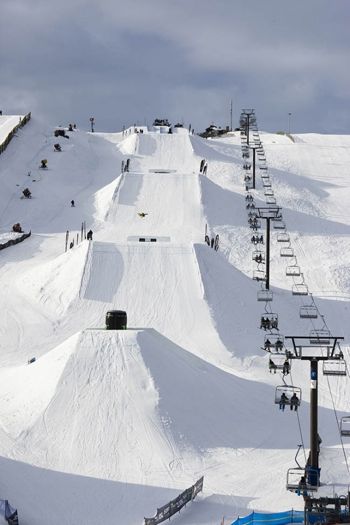 (Right)Billabong Slopestyle course. Image:: SnowPark
Here's how the resorts are shaping up snow-wise
Snow Bases across the country (cm)
Whakapapa 141
Turoa 207
Tukino 310
Manganui 153
Rainbow 120
Hamner Springs 100
Mt Lyford 135
Mt Hutt 45
Porters 50
Mt Cheeseman 125
Mt Olympus 165
Cragieburn 125
Temple Basin 262
Broken River 125
Fox Peak 45
Mt Dobson 38
Roundhill 80
Ohau 90
Treble Cone 102
Cardrona 90
Snow Park 55
Snow Farm 75
Coronet Peak 103
Remarkables 55
Picks for this week…
-Burton NZ Open, Cardrona – Slopestyle finals Friday 12, Halfpipe finals Saturday 13
-Burton Open Sessions, Queenstown Events Centre Saturday 13, 8pm-1am
-Inaugural Putter Brothers Cup, Bennys place, Cardrona Valley ..straight after Burton Open Halfpipe finals
-Harris Mountain Heli Ski/Methven Heli Ski this week, still good powder up high!!
And that's a wrap for this week, it's shaping up to be quite a full on week for events and partying. There will be after parties at the Lone Star and Opium bar in Wanaka every night of the Burton Open, with the Open sessions ending the week in Queenstown on Saturday with a ton of live bands and good times… look forward to seeing you all there, cheers!
The Remarkables forecasts,
snow reports and
live snow cams.
Treble Cone forecasts,
snow reports and
live snow cams.
Snow Park forecasts,
snow reports and
live snow cams.
Cardrona forecasts,
snow reports and
live snow cams.
Turoa forecasts,
snow reports and
live snow cams.
Coronet Peak forecasts,
snow reports and
live snow cams.
Whakapapa forecasts,
snow reports and
live snow cams.
Mount Hutt forecasts,
snow reports and
live snow cams.