NZ Weekly Weather Blog – Snowed In!
August 15th, 2011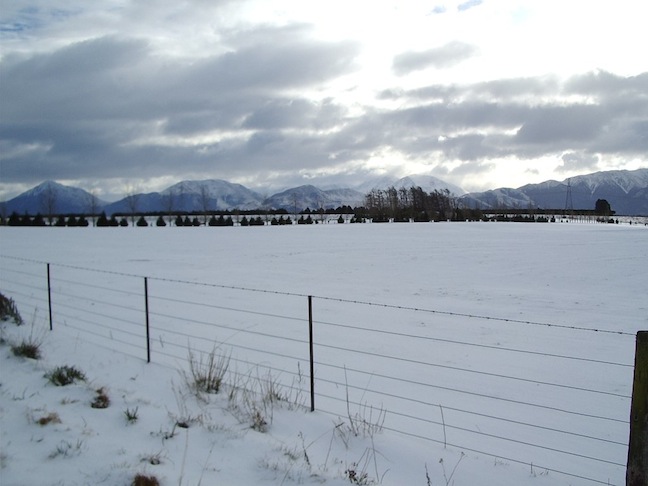 Snow on the fields surrounding Mt Hutt Monday 15 August. Image:: Mt Hutt
Snow Journal | Matt White
Hey everyone, well as I am writing this.. NZ has been hit hard by another freak snow storm, roads are closed, cities/towns are snowed in and travel is being vastly effected.. but on the bright side its dumping in the hills too!!!
Basically there's a series of cold fronts moving up the east coast of the South Island; Otago, Cantebury and Nelson areas receiving snow to the ground but the real surprise has been the low snowfalls for the lower North Island in and around the capital of Wellington. The forecast is for it to continue snowing for a few days more so give your board/skis a good wax up and get ready for the coming powder days…
Read more about the weather pattern here
Looking at the weather for this week….
It was starting to get a bit bleak and icy up on the slopes last week but Mother Nature is coming to the party and it's looking good this week for us kiwis! Its going to be a cold one…
North Island
Whakapapa/Turoa/Tukino- Good news if you're thinking about heading to any of these 3 hills for the weekend.. there will be powder, but until then you might want to stay indoors as there will be very cold SE winds with snow showers and a low freezing level.. once the weekend hits it looks to be fine and calm.. try not to get cabin fever in the mean time…
Maunganui- Patchy snow showers through to Thursday, where it may change to rain but clear up again to be sunny and fine for Friday through Sunday.
South Island

Rainbow- Snow showers and cold S-SE winds for Monday – Wednesday and clearing on Thursday with lovely fine weather Friday – Sunday.
Hamner Springs/Mt Lyford- Blizzard conditions for Monday/Tuesday with heavy snowfall and strong SE winds, more patchy snowfall for Wednesday /Thursday with continued strong SE winds and looking to clear by Friday for a sunny weekend.

Temple Basin, Broken River, Cragieburn, Cheeseman- Strong to gale force S winds and blizzard conditions expected for Monday/Tuesday, slowly breaking up over Wednesday/ Thursday making for a lovely fine weekend of powder turns.
Mt Hutt, Porter Heights, Mt Olympus- Blizzard conditions with strong S-SE winds for Monday/Tuesday, snow showers easing over Wednesday/Thursday and the strong winds easing up on Friday and Saturday/Sunday looking to be calm and sunny.

Fox Peak, Mt Dobson Round Hill, Ohau- A brutal cold SE wind/ Blizzard will keep everyone indoors for Monday/Tuesday.. the snowfalls will become patchy and eventually clear on Thursday but the wind may hold out until Friday. The weekend is set to be a beauty

Treble Cone, Cardrona, Snow Park/Snow Farm, Remarkables, Coronet Peak- Very cold SE winds and snow showers (heavy at times) will engulf the Southern lakes ski areas until Wednesday/Thursday, clearing to strong frosts and blue skies on Friday-Sunday.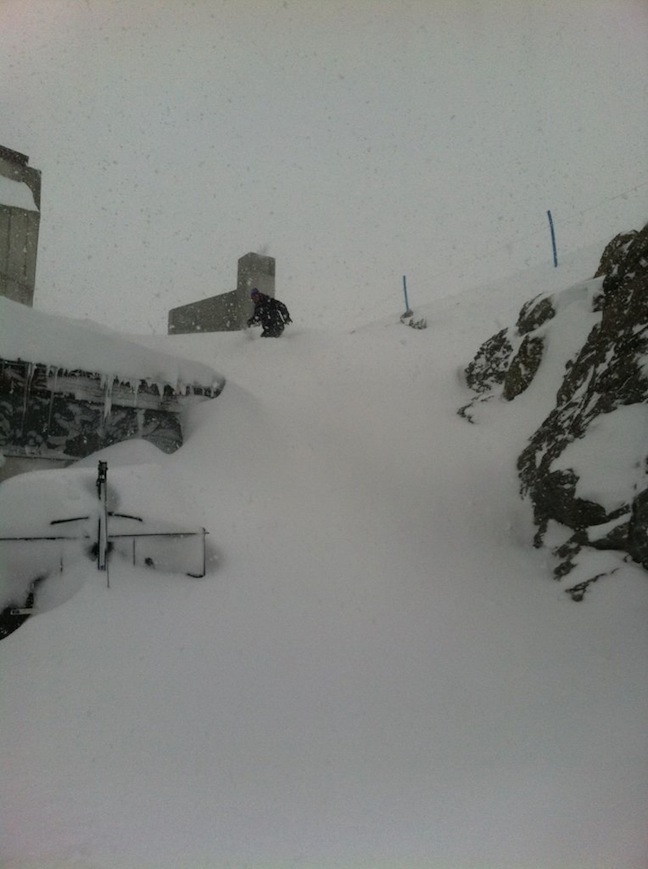 The chef riding the roof of his own restaurant at The Remarkables, Monday 15 August. Image:: The Remarkables
Here's how the resorts are shaping up snow-wise
Snow Bases across the country (cm)
Whakapapa 182
Turoa 278
Tukino 310
Manganui 215
Rainbow 120
Hamner Springs 101
Mt Lyford 120
Mt Hutt 45
Porters 50
Mt Cheeseman 125
Mt Olympus 140
Cragieburn 125
Temple Basin 262
Broken River 125
Fox Peak 70
Mt Dobson 53
Roundhill 80
Ohau 130
Treble Cone 87
Cardrona 120
Snow Park 65
Snow Farm 75
Coronet Peak 117
Remarkables 75
Queenstown Snowcats 135
I would expect these numbers to increase a bit by next weeks snow journal…!!!
Events wrap up
A big week of competition at the Burton NZ Open was squeezed out just in time before the storm came through.. Jamie Anderson continued her slopestyle domination over the women's field whilst Mark Mcmorris took out the title for the men. In the super-pipe Ryo Ono won with his Japanese ninja style and technical trickery, and Kelly Clarke took home her 3rd NZ Open win in a row. By all accounts it was an amazing show to watch, and so lucky to get bluebird days in everyday.
For more on the Burton NZ Open visit www.opensnowboarding.com
The world Heli Challenge was finally concluded on Thursday night, with a stunning array of photos and videos taken from the 2 days in the mountains and the crowning of the mens and women's champions for both skiing: (Sam Smoothy, Janina Kuzma) and snowboarding: (Benny Bright, Abby Lockhart). One pretty cool story to come out of the Heli Challenge was that of Benny Bright.. he left the competitive side of snowboarding a few years back to coach both his sister Torah and super grom Scotty James through the Olympics… however he came out of retirement just for the Heli Challenge, on a borrowed board he showed everyone just why he is one of the best coaches in the world… the guy can ride a snowboard ridiculously good!
Now we are heading into the start of the 100% Pure NZ Winter Games… however with the look of the storm we are in at the moment it could have a few postponements over the next few days….
Picks for this week…
If I was you I'd be keeping my eyes on the weather and when (and where) its gonna break.. there is going to be a few good powder days coming up and only the ones with their finger on the pulse will score it all!!! Good luck out there, carry your chains always and drive safe, the roads are covered in snow/ice too! See you all next week.
The Remarkables forecasts,
snow reports and
live snow cams.
Treble Cone forecasts,
snow reports and
live snow cams.
Snow Park forecasts,
snow reports and
live snow cams.
Cardrona forecasts,
snow reports and
live snow cams.
Turoa forecasts,
snow reports and
live snow cams.
Coronet Peak forecasts,
snow reports and
live snow cams.
Whakapapa forecasts,
snow reports and
live snow cams.
Mount Hutt forecasts,
snow reports and
live snow cams.