Nz Weekly Weather Blog – Spring Time Already?
August 22nd, 2011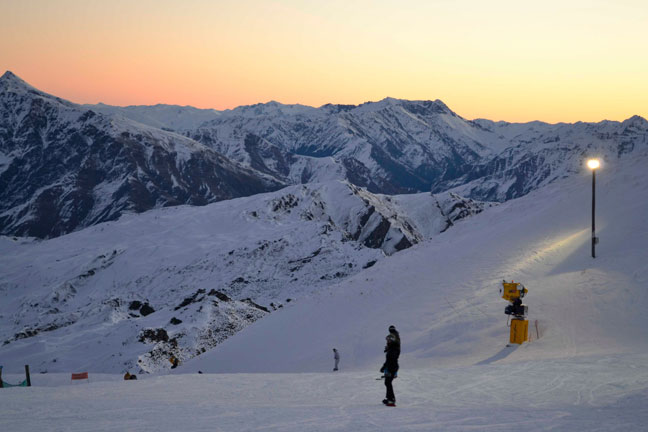 A Coronet Peak sunset, 19 August. Image:: Coronet Peak
Snow Journal | Matt White
Hi Everyone, well it has gone from bitterly cold to lovely warm, sunny and spring-like over the past week, hard to believe that this time last week half the country was snowed in! The past few days have been hot enough to ditch your usual winter attire in favor of something nothing more than a hooded sweater and spring gloves…. is springtime here already???
The polar blast we experienced last week dealt a lot of snow to both the North Island and Canterbury ski fields, with Mt Olympus and Temple Basin accumulating over 100cm to their bases. For the rest of the country 30 – 40cm was the average new snow accumulation making for good skiing/boarding wherever you went, Heli ski companies are reporting the longest runs they've had available in decades!
With the warm temperatures coming in strong now the snow is turning a bit firm and crusty and by midday it is softer and a bit slower, might be a good time to fetch the iron and put a coat of wax on your skis/board.. otherwise you could go with the lazier option and take your setup into a tuning shop for some loving…
Looking at the weather for this week…
It's looking set to be a warm week ahead, maybe a couple of showers for the lower South Island but in general it's going to be a fine one! Its not a bad idea to pack extra gear in to accommodate for the ever changing climatic conditions we usually experience this time of the year, making sure you have plenty of warm clothing but also being prepared in case it gets too hot.. probably the most important thing you could pack for this week is sunscreen!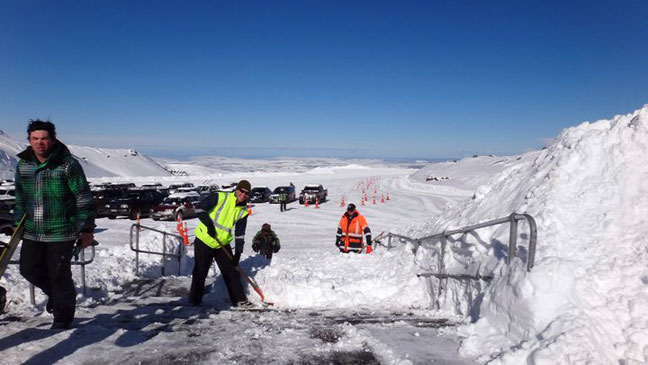 Stairs at Turoa buried under all the snow, 16 August. Image:: Mt Ruapehu
North Island
Whakapapa/Turoa/Tukino– Fine with patchy clouds and light SW winds, switching to NW, clear and sunny by Friday.. generally a fine weekend with the possibility of showers Sunday Afternoon
Maunganui– A bit of patchy cloud hovering around for a day or two but becoming fine and sunny with light W winds for the rest of the week.
South Island

Rainbow– Cloudy with patches of drizzle and winds moving from SW to NW by Saturday and clearing for a fine weekend.
Hamner Springs/Mt Lyford– Fine and sunny until Wednesday, where showers develop followed by Gale force W winds on Thursday, everything settling down by Friday for a clear, calm and sunny weekend.

Temple Basin, Broken River, Cragieburn, Cheeseman, Mt Hutt, Porter Heights, Mt Olympus– Fine for Mon/Tues with rain developing on Wednesday, strong SW winds -at times gale force for Thursday and calming back down to a sunny low wind weekend

Fox Peak, Mt Dobson Round Hill, Ohau- Fine and sunny for the early part of the week with showers forecast for Wednesday followed by gale force W winds on Thursday, briefly clearing for Friday and more showers forecast for the weekend

Treble Cone, Cardrona, Snow Park/Snow Farm, Remarkables, Coronet Peak- A fine start to the week with snow-showers moving in on Wednesday/Thursday, clearing to patchy clouds on Friday and continuing through the weekend with chance of a few showers Saturday/Sunday.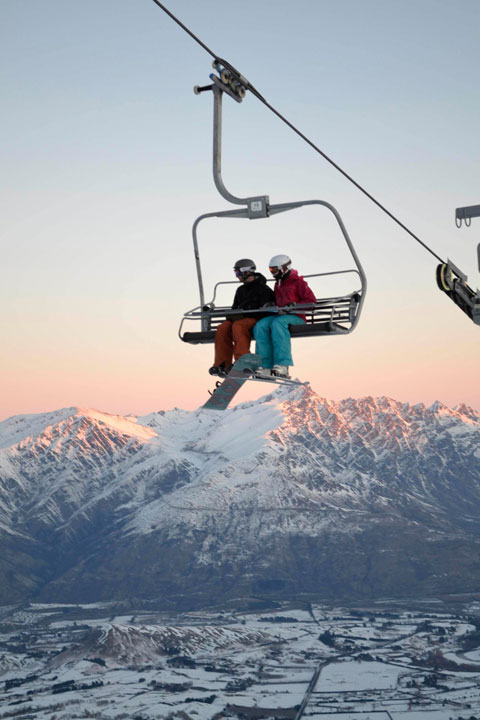 A sunset ride on the Cupid Express chairlift, Coronet Peak, 19 August. Image:: Coronet Peak
Here's how the resorts are shaping up snow-wise
Snow Bases across the country (cm)
Whakapapa 182
Turoa 298
Tukino 340
Manganui 297
Rainbow 120
Hamner Springs 190
Mt Lyford 220
Mt Hutt 85
Porters 85
Mt Cheeseman 125
Mt Olympus 245
Cragieburn 182
Temple Basin 343
Broken River 190
Fox Peak 110
Mt Dobson 102
Roundhill 80
Ohau 120
Treble Cone 114
Cardrona 135
Snow Park 75
Snow Farm 75
Coronet Peak 127
Remarkables 75
Queenstown Snowcats 135
Events wrap up..
The 100% pure Winter Games are now mid way through, we have seen some spectacular action from the figure skating, free skiing, ice hockey, cross country skiing and snowboarding… more to come this week with more snowboarding, curling, triathlon and ski racing.. if you haven't seen any of the events yet its well worth checking one out, some of the worlds best are here.. check out the events calendar at: http://wintergamesnz.com/events/
Picks for this week..
I have heard quite a few good reports coming in from Queenstown Snowcats, sounds like they have some good snow/terrain, if you've never been cat Skiing then it might pay to check these guys out..
Mt Olympus is where I would be this week, they are having a cracker of a season and with all the new snow they've got you'd be crazy not to go up and get amongst it!
Thanks for tuning in, enjoy the great skiing conditions on offer at the moment and I shall see you all back here next week!!
The Remarkables forecasts,
snow reports and
live snow cams.
Treble Cone forecasts,
snow reports and
live snow cams.
Snow Park forecasts,
snow reports and
live snow cams.
Cardrona forecasts,
snow reports and
live snow cams.
Turoa forecasts,
snow reports and
live snow cams.
Coronet Peak forecasts,
snow reports and
live snow cams.
Whakapapa forecasts,
snow reports and
live snow cams.
Mount Hutt forecasts,
snow reports and
live snow cams.