Science Confirms Monster El Nino, Skiers Ask What it Means for Pow? – NOAA Winter Outlook
October 20th, 2015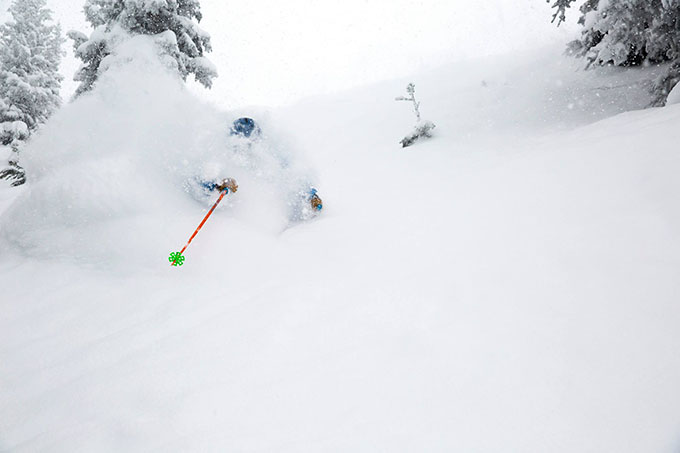 November 26, 2014 in Vail. With the strong El Nino tipped to favour Colorado and its southern neighbours, perhaps things are looking up? Image:: Vail
Mountainwatch | Alex Horvath
A few days ago, the National Oceanic and Atmospheric Administration (NOAA) announced that the looming El Nino in the Pacific Ocean is now too big to fail. That's right, "Too big to fail". Down here in Australia we're familiar with the impacts of the dreaded El Nino (read THIS to learn all about it). And The Grasshopper recently outlined its expected impact on the Japanese ski season. But the question on many people's lips is just what impact will it have on the highly fickle North American ski season?
Remember last year's stellar winter that hit the East Coast of North America? That was thanks to the jet stream. What is the Jet Stream we hear you ask? In simple terms, it's a fast-flowing current of air that screams its way around the northern latitudes. It meanders in a wave-like pattern and flows from west to east. Essentially, this polar jet stream brings cooler air and associated weather systems down into Canada and the United States.
Now, what does El Nino have to do with it? Well, the polar jet stream is greatly influenced by the variations in pressure caused by El Nino and La Nina events. So, now we know that, what is NOAA saying this tough mother of an El Nino will mean for the North American ski season? As is often the case, there's good news and bad news.
"Whether El Niño gets slightly stronger or a little weaker is not statistically significant now. This baby is too big to fail," Bill Patzert, a climatologist at NASA's Jet Propulsion Laboratory, said in a press release. "Over North America, this winter will not be normal. However, the climatic events of the past decade make 'normal' difficult to define."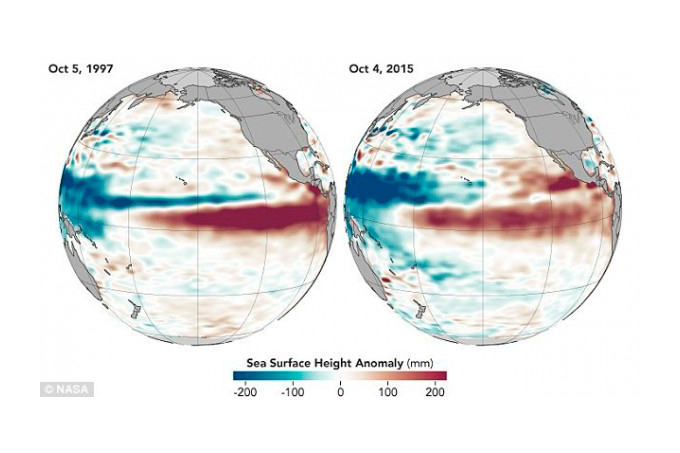 See that large tongue of red? That's our pal El Nino Image:: NASA
In its October monthly update, scientists at NOAA's Climate Prediction Center stated: "All multi-model averages predict a peak in late fall/early winter. The forecaster consensus unanimously favors a strong El Niño…Overall, there is an approximately 95 percent chance that El Niño will continue through Northern Hemisphere winter 2015–16."
As we know, uncertainty is a regular currency in the field of long-range climate forecasting, but NASA and NOAA are saying that the impacts will be greatly varied depending on what section of the continent you're examining. Patzert continues: "The southern tier of North America, particularly southern California, is likely to see a cooler and wetter than normal winter while the northern tier could be warmer and drier."
Last year's season was exceptional for areas that lay to the east of The Rockies, but NOAA warns that a repeat of that extreme pattern is unlikely this year. However, the forecast does mention that there is likely to be below-average temperatures in the south-central and southeastern states.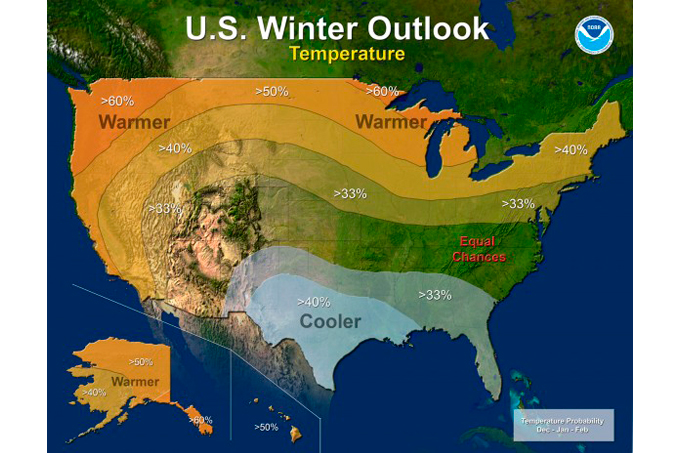 The breakdown of NOAA's winter outlook Image:: NOAA
The wash-up of all this can be hard to decipher, but as it stands, it seems to be as follows. The Southern states like California, Nevada, and Colorado are likely to see a wetter than average winter. While the resorts in the Pacific Northwest states like Washington, British Columbia, Oregon and Alberta are likely to experience drier and warmer than average conditions.

Moral of the story? If you're tossing up where to book, my tip would be to start looking at the better-known ski areas in California: Tahoe, Mammoth Lakes, etc. And it would be hard to go wrong booking a stay in Colorado. If you're planning on heading up to the north-western states, it may be worth booking in February – by which time there is likely to be an established base and cooler conditions.

For now, we eagerly await those first significant snowfalls!