SEASON OUTLOOK 2013 – New Zealand – September Update
September 2nd, 2013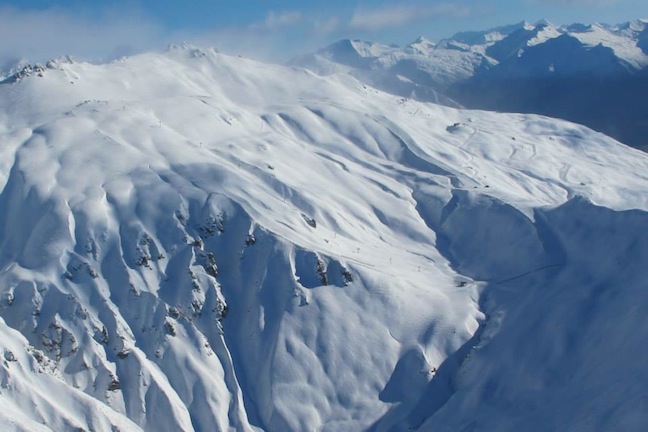 After a fairly solid snowfall last week, and then more snow on the way this week, the Southern Lakes are in fine form for spring Image:: Courtesy of Treble Cone
New Zealand Seasonal Snow Outlook | The Grasshopper
Brought to you by ESS Boardstores
A month or so to go in season 2013 and it's time for our final seasonal update of the year for New Zealand. I always like this last one because with the shorter time frame we can get a bit more specific about what's coming up.
September has started with a big fat high over the country and that's been giving us settled weather, but all that's about to change:
First up, we've got a pretty solid cold change coming through from Tuesday 2 September into Thursday 4 September. That should provide a nice little 10 to 20cm top-up of snow packs from the Southern Lakes all the way up to Mt Ruapehu. Then from Friday the high pressure systems in the Tasman Sea that have brought both the settled weather and a couple of nice southerly changes in the last weeks are going to slip further north for a while.
This will feel like somebody flicked a switch, because all of a sudden we're going to be faced with a week or more of raging westerly winds and heavy rain along the divide. Our computer models are already talking up the potential for a nice dump of snow (maybe 15 to 20cm) for the Southern Lakes and Tekapo regions on Saturday, and there's an even bigger front coming through the following Monday/Tuesday that will hit not only the Southern Lakes, but also Canterbury and the central North Island as well.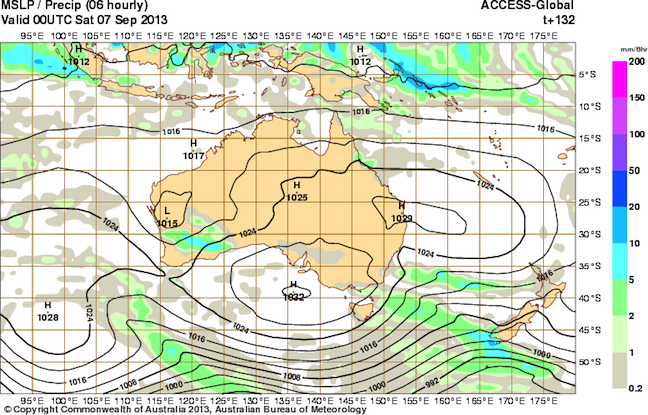 The westerlies that will bring the snow over the coming week are clearly visible on this chart, they should persist until mid-month Image:: BOM
Of course you're going to have to deal with some nasty winds at times too, but strong westerlies and fresh powder go hand in hand in New Zealand during September. So what we sit and hope for is some nice fine, dry but cool weather in behind these events so we can get out and enjoy it without worrying about wind hold or getting blown over to the Chatham Islands.
Whether or not we get any pleasant weather in behind this period of strong westerlies is probably the hardest part of this forecast, but from what I can see there are promising signs that those westerlies may settle a little from mid-month, with a switch back to a more regular see-saw between fronts and highs.
So in summary, the next couple of weeks are going to be about laying down some nice spring powder to get us through to the end of the season. It will be bloody windy at times, but not all the time. Then from mid-month we should get a bit more balance back, with a few more fine days creeping in between fronts that may start to deliver a little rain as well as helpful top-ups of fresh.
It certainly doesn't look like the snowiest or wettest September ever, but it won't be the driest either, and I don't see anything on the menu that would freak me out if I had a holiday booked. Get amongst it.
That's my take. If you want to let us know what you reckon please join in the discussion below or hit me up on Facebook.
The Remarkables forecasts,
snow reports and
live snow cams.
Treble Cone forecasts,
snow reports and
live snow cams.
Snow Park forecasts,
snow reports and
live snow cams.
Cardrona forecasts,
snow reports and
live snow cams.
Turoa forecasts,
snow reports and
live snow cams.
Coronet Peak forecasts,
snow reports and
live snow cams.
Whakapapa forecasts,
snow reports and
live snow cams.
Mount Hutt forecasts,
snow reports and
live snow cams.