SEASONAL OUTLOOK 2013 – New Zealand – June Update
May 27th, 2013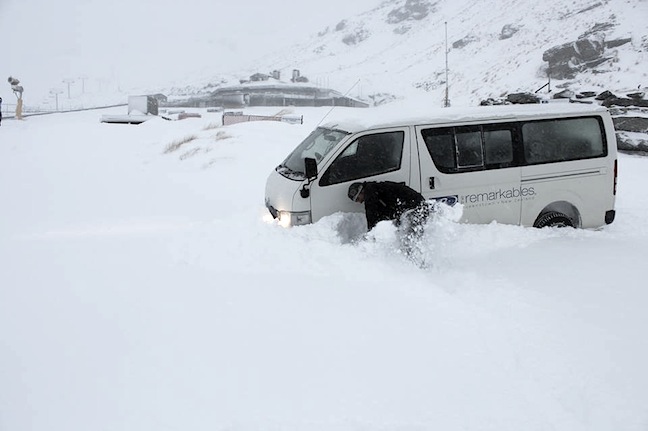 Digging out the car at The Remarkables this morning, about 50cm has fallen and the access road is closed due to the amount of snow! Image:: The Remarkables
New Zealand Seasonal Snow Outlook – June update | The Grasshopper
Brought to you by ESS Boardstores
Let's go. Daily forecasts have started and I'm hyped to once again have the privilege of bringing you weather updates for both the North and South Island six days a week through winter.
To kick things off in style we're also releasing this updated seasonal snow outlook to look specifically at what we can expect over the next few weeks as we try to get this season off the ground. And boy do I have some contradictory messages for you.
You see the general climate outlook for this winter is broadly the same as what is has been over the last couple of months; higher than average pressures forecast south of New Zealand and lower than average pressures in the Tasman Sea suggest that low pressure systems will tend to cross through central New Zealand, a bit like this situation we had on 22 May just past.


Source:: Bureau of Meteorology
A preference for this sort of situation is good news for the North Island, as the Central Plateau would find itself right in the path of rain bands moving through. Ruapehu has got plenty of elevation and with a forecast of above average rain we should get enough snow for the mountain crew to work their considerable magic.
For the South Island this situation leads to more frequent easterlies than normal, and less frequent or weaker westerly winds. It's the westerlies that bring all of the snow, and so less westerlies is usually a bad thing for the Southern Lakes, reducing snow potential (Canterbury is a harder call to make, because they can also pick up snow from these easterlies).
But here's the joke, (on me and these climate models): For the next two weeks, the expectation is for the exact opposite of this climate outlook and the situation described above.
For starters, today we're in the midst of the biggest cold south-westerly outbreak of the year that's going to bring up to half a metre to the Southern Lakes region, with snow lowering to 600 metres. You can read more in today's first forecast analysis.
Near the end of this week we're expecting another couple of fronts to come through on strong westerlies, bringing a mix of rain and snow, followed by yet another front around Saturday 8 June (possibly colliding with Coronet's opening day).
So while the outlook for all of winter is still a little pessimistic down south, the short term weather outlook is going to take some of that negative edge off. Hopefully we can get enough base laid down in the next two weeks to allow the season to kick off as scheduled. There's still a danger that we'll have to limp through until August, but this is one forecast where I really hope that I (and the climate models) are wrong.
That's my take. If you want to let us know what you reckon please join in the Facebook discussion below or hit me up at grasshoppermw@gmail.com.
The Remarkables forecasts,
snow reports and
live snow cams.
Treble Cone forecasts,
snow reports and
live snow cams.
Snow Park forecasts,
snow reports and
live snow cams.
Cardrona forecasts,
snow reports and
live snow cams.
Turoa forecasts,
snow reports and
live snow cams.
Coronet Peak forecasts,
snow reports and
live snow cams.
Whakapapa forecasts,
snow reports and
live snow cams.
Mount Hutt forecasts,
snow reports and
live snow cams.