Snow Resort Lowdown – Falls Creek, Australia
May 25th, 2010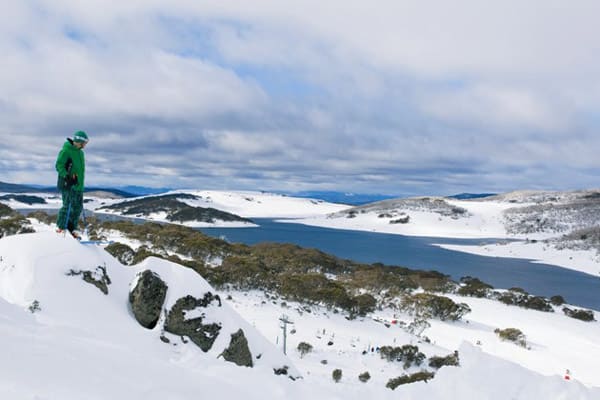 Get away from life at Falls Creek. Image – Courtesy Falls Creek
Words – Steve Lee
Picturesque Falls Creek in the Victorian High Country four and a half hours from Melbourne is a snow-bound village with plenty of ski-in-ski-out access. Its slopes are wide and open, ideal for intermediate skiers, but there is plenty to challenge the more advanced.
Check out the Falls Creek snow cams and snow forecasts
Hits the spot for:
families – New night skiing with a meal at the last hoot or St Falls, Tubing, early pizza at the Man.
Couples Intimate dining at Mo's, Astra, Attunga, Summit Ridge. Fun dinning and cocktails at Julians, Milch, Max, Silverski, Winterhaven, Cock&Bull or Nelse.
groups of mates – Main bars and night spots for food and fun are the Man, good pub grub and environment, always pumping. Frying Pan, Falls Hotel, Silverski, Winterhaven, Julians and Gateway for lunch and a bevi.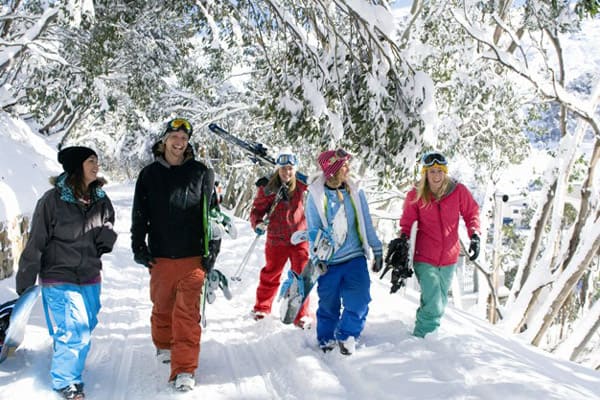 Mates at Falls. Image – Courtesy Falls Creek
first timers – Enjoy the environment, the people the place. Be sure to ask staff what's on and where to go.
bargain hunters – Early bird season passes, club lodges and private offerings for accom. Register for newsletters and look out for great package deals.
freeriders – New Back country offering. A whole ski resort sized area reserved for just a handful of people.
Experts – Steep perfectly buffed groomers on the summit and Inter first up. Try the new Back country tours.
cross country skiers – 70km over 21 groomed trails. Home of the National XC team and Kangaroo Hoppet, Australia's international ski marathon, need we say more.
luxury lovers – Summit ridge, Huski, St Falls, Astra. Massage, flotation tanks, fine wine food and cocktails are easy to find.
après scene seekers – If you've read this far you should have all the info you need in this regard.
Falls Creek Village
Capacity 5000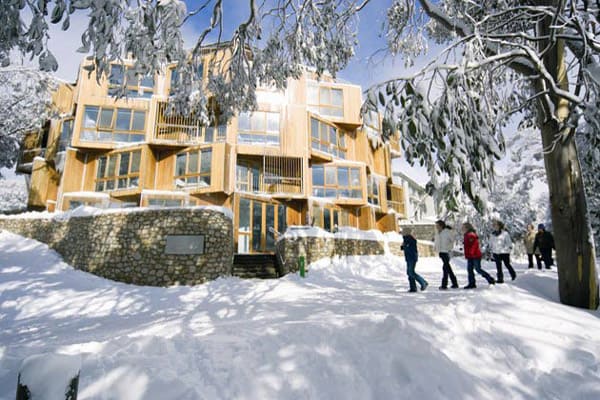 Accommodation
Falls Creek village offers 39 commercial and 52 club lodges along with a variety of private accommodation in a mixed bag of budget to 5 star. There's a good mix of commercial apartment or lodge accommodation and a plethora of club and private apartments on offer, all spread throughout a beautiful alpine village. When snow conditions are good every property is ski in ski out.
Dining and Nightlife
Something that continues to amaze guests at Falls is the amount of dining and small bars spread amongst the village. 30 odd options to dine and enjoy a bevi are on offer. All with their own atmosphere and all within a 10min walk from any accommodation.
Shopping
The village has two supermarkets and there are 15 small to large ski and snowboard shops catering to all shopping tastes, from the Board Lounge, home of everything snowboarding to Apres Vous where you can find a collection of local and international designer ski and casual wear and accessories.
Après Activities
Falls is renowned for its night life, kick off your après at the world famous Harvey 'hour'- which runs for three hours – at the Falls Creek Hotel and get rowdy, or kick back for a quite cocktail at Milch. There are a host of bars you can swing by on the way off the ski hill that cater to a quite drink or a party atmosphere.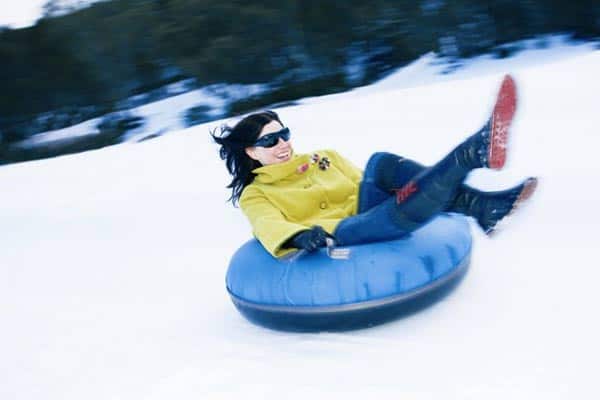 Tubing fun. Image – Courtesy Falls Creek
Kidstuff
The world famous Pete the Snow Dragon show entertains the kids several times a week in the bowl. Then there's the Bungie tramp, tubing park, and this year night skiing on Wombats, Australia's longest beginner run, which is now open for night skiing Wednesday and Saturday nights.
Locals advice – Leave your city and lowland life behind, no cars, no stress, it's bit like being on an island in the snow.
The hill
terrain type
Falls has wide open slopes that largely cater to the intermediate level skier or boarder with a good balance of beginner areas and of course lots of advanced options. Every lift offers strait fall line skiing – no long traverses at Falls to get to the good stuff.
parks and pipes
Falls has two great park areas, Drovers for the beginner and intermediate and Ruined Castle for intermediate to advanced jibbers. Falls Creeks parks have gained world class status over the years and are home to the annual TTR Style Wars event. No halfpipe has been built in recent years and nothing is planed for 2010.
extreme terrain
It is there to be found if you want it. There are good steeps in the Summit Bowl and Maze, and if you want to step it up several notches hit the back country tours.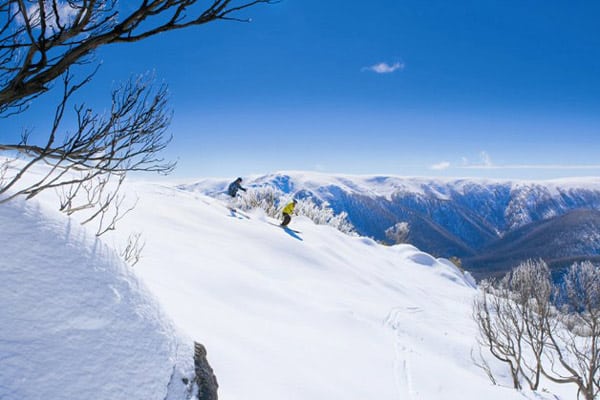 Falls Creek has plenty to offer advanced skiers and riders. Image – Courtesy Falls Creek
backcountry options
New this year are backcountry tours with Steve Lee. Explore some of the best and longest fall lines available in Oz and get a tow back out. If you are into going further afield, hiking and touring options are aplenty. A nice loop to Ropers Lookout or a hoof to Mt McKay are right at the resort's doorstep. If you are up for a bigger mission, Falls is surrounded by the a range of awesome touring options. Mt Fainter, Spionkope and Victoria's highest peek Mt Bogong are all day or overnight trip options out of the village.
learning areas
The Monkey Bar area, with a long covered carpet, offers the perfect slope and environment for beginners to find their feet. From there learners can quickly progress to Wombats Ramble, Australia's longest beginner run, and Drovers Dream with its easy wide open slopes, terrain park and stunning vistas to Rocky Valley Dam.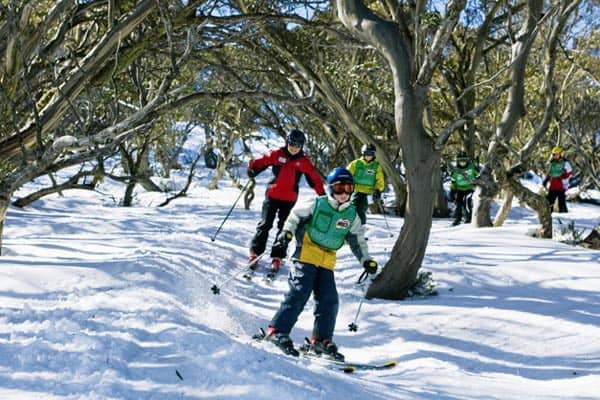 Kids find their snow feet at Falls Creek. Image – Courtesy Falls Creek
kids Areas
Falls Creek snow sports school has a very well established child learning area at Cloud 9 with an enclosed ski areas featuring two magic carpets and large indoor area catering for kids from three years up.
locals advice Get out and explore. Every lift has its main drags and groomed areas, and just off to the side amongst the trees gullies are plenty of options to explore.
Need to Know
Getting to Falls Creek
You can drive, bus, train or fly to Falls Creek, the travel options are numerous and include helicopter transfers and chauffeur driven limousines.
Falls Creek forecasts,
snow reports and
live snow cams.