SNOW SEASON OUTLOOK 2013 – New Zealand – August Update
August 6th, 2013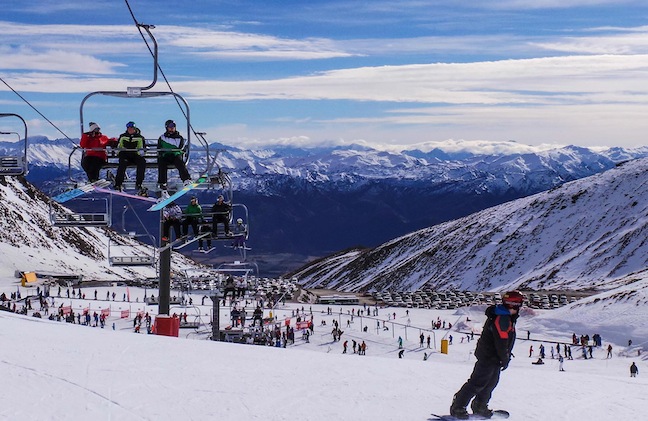 July really didn't deliver too much in the way of fresh snow, what it did deliver is blue sky and warm days, often making it feel like Spring already Image:: The Remarkables
New Zealand Seasonal Snow Outlook | The Grasshopper
Brought to you by ESS Boardstores
It's same old, same old, as far as seasonal forecasts of New Zealand snowfall are concerned over the next few months. Global climate models are still pimping out the idea that we'll see higher than average pressures south-east of New Zealand and lower than average pressures in the central and northern Tasman. Kind of like the situation in the image below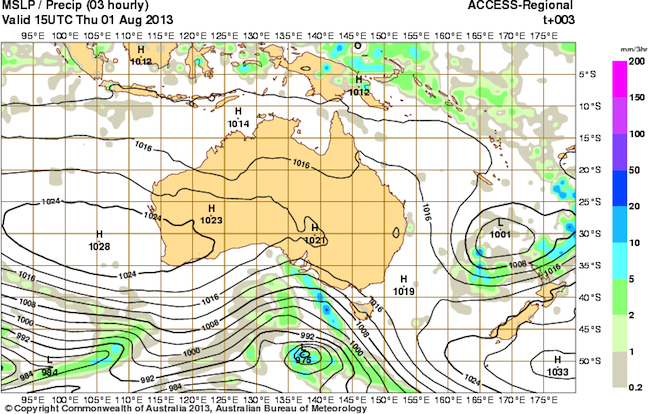 This synoptic map from 2 August is the sort of situation that climate models think we'll see a lot of over the next two months. Image:: BOM
To cut a long story short, if this pattern eventuates we could expect to see weaker and or/less frequent north-westerly rain events, and more frequent cut off low pressure circulations moving through the central and northern Tasman before crossing central or northern NZ.
This scenario would usually be felt most heavily about the Southern Lakes, and those Canterbury ski-fields nearer the divide, which get most of their snow from either dumping north-westerlies or bitterly cold south-westerly flows. Less frequent or weaker westerlies would mean less snow. It probably won't have as much effect on those skifields in Canterbury and Marlborough which are exposed to the south and east, and can pick up snow from that direction when lows cross central New Zealand (as they did during that monster event during mid-June).
The main difference in this seasonal snow outlook compared to those I made in March, the end of April and the end of May is that over the last few weeks the atmosphere hasn't thrown up any "get out of jail free" cards in the form of large one-off snow events, and so this situation of weaker westerlies is finally starting to bite.
We haven't seen any decent falls about the Southern Lakes since early July and we've also seen some fairly warm conditions. The reported snow depths at Coronet Peak and The Remarkables have both fallen back from their "best of the century so far" levels of early July. As of 1 August the snow depths are now decidedly more "middle of the pack".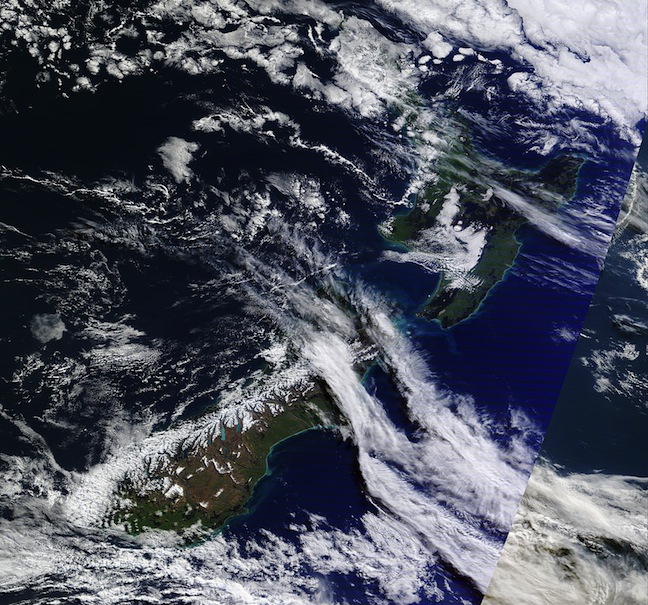 A modis image from July 29 showing the snowpack from space Image:: NASA
Apart from a front coming through on Wednesday 7 August and some very frequent but patchy activity next week, there doesn't appear to be much on the horizon for the Southern Lakes, and we can expect fronts over the next couple of months in general to be patchy affairs. We have two options on how to think about this. We could be sad that we may be facing a stale couple of months, or we can be happy that we lucked out early in the season and got enough base laid down to counteract this insidious climate signal which has been with us since the start of the season. I choose option (b).
For Canterbury, I'm less concerned. Firstly, because the big daddy Mount Hutt has still got a 310cm base on the lower mountain. That's an awful lot for the groomers to play with even if we get no further snow. Several other fields are also doing pretty well on their upper mountains, and with the situation forecast by the climate models described above I imagine we'll see a few more southerly or south-easterly snow events to get us through.
We should also be OK at Ruapehu, with those low pressure systems crossing central New Zealand, bringing average to above average rainfall and enough cold air and southerlies to ensure decent snow.
In summary, things should keep ticking over in the next few months. It may be a bit lean about the Southern Lakes, but generally there's enough of a base to get us through.
That's all from the Grassshopper. If you want to let us know what you reckon please join in the Facebook discussion below.
The Remarkables forecasts,
snow reports and
live snow cams.
Treble Cone forecasts,
snow reports and
live snow cams.
Snow Park forecasts,
snow reports and
live snow cams.
Cardrona forecasts,
snow reports and
live snow cams.
Turoa forecasts,
snow reports and
live snow cams.
Coronet Peak forecasts,
snow reports and
live snow cams.
Whakapapa forecasts,
snow reports and
live snow cams.
Mount Hutt forecasts,
snow reports and
live snow cams.