Snow Season Outlook 2015 – August Update – Australia – The Bait and Switch
July 31st, 2015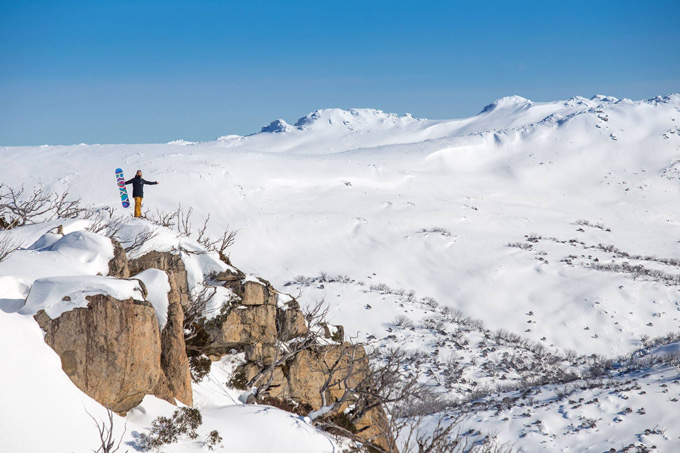 The last two storms have done alot to fill in terrain and open up new areas. Jess Rich looks out across the NSW Main Range from Perisher Image:: Perisher
Australian Seasonal Snow Outlook – August update | The Grasshopper
Brought to you by ESS Boardstores
The El Nino saga of 2015 continues. June and the first part of July were dominated by the Sith Lord high. Meanwhile, an entity known as winter was studying somewhere close to Antarctica (possibly Tasmania) under a Jedi Master that goes by the name of Grasshopper – biding his sweet time before striking back mid-July.
Is the recent weather leading us into a trap? Will the evil Sith high come back to sever off winters' helping hand? So many questions, it's time for some answers.
In earlier outlooks, I explained that this winter had three possible outcomes. It always seemed likely that this year we'd suffer from a classic El Nino Winter with high pressure building over South-East Australia blocking our chances of any snow. June and the first half of July certainly lived up to this expectation with snowfalls being as rare as an ice cube in the Sahara.
So what happened the last couple of weeks?
Over the last few weeks we have been locked into an anomalous weather pattern. The centre of those highs has shifted west towards Perth, allowing the fronts in through the back door. We've seen cold front after cold front creep in from the south-west. Let's have a look at the pressure maps for the last couple of weeks, each map is four days apart.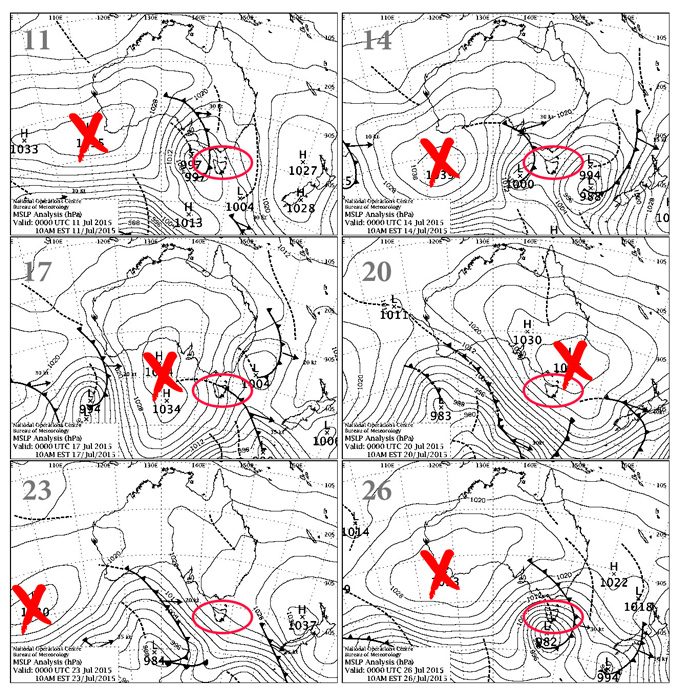 The centre of the highs are marked with a cross. The area we would normally expect to see the high pressure in a classic El Nino year is marked by the red oval. Source:: BOM
We have seen a total of up to 100cm of snow fall over the Aussie Alps since the 10th of July. For the next week the high stays out west, which means we can add another 30-50cm to that total as the incoming Groundhog Storm joins the party.
Don't get too ahead of yourselves
This is where It becomes important to distinguish between longer term climate anomalies and the day-to-day weather variations (fronts, highs, lows) that hum to the tune of the climate signal. Just because the weather has locked into this pattern from the 10th of July for a couple of weeks does not mean we'll see it continue. In August there are no indications that the larger scale weather drivers will change. Nor does it seem likely we will see a complete pattern change to "wrong'un" westerlies or a "switch" lasting the whole month. This Winter is a complicated animal but a Nino leopard doesn't often change its spots.
Let's have a quick re-cap. In a classic El Nino we'd expect higher than average pressure over Tasmania and the South East with cool nights, sunny days and reduced snowfall potential. Take a look at this map from two classic strong El Nino years that I've mentioned frequently, 1997 and 1982. It shows the average pressure anomalies for these years from June to August.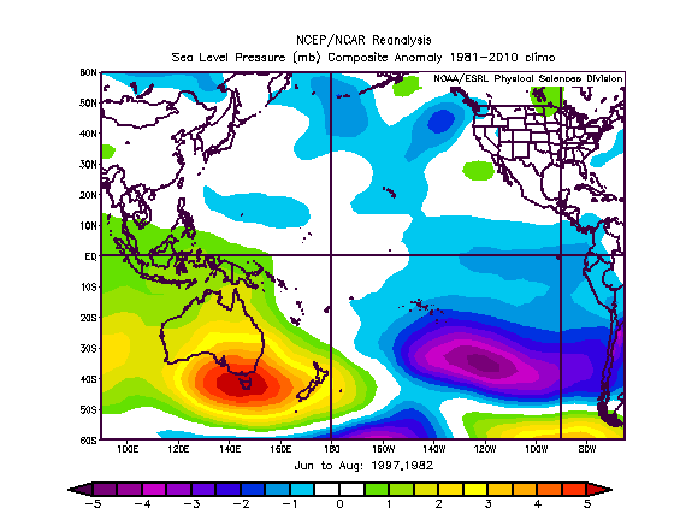 The orange shaded region is where higher than average pressure was recorded in 1997 and 1982. Source:: NCEP
LOOKING AHEAD
The models are in agreement that the high will build back in after next weeks' storm and this time they build it back into its rightful throne smack bang over the south-east. However, this doesn't mean it will sit there for all of August. It could move out west again, over The Bight or out east. It's just that on average we should see it more centred over south-east Australia than we have, cutting down our chances of big snowfall totals.
No need to drown your sorrows yet though. I wouldn't rule out another couple of cold westerly outbreaks clawing back a bit of fresh snow. A low seems on the cards from the 10-14 of August which could provide 20-50 cm and chances are we will get another dump later in the month. August is traditionally our coldest and snowiest month. I'd expect another 40-80 cm of snow to fall. Totals will be lower in the Creek though as that snow gets packed down.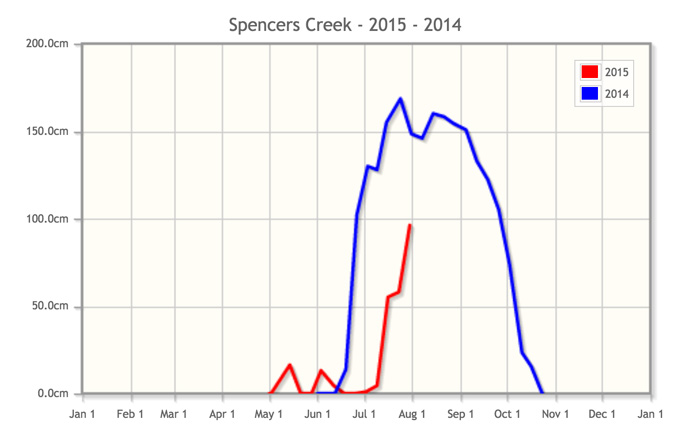 After the incoming snow we should be on the better side of one metre Source:: Snowy Hydro.
As of August 1, we will have a snow depth of 96.2cm at Spencer's Creek. I've done a quick analysis of August 1st snow depths and their relationship to peak snow depths from 1954 to 2014. The relationship roughly correlates. This means that statistically speaking we should see a season peak snow depth ranging from 130 to 160 cm. Thanks to a poor June we have lost ground to make up in order to hit the median snow depth of 176 cm at Spencer's Creek.
For this reason, and those mentioned earlier I am going to forecast a peak snow depth of 140cm for August. It could be a lot worse for an El Nino year so don't throw away that lift pass yet. We should get another couple of decent falls. Resorts are in OK shape at the moment after recent snowfalls and it's forecast to stay cold which will keep those snowmakers churning.
That's all from the Grasshopper. We'll update this outlook in early September. If you've got a different theory on what's going to happen this winter, or just want to provide feedback, then please hit me up on the discussion below. Or you can follow me on facebook.
NOW WATCH:
SIGN UP TO THE GRASSHOPPER'S AUS/NZ WEEKEND FORECAST:

Perisher forecasts,
snow reports and
live snow cams.
Falls Creek forecasts,
snow reports and
live snow cams.
Mount Buller forecasts,
snow reports and
live snow cams.
Charlotte Pass forecasts,
snow reports and
live snow cams.
Thredbo forecasts,
snow reports and
live snow cams.
Mount Baw Baw forecasts,
snow reports and
live snow cams.