Snow Season Outlook 2016 – New Zealand – June Update – Come Out Fighting
May 31st, 2016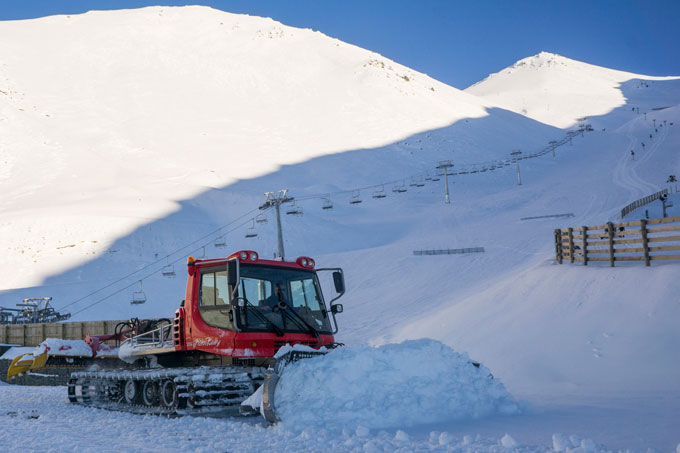 The snow that has fallen over the last two weeks has left the South Island resorts looking ready to go, but will it continue? Image:: Ski Porters
New Zealand Seasonal Snow Outlook | The Grasshopper
Well, now. Winter arrived with a bang over the last two weeks. A determined series of lows helped to lay down foundations for what we hope will be another bumper year. Previous outlooks this year have focussed on the decaying El Nino and subsequent neutral conditions that would swing the barometer in favour of a worse than average season. This year, La Nina is playing catch up much quicker than previously thought and it seems that the neutral ENSO state will not last long. This has implications for the long range outlook so you'd better carry on reading below to find out more.
Patience is a Virtue
First things first, unlike our Aussie friends we still have a long way to go until most resorts in New Zealand officially open. It may have already started snowing over the last couple of weeks and yes, some of the mountains are looking tantalisingly white, but we have a good while to wait until the gates are officially open. A lot can happen in a couple of weeks in the weather world, but I give you permission to be smug for now.
Do not underestimate La Nina
The El Nino Southern Oscillation (ENSO) state is proving to be a tricky beast to calculate. Just as we were getting ready to wave goodbye to El Nino and settle down to neutral conditions for a while La Nina turned up uninvited. La Nina is the ying to El Nino's yang – it is characterised by an upwelling of colder than normal water in the East Pacific and a strengthening of The Walker circulation. If this is all mumbo jumbo to you then you can find out more by clicking here. The consensus is that weak La Nina conditions will develop as we move into the second half of winter with the immediate future remaining neutral.
For the next couple of months, we can expect to see more easterlies than usual as mentioned in my first forecast of the season Moving into the second half of winter, when things are forecast to switch to a weak La Nina state, we may see more warm northerlies than normal giving us above average temperatures. In any case the variance that can be explained by ENSO is less than 25% so don't be expecting to see constant warm northerlies blowing all the time!
Samurai SAM and Sea Surface Temperatures (SSTs)
SSTs are still much warmer than average. This will have the effect of raising the freezing level above the long term average and providing an extra kick to low pressure systems slamming into our shores. The climate models suggest the SSTs will stay this way over the coming months. Another card we have in our forecasting deck is the SAM index – when the index turns negative the pack of angry snow bearing storms circling Antarctica moves closer to our shores. The SAM index has been weakly negative on average over the last month before turning positive last week. It is forecast to stay neutral over the next couple of weeks. If it stays neutral or negative over the winter this will have a net positive effect on our snowfall totals.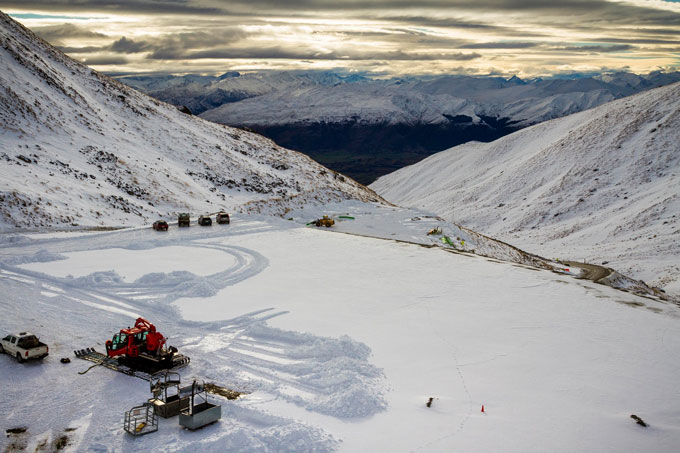 The Remarkables living up to their name on a perfect May afternoon Image:: NZSki
Anyone for an Early Opening?
It's a shame that New Zealand does not open this week, at least in the Southern Lakes and parts of Canterbury. The recent heavy snowfall and the sunny conditions forecast to dominate the weather over the next few days would have given you at least a few decent pictures to get some new likes on Facebook. Too bad though, the high is forecast to migrate progressively east as the week wears on. By the time the weekend comes around we will find ourselves buffeted by warm northerly winds between the high out to the east and a low to the south-west. The freezing level will climb above 3000m by the start of next week and widespread rain will develop along The Divide with light showers elsewhere. This will damage the existing early snow a bit but we can take the hit. Towards the end of next week there is good consensus that a low will track to the south of the South Island. Rain and gale force north westerly winds will be followed by another southerly blast as the low progresses east. This gives us another good shot at snow up into the Southern Lakes and Canterbury on the low's back edge.
The Final Word
You guys know how much I hate to rain on your parade but even taking into consideration the recent snowfall I am still going to predict a worse than average season in New Zealand this year. The SSTs are too high and the impending La Nina conditions do not help prospects. I'd expect to see plenty of storms but a greater proportion of mixing and rain events than usual with warmer temperatures than last year. We all know winter is a fickle beast in the Southern Hemisphere and I would love to be proven wrong.
That's all from the Grasshopper. We'll update this outlook at end of June. If you've got a different theory on what's going to happen this winter, or just want to provide feedback, then please hit me up on the discussion below. Or you can follow me on facebook.