Snow Season Outlook 2016 – New Zealand – The Wise Guy High
April 1st, 2016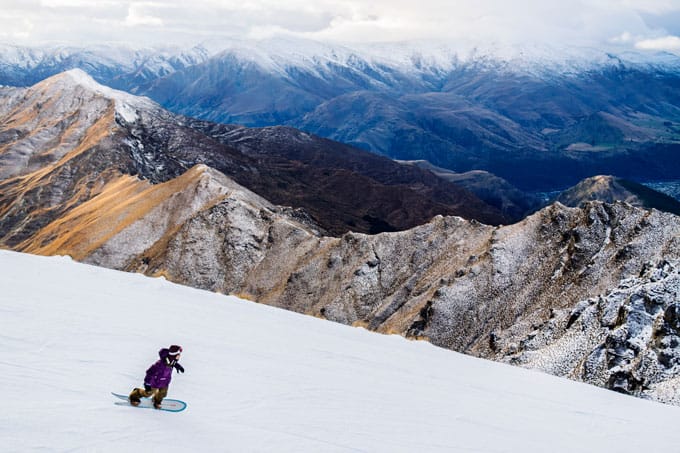 June last year turned it on in New Zealand, will this year be the same? Image:: Treble Cone
New Zealand Seasonal Snow Outlook | The Grasshopper
The first thing to know about this season is that El Nino is dying a slow and painful death. If you missed my Australian Outlook yesterday you can read it here. The long and short of this is that we will experience a neutral season this winter. That means that neither El Nino nor La Nina will prevail. El Nino didn't treat New Zealand too badly last year – Mt Ruapehu and resorts like Treble Cone enjoyed reasonable conditions. It was smiles all around as the snow piled up gradually to give us a cracking spring. Things could have been better for Canterbury/Queenstown resorts but occasional southerly incursions of colder air gave periodic shots of snow to keep the blues at bay.
It is important to consider that El Nino only accounts for less than 25% of the variation in inter-annual snowpack in New Zealand. Its effects are far more muted than in Australia and forecasting long range in New Zealand is a much tougher ball game – almost as hard as it is for the Wallabies to beat the All Blacks! During an El Nino year, we might expect a slight tendency for more frequent incursions of colder air from the south, which could favour resorts in the Queenstown area. In a La Nina year we might expect slightly above average precipitation in the North Island and below average rainfall in parts of the South Island.
Climate models are in good agreement that we will pass into a 'neutral' phase of ENSO (El Nino Southern Oscillation) by June. In neutral years there is a tendency for pressure to be higher to the south of New Zealand and lower to the north-west. This gives us a greater likelihood of dry easterlies and less probability of seeing the big north-westerly snow/rain events swing onto The Divide which we saw on several occasions last year.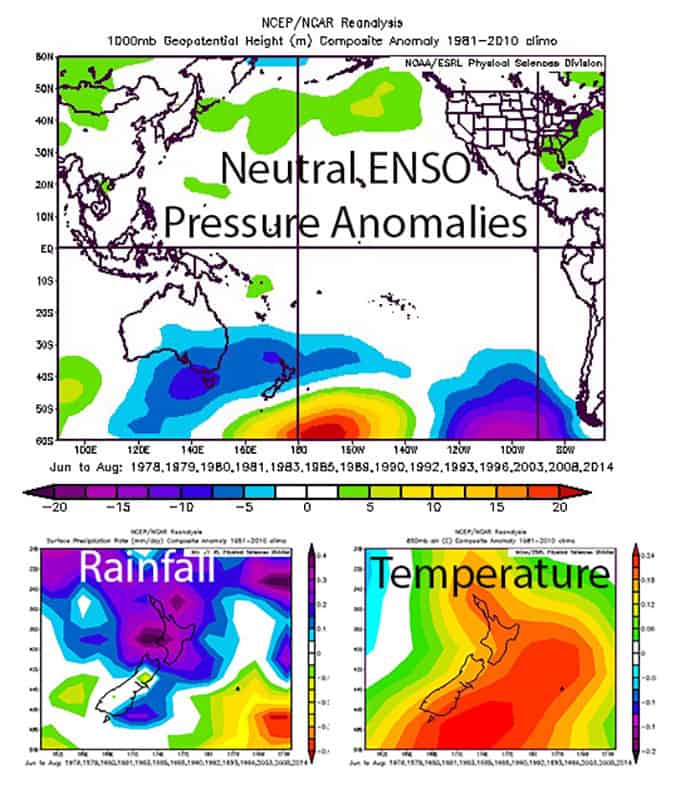 Averaging out all neutral years we can expect higher pressure to the south-east and lower than average pressure to the north west with the net result of giving us more frequent easterlies. Rainfall may be higher in the North Island but you also have warmer than average temperatures to go with it. Source:: NCEP
However, in the land of the long white cloud anything is possible and there is still a lot of uncertainty in the forecast at this point. Variety is the spice of life here and although the prognosis is not great, there are a range of possible outcomes during neutral years. The year may well be neutral but the weather in New Zealand is anything but – we are likely to see a healthy mix of highs and lows dance by over the course of the next few months giving me plenty of headaches regardless of the ENSO state. Although the overall tendency may want to make you cry into your cornflakes there are a few examples of years which bucked the trend and ended up with more favourable pressure patterns. 1980, 1992 and 2008 offer up a ray of hope.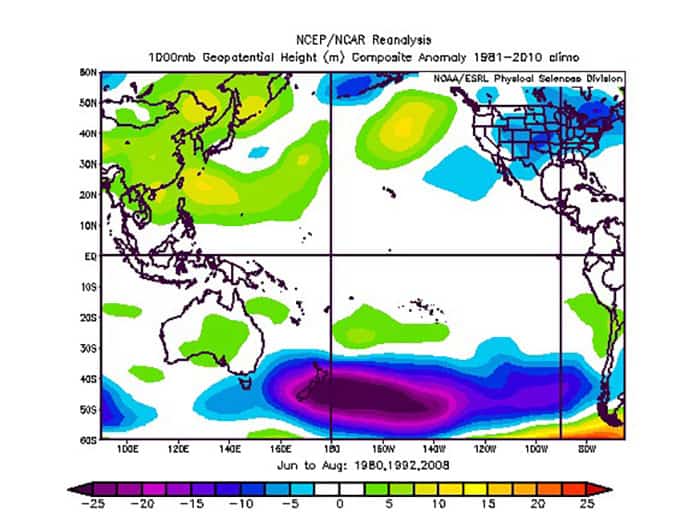 It is not just El Nino years that have their wrong'uns, neutral years have them, too. 1980, 1992 and 2008 all saw plenty of lows to the east of the South Island driving up cold southerly winds and snow squalls. Source:: NCEP
As if we didn't have enough problems on our plate the sea surface temperatures (SST's) around New Zealand and in the Tasman are much higher than normal at the moment. The El Nino conditions of summer are to blame – long periods of tropical northerly winds have warmed the surrounding ocean. This means that as we go into autumn, systems slamming into our shores will be given a bit of extra juice increasing the overall precipitation amounts and bumping up temperatures a smidgen. Models forecast that the SST anomalies will gradually neutralize around New Zealand in the coming months as things cool down which is good news for the snow pack.
I am going to predict a slightly worse than average season across New Zealand in 2016. Although a decent season is possible, the odds are unfavourable for large amounts of snow taking into account long-term averages. Combine that with the warmer than average SST's recorded at the moment and the season looks like it will start off slow before slowly cranking up through July and August. Conditions will be slightly drier than average over the South Island with warmer temperatures giving more mixing than usual along the divide. Mt. Ruapehu may see more rain than snow in June but the base should build steadily into August and September to give some good late season skiing again. It is still early days folks so I will keep digging for clues and check in next month to see if the odds have improved at all.
As I am a friendly critter I will give you the same warning I always do for those of you planning a trip to New Zealand. If you book for June you risk a slow start to the season that could ruffle your plans. For those who like a sure bet,August and September give you a much better chance of a decent base but expect crowds. The choice is yours.
That's all from the Grasshopper. We'll update this outlook in early May. If you've got a different theory on what's going to happen this winter, or just want to provide feedback, then please hit me up on the discussion below. Or you can follow me on facebook.