Fluro Chaos at FreeBom this Weekend – Mt Buller – Event
August 16th, 2017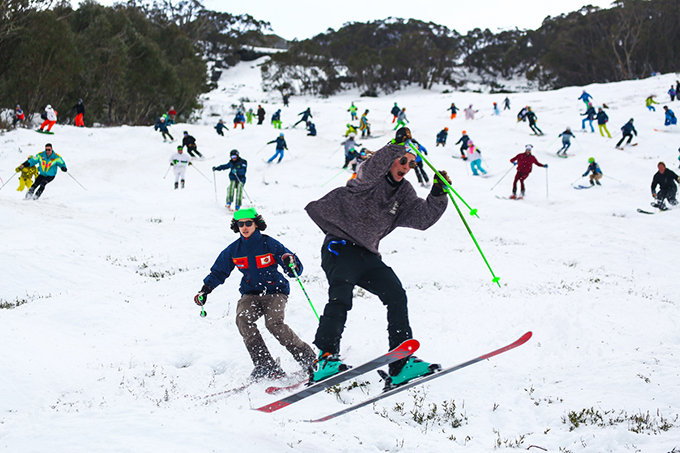 Knee knockin', hip twistin', leg spreadin' madness this weekend at Mt Buller. Image:: Provided
Chillfactor | Watkin McLennan
Pull on the day-glow one piece, the Oakley Razors and dab some zinc on the snoz 'cause Australia's most participated (and favourite) hot dogging spectacle is ready to air-out. This weekend, the fourth instalment of FreeBOM is taking place at Mt Buller.
FreeBOM exists to remind us that we can dance down the footpath, ride a chairlift like a roller coaster and share a smile with a stranger. FreeBOM asks competitors and spectators alike to free their animal spirit as they celebrate a day on Mt Buller with skiing and music.
Open to skiers of all ages and disciplines. The skiing takes place on Wood Run, the spiritual home of mogul skiing on Mt Buller. The format is relaxed and prizes are given out to competitors of all ages, genders and skill level. Judges look for passion, energy and an animal spirit.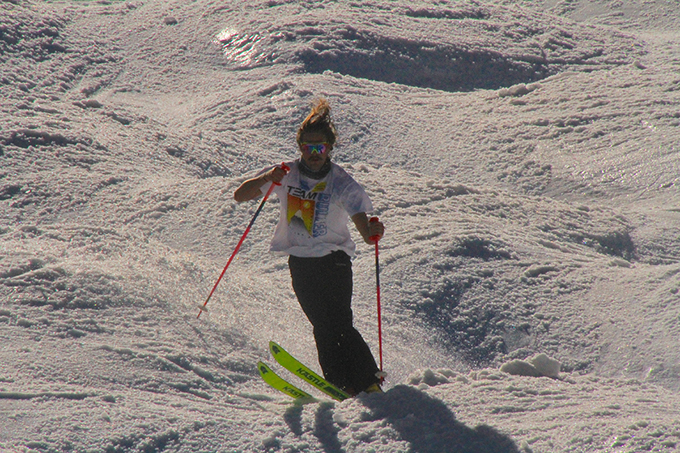 An incredible display of radical by James Philips at the '14 FreeBOM. Image:: Provided
The spectators are as much a part of the event as the skiers are. The skiers feed off the energy created by the crowd as they dance, laugh and watch the spectacle unfold. "Bull Run Bowl nurtures a collaborative atmosphere and the music warms our souls." said Watkin McLennan the events director and dreamer.
There are a few things that make FreeBOM special. First its simplicity. Unlike many competitions, this event simply places skiers in front of judges on an unmarked, unadulterated ski slope. Music is added and FreeBOM emerges.
Secondly, the event encourages skiers across disciplines to share in the fun and the glory. A telemark skier won the first year riding a tele-mono board. Now if that's not cross disciplinary I don't know what is.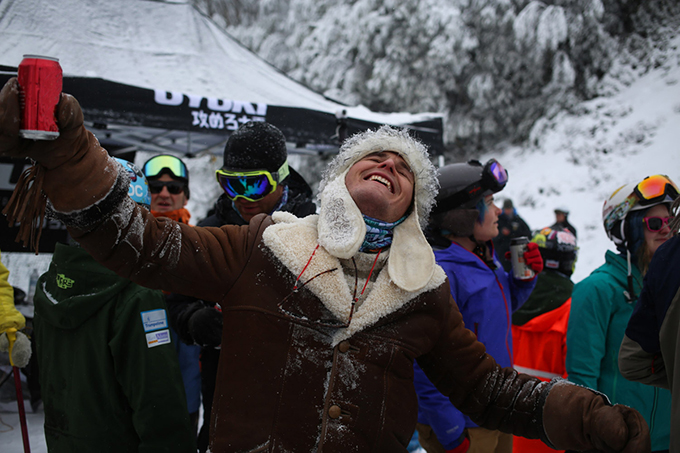 A celebration of sorts, it's safe to say there's nothing like FreeBOM around … Image:: Provided
Finally, all ages take part. Some of the best prizes go to the over 40s category. This year they will be competing for a Mt Buller parking pass valued at more than a flight to Japan. One of the most prestigious awards is that of the Family Run, awarded to the best run put down by a family. In past years twins and father son combos have taken the prize. Watkin said, "One year I hope to see three even four generations out on the hill together. Imagine that. Skiing is a family affair, let's celebrate it."
However, this fun and tested event formula is being shaken up again this year with the addition of AprèsBOM. The official after party of FreeBOM. Inspired by European après-ski, AprèsBOM is a ski-in ski-out club on Bourke Street near the ABOM. Under lights as the chairlift turns DJs Len Liese and Salvador Ricardo will be turning records. Take the kids for twilight skiing whilst you embrace the ski boot boogie and a couple of Corona's.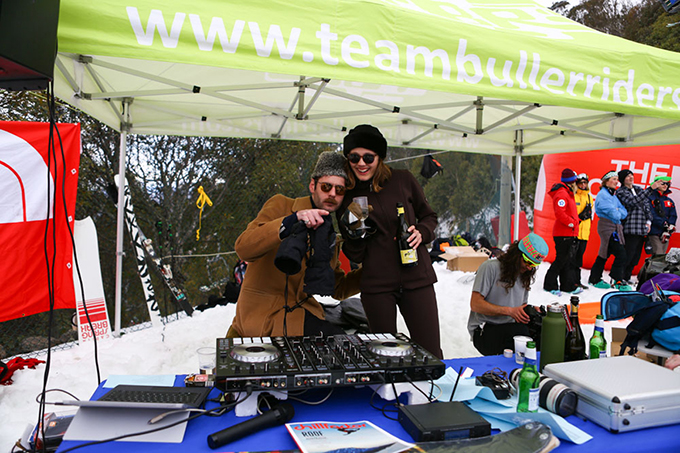 DJ Larry Lacroix and Marissa Mitchell conducting the hype and sending out the vibes at the 2015 FreeBOM. Image:: Provided
FREEBOM DETAILS
What: FreeBOM – Buller's most fun event of the season.
Where: Wood Run by day. Bourke Street by night
When: Skiing 12pm-3pm. Dancing 4:20pm-8pm
Why: Because every day on Mt Buller should be this fun
How: Visit www.freebom.ski to sign up and find out more.
*Find all the details here*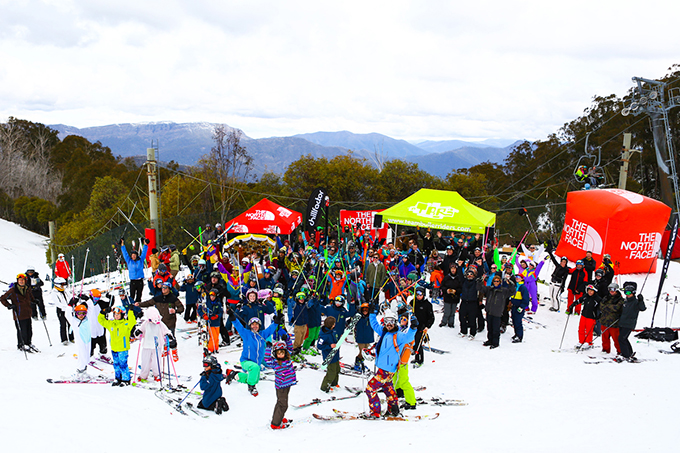 Let the good time's knee knock between the moguls this weekend. Image:: Provided.
Mount Buller forecasts,
snow reports and
live snow cams.