Snow Season Outlook 2017 – Australia – Going Beyond The Myth
April 2nd, 2017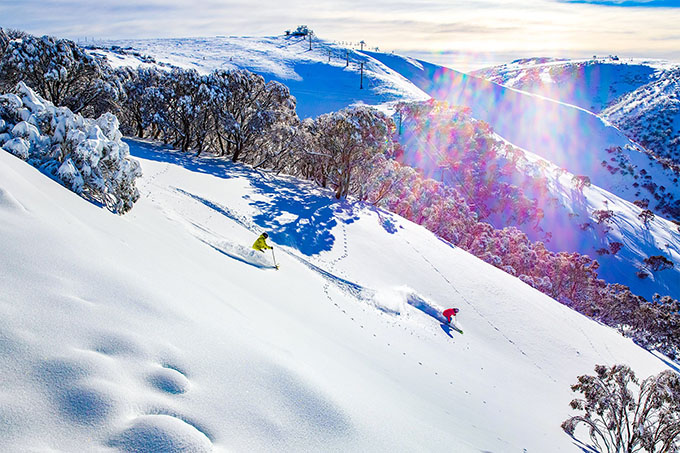 From swinging rocks to kangaroo mating rituals, let the Grasshopper guide you past the myths and into turns like this in 2017. Image:: Provided
Australian Seasonal Snow Outlook | The Grasshopper
It's that time of the year again. The sun is getting weaker and our minds are starting to wonder if this year will be THE ONE. Parts of the Northern Hemisphere are still enjoying some epic spring skiing after a bumper winter. This is my first forecast of the season giving you a taste of what is to come. Will we be able to replicate Western North America's winning streak and make our Aussie Season Great Again, or are we in for another almost-but-not-quite season? Dust off your old ski gear, take a long hard look in the mirror and prepare yourselves for another emotional rollercoaster of a season.
Myths and Chairlift Gossip
Before I get into the nitty gritty part of my analysis I thought it'd be fun to look at some weather myths and uniquely Aussie tall tales. There are as many weather myths out there as there are wannabe pros on the Kosciuszko express. One guy that I've talked about before and that you hear quite a bit about on the slopes is Ullr – the god of snow. We pray to Ullr in desperate times. In Breckenridge, Colorado, they will be celebrating their 55th annual Ullr fest in January next year. In fact, after a bit of further investigation it seems that Ullr is the god of hunting and married Skadi – the goddess of winter and mountains! They say that behind every successful man there is a woman, in this case, it turns out to be true.
Another common phrase you are likely to hear in the resorts is "Australia never gets powder". This is untrue. Admittedly this isn't the "Greatest Snow on Earth" but we do get the odd beaut' of a day. The most crucial factors needed to form good powder are cold temperatures and dry air. The Aussie Alps proximity to the ocean often hampers cold dry air formation such as in the Rockies but we do occasionally get the right combination of conditions to give us a great powder day. I could write a book on this subject but to find out more check out this past article and get the lowdown from a pro.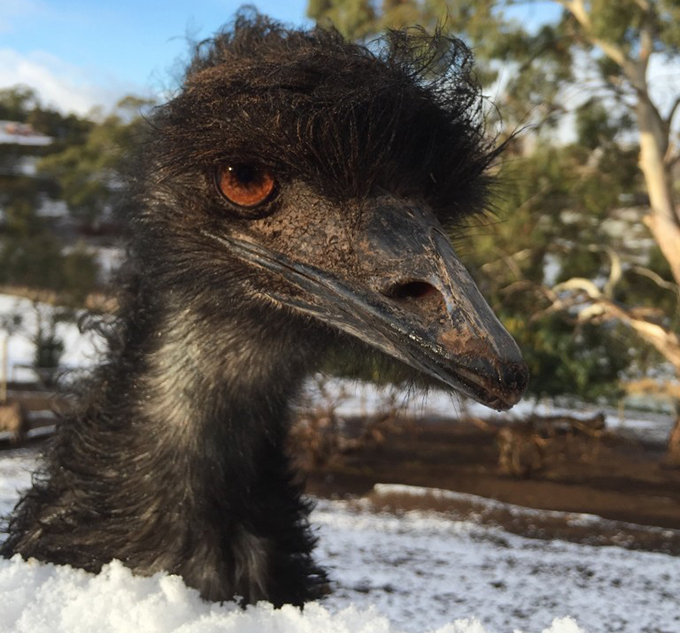 Forget forecasting science, this emu knows something we don't about the upcoming season. You can see it in her oh so pretty eyes. Image:: Bernadette Camus, Bonorong Wildlife Sanctuary.
Some of the more uniquely Australian weather myths relating to the winter season are that female Kangaroos 'present' early if it is going to be a cold snowy winter or that if the snow gums are really pink it means we are in for a bumper season. Some of the roos sure do look hella angry when they get caught in the snow but what do you think? The jury is out. Jumping from myth to hard science let's see what some of the big climate drivers are looking like for the upcoming season…
El Nino Hanging in the Balance
The first thing to know about this upcoming season is that we have about a 50% chance of an El Nino developing. I know, I know, it's like you've just got through Christmas and you find out the mother-in-law is also visiting for Easter (no offense to you lovely mother-in-laws!). Merely uttering the words 'El Nino' sends shudders down my thorax. But we still have plenty of reasons for hope. Most international climate models have us reaching the El Nino threshold at some point during the winter. Classic El Nino events are not great news for the Aussie Alps, they are associated with nasty highs parking their fat arse over the region blocking off all the juicy snow-bearing fronts to the south.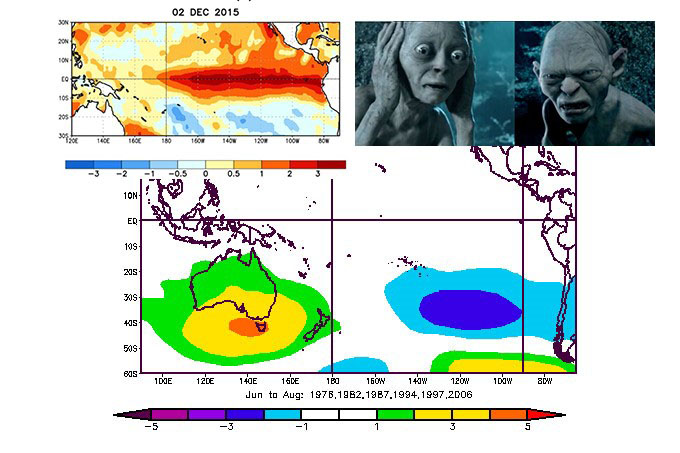 The bad hombre himself – A classic El Nino strangling an Aussie season to death causes higher than average pressure to settle in SE Australia (large image). Typical SST anomalies associated with El Nino Conditions in 2015 (inset). From shock to anger – Very, very bad. Image:: NCEP
Double Trouble
Sometimes we get a double dose of ass-whopping. The Indian Nino (or the Indian Dipole as it is more commonly known) is the see-saw in sea surface temperature anomalies between the Arabian Sea and the South of Indonesia. Generally speaking, a negative IOD gives us wetter than average conditions in South Australia while a positive IOD does the opposite. While the IOD is currently neutral most international climate models (not BOM) forecast it to turn positive for the second half of winter possibly increasing the chances of a drier than average period reinforcing the effects of a developing El Nino.
Reasons for Hope – Pray to Skadi anyone?
We are currently still hanging onto neutral ENSO (El Nino Southern Oscillation) conditions. That means that the Pacific Ocean is doing what you'd expect during a normal state (what is normal anyways?).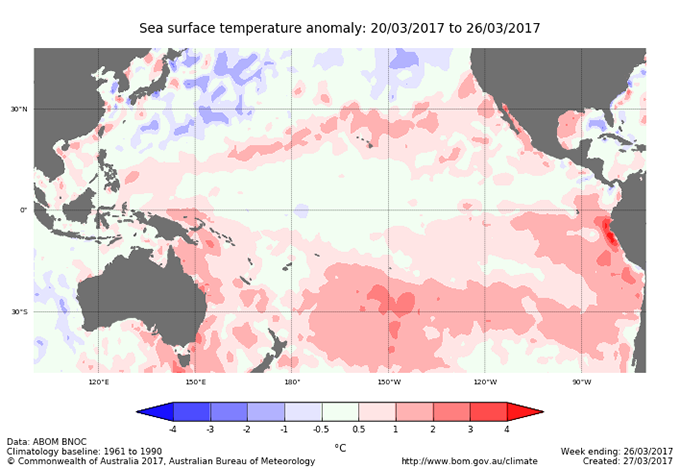 SST Anomalies – Water temperatures near the South American coastline are well above average but we are still experiencing neutral ENSO conditions as evidenced by the expanse of beige in the Central Pacific compared to the inset image shown earlier. Image:: BOM
It is entirely possible that neutral ENSO conditions prevail throughout the entire winter. Neutral years register on average 20cm more snow than either La Nina or El Nino years. Even if an El Nino does develop it is likely to be weaker than the bully we saw in 2015. No two El Nino's are the same. We have our "classics" and then the "wrong'uns". Wrong'uns deliver much more snow than you'd expect compared with a normal El Nino year. During a wrong'un the juicy lows to the south cosy up to the Aussie Alps and westerly winds blow our worries away resulting in huge grins all around and a happy Reggae Ellis.  1992 and 2004 are good examples, they registered 316 cm and 216 cm of snow respectively.
Even if our worst fears do come true and we end up with a classic El Nino re-enforced by a positive IOD then we can expect plenty of clear cold nights which will be good for snowmaking. In any typical winter, we can still expect a few storms to roll up and give us decent 20cm+ dumps of snow.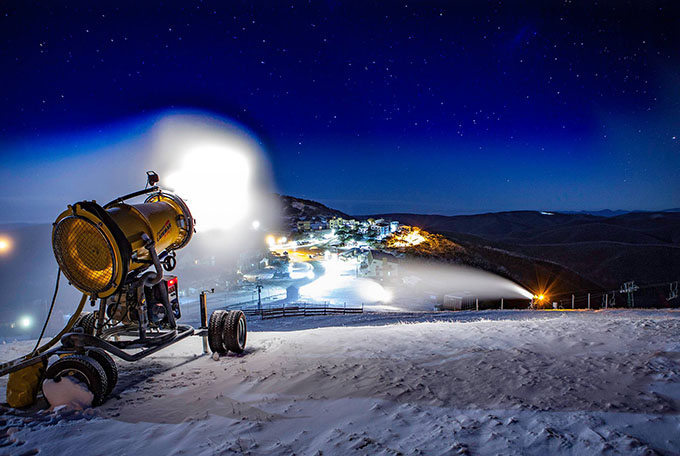 At the very worst atleast we'll have prime snow making conditions, something Australian Resorts know how to do very well. Image:: Provided
My Final Thoughts…
Long range forecasting is a dark art and every season is different so don't go expecting black and white answers. However… I am going to forecast a slightly worse than average season this year based on the initial climate model forecasts which hint at a developing El Nino going hand in hand with a positive IOD event. Time will tell if this materialises. The models are notoriously fickle at this time of year and the picture should become clearer in the next couple of months. Let's go for 160cm peak snow depth against a long term median of 176cm. It's still definitely going to be worth getting the season pass as we are bound to get our fair share of epic days,. There is still a lot of uncertainty in the forecast and snowmaking is coming of age. To end on a more serious note, I have done a brief analysis of peak snow depths from 1971 to 2016 and we can see that there is a slight downward trend in peak snow depth. This is perhaps the subject for another post entirely but it shows the worrying effects of climate change. Be sure to check back in on next month's forecast when the climate models will have a firmer grip on El Nino, the surf will be up and all will be well with the World.
That's all from the Grasshopper. We'll update this outlook at the beginning of May as the excitement builds. If you've got a different theory on what's going to happen this winter, or just want to provide feedback, then please hit me up on the discussion below. Or you can follow me on Facebook.

Plotting the peak snow depth's from 1971 to 2016, although there is wide variation from year to year the trendline shows a steady decline. Image:: Snowy Hydro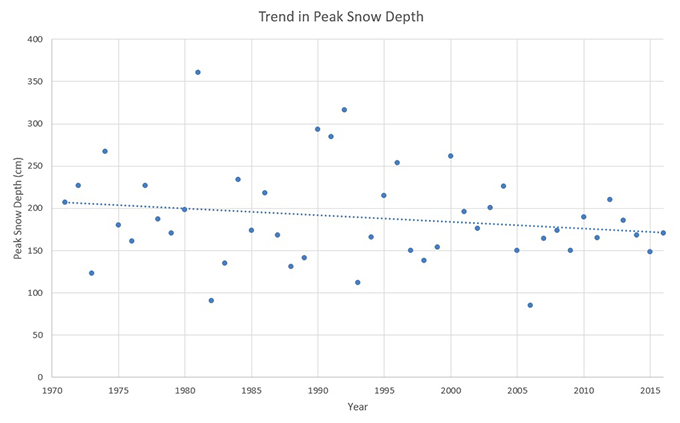 Perisher forecasts,
snow reports and
live snow cams.
Falls Creek forecasts,
snow reports and
live snow cams.
Mount Buller forecasts,
snow reports and
live snow cams.
Charlotte Pass forecasts,
snow reports and
live snow cams.
Thredbo forecasts,
snow reports and
live snow cams.
Mount Baw Baw forecasts,
snow reports and
live snow cams.