2018 Australian Snow Season – August Update
August 6th, 2018
Mountainwatch | The Grasshopper
SIGNS HINTING AT A SLOW DOWN. BUT FIRST, BUCKETS OF SNOW!
We are now midway through the southern hemisphere season with the best part still to come. We close the door on July with what could be seen as below average snowfalls.
In terms of epicness however, it has been right up there. Reggae Elliss has been in turbo froth mode, and he put it nicely in his Mid-Season Review; "It's all about consistency". After the Season Starter Storm during mid-June gave us a great base, regular tops-up during July, as well as 25-40cm early in the month, have given us plenty of powder days and kept surface conditions in good shredable order, while snow depths have quietly grown. To top it off, we haven't had too many of those hair dryer northwesters and snow machines have been able to work their magic.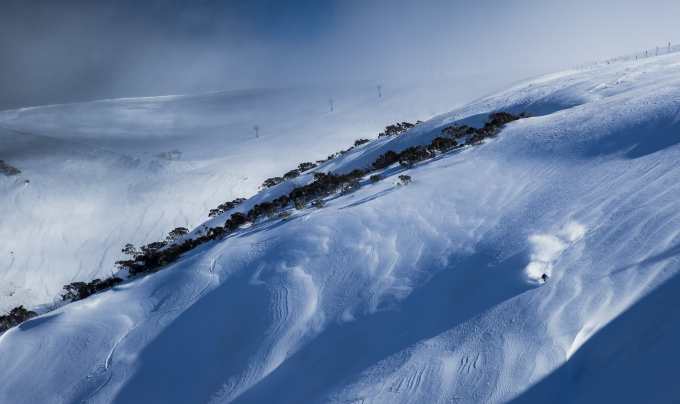 But here we are at the start of August, and we've already had 20-30cm after snow fell on the 1stand 3rd.  The short term forecast couldn't be better with what may be the storm of the season hitting today and more to come this weekend and mid next week. Check out my daily forecasts for more info on this.
Yes, it's true; we are currently amid a particular snowy period. The Southern Annular Mode (SAM) has plummeted into negative values, meaning all that polar air, which is normally tucked up near Antarctica, has been unleashed to come and raze the Aussie Alps. SAM should stay negative for another week or two, which takes us to mid-August, so we can quite easily say that the first half of August will be a snow jamboree. In order to see further ahead we need to look at what the climate can tell us.
ENSO & IOD STILL NEUTRAL, BUT SLIDING TOWARDS NASTY
The El Niño Southern Oscillation (ENSO) is still humming along in a neutral phase. The trend towards El Niño has slowed in the last couple of weeks, but is expected to get back on track, with thresholds likely to be met sometime this spring. On average, neutral years are awesome for Aussie Snow, whereas El Niño's are nasty. So any influence the ENSO might be having may slide down the spectrum from the awesome end, towards the nasty end – not all the way down, just a little bit.
The Indian Ocean Dipole (IOD) is also still ticking along in neutral. There is now about a 50:50 chance of seeing a positive IOD pop up for a time before this season is done. Positive IODs are bad news for Aussie Snow as they starve southeast Australia of much needed atmospheric moisture. Any positive IOD is likely to be weak, but one thing we can say is that the IOD isn't going to give us a leg-up this season. It's either going to sit and watch the season go by impassively or come and be a nuisance with its horrible friend, El Niño –they're such ratbags together.
CLIMATE MODELS ALSO A LITTLE ON THE NASTY SIDE

Climate models are keen on either having high-pressure anomalies over the Aussie Alps for the next three-month period, or that we'll be trending that way. Previous forecasts weren't so keen on these high-pressure anomalies, which is a little concerning as this indicates things could be a little too calm. The BOM are also chiming in on the poor outlook with higher than average pressures to the south of Australia, resulting in weaker westerlies and fewer or less intense cold fronts hitting our slopes.
The C3S is still indicating there isn't a big push for warmer or cooler temps. However, the BOM is still gunning for warm temps as they were for July, which ended up being about average. Both the C3S and BOM are still picking that the next few months will be drier than average, which is a continuation of the dry winter so far.

SUMMARY
Both climate drivers and models aren't working in our favour for epic snowfalls during the second half of the season. However, snowfalls over the next week or two will provide ample fresh powder and also see snowpack depths skyrocket up near the long-term average of 195cm at Spencer's Creek. This snowpack should see us through to the end. All we need is regular dustings to keep the consistency going and we may get more bluebird days to enjoy it. The 2017 season is remembered for its snowpack reaching great heights, even though the first half was dismal. Perhaps 2018 will be remembered for having a large number of great skiable days? Surely that is a more important measure of an epic season.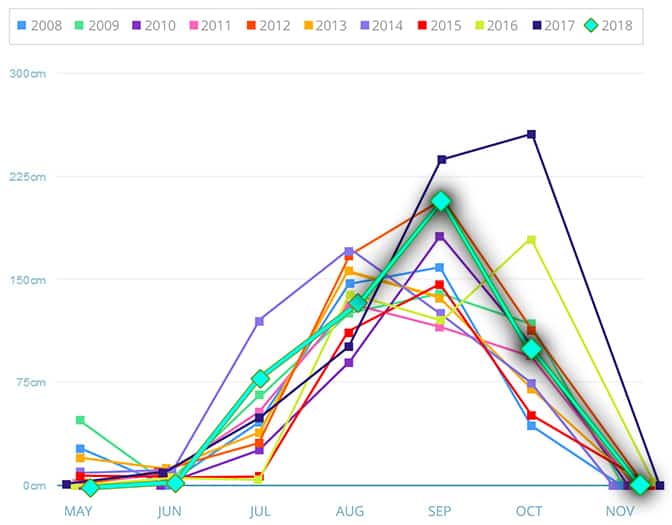 In the chart above, the green line with the drop shadow shows my prediction for the second half of the season. Snow depths at Spencer's Creek will skyrocket to about 180-200cm during August, with most of that falling in the next two weeks. Then we should see a sharper than normal decline during spring. This is a similar outlook to my previous issue and shows an overall great season – you'd be silly to miss out
Hopefully, I have shed some light on the second half of the season or at least provided you some fodder to mull over. This is my last outlook for the season, but keep your eyes glued to my daily forecasts to see how things are panning out. If you've got a different theory on what's going to happen this winter, or just want to provide feedback, then please hit me up using the comments section below. Or you can follow me on Facebook.