2018 New Zealand Snow Season Outlook – June Update
June 12th, 2018
Things are looking better
Mountainwatch // The Grasshopper
With opening weekend done and dusted at a few of New Zealand's ski fields and epic amounts of snow, the Kiwi season has kicked off with a hiss and a roar.
May was coasting along with warm temperatures for the first few weeks, but then cold south-westerlies lashed the country over a period of 10 days, dumping 50-70cm onto ski fields in Wanaka and Queenstown, and about 25cm elsewhere. Since then, mercury levels have remained low and there have been more snowfalls than you can shake a stick at. This has led to hefty snow depths like the 72-95cm reported at The Remarkables and comes despite my previous outlook calling for below average conditions on opening day. Shame on me. But I'll be the first to admit it, especially when there's that much snow. But hey, let's not dwell on the past and my short comings, let's look to the future, because I'm in a good mood and feeling a little bit more optimistic.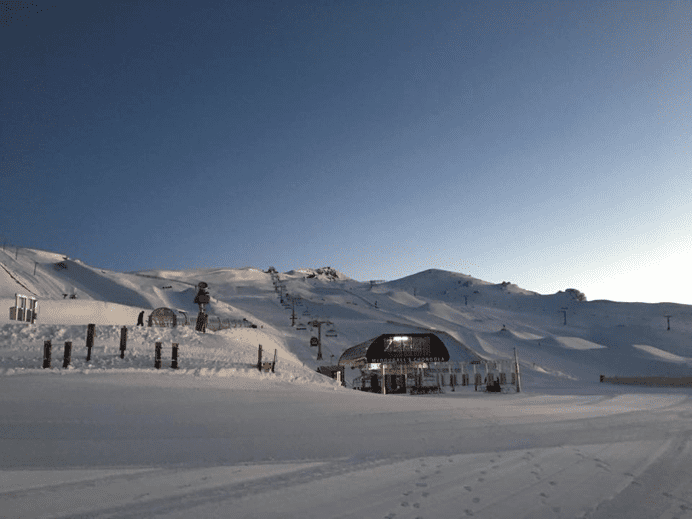 ENSO, SST, SAM
The El Niño Southern Oscillation (ENSO) is currently in its neutral phase and is likely to remain that way through winter. Waters over the equatorial region of the eastern Pacific Ocean should continue warming throughout the season, with some models suggesting that El Niño thresholds could be reached sometime during spring. This ought to put a smile on Kiwi skiers faces because El Niño years see more snowfall on average in the NZ mountains than other years. However, if El Niño does show up to the party, it's likely to be weak and its influence on New Zealand's snowfall should be small.
As I mentioned in the previous New Zealand outlook, neutral years usually don't provide an ideal setup for Kiwi snowfall. Neutral years tend to give us a greater likelihood of warm east to north-east winds and less probability of seeing colder air from the south to south-west. The epic preseason snowfalls during May and early June have been due to a pressure pattern that is not typical of a classic neutral set-up, but has looked more like a neutral "wrong'un" or even an El Niño as the image below shows. Could this season continue on this path? Or are we more likely to see a classic neutral pattern kick into gear?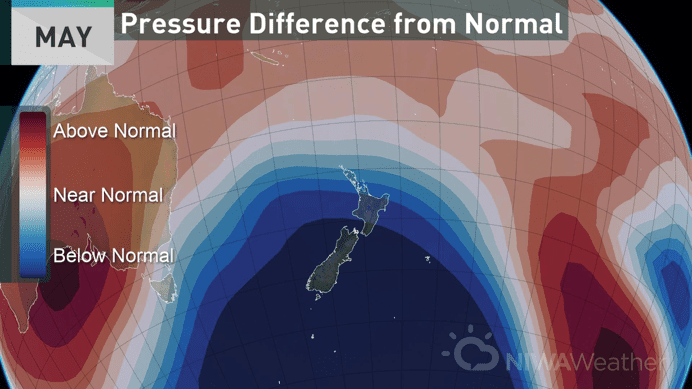 In addition to the recent epic snowfalls, the cold south to south-west winds of the last few weeks has caused sea surface temperatures (SST) to steadily cool off. Not only is the marine heatwave gone, but pockets of the Tasman Sea and coastal waters around NZ are now below average. Overall though, these waters are about average. This is somewhat contrary to the previous outlook, as air temperatures are now less likely to be above average and weather systems won't get that extra shot of gin as they approach the country.
The Southern Annular Mode (SAM) is currently positive. In theory, this means that all those juicy storm systems and cold Antarctic air should be tucked further away to the south. This may be true when looking at the entire southern hemisphere, but New Zealand certainly has been bucking the trend with all that snowy goodness managing to reach their slopes. SAM is forecast to swing negative in the next week, which is even more great news.
CLIMATE MODELS
Carrying on with the same theme as the recent Australian outlook, we're going to look at the super-duper C3S model to gauge the overall vibe of climate models. The C3S model makes it easy for us by taking a nice average between the individual climate models of ECMWF, UKMO and Météo-France, who are all big players on the scene. By doing this, any nuances within the individual models are ironed out and we tend to get a more accurate and reliable result.

Pressure anomalies from the C3S model are similar to a typical neutral ENSO pattern. We can expect plenty of unsettled weather, but will it be of the right flavour? The C3S model is also expecting NZ to be warm, so a lot of this storm activity could bring in warmer air and produce rain rather than snow, especially at lower levels. However, as we have seen lately, cold air can follow in the wake of these warm storm systems as they tend shove any high pressure aside, as well as providing perfect opportunities for overrunning to occur. Precipitation anomalies suggest that eastern and northern areas could be wetter, while the southwest corner may be drier. This backs up the idea that we may see plenty of lows churning away in the Tasman Sea or to the north, directing east to north-east winds over the country, similar to the low currently affecting the country.

NIWA's outlook for the winter months mostly agrees with the spiel above, but differs slightly on temperatures. They foresee winter being characterised by a flip-flop between mild north-easterly air flows, particularly during the first half of winter, and cooler westerlies, especially during the second half. A changeable regime like this is a product of a neutral ENSO and near average SST. Although NIWA's temperature and precipitation figures look rather benign, the devil is in the detail. Frigid southerlies may be counterbalanced by mild north-easterlies, so that temperature and precipitation figures end up looking about average. What does NIWA's outlook mean for snowfall? It's hard to say exactly, but while there is likely to be increased storminess, there isn't a big push towards warmer and drier conditions for the mountainous regions. So, we could conclude that we will have above average snowfall.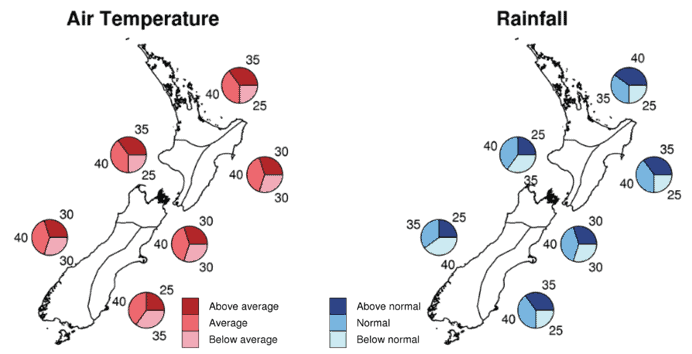 SUMMARY
All climate drivers are set in neutral for the coming winter months, although there is a significant chance El Niño could pop up late in the piece to give the season an extra kick up the proverbial. The absence of any large-scale climate drivers gives this Grasshopper a headache, as the chaotic nature of the atmosphere may play a bigger role this season, leading to low predictability. In other words, we're being held to the whims of ol Mother Nature. Despite this, it looks like we're in for more storminess than usual. There are conflicting views on how temperature anomalies will stack up, but given there isn't a big push towards below average precipitation, we should get plenty of snow from at least some of these storms.
In light of all this ranting, I'm a bit more optimistic about this season from when I wrote the previous NZ outlook. It's hard not to be when there is already a ridiculous amount of snow on the ground. Remember though, we may see completely different weather to what we've already had these last few weeks. I foresee that we will see a slow down at the end of June, especially on Ruapehu where rain will hamper efforts. The season should pick up again late winter or spring, with the season overall clocking up above average snowfall at South Island ski fields.
That's it from me guys. I'll update this outlook at the beginning of July as we get into the real business end of the season. If you've got a different theory on what's going to happen this winter, or just want to provide feedback, then please hit me up on the discussion below. Or you can follow me on Facebook.