Canada vs. Alaska – The Ultimate Heliski Showdown – Travel
March 25th, 2015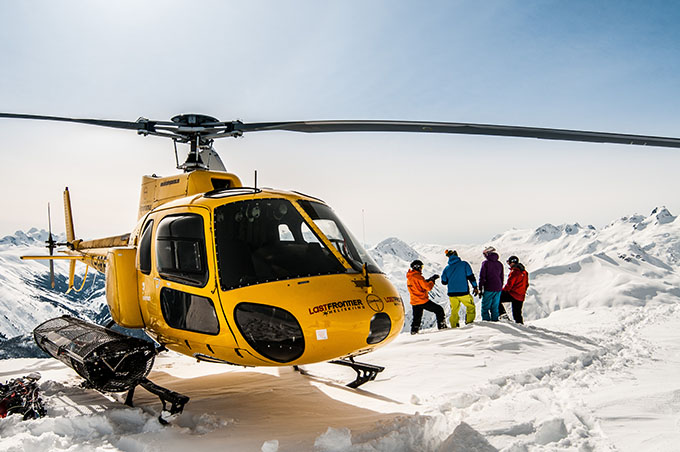 Northern B.C heli outfitter, Last Frontier Heli, offer one of the most impressive heli tenures in the world Image:: Last Frontier Heli
Mountainwatch | Claudie Linke
Heliskiing; it's the epitome of the ski experience for many. Further, faster, higher and longer than any resort or ski-tour world can offer, but where is best? Do you prefer Canada's trees and pillows, or are the savage steeps of Alaska calling?
It's any skier's ultimate dream: fresh, untracked snow, epic terrain, and just you and your mates there to enjoy it. Unfortunately, heli access is an increasingly unlikely prospect in most resorts around the world these days, which is why so many of us are heading to the backcountry for our kicks. But even there powder competition is heating up, evidenced by the booming market and developments in touring bindings. To really get away from the maddening crowds, you need to go beyond their reach, and that means a helicopter. But how do you get the most bang for your buck? Heliski specialist Claudie Linke from LUEX Snow Travel takes us through the ten most important factors: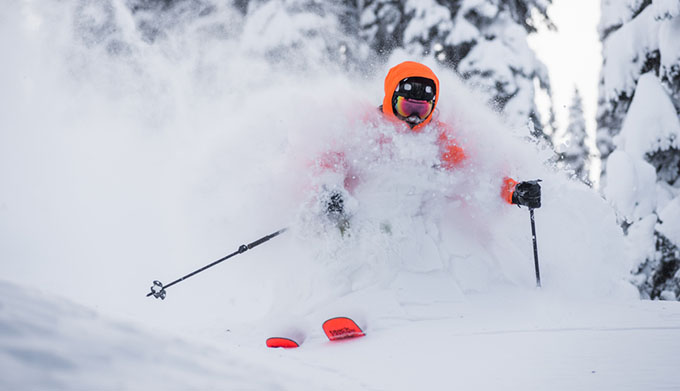 The great thing about Canada is that when the weather is bad you can still ski the trees Image:: Last Frontier Heli
Snow Quality and Quantity
A simple formula can be applied to snowfall: the closer to the sea you are, the more there is. However, that's not the end of the equation. Temperature and humidity further affect both the quantity of snow yielded from a set amount of water, and its quality. This is why the further inland you go – towards the Canadian Interior – the drier the snow becomes, the same goes further north in Alaska and at higher altitudes in the coastal mountains around Bella Coola.
Stability and Avalanche Risk
Alaska wins hands down on the stability front. This magical land is truly blessed in terms of snow: wet, sticky snow blows in from the nearby ocean, and is thickly plastered onto even the steepest slopes. The next step is the key ingredient in the recipe: the freezing cold temperatures literally suck the moisture out of the snowpack, turning heavy maritime snow into perfect powder. If you want to safely ride pow on seriously steep slopes – up to around 60° – then look no further than Alaska.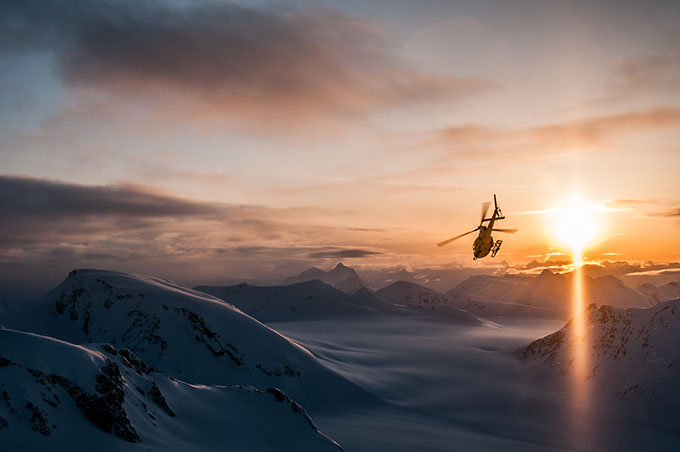 Now that's a sight for sore eyes Image:: Last Frontier Heli
Standard of Food and Lodging
This time, Canada takes the win. While Alaska is a dirtbag's paradise, Canada harbours more luxury lodges than you can shake a pow board at. You can sit back and relax in hot tubs and saunas, enjoying fine wines, gourmet meals and even massages, all safe in the knowledge that your contemporaries in AK are likely crammed in a motel or motorhome, sandwiched between wet ski clothes and empty beer cans. Saying that, there are always exceptions to the rule: you can always get down and dirty in Canada, too – if that's more your scene – while there are a couple of very high-class luxury lodges in AK.
Terrain
This is where it gets a little harder to choose. Alaska definitely offers more in the way of extreme, sphincter-puckering steeps, but Canada isn't short of gnar either. It also has much more in the way of tree runs, pillow fields, and mellow terrain to play around on, and is definitely the better choice if you like a little variety. If all you're after is steep steep steep, you may be better off in Alaska.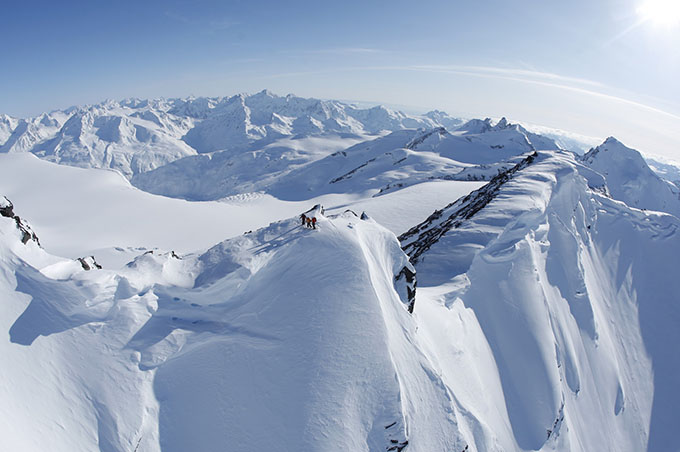 Steep, exposed, and deep: Alaska Image:: Point North Heli Adventures
The Clientele
Alaska typically remains the preserve of the die-hard ski freaks, and you're guaranteed to meet an eccentric and eclectic crew for who skiing pow is the absolute be-all and end-all. Canada tends to attract a more diverse clientele: dirtbag ski bums, spending their life savings, rub shoulders with dentists, lawyers and businessmen. Conversation and lodge-life is normally a little more dignified, though all the more stimulating due to the variety of characters.
Group Size
This is one of the most important factors you need to consider. Typically, the smaller the groups and the helicopters they fly in, the sportier the skiing – these smaller 'birds' are more often found in AK, the Coastal Mountains, and parts of the Rockies. Larger ships, with capacity for up to 11 guests, are more often found in the Canadian Interior. While they are generally cheaper, you run a higher risk of cruising mellow terrain and waiting for your group to catch up.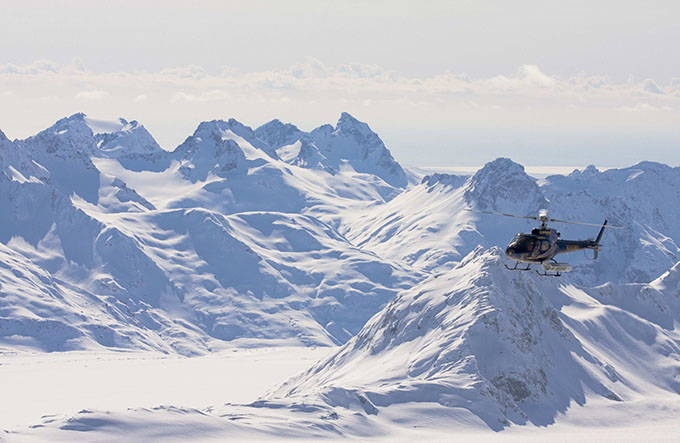 The amount of terrain in Alaska is hard to fathom. Some of those peaks have never been skiied Image:: Point North Heli Adventures
Prices
A difficult one. Alaska is generally a lot more affordable than Canada, though you often have a lot more down days and so fly less. Additionally, accommodation standards are usually lower, and travel costs can make up a lot of the price difference.
Down Days
The price you pay for the immense amount of snow in AK. During heavy Alaskan storms, helicopters simply can't fly, and in the worst case scenario you can end up with three or more down days per week. Due to the trees in Canada, navigation in a storm is much easier, and you can normally expect one or less no-fly days.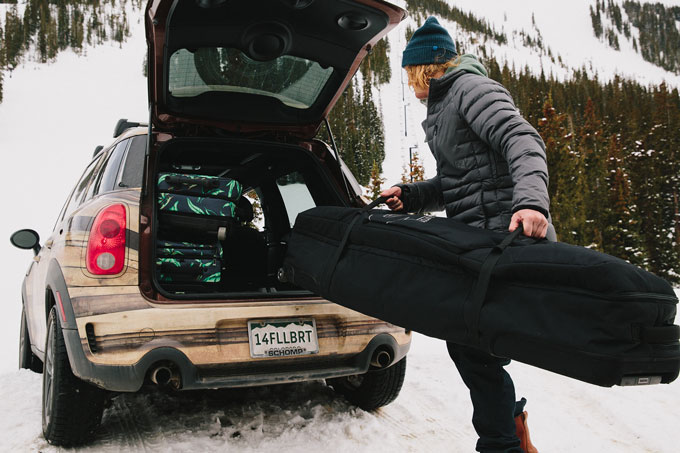 Alaska is a long way from anywhere, so naturally travel time should factor into your decision Image:: Burton
Travel and Accessibility
AK is a LOT harder to get to than Canada. Travel times are a lot longer, costs are higher, and connecting flights – for example, between Anchorage and Valdez – are frequently cancelled due to the weather.
Ability and Ambition Levels
If this is your first time heliskiing, or you prefer to have fun rather than scare yourself everyday, Canada is your best option, and has a larger variety of terrain to play on. If you're looking to go all-out on some of the most extreme skiable terrain in the world, get yourself to Alaska, NOW! It's still considered the last frontier of hardcore skiing, and you can safely push yourself there better than anywhere else in the world.
At the end of the day, it's hard to go too far wrong with either choice. Both destinations offer the trip of a lifetime for any skier; the differences are mostly down to personal taste. It's hard not to have a good time when you're heliskiing!