Getting Steep and Deep in Jackson Hole
February 8th, 2023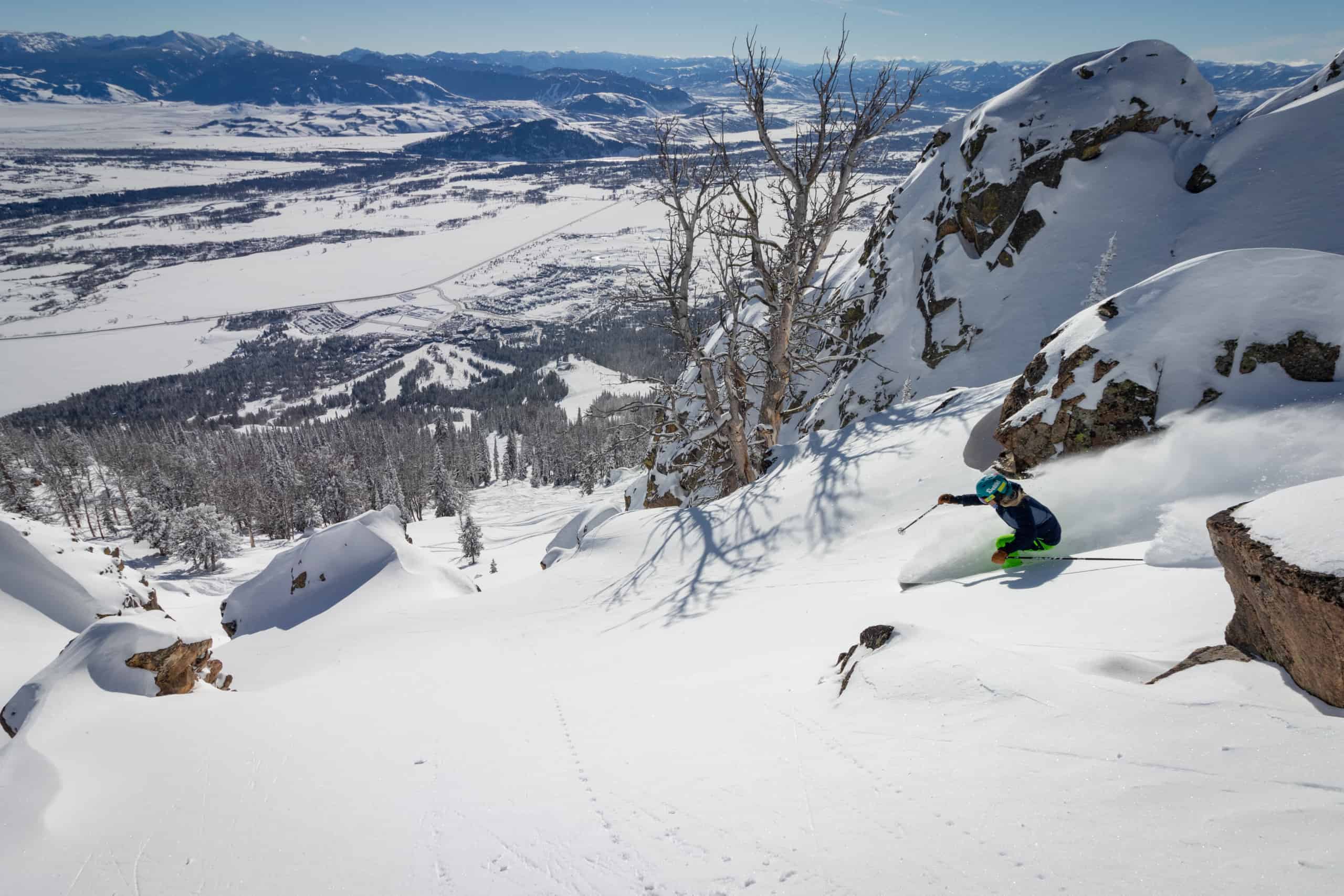 Mountainwatch | Rhylla Morgan
The marketing spiel for the Steep and Deep camps at Jackson is brash and bold; "to be the best, you have to ski the best… the best instruction from the best coaches; the best terrain in the lower 48; the best technique, free-flowing and graceful; and the best camaraderie among like-minded skiers." 
It's a big claim and Jackson has more than enough mountain to match the promise they make on the label.   You'll find a vast ski area of 2,500 acres, a leg-burning vertical rise of 1,261m, tonnes of black diamond terrain and the formidable reputation to back up everything you've heard about Jackson and their camps.
Disclaimer: If you're not at least a solid intermediate skier with decent fitness this is your sign to skip to another article. Steep and Deep is not your flavour. Steep and Deep Ski Camps cater to skiers of advanced expert ability and for the Snowboard steep camp you need to be riding at intermediate and above.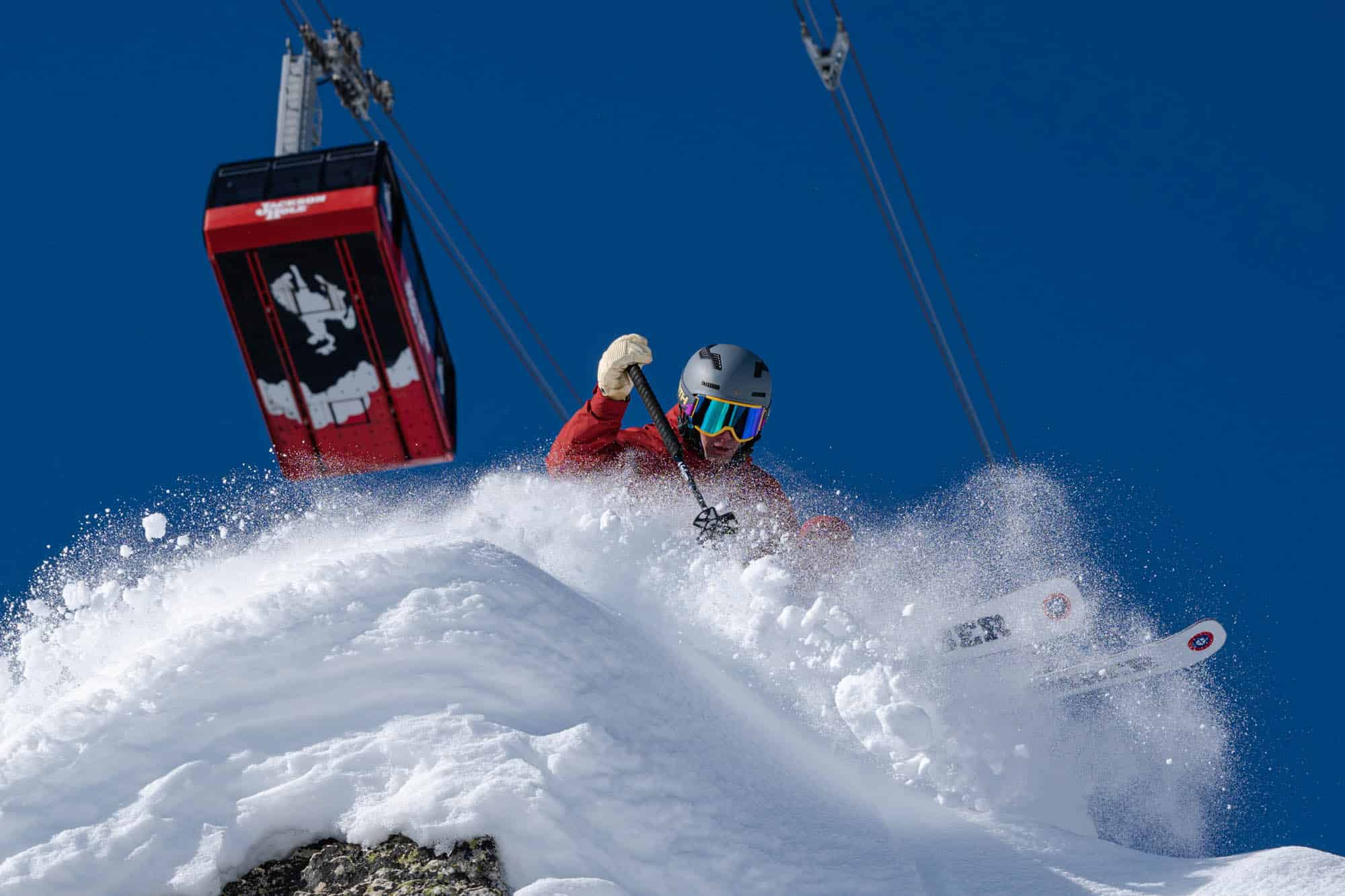 If Jackson Hole is on your wish list, if you're keen to step up your skills and technique and are fired up for some expert coaching to flex your comfort zone then read on and consider spending a memorable week in Wyoming soon.
The camp includes four full days of small group coaching (5 or less per group), skiing mostly black to double-black terrain, early tram access to the upper mountain each morning, video analysis, tasty lunches, après sessions and a slap up celebration dinner to finish.   Campers enjoy perks like discounts on demo skis and savings on your tunes during the week. One lucky camper even wins a repeat visit to camp the following year!
Steep and Deep is open to anyone over 18 years but – no surprise – there's a heady whiff of testosterone to the week and the attendance is strongly skewed to blokes. However there is a significant and growing posse of kick-ass ladies joining Steep and Deep camps and ripping.
If you're keen for a Jackson camp with less 'bro'-vibes look at the Elevate ski camp or Ladyshred snowboard camp for women or the Mindful Camp that takes an alternative coaching approach.  And of course, snowboarders have their own camps and there's one dedicated for backcountry crew.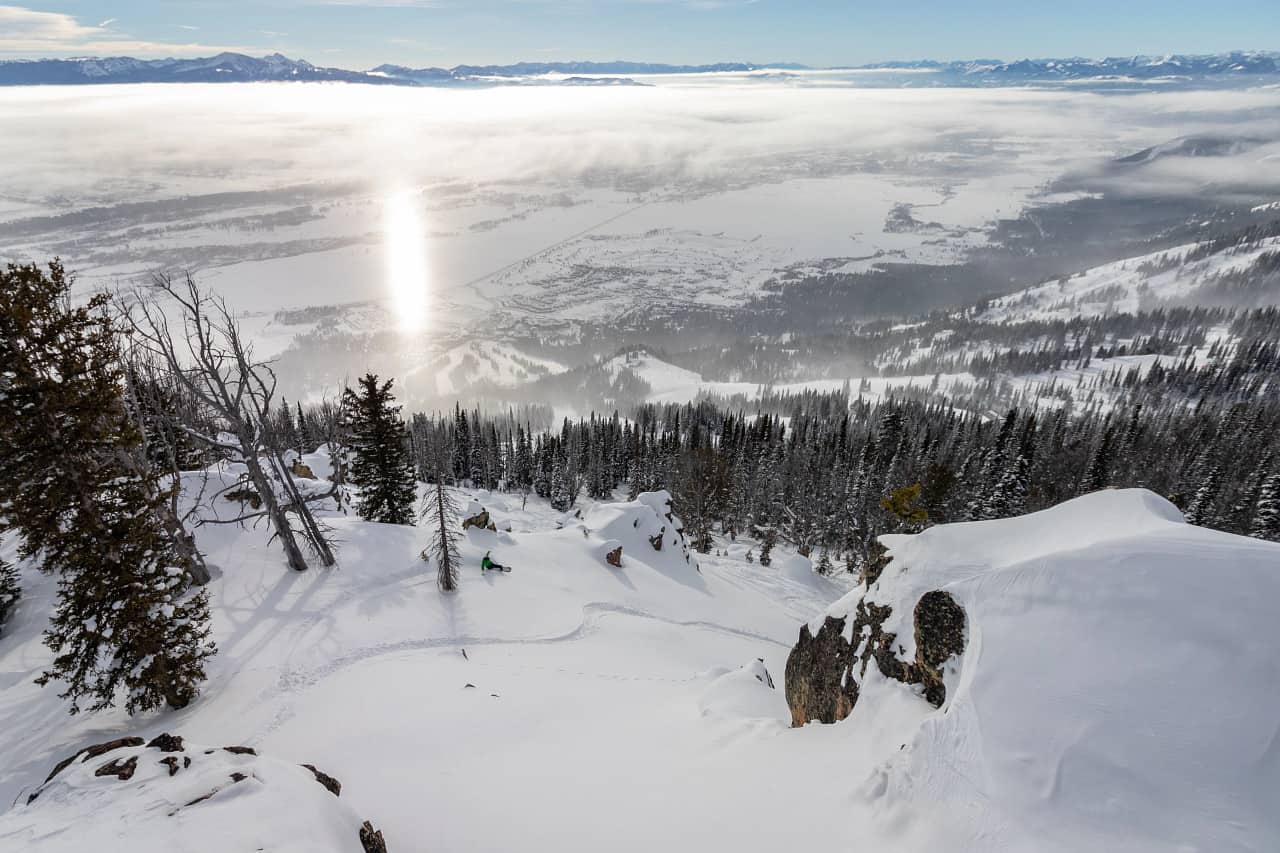 The Steep and Deep week kicks off with a Hogwarts style 'sorting hat' session where everyone skis a (steep) slope while coaches sort them into groups.  It's intimidating and everyone is gripped – even the guys who were brimming with macho chat only minutes earlier in Corbet's Cabin.  The vibe quickly shifts back to upbeat as everyone takes a breath at the bottom and the result is small groups of well-matched skiers – you find your tribe.
If your dream is to hike the Headwall and drop 20 footers (and you've got the skills and fitness for it) you'll be in a group where your coach will help you make it happen. But let's be clear, not everyone in Steep and Deep wants to take things so 'steep', and many of the happiest and repeat campers are rolling in the 'lower' level groups embracing the challenges that Jackson serves up for every skier.
Whatever your starting point, by the end of the week you will be skiing better, you'll be feeling every muscle in your body, you'll have skied stuff you'd never attempt on your own, rubbed shoulders with pro-athletes in the early tram and be feeling a bit stoked with yourself.   There's a good chance you'll have had a few yard sales, made some new mates, sent yourself to bed at 7.30pm, discovered terrain you'd never have come across and shared a shotski – or two.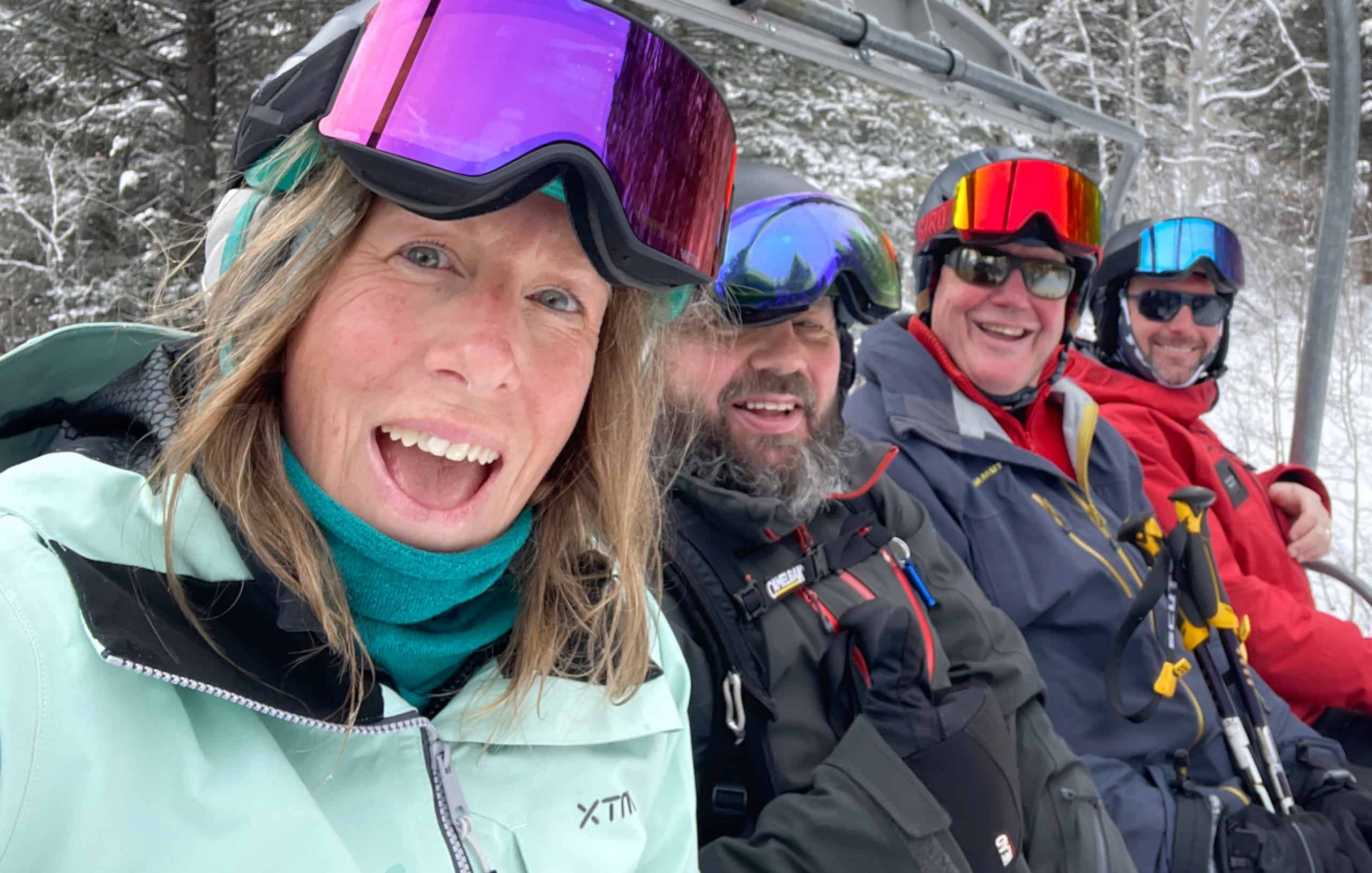 Chatting to folks who've done Steep and Deep there are recurring themes to why they did it, and why so many return year on year:
It's fun– to roll with a posse of skiers at the same skill level and have your own coach who's all about helping your skiing and showing you a good time
It's VIP– from the early tram ride in the morning (the domain of patrollers, filmers and pro-skiers) to lift line priority and tasty lunches it's a 5-star vibe
It's all about you– it's a week to focus on yourself and your skiing and take time away from 'real life' – you're not thinking about that work email as you hunt powder stashes in the trees
It's great value – you cram a tonne of personal coaching into your week beyond what you achieve in individual lessons, and the camp is brimming with added value. It really is a week to remember.
It's bragging rights– Jackson Hole is a badass mountain and after a full week skiing bell to bell you've earned serious kudos and are part of an impressive ski alumni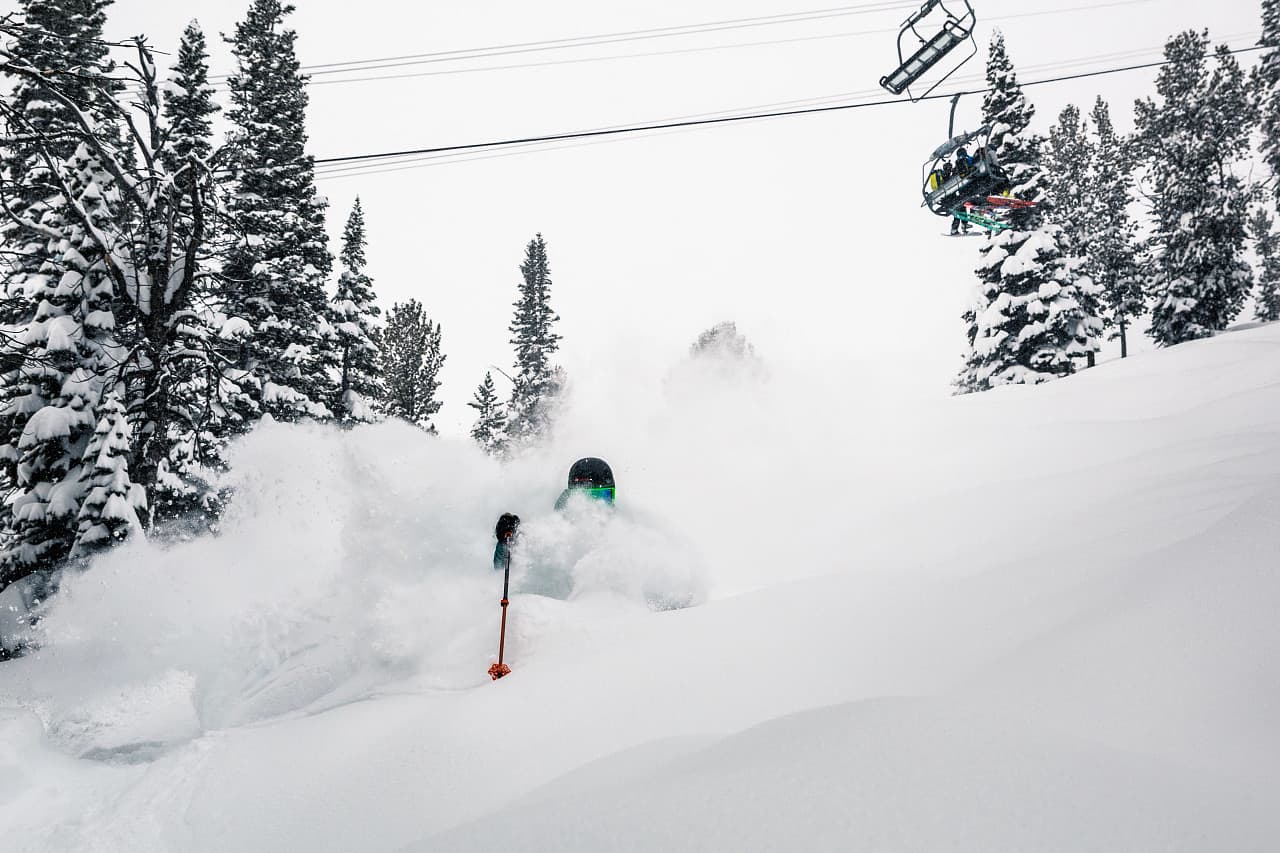 … and what they would advise anyone planning to do it:
– Be 10% fitter than you think you need to be – the mountain is huge and high and you'll be skiing much more than you usually do
– Give yourself a couple of days before camp to get your ski legs and acclimatise
– Keep your evenings free – you'll want time to soak, steam and sleep
– Do bring friends/significant others and make a holiday out of it – you'll want to keep skiing, exploring the runs you've discovered and savour your skills once camp wraps up.  Your friends/special person will enjoy rolling at their own pace and exploring town while you're on camp
– Budget for tips – your coach is going to take care of you; tip them generously
– Get in early (the camps book out) and get your lift pass at the same time – consider the Mid-week season pass valid M-F for good value or purchase online a week or more in advance of arrival for the best rates.
If you're ready to get Steep and Deep sooner than later there is a chance you could even get in this year – there are a couple of spots available in the fourth and final camp in late February.
Head to Mountainwatch Travel for our latest Jackson Hole packages.
Check out the first camp for 2023 – the GoPro Steep and Deep camp:
Editor's note: Rhylla is a self-confessed fan of Jackson Hole and has experienced Steep and Deep camp, Elevate camp and Mindful camp.  She identifies as a solid intermediate skier who sometimes makes involuntary noises on super steep terrain and big bumps.  She lost a ski (and found it again) on day 1 of camp, made some good friends and is a much better skier than she was last week.