Historic Snowfalls – A Look Back At The Biggest Snowfalls Australia's Ever Seen
August 19th, 2020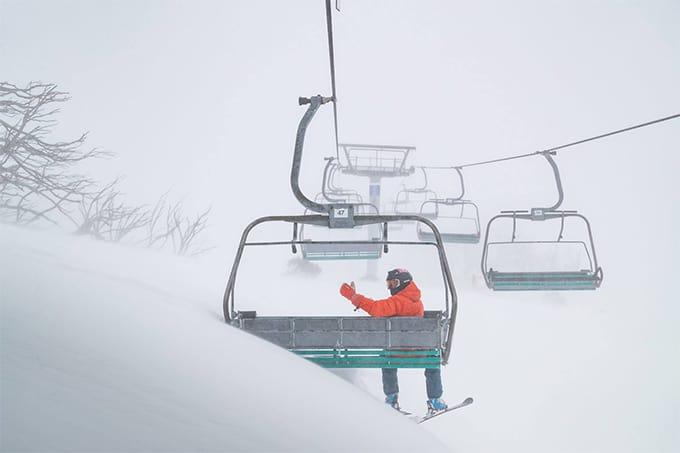 Mountainwatch | Weather
It looks like we're on the eve of a decent snow storm with snow to low elevations, strong winds and blizzard conditions forecast from today through to Saturday. It started snowing early this morning, the latest forecast is calling 60 to 80cms across the Victorian and NSW Alps by Sunday and while it may not make it as one of the biggest snowfalls Australia's ever seen we thought it's a good excuse to run this story again.
We published this story in June 2018, so it doesn't include any storms from the past three winters, but there are a couple that could fit the bill. 2018 is remembered as a good winter with consistent snowfalls in July and August, but the biggest single storm that year saw 40-50cms drop in a 48-hour period on August 19/20 so doesn't quite make. Last winter wasn't as consistent, but the second half was pretty good, largely thanks to the storm that hit on August 8/9 with 70cms falling overnight, the biggest storm of the year and one that would make the cut in this story.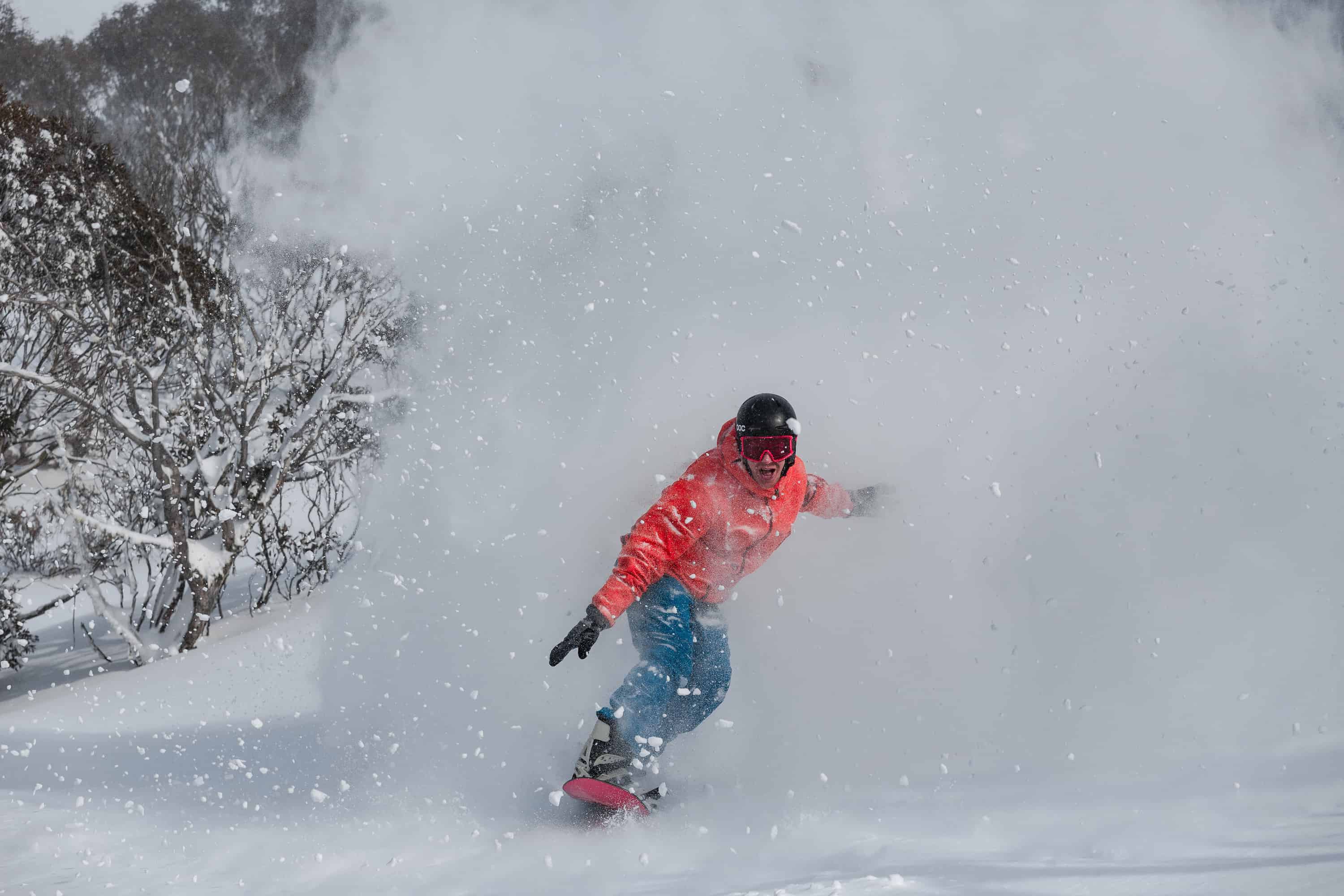 We all know this the snow this winter has been very ordinary, but ironically the storm that hit the NSW resorts on July 13/14 does fill the criteria with 50cms at 1400metres and 90+cms falling above 1800 metres in a 24-hour period.  The snow was wet and heavy courtesy of a strong East Coast low sitting off the NSW coast, but the totals were the biggest seen at low levels since 2016. Unfortunately, that storm was just a little too far north for the big snow totals to reach Victoria, a reminder of the difference just 100 kilometres and a couple of degrees in wind direction can make.
The current storm will be more wide spread and snow is falling now across all the resort sin NSW and Victoria and we'll know on Sunday whether it will be included when we re-run this story sometime in the future.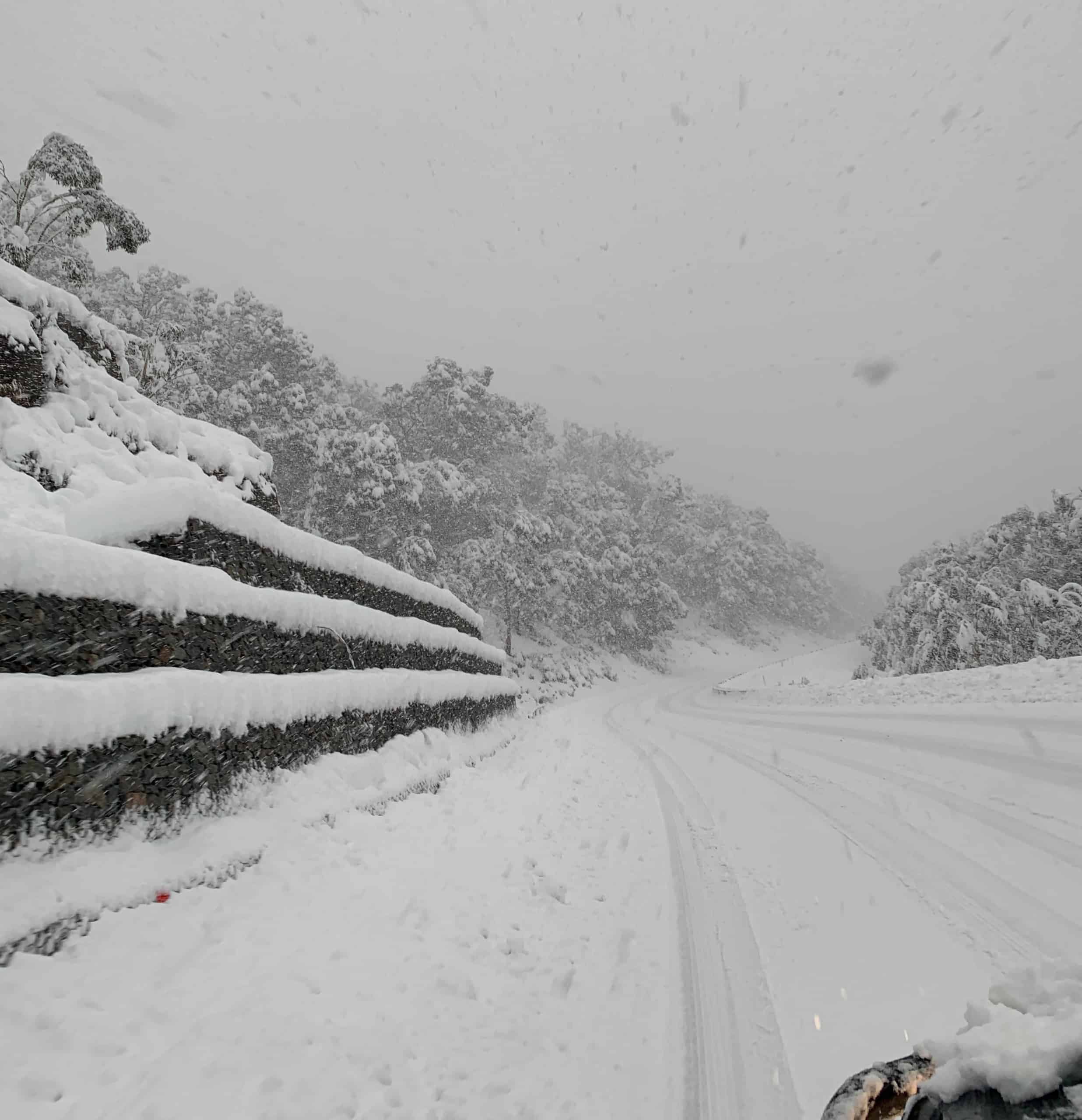 Original story published June 7, 2018
By Matt Wiseman
Nothing's safe from inflation it seems. With time, even that bumper Australian snow dump you enjoyed 5, 10 or 15 years ago is a victim of it. What was a 25-30cm storm at the time is now fondly recollected at family dinners, in the rental shop and on the chairlift as a 50+cm dump.
We're all guilty of it. Boot deep turns become shin deep turns which turn into knee and thigh deep ones, heck, in 50 years when there mightn't be any snow left, that shin deep day might as well have been overhead blower.
As we approach the 2018 Australian ski season at a rapid pace, there's no doubt we're all wondering if and when we can look forward to similarly deep days this year.
Until then I thought I'd go a step further than romanticisation and attempt to set the record straight and chronicle all the best snowfalls Australia's ever seen, as accurately as possible (sans inflation and so far as recorded history permits).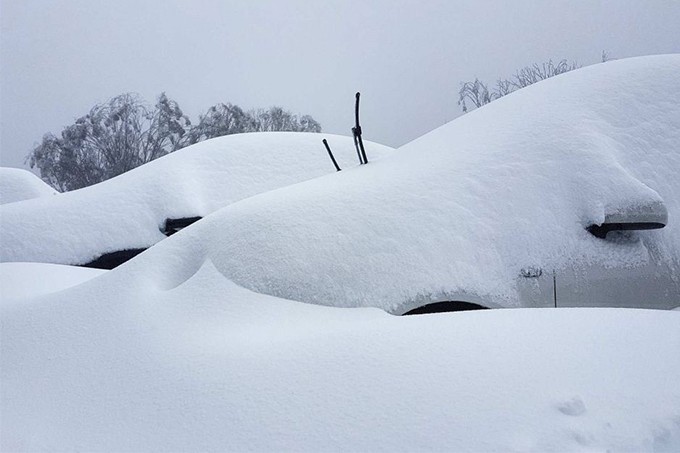 Quantifying and then ranking the best seasons as a whole is relatively easy these days, thanks to the likes of The Snowy Hydro, which keeps records of annual snow depths. However, determining the best single instances of snowfall – hereafter referred to as dumps, storms and blizzards (of Oz's) – is a much more difficult task.
Taking a fairly flexible approach in saying where one snowfall, or rather snow system, begins and ends and understanding that different resorts will inevitably record very different numbers of accumulation, here's what we're left with when the dust snow settled.
In the interests of fair reporting, my sources, short of a conclusive database, included our Mountainwatch archives, the Snowy Hydro's aforementioned data, decades of old news bulletins and snow reports, a veritable menagerie of anecdotal evidence from snow forums and the musings of some long-term industry experts.
Although not a perfect example of scientific and historical method, here's as good a list as you'll ever get on Australia's biggest snowfalls.
2017: Blizzard of Oz's
Why not start with the fateful storm everyone surely still remembers. That's right, I'm talking the Blizzard of Oz trilogy.
It seems while all storms are memorable, depending especially on whether you were there or not, the fact this one had such a catchy nickname helped it capture the minds of Australia over.
Blizzard of Oz – 1.0 (AUGUST 3 – AUGUST 8)
The first iteration, the original Blizzard of Oz dropped over 1 metre of snow across resorts.
Halfway through the event, The Grasshopper gave us this:
"Crikey! I hope you have saved something in the tank…as this could be the day of the decade?? Wait for it…. we have had 46 cm of cold dry snow in the last 24 hrs with more than half of that coming overnight and it is still snowing heavily this morning … grab your fattest skis or powder board and get out there" – The Grasshopper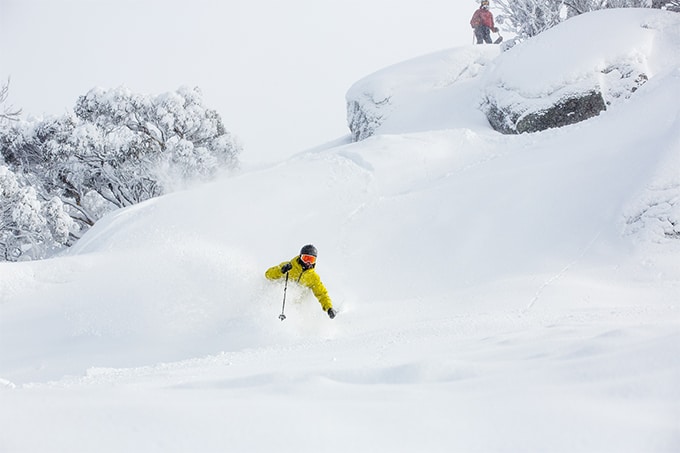 Reggae Ellis wrote in a storm Journal on August 9:
"The past week has been a stellar time in the mountains with well over a metre of snow falling from Thursday August 3 to Tuesday August 8 and the superlatives about the snow quality have been flying thick and fast." – Reggae Ellis
You can check out our full recap of Blizzard of Oz 1.0 here.
Blizzard of Oz – 2.0 (AUGUST 18-19)
The second instalment, although coming after some significant rain had the Grasshopper reporting, we saw "25-50cm of the good stuff down to 1400m."
You can check out our full recap of Blizzard of Oz 2.0 here.
Blizzard of Oz – 3.0 (SEPTEMBER 6)
The final instalment of the Blizzard of Oz turned out to be the best storm of the season.
Head of Pro Patrol and our Hotham Snow Reporter Bill Barker had this to say:
"We have had some great days this winter but I reckon yesterday was the best of them, and although I admit my memory is not the greatest, I can't remember too many as good." – Bill Barker
When all was said and done, the storm delivered up to 1.2 metres of snow across the countries ski fields in 72 hours.
Conditions up at Perisher were being described as, "the best in 17 years."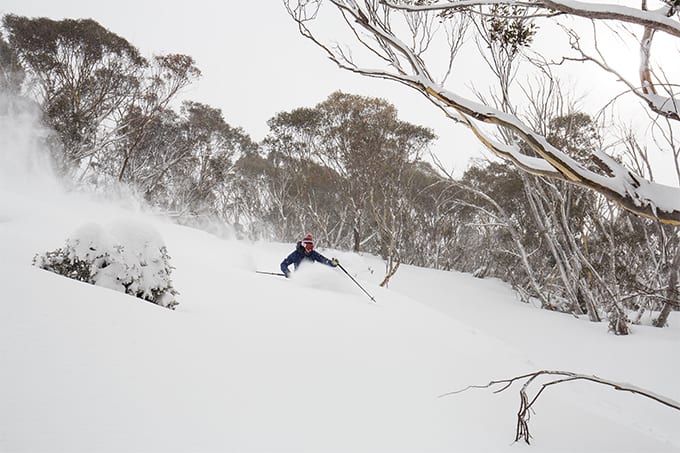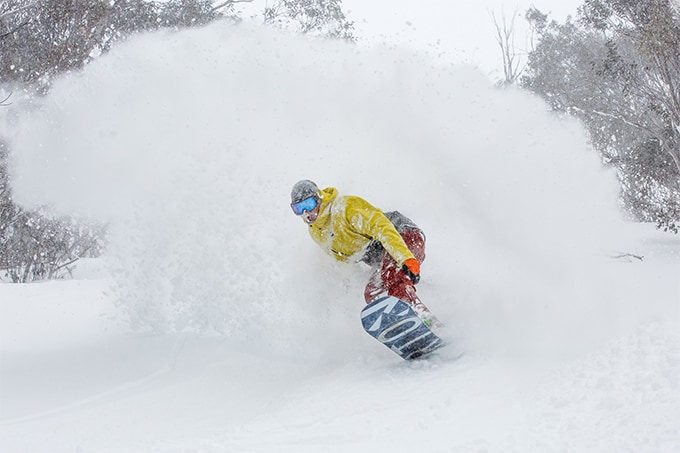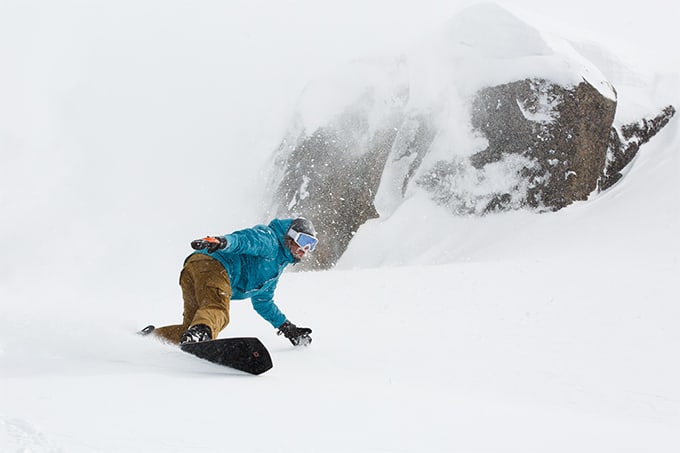 You can check out our full recap of Blizzard of Oz 3.0 here.
2014: Snowmageddon (JUNE 24-26)
Snowmageddon aka Snownado, Megablizzard and Snowpocalypse (News Corp Journo's really went to town on this one) left around 120cm at the top of Perisher and Thredbo.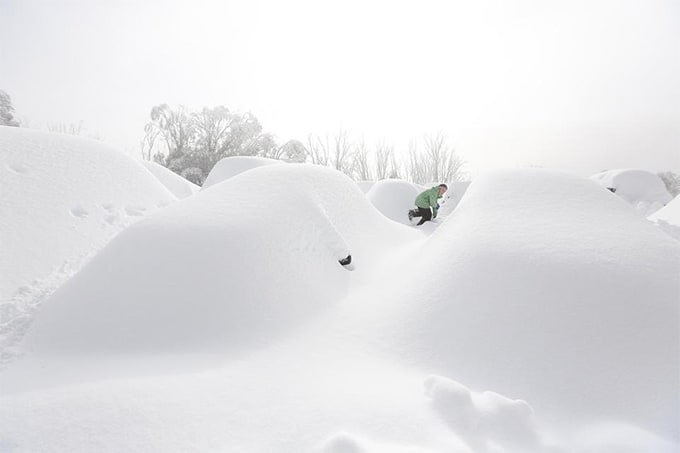 A week earlier and there was no snow in Australia. In fact, historical charts show the snow depths went from 14cm on June 19 to 102cm by June 26. Although not the biggest storm in history, snowmageddon was certainly unique in being such a sizeable June dump – in fact, it was the biggest June snowfall since 1991.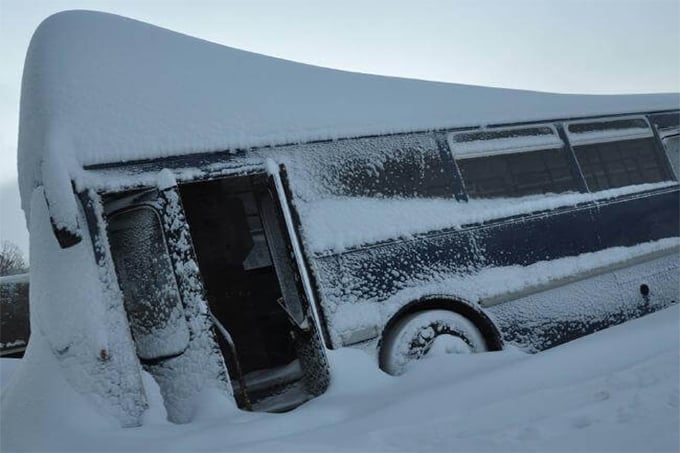 2012: August 16-18
Around 60cm fell over these two days which helped drive the Spencers Creek peak base up past the 2 metre mark.
2010: August 1
At the time, the month of August in 2010 claimed the highest monthly Australian snowfall total for 18 years, over 2 metres in 31 days (Arguably outdone by the aforementioned Blizzard of Oz 3.0).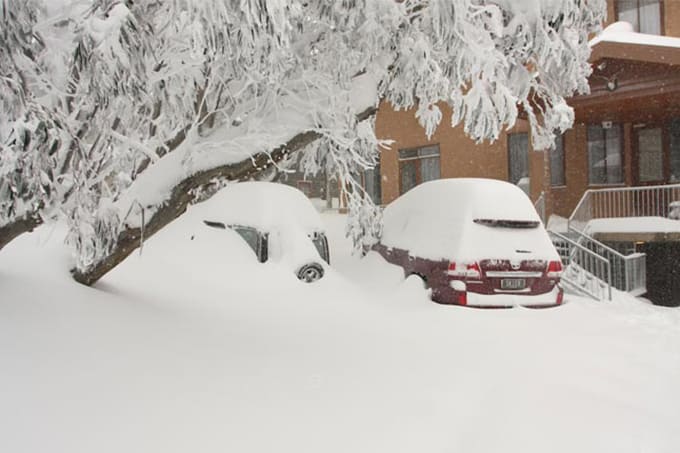 In the first 24 hours of the month some 50cm fell and by August 4, Thredbo was calling it a 1.2 metre storm.
"Everyone who rode it will remember it and those stuck elsewhere watching history unfold on snow cams will feel the sting of disappointment for a long time."– Tess Cook
2003: July 24
104cm fell at Falls Creek in as little as 44 hours time…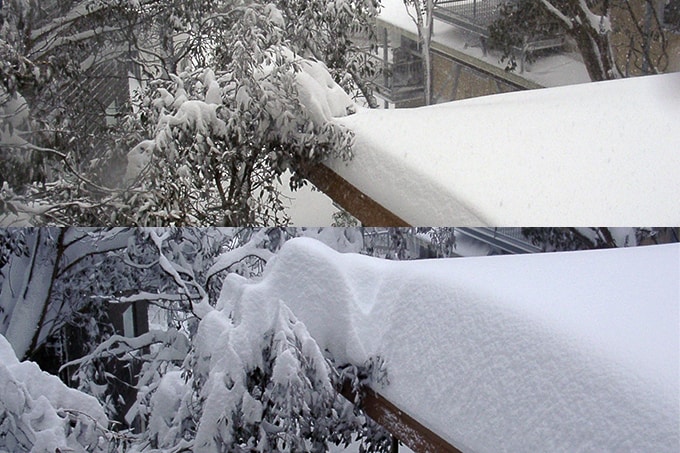 2000: May 28
This dump is unique in this list for a few reasons, not least the fact it occurred in May.
Some 80-100cm fell within a 48-hour period during this event, with around 24cm recorded as coming down at Falls Creek in just 3 hours around midnight – some 8cm per hour.
Some might also remember this dump as being one of few that has truly blanketed the Australian Capital. In fact, the Canberra Raiders played the Wests Tigers and a few centimetres settled on the pitch. You can relive that here.
1998: Super Tuesday (LATE JULY)
A candidate for the biggest fall in a single day, after it rained the entire Monday, snowgoers awoke to find some 70cm had fallen overnight, in the space of around 14 hours. People were allegedly skiing down the streets in Jindabyne.
1984: August 15 -28
Heading further back now, and 1984 is something of an enigma in Australia's snow history. Although it can boast a peak depth of 234cm at Spencer's creek, there was, for all intents and purposes, nothing on the ground until August.
The snow depth at Hotham then went from 34cm to 198cm in around two weeks.
"It started on Thursday 9thAugust, with around 30cm up until Sunday 12th. Cleared for Tuesday, then closed in and snowed every day from Wednesday 15thto Tuesday 28th."– Ex Hotham employee in this forum.
Access into Hotham's Snowbird Inn was allegedly through the second storey windows.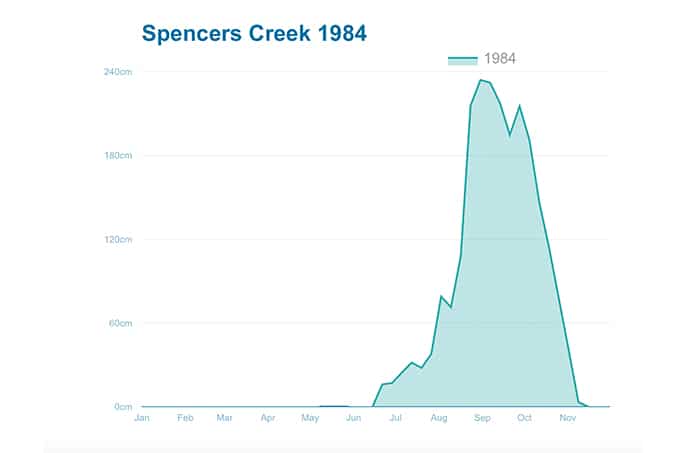 1981: The Whole Season
An honourable mention must be made for the year 1981. While it's hard to gauge a particular single season-defining storm, Spencer's creek boasted a peak snow depth on September 1st of 361cm.
"I skied the Eyre t-bar in the third weekend of October. In some places, the t-bar ran in a trench that was overhead high." – Unknown quoted in this forum.
1964: Early July
Twenty years before the August absurdity as above in 1984, some of the heaviest snow ever seen in Australia fell in the middle of July in 1964. It is said that around 3 metres of snow fell in less than two weeks.
Although total accumulation levels are hard to come by, The Spencer's Creek data alludes to as much, with the biggest measured depth gain on record – 152.7cm over two weeks from July 6 to July 20.
1956: June 12-19
The biggest 7-day gain in snow depth on record is 132.8cm and occurred from the 12th June to the 19th in 1956.
 There's no data out there on exactly how much fell in this short amount of time, I'd wager a lot. Though, sadly it was this snowfall created the 50m wide slab avalanche that destroyed the Kunama Hutte and took the life of 20 year old Roslyn Wesche in the process. Read about the history of the Kosciusko huts here.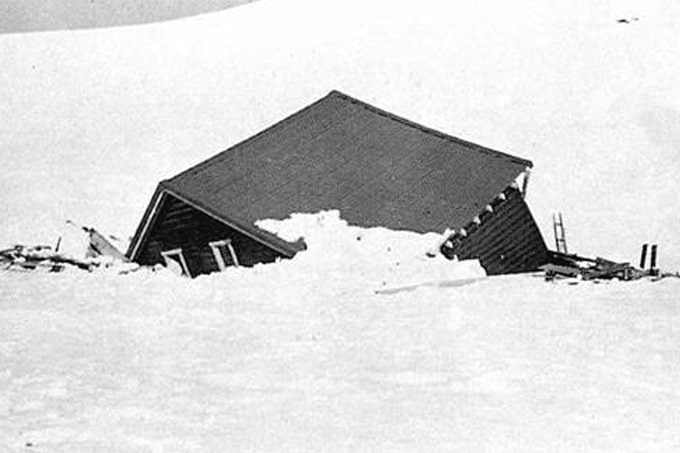 1900: The Extraordinary Snowstorm (JULY 3-7)
Yes folks we're really throwing it this far back… 118 years ago, the heaviest snowfall that ever occurred outside of the Snowy Mountains reaped nothing short of absolute havoc, to a country not even federated.
(Check out the other NSW non-alpine snowfall events from 1808 to 2017)
While there's little information on how much snow fell in the actual Snowy Mountains during this time – four feet being commonly cited – (I'd hazard a guess to say, a lot), some 50-100 centimetres of snow fell around Bathurst and the Blue Mountains, with lesser amounts further reaching.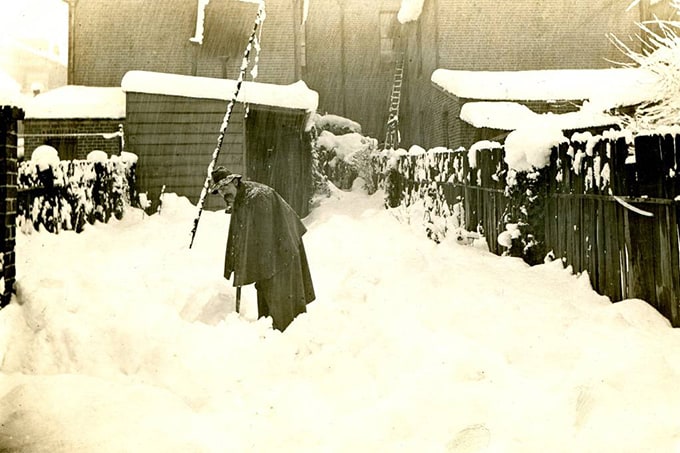 In the town of Blayney, snow began falling at around 5am and by midday there was 40 centimetres on the ground. By 5pm, 68 centimetres was measured in the main street.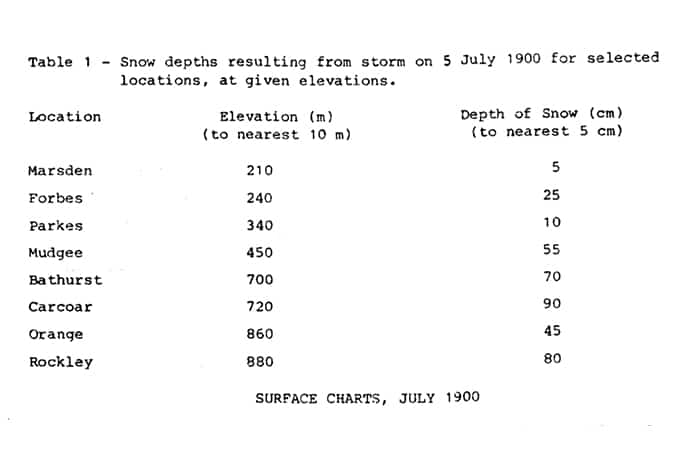 The Bureau of Meteorology's records describe the event:
"Exceptional snowfalls were reported over the central districts of NSW. Record falls in the central tablelands resulted in blocked railways and extensive damage to buildings. Snow even fell on the Central Western Plains giving the only snowfalls on record for some locations. Data from that time is sparse but an attempt is made to describe the synoptic situation which caused such a unique event. One of the main contributing factors was a deepening low which moved across the state and gave a mechanism for heavy precipitation. This was enhanced over the Central Districts by orographic lifting generated by upslope winds. It is thought that an extreme 'cold pool' was advected in to the circulation around the low, providing the means for precipitation to fall as snow."
Accounts from the time* described it as:
"A phenomenal snowstorm, in some instances the experience unprecedented, in which all the higher parts from the northern to the southern boundary of the State participated."

"In places snow 8 feet deep on rails [railway tracks]"– Russell 1903
Conclusion:
So there you have it, whether we'll see such 'phenomenal snowstorms' and 70 odd centimetres of snow in Bathurst this season remains to be seen… I'd be more than happy with 70cm at the resort in as many days though. We can only hope.
Have a look at The Grasshopper's June Update, published earlier this week, to see what his predictions are…
* Russell, H.C, 1903, 'Results of Rain, River and Evaporation Observations made in New South Wales during 1900. met, of N.S.W Dept of Instruction.