Jackson Hole – The Legend Lives On
February 7th, 2017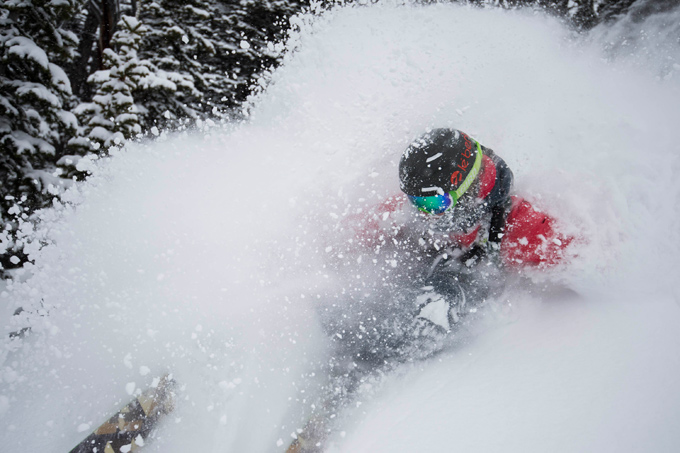 Coen Bennie-Faull ripping through the incredibly light pow. Photo: Tony Harrington
Mountainwatch | By Reggae Elliss
After a long drive through the snow-covered flatlands of Northern Colorado and Wyoming, the first glimpse of the Teton Range is a welcome sight. The jagged peaks seem to climb straight out of the snow, reaching high for a clear, blue sky and the anticipation grows as Jackson Hole gets closer every mile.
The iconic North American resort has been on my hit-list for a long time, the desire fuelled not just by the photos and TGR film segments I've seen over the past 20 years, but also by the fact that everyone I know who has skied Jackson rates it as one of their favourite destinations.
Located in Wyoming near the Grand Teton and Yellowstone National Parks, Jackson Hole is a spectacular part of the world. It has a reputation for serious terrain, dry snow, core local skiers and boarders, amazing views and a fun, Western atmosphere. Well, after 10 days here it has more than lived up to that reputation, but with a few surprises as well. I learnt that Jackson Hole not only delivers a true big mountain skiing experience, both in resort and the gate-accessed backcountry, but the variety of terrain means it also has something for everyone, from kids and first timers, to intermediates who like long, mellow groomers.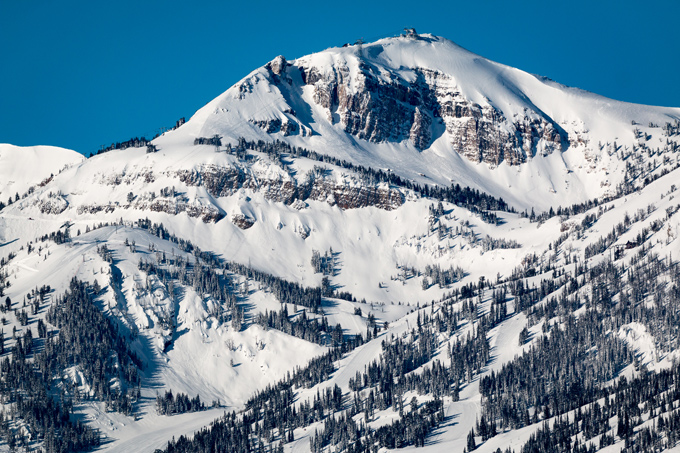 Jackson Hole, looking good on February 12, the day it re-opened after a week-long closure due to downed power lines. Photo: Courtesy Jackson Hole
Our visit to Jackson was stage two of a family road trip, taking in three iconic US resorts that all part of the Mountain Collective – Aspen, Jackson and Squaw Valley. We arrived late on a Friday afternoon after the 9-hour drive from Aspen, in time for a beer and dinner at the infamous Mangy Moose, before an early night and first lifts in the morning.
Jackson is having one of its deepest snow years ever, the cumulative snowfall currently sitting at over 11 metres (434ins) and the season is only at the halfway mark. We arrived a few days after the last snowfall, but the snow quality was excellent, not surprising given the very cold temps and Jackson's altitude. (The base is 1924m and the summit is 3185m.)
The resort is located at Teton Village, an easy 20-minute drive from the town of Jackson. There is plenty of choice for accommodation, whether on mountain, in Jackson itself or half way between the two at the Aspens or Wilson, a town at the foot of the Teton Pass.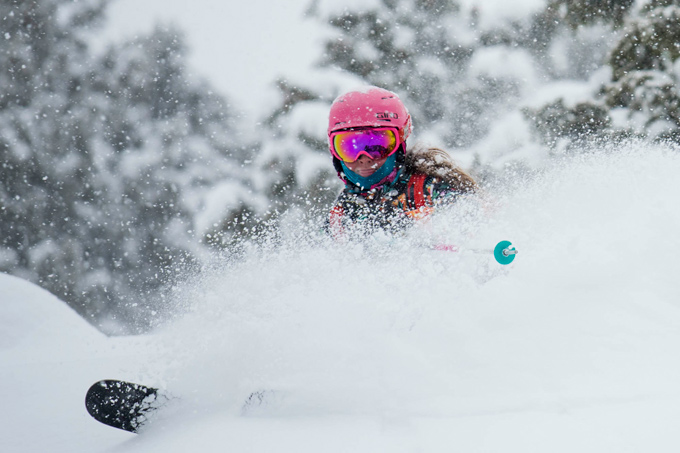 Arkie Elliss hooking into the light Jackson "cowboy powder". Photo: Tony Harrington
Obviously staying slope-side in Teton Village is convenient and the accommodation ranges from value at the Jackson Inn to on-snow hotels and luxurious free-standing homes. The village is also well-served by a variety of shops, bars and restaurants. However, there are also plenty of accommodation options in town, from where there are regular buses to the resort (3$ per person,) so commuting is easy. Town also has a lot to offer with a large retail precinct, great restaurants and some classic bars – like the Million Dollar Cowboy Bar – just one of those places where you need to take a photo.
For families there are plenty of things for the kids to do off snow, including Ice skating in the town square, Elk Sleigh rides and wild life viewing. It's also worth checking out the snow tubing and the new coaster at Snow King resort which is the local mountain right in town.
But the mountain is what Jackson Hole is all about and it is not just the terrain that is impressive. Unlike most other major US resorts, Jackson is not corporate owned, but is a private operation owned by the Kemmerer family and you can tell they care about their mountain. After some serious investment by the Kemmerers over the past decade, Jackson now has one of the most sophisticated and efficient lift systems in the US.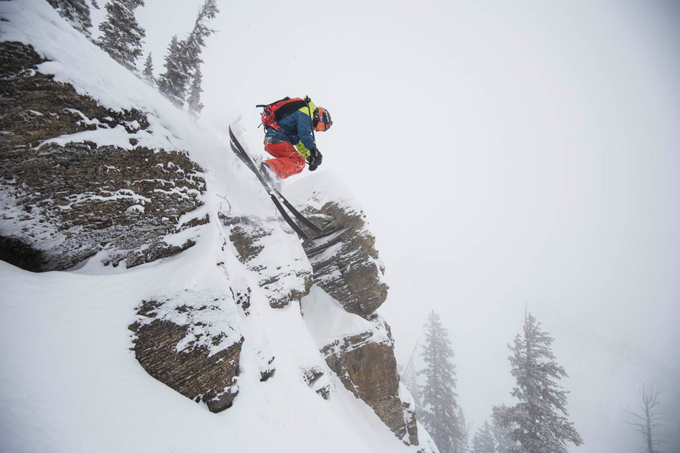 Joey Elliss, styling off another fun drop. Photo: Tony Harrington
This winter the new Sweetwater Gondola opened, replacing two chairlifts, which not only increases the capacity to move people out of the base area but gives fast and comfortable access to expanded intermediate terrain. The gondola's Solitude mid-station also services a beginners and kids ski school facility and a large area of perfectly groomed blue and green runs. Future plans are for a kids ski school centre that will include a day lodge, cafeteria and rental area.
After two days of fine weather another storm moved in, dropping 30cms overnight, the snow so light you could blow it off the car. Fortunately for us Australian photographer Tony Harrington is spending the winter in Jackson and he had arranged for us to jump on an early tram through his connection with Jackson-based film production company Teton Gravity research (TGR), which meant first tracks. Harro has been shooting with TGR for 20 years and has been coming to Jackson for the past 25 winters. He has a local's feel and knowledge for the place and was the perfect guide.
Jackson is home to some great snow athletes, including snowboard legends Brian Iguchi and Travis Rice and skiers Linsey Dyer and Olympic downhill gold medallist Tommy Moe. The place breeds great skiers and boarders. Given how good this winter is, quite a few pro skiers have also been making their way to Jackson to film with TGR and my kids were stoked to be sharing the tram with skiers like Sammy Carlson and Johnny Collinson.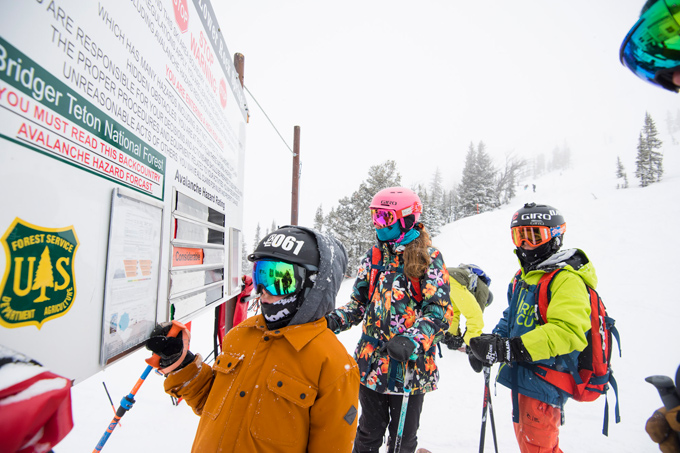 Reading the avalanche conditions before heading into the back country. Photo: Tony Harrington
We were also joined that day by TGR founder Todd Jones and his 10-year-old son Kai, who hit it off immediately with my 10-year-old son Joey. After Todd lead Kai and Joey into the infamous Corbet's Couloir (I watched from the side) we dropped into some amazing snow in the trees, knee deep and light with a series of roll overs and fun drops. It was one of those morning that you know are going to stay with you for a long time, but the best thing was the day was only just starting. I knew we were in for something special.
While Jackson Hole's inbounds terrain is incredible, the lure of its backcountry has been calling skiers and boarders for decades. Getting into the backcountry is something any advanced skier/boarder needs to do when visiting Jackson, but only with an experienced guide who knows the place well.
Fortunately for us, Harro and Todd know the area better than most and have a lot of backcountry experience, not only in Jackson, but Alaska and the European Alps. We were all equipped with avalanche packs, transceivers and beacons but the boys took the time to pass on some of their knowledge and understanding of the snow pack, how slides happen and what you need to be aware of when skiing outside of the resort. Harro is involved in a backcountry awareness program called Mountain Safe that will be launched in Australia this winter. Given the growing popularity of back country touring and the number of Australians who head into the back country when skiing or boarding overseas, it's something worth checking out.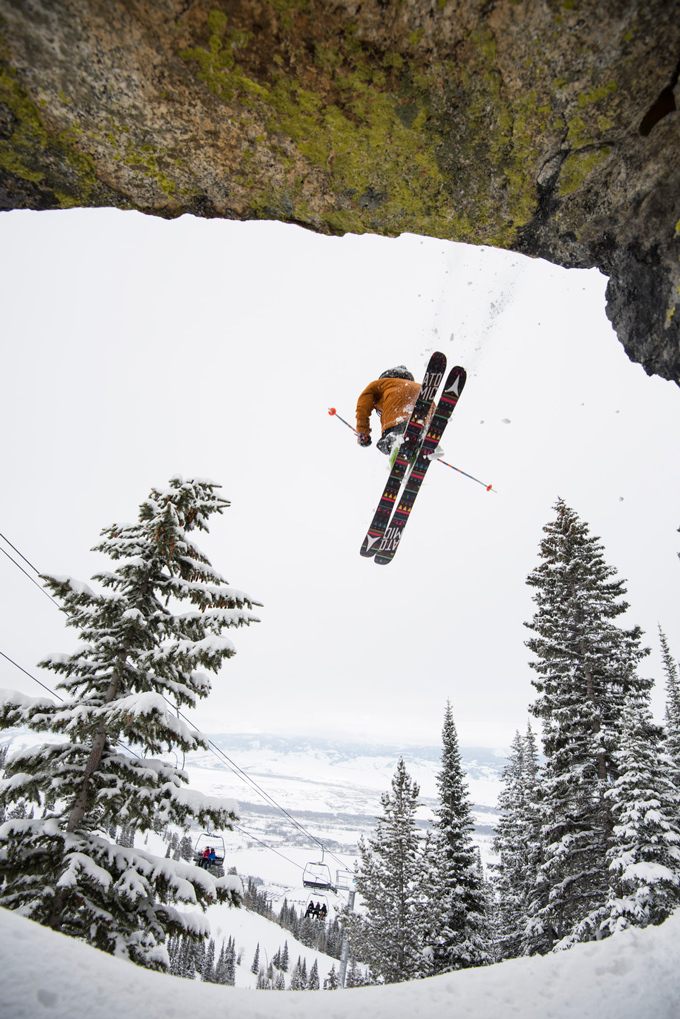 10-year-old Kai Jones, skiing with the confidence of local. Photo: Tony Harrington
Given we were skiing out there with our kids, this gave my wife Amanda and I some peace of mind, as we explored the diverse, but fun terrain. You don't need to be a cliff jumping expert out here and the terrain is fun, you just need to be aware of where you are skiing. Later that day we met up with Coen Bennie-Faull, a Hotham skier who is spending his third winter in Jackson. With Coen guiding we headed out the other side of the resort into some amazing gladed terrain that was completely untracked. After three storms in the previous two weeks, the snow was as deep and fluffy as anything I've ever skied, but it was a day to remember and made our Jackson experience complete.
It turned out this day was the first of five powder days we'd enjoy in Jackson. Harro reckons the day after we left was one of the best days he has ever had there, but that night another strong front another massive storm hit the region. The winds accompanying this storm were hurricane-force winds and brought down power lines and poles, cutting off all power to Teton Village and the resort. As a consequence, the resort had to close for a week but after a lot of work it opened again on Monday Feb 13. During the period the resort was closed, another seven feet fell on the mountain and more is due in the coming week.
Jackson is rightfully regarded as one of the leading resorts in North America, it truly is awesome. The rest of the winter is going to be incredible, and if I could, I'd be heading back there right now. I may have ticked Jackson Hole off my bucket list, but I know I'll be back.
ACCOMMODATION:
A lot of variety available, check Jackson Hole Central Reservations for accommodation in both in Teton Village and in Jackson.
The Jackson Inn has good value accom in Teton Village,( http://www.innatjacksonhole.com).
GETTING THERE:
United, Delta and American airlines fly into Jackson Hole, with services from LA and San Francisco. If you're on a road trip, Jackson is a 14-hour drive from Tahoe, 10 hours from Aspen and 4.5 hours' from Salt Lake City.
EATING AND ENTERTAINMENT:
There are plenty of options in with the Mangy Moose in Teton Village offering good "pub food" and live music at apres after 9pm on weekends. The Q Roadhouse and Brewery is a must-visit with well-priced "comfort food and a vast array of craft beers brewed on premises. Make sure you pull up a saddle at the Million Dollar Cowboy Bar.
MOUNTAIN STATS
Vertical: 4139ft (1262m)
Top elevation: 10450ft (3185m)
Base elevation: 6311ft (1924m)
Skiable area: 2500 acres (10km²)
Average snow fall: 475ins (12m)