Mountainwatch Guide to Heavenly Ski Resort
September 7th, 2018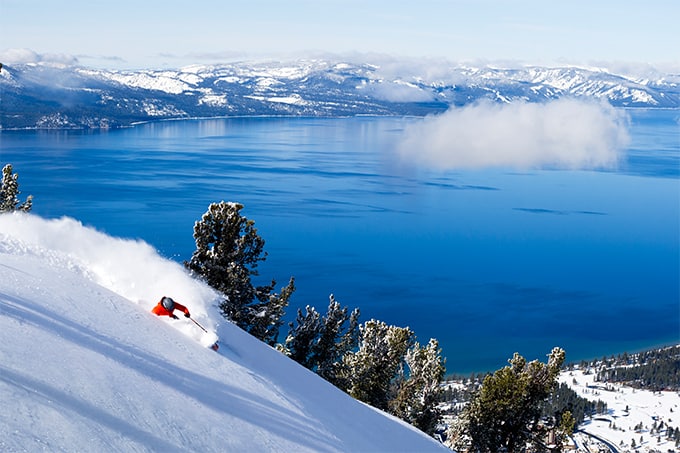 Mountainwatch | Reggae Elliss
Heavenly resort has long been a favourite for Australians heading for an overseas snow holiday, attracted by the relatively short trip from Australia to California, a variety of terrain for all standards, the incredible views and possibly the most vibrant nightlife of any resort in North America. Heavenly is also covered by the Epic Pass, as are the near-by resorts of Northstar and Kirkwood, making it a great destination for Australian skiers.
Located in South Tahoe, Heavenly is not only the biggest resort in California (1900ha) but is also the highest of the Lake Tahoe resorts with a peak elevation of 3068m (10,067ft).  Sitting above Lake Tahoe, Heavenly actually straddles the California/Nevada state line and has some incredible views of the lake and the Sierra Nevada mountain range on one side, while the other looks across the Carson Valley and arid landscapes of the Nevada desert. It also has a great mix of terrain with 45% intermediate, 35% advanced/expert and 20% beginner, so it is perfect for families or groups of varying ability.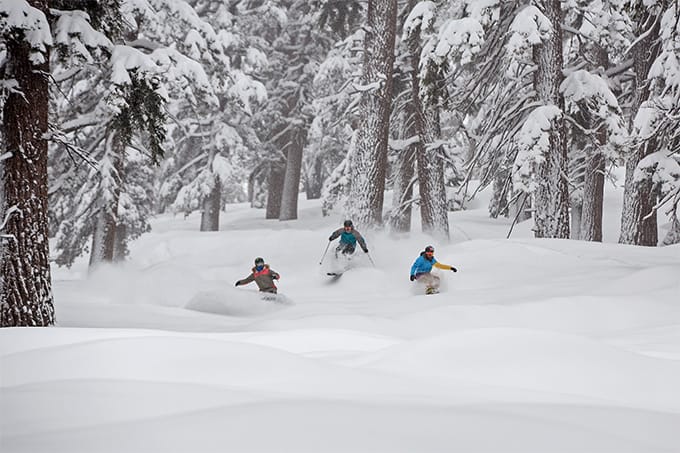 Heavenly is regarded as one of the most picturesque resorts in North America and on a fine sunny day, the views of Lake Tahoe stop you in your tracks. The resort is also renowned for its extensive terrain, efficient lift system, tree skiing and wide open groomed runs.  Heavenly also gets a lot of snow, averaging an annual snow fall of nine metres and, typically of the Sierras, when it snows, it pukes with snowfalls often measured in feet, not inches. Having said that, Heavenly also has days of sunshine in between storms, when the groomed runs come into their own and, unlike Colorado and Utah, you won't be risking frost-bite on the clear days.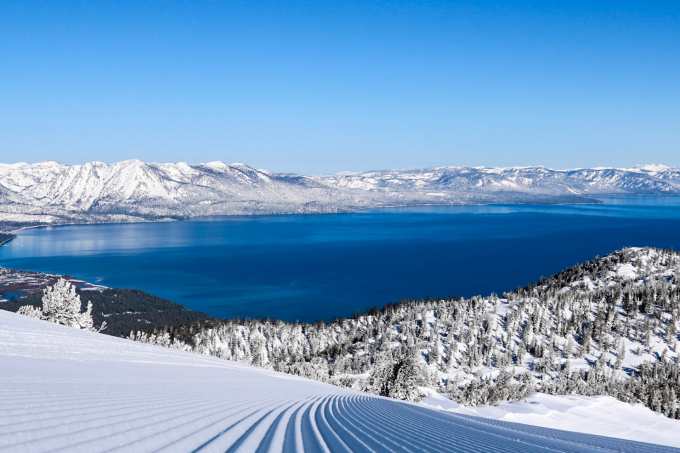 I've have visited Tahoe with my family a few times and have skied Heavenly in all sorts of conditions, including a fun powder day last February where we had 20cms of fresh snow on the ground at first lifts and the snow falls continued throughout the day. We were lucky to experience both sunshine and snow on that trip, enjoying theviews of Lake Tahoe and the seamless corduroy on the first day of our visit followed by plenty of powder on our second day. The snow on that day was epic, as the wind coming off the desert on the Nevada side was cold, keeping the temps down at -9 so the shin-deep snow was very dry.
Heavenly attracts skiers and snowboarders from interstate and overseas and with Reno airport only an hour's drive away it while it does get crowded on weekends and holidays. However, the resort is also very big and if you head out a little wider you'll find few crowds and faster lift lines. Fortunately, we had long-term local Mike Frye as our guide and he knew exactly where to go so we could "ditch the crowds on the Dipper and Sky chairs".  We headed over to the runs off Canyon Chair on the Californian side with Ridge Run and High Five havinggreat corduroy first thing in the morning. Comet run off the Comet Chair is also a fun cruiser and has nice rolling transitions, steeper to flatter, back to the chair. Another get-away is Olympic Downhill off the Olympic Chair on the Nevada side and if you ski it all the way to the Stage Coach chair it is Heavenly's longest run and a cruisy blue run all the way down.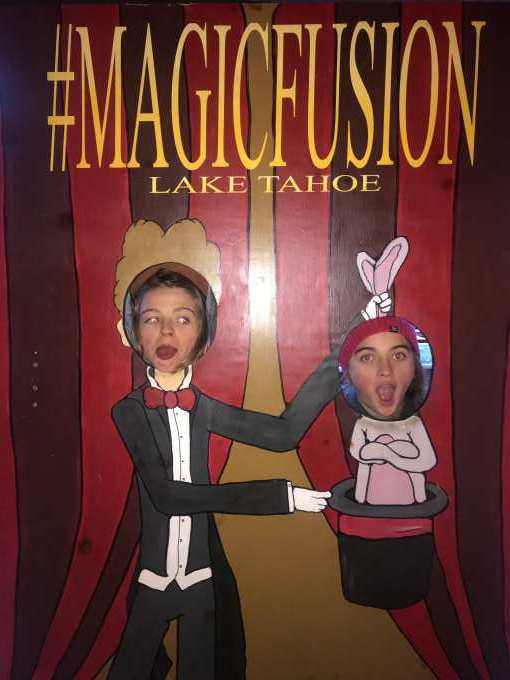 Heavenly is something of an intermediate's paradise and known for itshigh-quality groomed runs, but it alsohas a reputation for some of the best tree skiing of all the Lake Tahoe resorts and on a powder day there is something for intermediates through to experts. You can ski anywhere where there is enough snow to be safe and there are a lotof trees at Heavenly, some steeper, some with open glades and others a little tighter. Intermediates can get a taste of the action off the Canyon Chair while the trees off to the right of Olympic Chair inspire confidence to intermediates because there's plenty of room between the trees and the terrain is relatively flat. One of Mike's tips for advanced skiers is thetree skiing off the Powder Bowl Chair on the California side.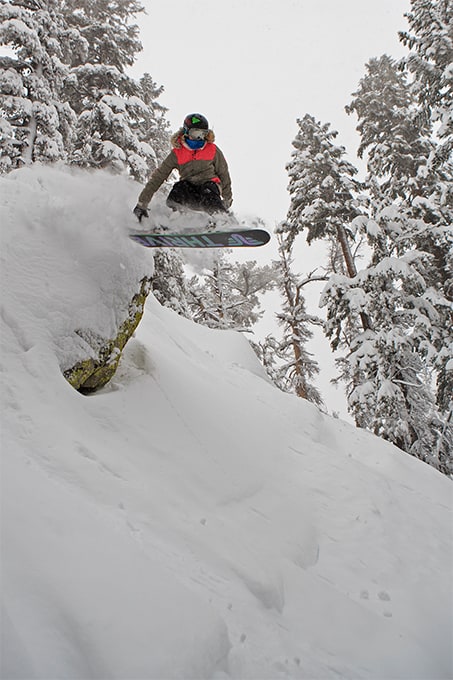 "Motts and Killebrew Canyons have terrific skiing for good skiers, but the chair is an old, fixed grip two seater and lines can belong," Mike reckons."Good skiers will find fun terrain under the Sky Chair and you can check it out on the way up and find your way into the trees from the left or right side of the chair. The Face above the California lodge also has some great skiing and the trees on the sides of Gun Barrel and East Bowl are still my favourites on a powder day. Relatively warm and wind resistant, it is close to the car park, has 35 to 39-degree pitch, is a seven-minute chair ride and once the initial opening crowd has moved on to Powder Bowl and above, the lift lines are small."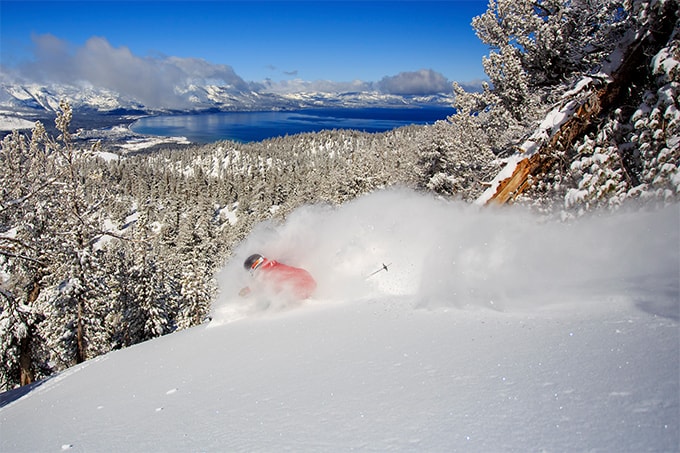 To sum it up, there is something for everyone, including two terrain parks and three access gates into the side-country. You are bound to have a great day skiing or riding Heavenly.
The town:
Heavenly Village is located in South Lake Tahoe on the southern shore of the lake and it is a busy precinct. The Californian/Nevada state line runs through the middle of town and with gambling and casinos legal in Nevada, there are a number of big hotels/casinos. While gambling may not be your thing, the casinos also provide a vibrant night life with nightclubs, live music and shows and a huge variety of restaurants. Heavenly Village is also perfect for those in need of a bit of retail therapy with a lot of different types of shops, including core skis and snowboard stores, men's and women's clothing, while The North Face and Patagonia also have flagships stores near the gondola base.
There is also an ice skating rink and kid-centric shops for the kids.
Where to eat:
There is plenty if choice for après and dinner with the Azul Latin Kitchen, Base camp Pizza and Heavenly Burger all serving good food and are popular with families. The Lucky beaver is a relaxed burger/sports bar location and good for a few evening beers.  The Blue Angel café is a favourite and has a local Tahoe vibe with an innovative menu focussing on variety and fresh ingredients.
Where to stay:
There is a lot of choice in South Tahoe to suit all budgets, including hotels, self-contained apartments and resorts. Check out the rundown on the accomodation at: https://tahoesouth.com/
Mountainwatch recommended:
Last year we stayed at the Ridge Resort, located above the Stagecoach chairlift and it has its own on-track gondola that takes you to and from the chairlift. The views of Carson City and the Carson Valley to the east are amazing and the resort has a number of facilities including indoor and outdoor pools, spas, gym, indoor tennis court, ski/snowboard shop and bars and restaurants. Downtown South Tahoe is a short drive away and the resort has a shuttle service to take guests into town.
https://www.ridgetahoeresort.com
Forest Suites Resort is perfect for families or those on a budget, in a great position near Heavenly village and a close walk to the gondola base and shops and restaurants and the gondola bases
Lake Tahoe Resort Hotel is a good choice for those that want a full-service hotel. It's adjacent to Heavenly Village and the Gondola. It's pristine clean and the rooms are suites and quite large. Plus, the complimentary breakfast is good!
www.tahoeresorthotel.com
Getting there:
South Tahoe and Heavenly are a 3.5-hour drive from San Francisco or a one-hour drive from Reno airport. If you fly into LA, there are regular connection to Reno International airport and there are regular shuttles to South Tahoe. Alternatively, you can fly into San Francisco and or you can rent a car and make the easy 3.5-hour drive.
Epic value:
Heavenly is owned by Vail resorts and therefore covered by the Epic Pass, a bonus for those who have bought the Australian Epic Pass for Perisher. Another good thing is the nearby resorts of Northstar and Kirkwood are also owned by Vail, giving you the option of skiing three Tahoe resorts during your stay if you have an Epic Pass. The three resorts have different terrain and atmosphere, making a Tahoe a perfect destination for Australian skiers.
MOUNTAIN STATS
| | |
| --- | --- |
| Vertical | 1067 |
| Top elevation | 3068m |
| Base elevation | 1993m |
| Skiable area | 1942ha |
Average snowfall                                                            9m
Beginner terrain 20%
Intermediate terrain 45%
Advanced 35%