Mountainwatch Guide To Perisher
May 29th, 2019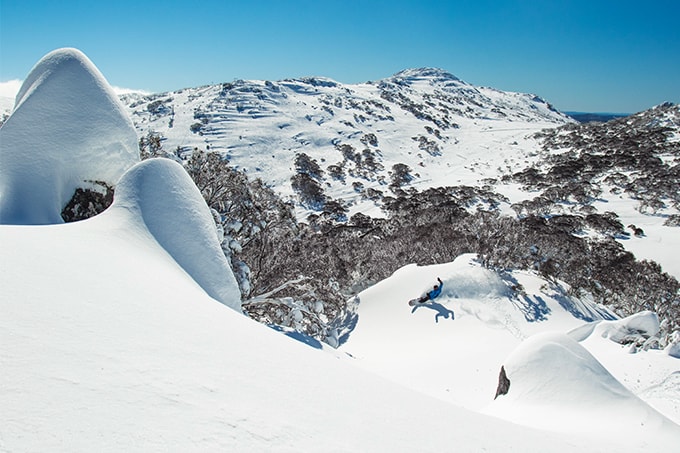 Mountainwatch | Matt Wiseman
Not only is Perisher a dominant force among Australian ski resorts, it is the largest ski resort in the entire Southern Hemisphere when you look at its enormous skiable terrain, some 1245 hectares (3075 acres) spread across four interconnected resort areas. 
Perisher's status as a heavy hitting global resort has only been bolstered in recent years following its acquisition by ski superpower Vail Resorts in 2015.
Perisher Ski Resort spans seven peaks along the Snowy Mountains Main Range in Kosciusko National Park. Spread horizontally across these hills lies Perisher Valley, Mount Blue Cow, Smiggin Holes and Guthega.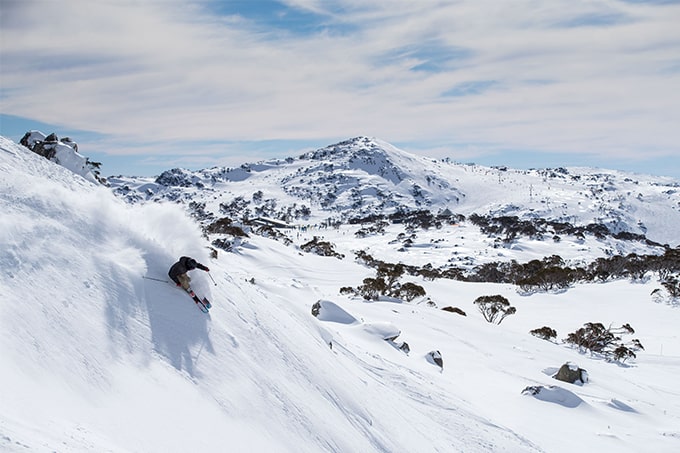 For some context on exactly how big this combined area is, Perisher is two and a half times the size of Thredbo, three times the size of Falls Creek, four times the size of both Mt Buller and Mt Hotham respectively, and some 25 times bigger than Charlotte Pass and Selwyn.
Terrain
Unsurprisingly amongst this sprawl of four resorts lies enough terrain to satisfy all comers.
Perisher Valley: The gateway to skiing and boarding at Perisher, Perisher Valley's Front Valley is a great place to pick up the sport with a number of magic carpets and the easy-going eight-seater Village 8 Express Chairlift. Through this you have access to similarly easy-going Pretty Valley, a long cruisy pitch, perhaps the most challenging aspect being the T-bar awaiting you at the bottom. New for 2019, Perisher has also replaced the Leichhardt T-bar with a quad chairlift increasing lift capacity by an impressive 75%.
Blue Cow: Blue Cow has a little something for everyone, a range of green and blue runs in Zali's and Roller Coaster can be upped with laps of Show Boat and Kamikaze. For a resort that can receive some criticism for lack of challenging terrain, the latter run has arguably one of Australia's more consistently challenging pitches. A notable mention must also be made for devil's Playground, a somewhat gladed zone full of interesting features.
Smiggins Hole: Best suited to beginner skiers and boarders and families, the structure of the Smiggins bowl means everyone returns to the same place at the end of their run.
Guthega: The subject of much development in recent years, with The Freedom Chair in 2014, the Guthega region offers some of Perisher's best skiing. Particularly favoured by locals, Guthega also offers some of the best panoramic views of the Kosciuszko mountain range.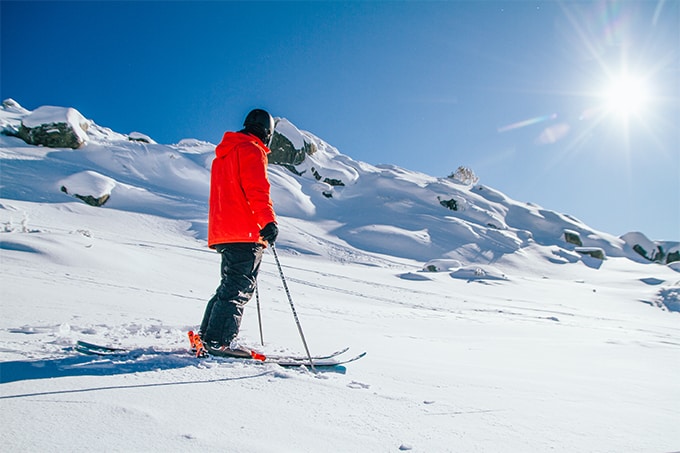 Bonus Terrain: While some excellent terrain also lies just beyond the boundaries of the resort, such as backcountry spot menacingly known as 'The Paralyser', some equally exciting runs can be found within the resorts nooks and crannies, best suited for those advanced skiers who want to feel like they're earning their turns without necessarily doing so.
Double Trouble is one such zone accessed with a traverse and mild bootpack to the left as you unload from Blue Cow's Pleasant Valley chair. The consistent gradient, replete with dense trees and rock drops or more spaced out tree skiing depending on which line you take, quite literally drains into Guthega (a creek cuts across the bottom) and a 20 metre walk up the embankment will see you back in line at the chair.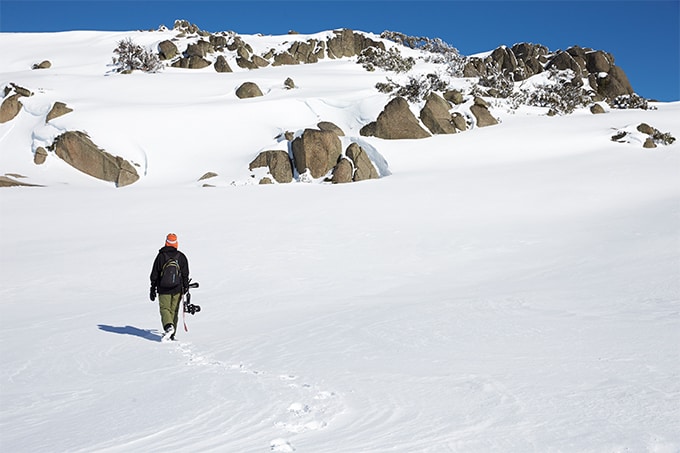 Terrain Parks
I'd be remiss if I failed to mention the multiplicity of terrain parks on offer at Perisher. The place is among many other things, a freestyle (park rat) paradise, with five terrain parks, Australia's only Superpipe, a mini half pipe and two rider cross courses.
The Slopestyle Terrain Park is Perisher's world-class and critically acclaimed park, which runs from the top of Front Valley to its bottom. Even if you don't personally fancy sending a dub in the park, it's always fun to watch other human guinea pigs hurl themselves off giant kickers and slippery rods of metal while you ride the Perisher Express Quad in relative safety.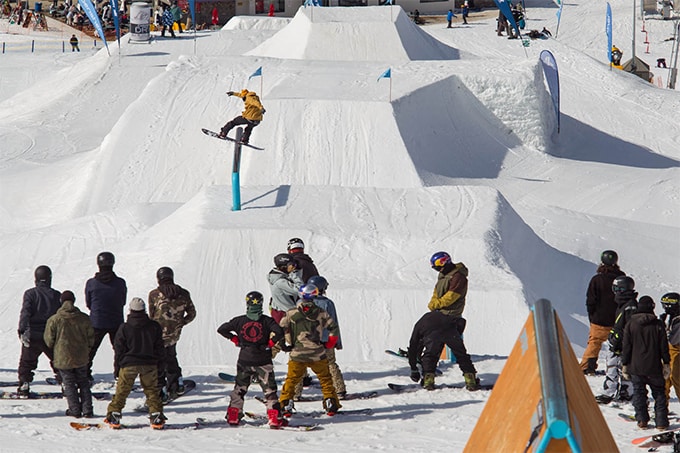 Short of describing the intricacies of the Slopestyle park myself, and falling dismally short, instead check out the line professional snowboarder Marcus Kleveland took through it during the 2017 season below:
Snowmaking
In addition to boasting some of the most reliable snow in the country on account of its high elevation. Perisher also has a vast multi-million dollar snowmaking system consisting of 271 snow guns.
While the guns now cover some 53.4 hectares of perisher's terrain, looking long term the resort is planning to double snowmaking coverage to an impressive 110 hectares.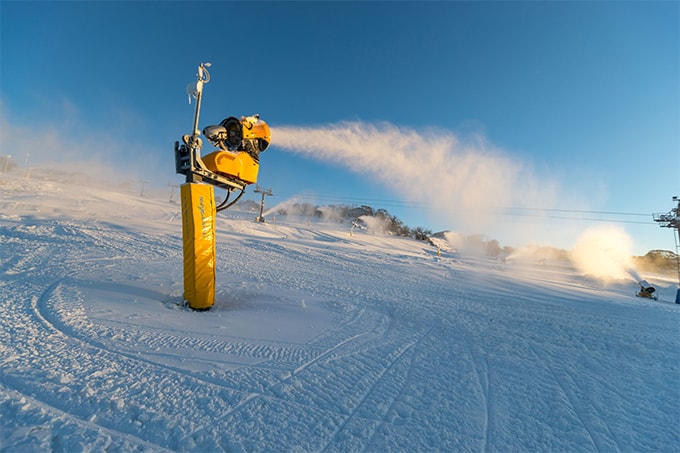 Vail's Acquisition – What's All The Fuss About?
As mentioned Vail Resorts purchased Perisher Resort in 2014 for no less than AU$176.6 million (we don't even want to know how many Lil orbits donuts they could have bought instead…)
However, as of June 2019, Perisher is no longer the only Australian resort under Vail's banner and both Hotham and Falls Creek have been acquired, meaning you can now ski all three this season under the one Epic Australia Pass. This pass also opens you up to a number of overseas highlights, although If you want to reap all Vail's acquisitions, their most elaborate pass offering, the  'Epic Pass',  affords unlimited skiing at all 69 of their resorts, including Whistler Blackcomb, Vail, Park City, Breckenridge and more in North America, as well as Hakuba Valley and Rusutsu in Japan.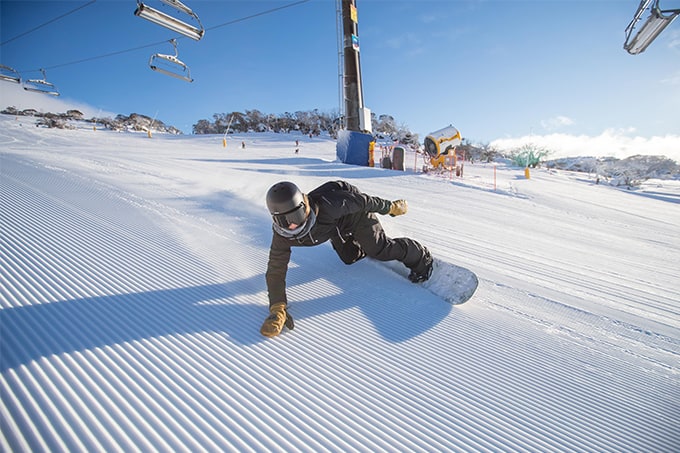 Perhaps most exciting, is the inclusion of Hakuba, an Aussie favourite with five consecutive free days as well as Rusutsu further north on Hokkaido. You can check out some other Hakuba deals here.
Since the company also committed to a zero net operating footprint by 2030, there's not a lot not to like.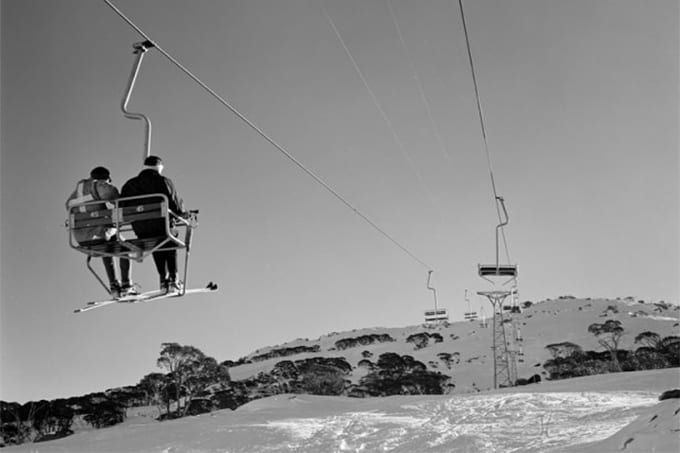 Getting There
Perisher is 489km southwest of Sydney (5.5 – 6 hours) and 607km northeast of Melbourne (6 – 7 hours), or about half an hour's drive from Jindabyne.
Perisher can be accessed directly via car or coach. Snowy mountain shuttles make daily trips up to Perisher and will even go so far as to pick you up directly from your accommodation. They also have a fleet of 4wd's that specialise in airport transfers.
For those driving themselves, a good idea is to park for free at Bullock's Flat off the Alpine Way and take the ski tube up the hill to either Perisher Valley or Blue Cow.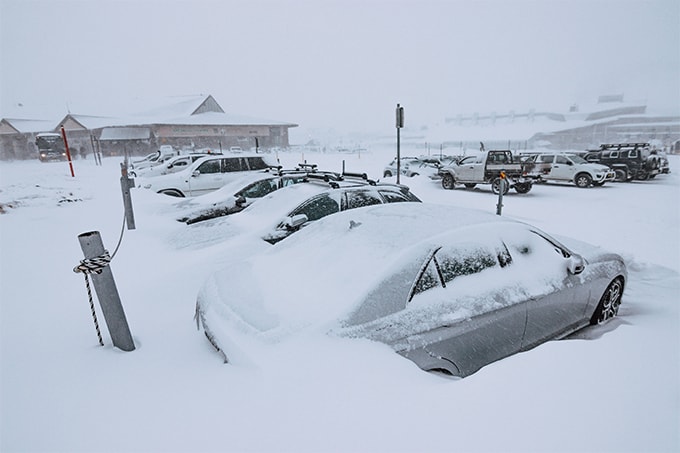 The Skitube is an alpine railway – and technically Australia's longest ski lift – that tunnels through the Ramshead Range to Perisher Resort. The tunnel is Australia's longest transport tunnel at 6.3km long, and at its deepest point is 550m beneath the slopes. Since it began its operations in 1987, the Skitube has carried over 4 million skiers and boarders up to the slopes.
Where To Stay
Visitors have an option of either staying up in Perisher or more commonly staying in Jindabyne and driving up each day. Given the lack of longterm parking, guests staying up at Perisher are advised to park their vehicles (for free) at Bullocks Flat and continue via the skitube as above. Oversnow transport is then required to access most of the on-mountain lodging.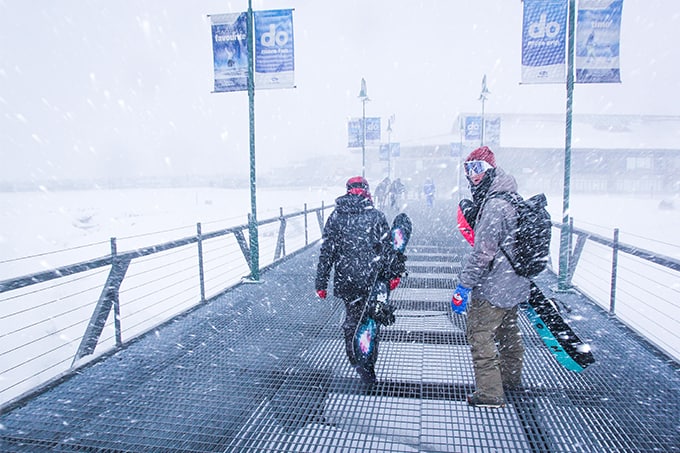 Where To Eat
Short of eating Lil Orbits donuts 24/7 (if only we could), some notable mentions can be made for the Powder Inn at the base of the Mt Perisher Double Chair or if you're looking to spend, try Jax Chargrill.
If you need more than fresh snow or freshly groomed cord as motivation to get to the hill early, High Ground Coffee Bar is just a few steps away from the village 8 ski-lift, below the manor hotel. New in 2017, they've already established themselves as one of the best coffees and breakfast pit-stops at Perisher.
You'll find Mid Perisher Centre – as the name suggests, at Mid station – aka the halfway point going up the Perisher Express Quad Chair, which makes it a popular place to meet up with friends. They're well known for their Nachos, being home to the highest bakery in Australia and for their licensed bar that serves Bavarian wheat beer. Young and old can also enjoy their 'hot chocolate happy hour' replete with whipped cream and a marshmallow for just $2.50 until 10:30 am daily. They're also well known for getting the stoke going across social media and you can expect to see plenty of shots of their tables outside accumulating snow throughout the season.
Over at Guthega you'll find the Guthega Inn and some of the most sublime lunch spot views around. A far cry from these views of the main range is the Front Valley Pub Family Food Court. However, it is a good spot to rendezvous with lost left behind friends/family and comes with an entertaining view of the aforementioned Slopestyle Park.
Village Life
Mmmm not really. Perisher is not like the Victorian resorts or Thredbo with respect to a buzzing après and nightlife scene. Instead, guests visit to simply ski and board and either dine and party within on-mountain accommodations or down the valley in Jindabyne.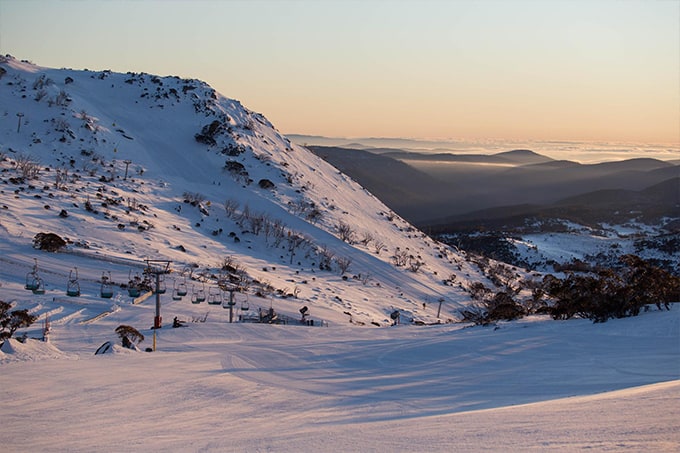 Mountain Stats:
Ski Level – 22% Beginner / 60% Intermediate / 18% Advanced
Skiing Area – 1245 hectares (3075 acres)
Vertical Metres– 355m
Base Elevation – 1605m
Peak Elevation– 2034m
Average Snow depth – 1.9m
Lift Capacity– 53,990 skiers lifted per hour
Snow Guns – 271
Official Opening Day – 10 June 2018.
Perisher Website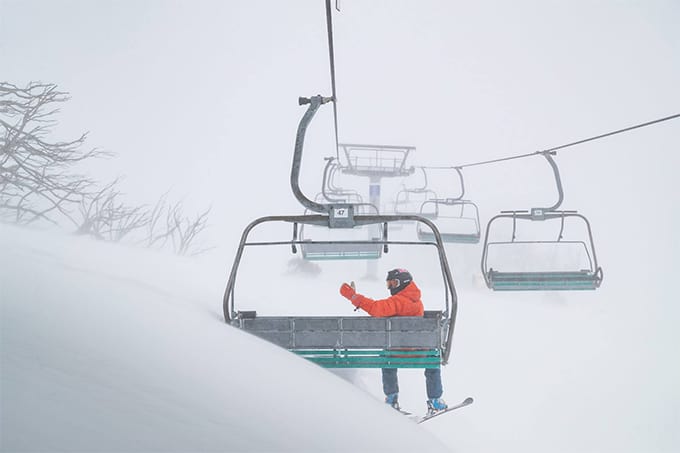 Conclusion
It's no surprise that Perisher is constantly in the conversation for Australia's Best Ski Resort.
Hopefully, the 2019 winter season is as good as last years when snow depths up at Spencer's Creek cracked 225cm, or the previous year 2017, when we saw the best late season snow conditions in 17 years – over two metres of snow fell in August and a further 180cm through September.
You can check out what events Perisher have planned for the 2019 winter season here.
Perisher forecasts,
snow reports and
live snow cams.