Monday 24 September
Synoptic Outlook:
Freezing southerlies will die away today as a ridge of high pressure builds. The ridge will keep things nice and sunny Tuesday and Wednesday, then warm northwesterlies will pick up on Thursday as it sails into the Tasman Sea.
Image Of The Day: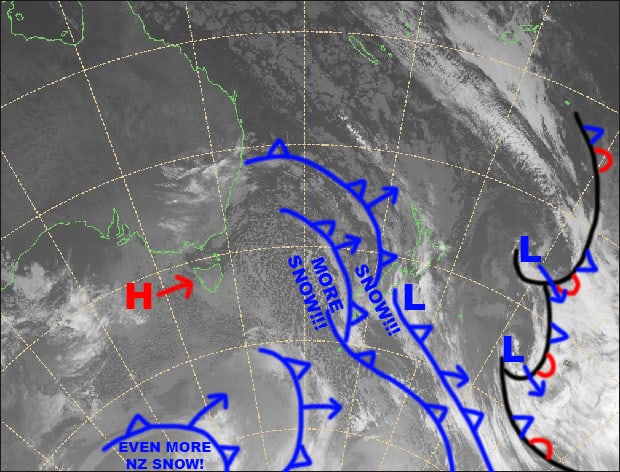 It'll be mostly sunny this week, but spring will get a wee revival this Saturday as freezing southerlies dump a good dose of powder. Source:: Metservice (vandilised by the Grasshopper)
Monday 24 September:
Morning cloud will clear to a mint day as the freezing S-SE breeze dies away.
Tuesday 25 September:
A fine morning, then a bit of afternoon cloud. Westerly breezes.
Wednesday 26 September:
A nice sunny day with a NW breeze developing.
Thursday 27 September:
Mostly sunny as warm NW winds blow a gale.
Extended Outlook:
A cold front will hit during Friday and we may see a few snow showers reach lower slopes. An even colder southerly change should dump snow to low levels on Saturday, giving this spring a kick up the booty. We're then we're likely to see high pressure build on Sunday before the next frontal system hits next Tuesday or Wednesday with potentially more snow on the cards.
That's all from the Grasshopper. Wanna keep your finger on the pulse of all things snow? Join my weekly email list by filling in the box below. If you have a question or feedback for me, hit me up on facebook.
View More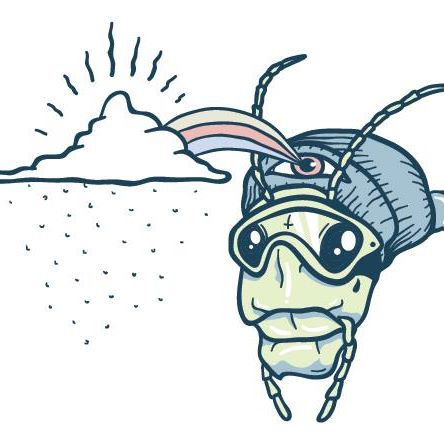 Follow The Grasshopper
Your Weekly Forecast Email