Mountainwatch Guide to Squaw Valley Alpine Meadows
September 28th, 2018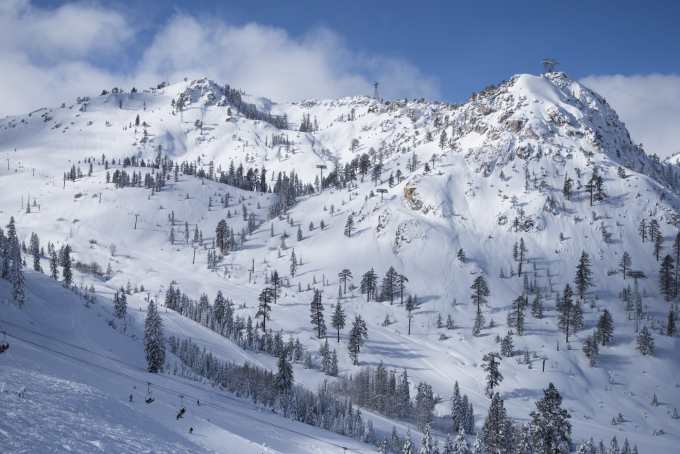 Mountainwatch | Reggae Elliss
Squaw Valley has long been regarded as one of the best resorts the US, an iconic mountain that first gained an international reputation when it hosted the 1960 Winter Olympics. Since then it has been the location for many segments in leading snow film productions and Squaw is the home mountain to some of the biggest names in skiing and snowboarding. Squaw, along with the neighbouring resort of Alpine Meadows, offers some of the best skiing and boarding in the US, and is a destination you should visit.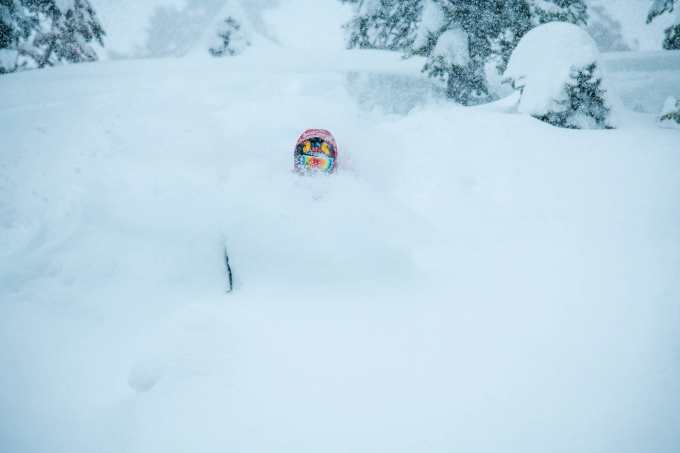 Located west of Lake Tahoe and within California's Sierra Nevada mountain range, Squaw Valley and Alpine Meadows are a 3.5-to-four hour from San Francisco. That makes it a stress-free trip for Australians thanks to non-stop flights to San Francisco, or alternatively you can fly via LA into Reno which is just an hour's drive away. Squaw Valley and Alpine Meadows are now owned by the Alterra Mountain company and the Ikon Pass gives you unlimited access to both resorts. The Ikon Pass also covers Mammoth Mountain, another Alterra resort, which is an easy four- hour drive south of Tahoe, making a Californian road trip a great option for a multi-resort ski trip. Squaw is also part of the Mountain Collective, which means Thredbo 365 or season passes receive 50% off daily lift passes.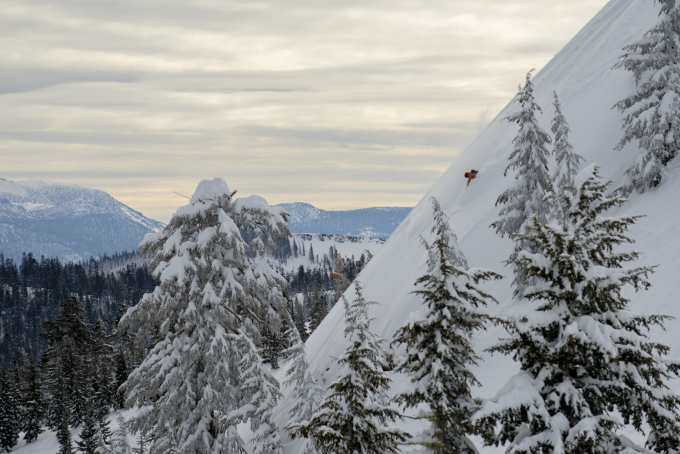 Squaw is a big resort, with six peaks, 3,600 acres, and 29 lifts, and has a seasonal average snowfall of 11 metres. Squaw has huge variety of terrain and while it is renowned for its steep big mountain terrain, but it is also a mountain with everything – from a large beginners' area with gentle terrain, to long cruisy groomers, some awesome tree skiing and a variety of terrain parks. Spectacular views over Lake Tahoe and the High Sierra wilderness complement the overall experience and within a few hours of arriving you know you are in a special part of the world.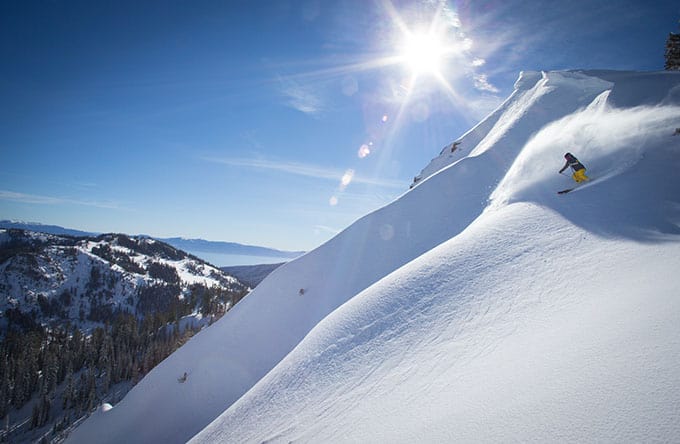 Squaw is one of my favourite resorts in North America and I have visited Squaw a number of times in the past few years with my family and it is the terrain and the atmosphere of the surrounding Tahoe area that keep luring us back. When it's a powder day, Squaw's terrain and tree-skiing take it to another level – score a foot of fresh snow on this mountain and you are in for one of the days of your life. It is world class.  Last February we lucked into a week of good snowfalls on arrival and did have some awesome days of fresh snow, the bowls off Headwall chair and the front side of the famed KT22 chair offering some great skiing while the trees in the Red Dog area made the slow chairlift ride worth the effort.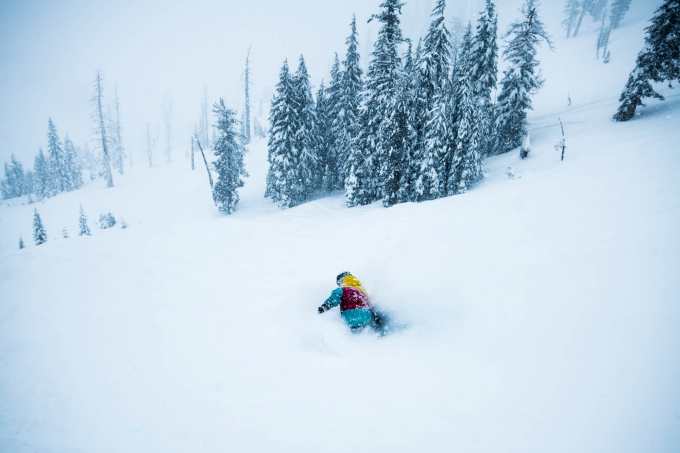 However, it doesn't have to be a powder for a great day's skiing in Squaw. The following two weeks were cold with dry, packed winter snow and the groomed runs were perfect, seamless corduroy every morning and dry chalky snow off piste. The groomed runs are all pretty mellow, those in the Shirley Lake Express area are an intermediate's paradise, while the long Lake View run off the top of Red Dog chair is a long cruiser down to the Squaw Creek resort. It is usually uncrowded and has some fun undulating terrain and winding corners.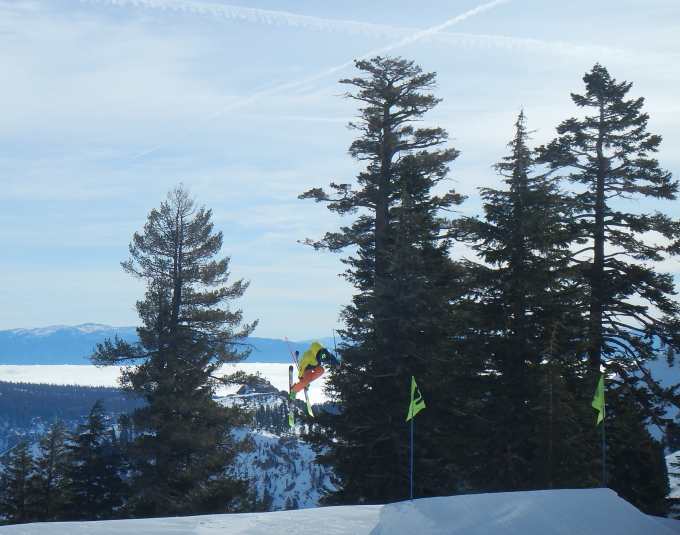 Some of the world's best skiers and snowboarders have called Squaw Valley home over the past 30 years including legends like Shane McConkey, Scott Schmidt and Johnny Mosely. That tradition continues today with skiers like Cody Townshend and Michelle Parker who have regular segments in the latest ski films while the young local crew at Squaw definitely rip and you get to watch some pretty amazing skiing and riding when you're just cruising around. Legendary Australian ski and snowboard photographer Tony Harrington has visited Squaw pretty well every year for the past two decades and rates it as one of his favourite resorts in the world.
.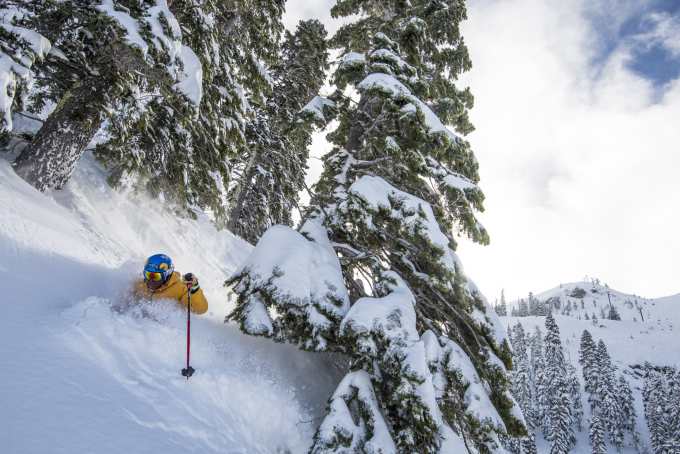 "The cool thing for anyone who visits Squaw is the fact that intermediate and beginner runs, and chairlift rides are directly adjacent to the Palisades and other legendary cliff bands," says Harro.
"I remember on my first trip thinking it was like being at a live ski film as I watched some of the best skiers in the world hucking themselves over some of the gnarliest cliff lines to be found at any snow resort in the world. Then 50 metres in another direction is a cruisy groomed run or a mellow powder-filled bowl. Squaw has something for everyone, from the best skiers in the world to a beginner. That's what makes it so special."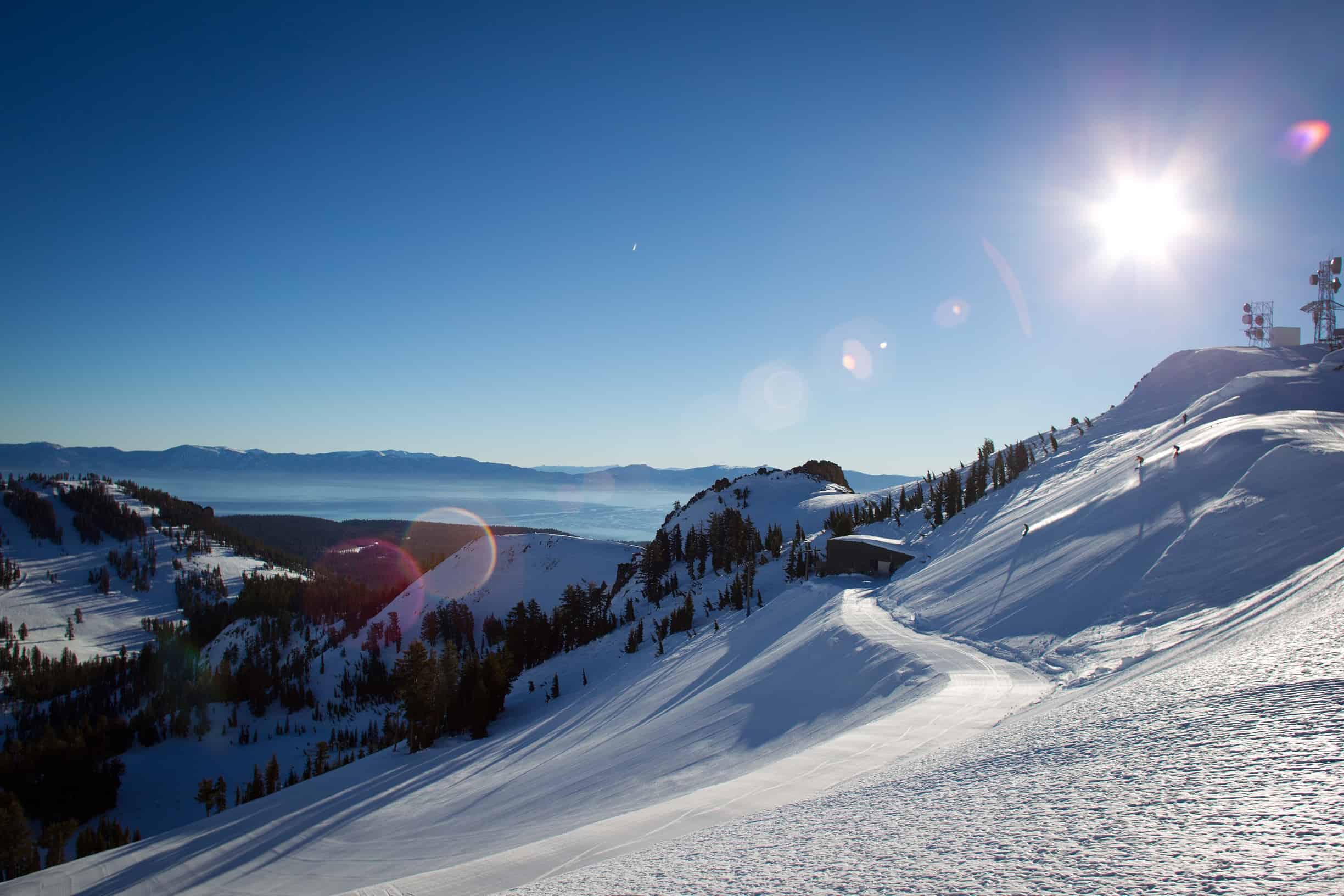 Alpine Meadows
While Squaw is a big resort on its own, your lift pass also includes access to the neighbouring resort of Alpine Meadows, which is only a 10-minute drive away. Getting there is made very easy with regular free shuttles linking the two resorts and plans are underway for a lift linking the two. Alpine is another fun mountain with great off-piste skiing including some big open bowls, plenty of long groomed runs and some great tree skiing. Alpine Meadows has 2400 acres of skiable terrain and 13 lifts, so when you combine the amount of terrain Squaw and Alpine offer, it is massive.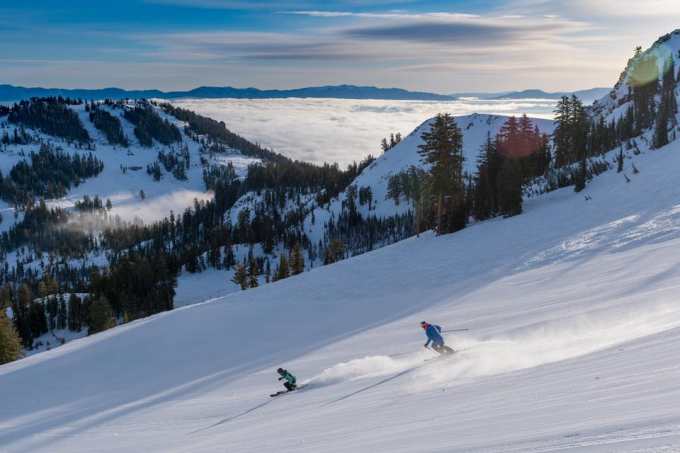 For advanced skiers and snowboarders there is a good mix of gullies, drop-off, bumps and tree-skiing and intermediates are well catered for a variety of cruisers accessible off most of the lifts across the resort. Alpine Meadows has more of a locals' small-resort vibe than Squaw and on a mid-week day it can be very quiet and has a family-friendly feel. The regular shuttle between Squaw and Alpine makes it easy to mix it up and ski each resort for a few hours on the same day.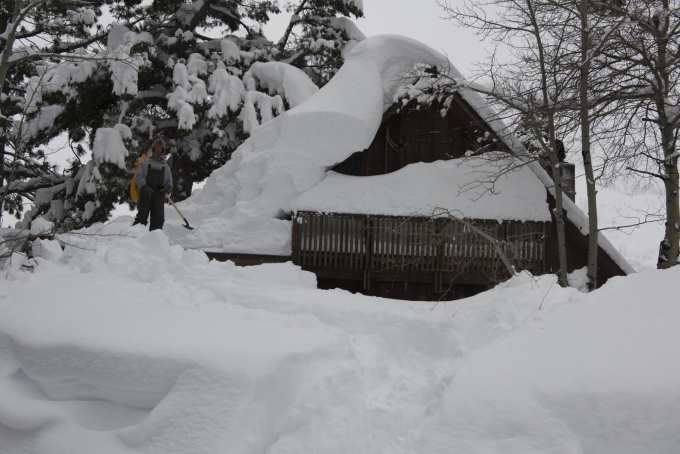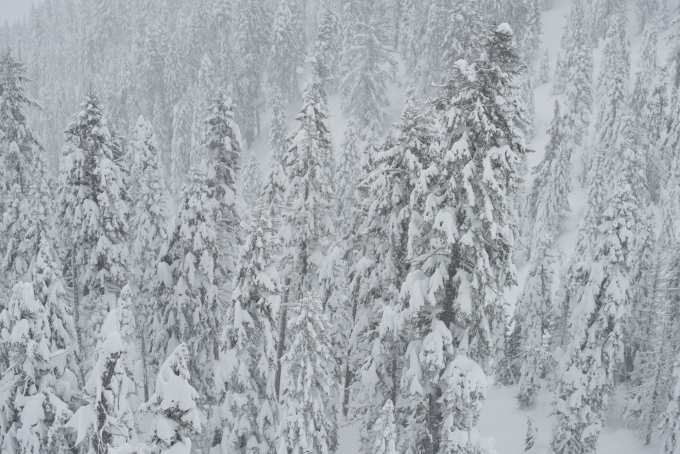 The Snow
 A seasonal average of 11 metres is a lot of snow. The Sierra's are renowned for big dumps and when the storm window opens, the storms can be regular and the snow accumulation pretty amazing.  Last March was a good example, Squaw receiving 19 feet of snow – that's 5.7 metres –  in the month thanks to three big multi-day storms which turned on some sensational skiing.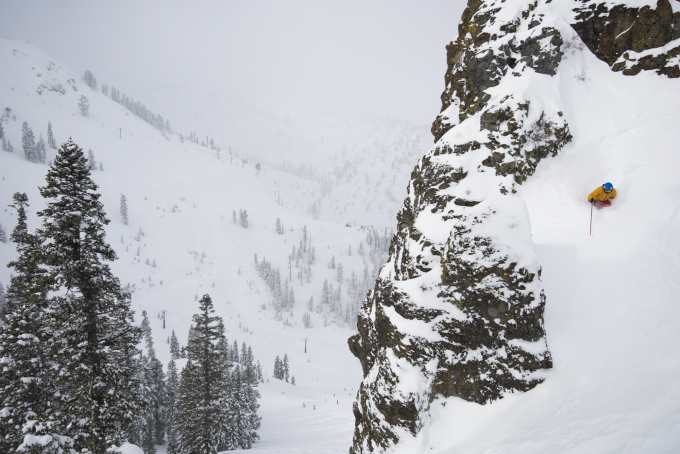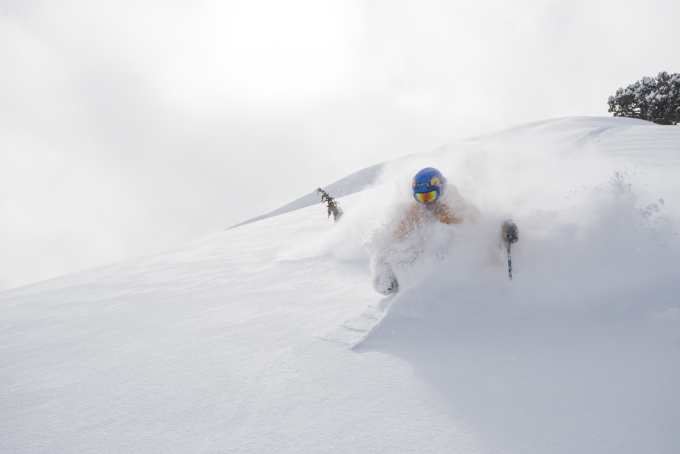 Tony Harrington was there last March, his arrival coinciding with 50cms of powder and some ridiculously good snow and as you can see from the photos, the snow doesn't exactly look heavy! "Mate, it was unbelievable. Waist deep and bottomless at times. On the steeps, the snow was just flying over my head."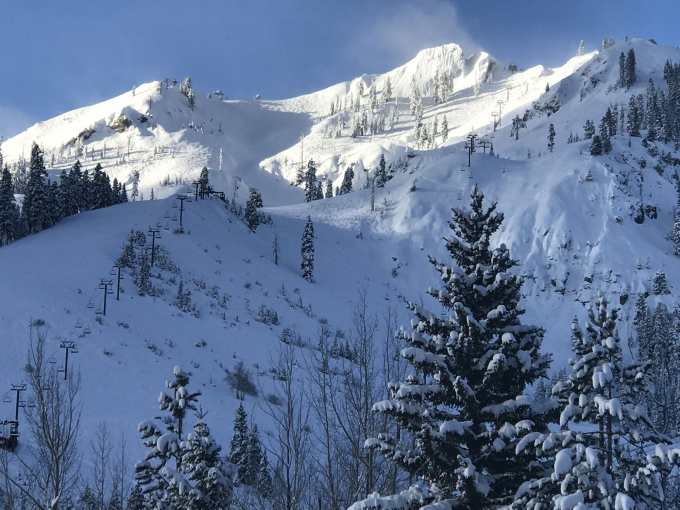 The proximity to San Francisco and Sacramento mean Squaw Alpine get very busy on weekends and on the peak holidays of Christmas New Year and Presidents weekend.  However, mid-week is pretty quiet, and I've had a lot of days in February where we skied straight on to the lifts. Powder days are also pretty hectic, especially in the first half of the season, when the locals are hungry for fresh turns and are out in force. Things mellow out later in the season and given that some of the most consistent snowfalls are late February to the end of March you can get your fair share of powder turns.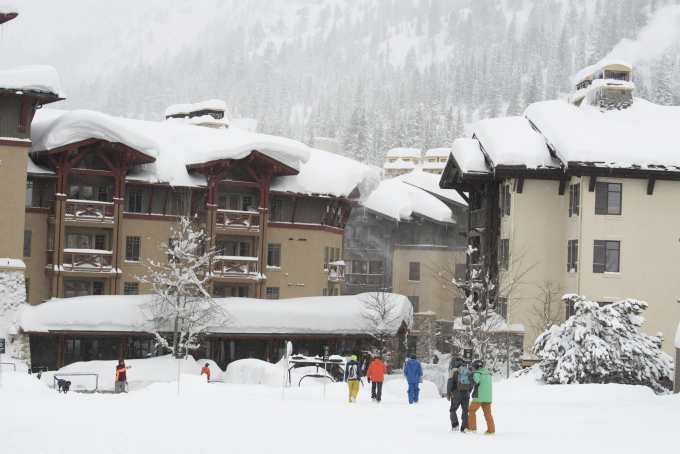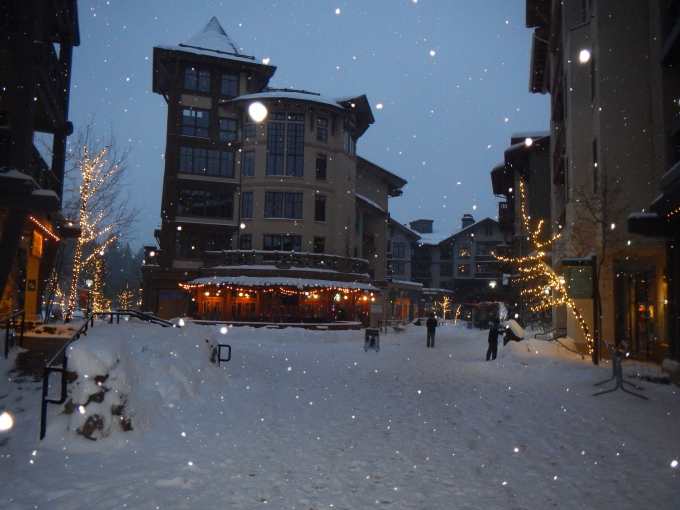 Squaw Village/Olympic Valley:
Squaw Village is located at the base of the lifts and has a range of accommodation, food and retail outlets.  There is also a number of other activities available including snow tubing, dog sledding and min- snowmobiling for the kids. 
The Area:
One of the great things about a trip to Squaw Alpine is the Lake Tahoe area is one of the most picturesque regions in North America. It is worth taking a drive around the lake, to South Tahoe along the west shore taking you by the small resort of Homewood and the spectacular views of Emerald bay.  The nearby towns of Truckee (20-minute drive north) and Tahoe City (on the shore of lake Tahoe and 10-minutes' drive) are both vibrant regional centres with restaurants, bars, retails, galleries etc.  For families, it is worth taking some time off snow and visiting, Woodward Tahoe an indoor action facility with trampolines, foam pits and an indoor skate park. It is on the I-80 freeway at Boreal ski resort and about a 30-minute drive from Squaw.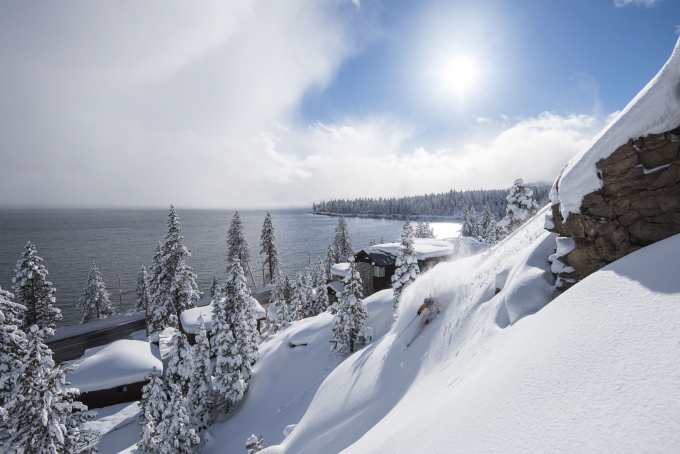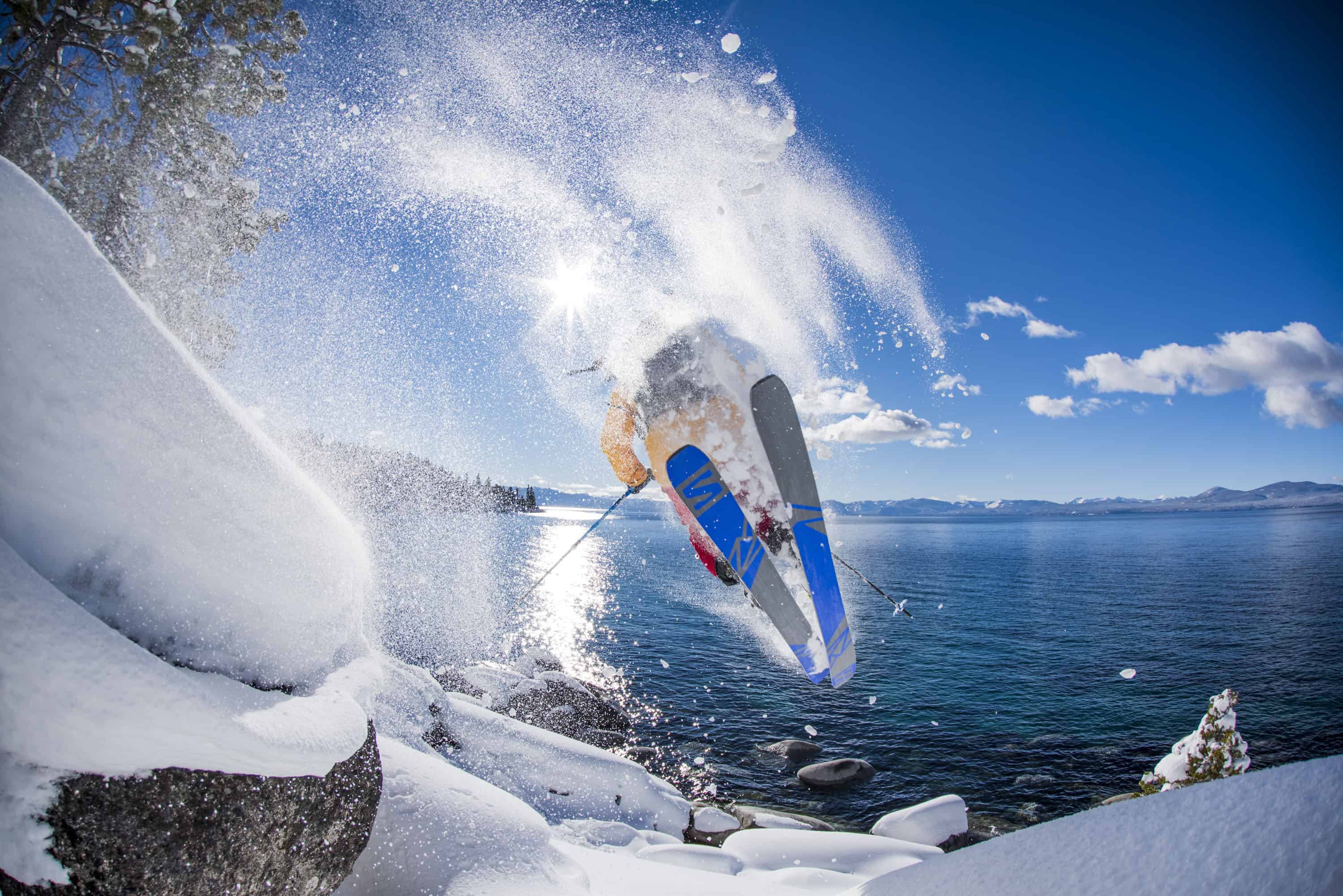 Where to eat/après:
The Chamois, a Squaw institution and locals' hub with a good selection of beers and great pizza. Mountain Nectar for fresh juices and pretty good coffee. Plumpjack Café and Bar in Squaw, great atmosphere and well-priced menu.  Soupa in the village is great for lunch with a selection of soups, sandwiches and Quinoa bowls. Blue Agave in Tahoe City, excellent Mexican food, lively atmosphere, kid friendly and great view of Lake Tahoe.
Where to stay:
There is a lot of choice to suit all budgets, including hotels, self-contained apartments and resorts in the resort and in near-by Olympic Valley. Tahoe City (10 minutes' drive) and Truckee (20 minutes north) may be cheaper and have variety to suit all budgets.
Check out Tahoe Getaways which has properties in Squaw Valley, throughout  the area:
https://www.tahoegetaways.com/
The Village at Squaw is front and centre, with a short walk to the lifts, restaurant and bars. It also has underground parking, so you won't be digging out your car if there is a big dump.
https://squawalpine.com/lodging/village-squaw-valley-lodging
Squaw Valley Lodge
It has studios, and one, two and three-bedroom self-contained condos. Very comfortable with outdoor pool and spas. Next door to the village, a short walk to the lifts and shouting distance to the Chamois
https://www.squawvalleylodge.com
Getting there:
Squaw valley are a 3.5-hour drive from San Francisco or a one-hour drive from Reno airport. If you fly into LA, there are regular connection to Reno International airport and there are regular shuttles to South Tahoe. Alternatively, you can fly into San Francisco and or you can rent a car and make the easy 3.5-hour drive. There are also buses services from San Francisco, Sacramento and Reno: https://squawalpine.com/explore/about/bus-here
Mountain Stats                                         
| | |
| --- | --- |
| Vertical | 868m (2850') |
| Top elevation | 2758m (9050') |
| Base elevation | 1899m (6200') |
| Skiable area | 3600 acres |
Average snowfall                                                                    11m                                                         11m
Beginner terrain                                                                     25%
Intermediate terrain                                                              45%
Advanced                                                                                   30%